Yonkers, NY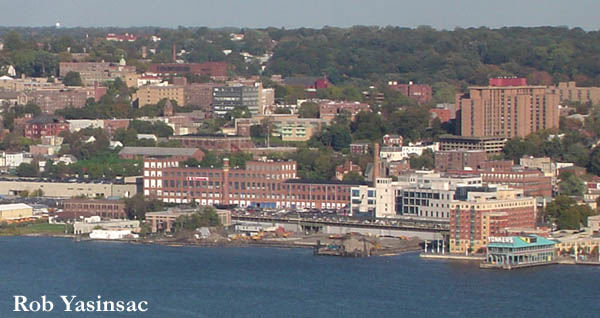 View from Alpine Lookout, Palisades Interstate Park, New Jersey. October 2006.
A wide array of ruins and other impressive historic architecture can be found in the City of Yonkers, which sits on the Hudson River and shares New York City's northern border. Yonkers has its roots among the commercial ventures of the Dutch settlers in the mid-1600s - the name itself draws from one of the earliest local landowners, the "Jonkheer," Adriaen van der Donck - the Dutch colony's only lawyer. (Van der Donck's home stood, however, in what is now Van Cortlandt Park in New York City.)

Yonkers is currently embarking on perhaps the biggest revitalization effort among the rivertowns. Although other cities have their histories of economic decline, labor strife, poverty and other social distresses, few have had them as pronounced as Yonkers. The push to build anew may threaten some of the city's historic building stock.


The abandoned buildings here (and ones occupied but converted from their original purposes), tell the story of a city in search of its identity. It is a city marked by its divisions - geographic and otherwise. Split in half by the river that sprouted mills in the colonial period and onward, Yonkers has been very urban place with numerous factories and commercial buildings It also has rural pockets in the northern part of the city where some of the most grand estates along the Hudson were established. And to the east of the Saw Mill River are prominent suburban enclaves.

However, poverty reigns over corners of Yonkers as well, especially in the southwestern part of the city. That it came to be this way is no accident - Yonkers is still dealing with issues of black and white. As a United States federal judge found, the city conspired to racially segregate its school system by constructing public housing in only one part of town. Public housing mandates set by the court in 1985 still affect municipal actions in 2007.

Yonkers has been plagued by economic downturns since local corporations realized they could make more money by moving to other states where they could pay lower wages and build new factories with public subsidies. That was the 1950s. Today, the city is banking on massive commercial redevelopment that includes the construction of high-end condominiums on the old industrial riverfront and a minor league baseball stadium with high-end retail and entertainment outlets in the Getty Square commercial district - currently occupied by discount stores and fast food restaurants that cater to the area's largely poor and elderly residents.

As the wheels of fortune spin, the ruins of Yonkers are target for the wrecking ball. However, as things go, one force usually has an opposite, and in Yonkers there are community activists who are working to see the development is guided by the city, not that development dictates the city. Hopefully, some of these architectural gems can be recognized for their value to the community and be incorporated in to the future Yonkers.



Yonkers Photo Galleries of ruined and not-so-ruined architecture:
Gallery 1 - Ashburton Avenue corridor.
Gallery 2 - Industrial Downtown: Woodworth Avenue, Buena Vista Avenue, and vicinity.
Gallery 3 - Commercial Downtown: Getty Square and vicinity.
Gallery 4 - The Estate District: North Broadway and Warburton Avenue.

Alexander Smith and Sons Carpet Mills - One of the best surviving mill districts, anywhere. Parts of this vast complex are threatened by high-end redevelopment.

A few choice ruins and abandoned buildings in Yonkers:
Alder Manor - Abandoned in the 1990s, the mansion is now maintained and often is used in movie & television spots. An elegant "ruined garden" adjoins the house.

Boyce Thompson Institute for Plant Research - A vacant scientific research facility, planned for redevelopment.

Mulford Gardens - Yonkers' largest and Westchester's oldest public housing complex, now vacant and soon to be demolished. Updated with two new pages of photos, November 2009. Demolished, 2009.

Public Bath Number 4 - National Register-listed site, to be demolished in early 2011.

Vineyard Avenue Fire Station #2 - Demolished June 2008.

Yonkers Power Station - One of the premier industrial relics in the Hudson Valley. (Popularly called the Glenwood Power Station.)

Yonkers Teutonia - Social hall for a German singing and literary association. Demolished 2014.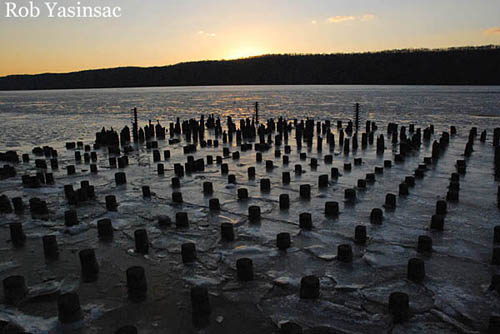 Dock ruins in front of the Scrimshaw House, a power plant converted into an apartment building.
Sunset, February 2007.



---
This page copyright © 2007 by Robert J. Yasinsac.
Reproduction or copying of text and photography without permission of the author is prohibited.