Alder Manor
YONKERS, N.Y.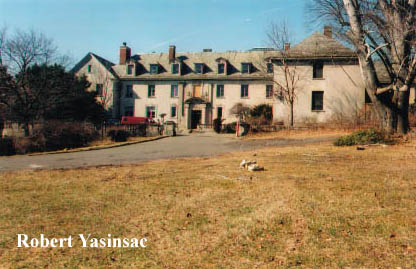 Alder Manor, East Front. Yonkers, NY.
February 19, 2001
Situated off a busy stretch of Broadway in Yonkers sits the Hudson Valley's best garden ruins, and for a few years was also the site of a fabulous abandoned mansion. The mansion at Alder Manor sat vacant for the last half of the 1990s. Tara Circle, an Irish Cultural Center and a group of very nice people, are restoring the 1912 Italian Renaissance Revival mansion, but the gardens are still in a state of ruin. Deliberately set in a melancholy of faded glory, the gardens were intended to replicate, and included relics of, classical Greek and Roman gardens. Much smaller than the nearby "ruins" of Untermeyer Park, the gardens at Alder Manor are far more interesting, for the minute details and articles of whimsy one will find at each and every turn of the head.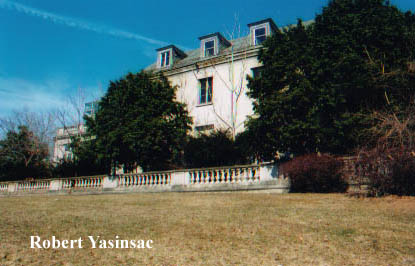 William Boyce Thompson was born in 1869 into a mining family in Alder Gulch (hence the name Alder Manor), now Virginia City, Montana. After graduating from the Columbia School of Mining , Thompson established himself as a copper magnate and international mining financier, amassing a fortune of over 200 million dollars. By the 1899 Thompson lived in New York City, but in 1912 he hired Beaux-Arts architects John Mervin Carrere and Thomas Hastings to design a 72-room country estate for entertaining, in the rural northern part of Yonkers. Adjacent to the north is another estate and mansion, Lenoir; its grounds are open to the public as a nature preserve. Lenoir has a fine view of the Palisades, which Alder once enjoyed too, but no longer does thanks to a school building now inhabited by the Yonkers Public Schools Center for Continuing Education, erected just yards away from Alder Manor's west portico.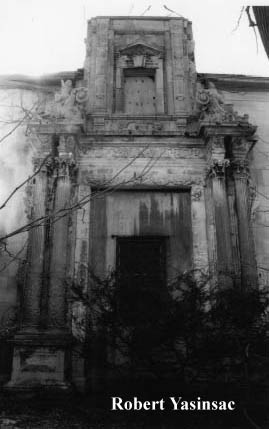 The north elevation of Alder Manor is more ornate, detailed and extravagant in some respects than most surviving lower Hudson Valley mansions. This facade, according to Hudson River Villas, is from a sixteenth century Italian church, and missing a stained glass window that was stolen during the 1990s. It features classical columns and relief-figures of questioning cherubs and screaming warriors, and offsets the rather restrained limestone facade of the rest of the house.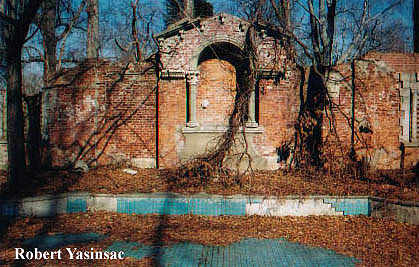 Carrere and Hastings also designed the grounds. To the north of the house lie several empty fountain pools inside a walled garden. The Greek Theater is located at the east end of the garden, where concerts and performances are again being held. Worn figures sit in the recesses of a brick wall on the north side of the garden, near an iron gate which leads to Lenoir. The gate is guarded from above by a now-headless bronze eagle. The famous gazebo stands near the head of the pathway which leads towards the Hudson River. Broken benches and other ruins lay scattered about.
Across the street from Alder Manor is the Boyce Thompson Institute, established by Thompson in 1924 for plant research. As of late 2006, plans are underway for redevelopment of the vacant institute building. William Boyce Thompson died in 1930. His wife Gertrude followed him twenty years later, and she either sold or willed Alder Manor to the New York Archdiocese. Alder Manor served as the main house for Elizabeth Seton College until 1989, when it was sold to Iona College, which in turn sold it to the City of Yonkers in 1995. Alder Manor stood vacant until 2000 when it fulfilled the goal of Tara Circle for establishing a cultural center in Westchester County (Tara Circle unsuccessfully tried to acquire Briarcliff Lodge). Alder Manor will be "a center for exciting events, including Celtic holidays, concerts, lectures, classes, seminars, and workshops and a host of activities celebrating the unique cultural wealth of the Irish Diaspora."



UPDATE: DECEMBER 14, 2004:
It was recently reported in the Journal News that Alder Manor was sold by the City of Yonkers in October to Tara Circle. Terms of Tara Circle's lease were $100,000 per year to lease with an option to buy after three years at $1.2 million, far below the market rate for this property.

Why does the city not show the same concern for the Boyce Thompson Institute property that it does for Tara Circle, that is, why not sell it at below market rate if that is what it takes to involve a party interested in preserving the existing structures? For saving the building is a long term investment, especially when someone is committed to their project and reusing the building and making it worth their while. Surely this long term investment is better than the quick buck development that will leave the city with one less landmark, which can never be replaced once it is gone.

EXTERNAL LINKS:
Tara Circle - Website for scheduled activities and events at Alder Manor.

Alder Manor - Commercial website (Photo galleries /interior & exterior views)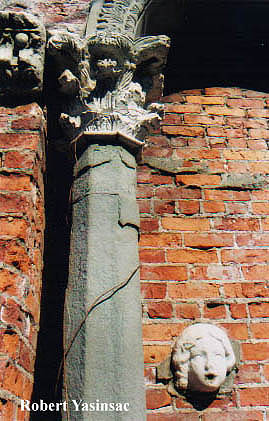 ---
---
This page copyright © 2000 by Robert J. Yasinsac.
Copying or reproducing text or photographs with the permission of Robert Yasinsac is prohibited.