Yonkers Teutonia
YONKERS, NY




December 2009
Up next on the hit-list of buildings facing demolition in Yonkers is the social hall of a German singing and literary association. Metro Partners, owner of the nearby historic Trolley Barn, has plans to build a 24-story glass apartment building and a 500-car garage on Buena Vista Avenue, where the Yonkers Teutonia stands along with several late-19th century buildings.

The project in some ways is being touted as preserving the Teutonia. News articles have stated that the building will be dismantled "brick by brick" and that the facade will be rebuilt, albeit further south from its original location. Metro Partners's plans for Yonkers Teutonia can be read in their Environmental Impact Statement.

Urban developments in the last couple of decades have often seen the loss of historic buildings where the facades were "preserved" to varying degrees of success. In New York City, exterior details of the Thomas Lamb-designed Audubon Ballroom (site of the shooting of Malcolm X) were largely preserved by Columbia University and tacked onto the front of a very modern-looking building.

Far less successfully, several buildings on Main Street in Catskill, New York, were razed and replaced with structures that were intended to, but do not at all, resemble three-story 19th century commercial buildings. Inexplicably, Catskill won some kind of preservation award for the new Greene County government building that took the place of the historic Main Street block. This example seems to be far more common, where lip-service is paid to preservation, and a distant copy goes up in place of the demolished original.

Built in 1891-1892, the building was home to the Yonkers Teuntonia, a singing and literary association with roots in the 1850s-Yonkers Liederkrantz society.. Michael Rebic cited the Teutonia building, with details such as sunburst motifs that decorate round-arched windows, as one of two "particularly fine non-domestic examples of the Queen Anne style" in his book Landmarks Lost & Found: An Introduction to the Architecture and History of Yonkers. The top floor contains one large open assembly hall with a balcony. The first floor and basement have been partitioned off, perhaps more recently, when the building housed a light industrial concern. Originally, the building also included a committee room, a pool (presumably billiards) room, bowling alleys and a dining hall. An adjacent structure to the north was built as an annex to Yonkers Teutonia. The Victorian Source website offers further historical information.

(The other Queen Anne-style building, Ash's Stationery and News Depot at 46 Warburton Avenue, still stands too but with some of its detailing obscured by vinyl siding. Ash's Stationery is one of several buildings threatened with demolition by the Greyston Foundation, which plans to build a high-rise apartment building opposite Philipse Manor Hall.)

Yonkers Teutonia has not seen active use for some time now, certainly not since the Yonkers Downtown Waterfront Development Corp. bought the building in 1994. (Metro Partners acquired the building in May 2009.) One could see any number of plans for Yonkers Teutonia should it be preserved as is, but I think it would be great if reinvented as a rock club.

At first glance it might seem absurd to have a concert hall so close to New York City, but the musical landscape has radically changed in Manhattan in the last decade. Established bands have found that their now-older fan base prefer shows in suburban locales like Tarrytown and Peekskill. And sadly, many of New York's venerable institutions where up-and-coming bands broke through have shut their doors because of high rents including, most famously, CBGB's. Other venues that have also gone down in history include Tramps, Wetlands Preserve, the Siberia Club, Fez Under Time Cafe, and the Knitting Factory. The owners of the Knitting Factory resurfaced in Brooklyn, where there may or may not be a venerable music scene nowadays.

None other than Patti Smith noted the musical and artistic exodus from Manhattan. She stated that "New York has closed itself off to the young and the struggling. But there are other cities" including Detroit, Newark, and Poughkeepsie. It's not too often that Poughkeepsie is rated ahead of New York City, but young people might find it to be at the very least a lot more affordable than Manhattan. But for going to a show, lower Hudson Valley residents might find Poughkeepsie to be too far for a drive, and I find Brooklyn to be too much effort even with decent subway connections to make it worth the while. There ought be something in between. With a train station a block away and a parking garage across the street, Yonkers Teutonia is in the right spot.

And a rock club here also would not be out of place for the reason that Yonkers has its own rock'n'roll pedigree. A club called the Rising Sun once existed on Yonkers Avenue, where little known bands like Twisted Sister (1976) and Metallica (1983) played. Those acts went onto playing bigger venues when fame called, and no doubt many area residents fondly recall seeing them, or other bands that never "made it" but maybe for a while were just as good.
Now Yonkers hasn't realized its revitalization yet, and when it does it surely will be a sanitized suburban environment. Presently, condominiums have been constructed west of the railroad tracks, and a couple of restaurants have sprung up around the pier, but residents and patrons of those establishments don't bring their dollar bills up the hill to Getty Square. There, a baseball park and chain stores are awaited by some to take the place of existing discount stores and ethnic-food restaurants. Preserving the Teutonia would keep around some of the well-worn character that would appeal to the "young and struggling" and also preserve some of the historic fabric that is rapidly disappearing in the wave of downtown redevelopment.

The interior photos here are from a December 2009 tour courtesy of Metro Partners and the office of City Council President Chuck Lesnick.

UPDATE OCTOBER 2014:
Yonkers Teutonia has been demolished. The property developer, Metro Partners, stated that "Teutonia Hall, a boarded-up, 120-year-old building on the Buena Vista Avenue block, would be moved to make way for the residential tower." Instead it was razed entirely to the ground (link to October 2014 photograph by Mark Jelley).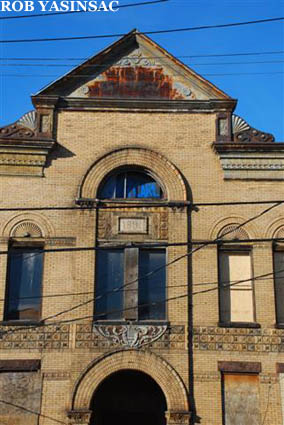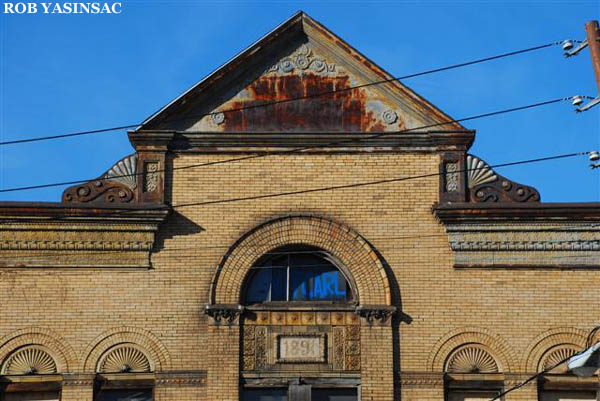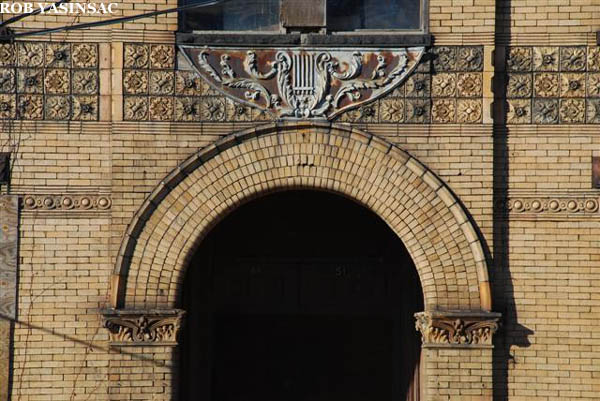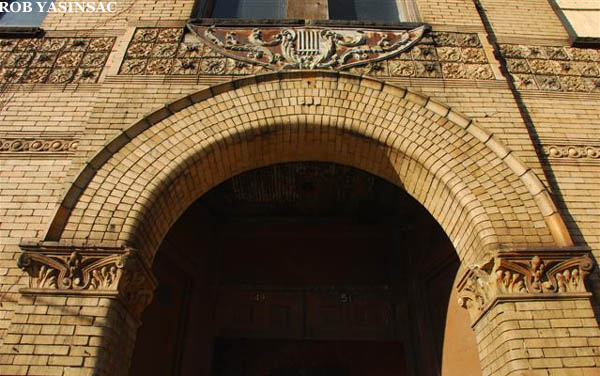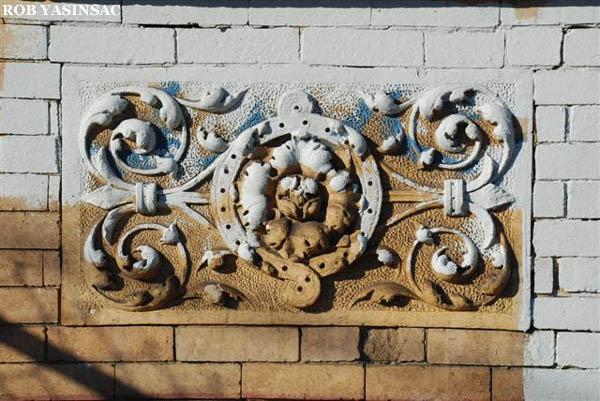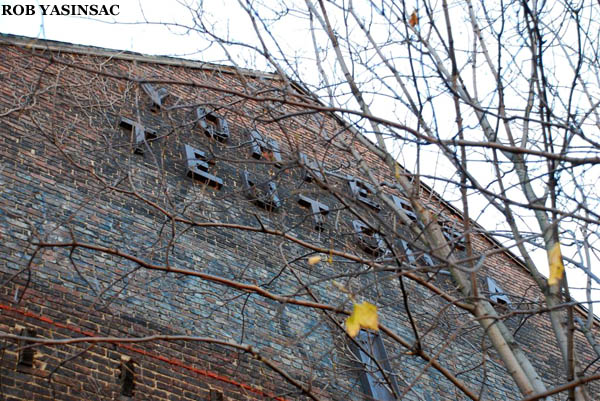 Signage on west elevation. I haven't made out what the painted signs stated.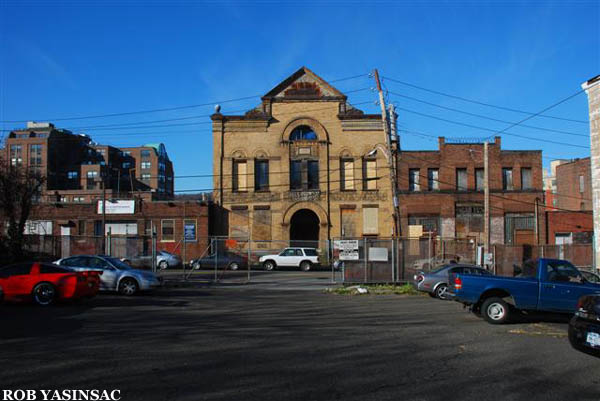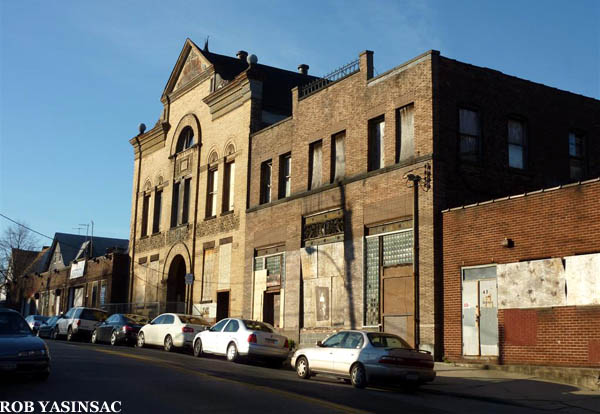 Yonkers Teutonia at left, Annex at right.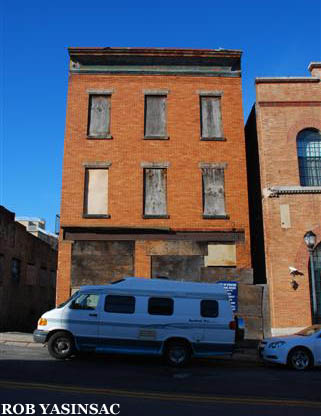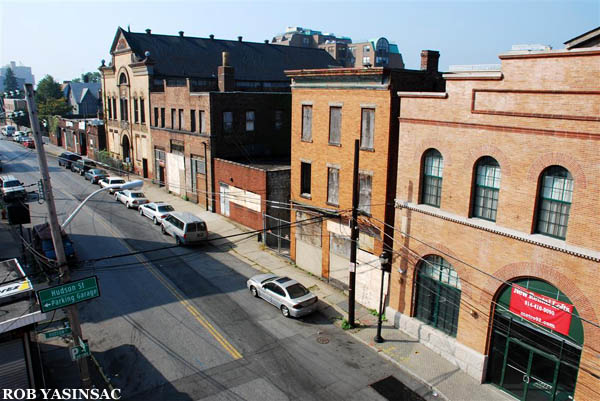 Buena Vista Avenue, looking southwest.
Yonkers Teutonia is left-of-center. The Trolley Barn is at far right.


---
This page copyright © 2011 by Robert J. Yasinsac. All rights reserved.
Reproducing or copying photographs without the permission of Robert Yasinsac is prohibited.