MULFORD GARDENS
YONKERS, NY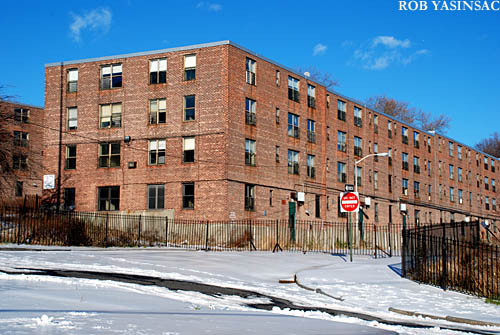 December 2007
Hailed at its opening in July 1940 by the United States Housing Authority as a "symbol of the American way of living," Yonkers' Mulford Gardens housing project is now abandoned and slated for demolition, having come in recent years to symbolize this country for sure - its tale weaving together a number of unsavory threads of American history that most people would rather ignore than address. Mulford Gardens was one of several major housing developments built in southwest Yonkers; in fact, none were built in the eastern half of the city. This factor caused the city to be cited in the 1980s by the United States Department of Justice for segregating its public schools by clustering low-rent housing in one part of the city. To satisfy the court, Yonkers pledged to build affordable housing units throughout the city.

Yonkers' largest and Westchester's oldest public housing project, Mulford Gardens was conceived in the late 1930s. It became reality with 3.4 million dollars, aided in part with federal funding, and ground was broken in 1939. The apartments replaced "300 ramshackle structures", "substandard dwellings" on "squalid Mulford Street." A Housing Authority representative compared the neighborhood razing and construction of Mulford Gardens to the bombing of European towns, justifying the reason to destroy and to build anew because it would be better. But municipal and federal polices in the following decades helped make housing projects like Mulford Gardens far from the American Dream.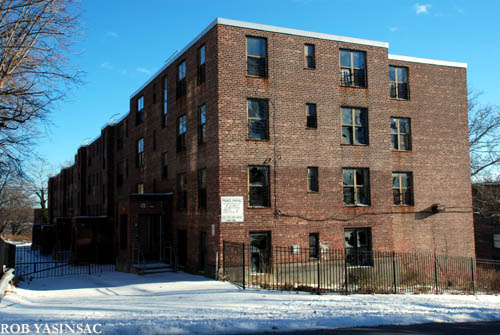 Mulford Gardens took in its first tenants on June 28, 1940. 552 "decent, safe and sanitary" apartments were built into seventeen buildings on the eleven-acre site. 2.5-room apartments rented for $22.50 monthly at the time of opening; 5.5 room apartments rented for $26.50 (the market rate for a 2 bedroom apartment in Westchester County today might be around 1500 dollars per month). The rates corresponded roughly with the maximum income figures of the tenants, relative to family size. The complex was hailed as "outstanding as a venture of the United States Housing Authority," owing to fireproof construction that would restrict conflagrations to the source apartment. Other highlights cited by the architects were "outdoor play areas for children and six indoor recreation rooms for adult use for dances, ping-pong and other entertainments." Much later, tenants kept to their apartments and shunned these outdoor areas which became drug turf and a magnet for crime.

One theory of how poor urban planning failed housing projects was that tenants did not feel a sense of ownership or entitlement over outdoor spaces because all was held in common (there were no backyards or private front stoops to maintain), thus the insides of their apartments were tenants' only domains. Even the most basic accommodations for outdoor socializing, such as benches, were non-existent. Practices that would ordinarily be tolerated in typical neighborhoods such as outdoor barbecues, were prohibited. With no concerned eyes around to monitor the scene, drug-dealers and gang-members took ownership of these outdoor "anonymous spaces." Yearly felony arrests typically numbered in double-digits, though such crimes were often committed by non-residents. Despite all of this, residents interviewed by local newspapers often spoke of a sense of community, and remembered when Mulford Gardens was more good than bad. (Oscar Newman was a proponent of urban planning designs meant to replace sites like Mulford Gardens; his ideas can be found at the Defensible Space website.)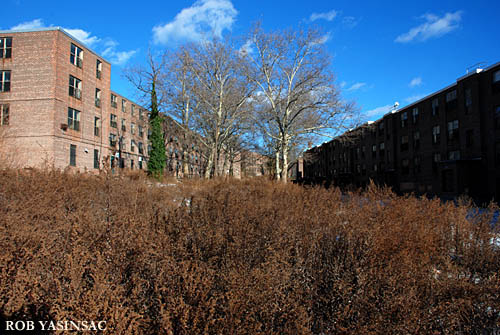 Over time, Mulford Gardens strayed from the idealized form of the American Way of Living. The problems of the urban working-class were exacerbated by economic downturn, which occurred in Yonkers about 15 years after Mulford Gardens opened. Just one block to the east, the giant Alexander Smith Carpet Mills went silent after the company merged with an upstate competitor and fled to the South for greater profits. Although the company was doing well financially, the promise of cheaper labor and subsidized construction of new factories containing the latest technological advances in machinery was too attractive to turn down. Good-paying jobs became hard to find in Yonkers and urban centers across America. Many fled the cities for the suburbs, and those who stayed behind often found it hard to escape.

Design and construction alone of the Mulford Gardens complex can not be blamed entirely for onset of squalor in the late 20th century. Similar housing developments exist throughout Westchester County in places such as Hastings-on-Hudson, Irvington, and Tarrytown, and these buildings have "gone co-op" today, with individual units fetching decent sums on the real estate market. Some who lived at Mulford Gardens have told me that the decline really began in the 1970s. Previously, there were rigorous reviews and required references before a family could move in. But troubled brewed to the south when scores and scores of apartment buildings burned in the Bronx, and people fled out of that area, many into Yonkers. Less rigid entrance policies at places like Mulford Gardens followed, as did crime.

The struggles encountered by urban populations in the late 20th century compounded housing policies set earlier in the 1900s. Federal "Jim Crow" policies made the move out of the cities and into the suburbs difficult, if you didn't happen to be white. Suburban developers and mortgage bankers were allowed by court decisions to set racial restrictions on housing sales and financial policies, and realtors often steered potential buyers to certain neighborhoods by their color. Although the modern suburbs were created with public subsidies and legally-backed racial restrictions, they were celebrated while public housing and public assistance ("welfare") were scorned. Remnants of such polices can be seen beyond the housing projects: The historically white Homefield neighborhood purchased a strip of land around the black Runyon Heights neighborhood and built a barrier (photo here) separating the two. As the only black community on the east side of the city, Runyon Heights was and is still today only accessible via one way in and out of Tuckahoe Road.

(For further reading on this subject, I recommend Who Do We Think We Are? Race and Nation in the Modern World, written by Philip Yale Nicholson, regarding federal policies. For more information on the Yonkers desegregation case, I recommend the book Show Me a Hero by Lisa Belkin, and the documentary film Brick-By-Brick: A Civil Rights Story.)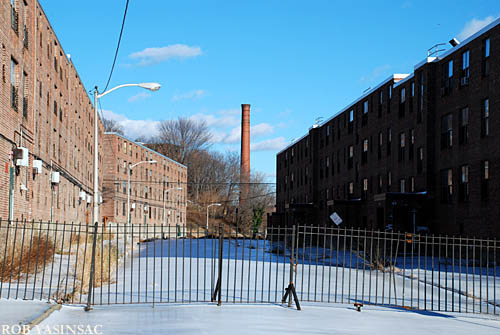 Yonkers has only recently, after a quarter of a century, officially fulfilled its obligations to the court and to the NAACP, showing it has built the required number of housing units throughout the city. Now, Mulford Gardens will be demolished and replaced by market-rate and low-rent units, consisting of single-family homes, townhouses and apartments. If this plan succeeds, look for at least three other housing projects to meet the wrecking ball as well. Tied in is the larger plan to redevelop the Ashbuirton Avenue corridor, to connect the Saw Mill Parkway and New York State Thruway on the east to the waterfront on the west, where Yonkers government officials see salvation in each new high-rise luxury apartment tower sprouting along the Hudson shore (which block the view of those less fortunate and living literally on the wrong side of the tracks).

In its final years, Mulford Gardens gained a bit of fame when it was used as a movie set for Freedomland, starring Samuel L. Jackson and Julianne Moore. Yonkers sought revitalization in earnest in the early 2000s, and Mulford Gardens occupants began relocating to other housing sites around the city. The last tenant moved out in March 2007. There are no voices calling for the preservation of Mulford Gardens, although some may argue that simply replacing the buildings will not solve issues of crime, drug use, and poverty. But in New Orleans, the National Trust for Historic Preservation lobbied against the demolition of four housing projects deemed historic; at another site, several buildings of the St. Thomas housing project were saved for affordable housing.

Today, cracked windows and dangling satellite dish receivers overlook the scene as wrecking crews empty out the apartments in preparation of demolition. A vibrant mural still pays respect to ten young men who lost their lives in or near Mulford Gardens, some shot or stabbed to death. The buildings may go, but the history and lessons learned about our society ought not be forgotten.

UPDATE NOVEMBER 23, 2009:
Mulford Gardens has been completely demolished. Some rubble still remains to be removed, while construction crews are grading the now vacant terrain for new development.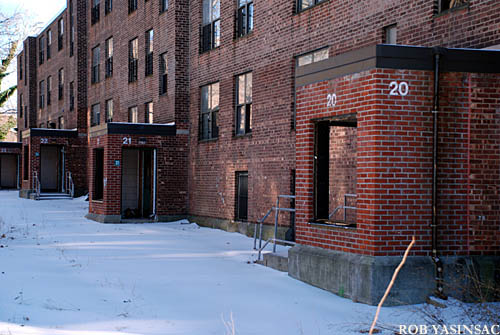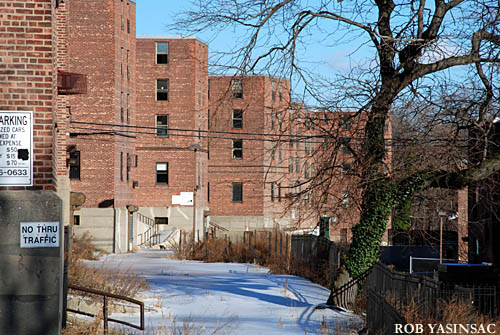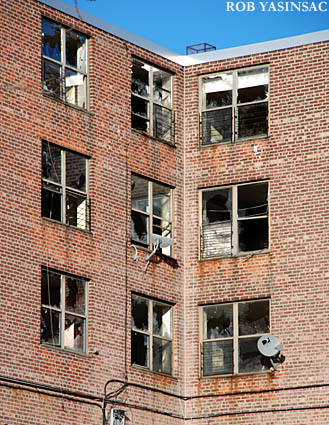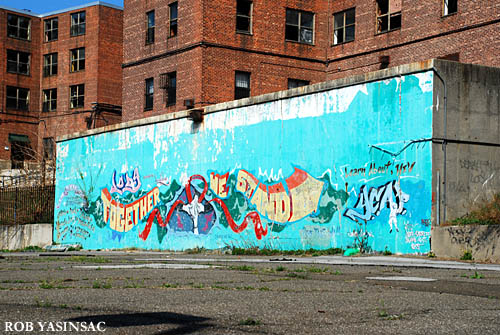 TOGETHER WE STAND
(Photographed April 2008)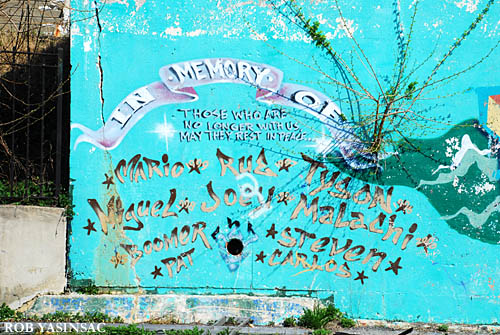 IN MEMORY OF
THOSE WHO ARE
NO LONGER WITH US
MAY THEY REST IN PEACE

MARiO RUE TYSON
MigueL Joey MaLachi
BOOMeR STeven
PAT CARLOS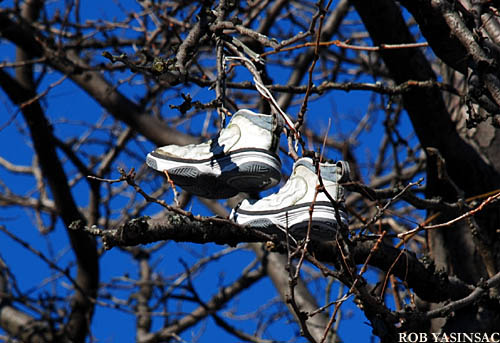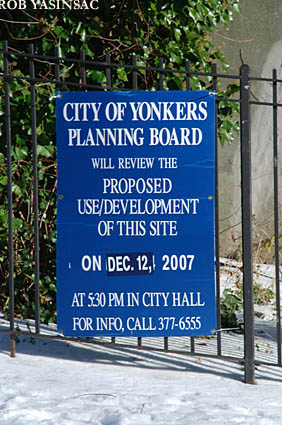 More Mulford Gardens pictures - Page 2


Yonkers Ruins homepage


---
This page copyright © 2008 by Robert J. Yasinsac.
Reproduction or copying of text and/or photography in any form without permission of the author is not permitted.