Vineyard Avenue Fire Station #2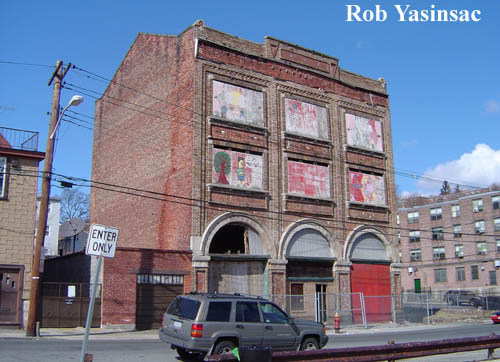 February 18, 2005
From the Hudson Valley Demolition Alert page, February 18, 2005:
A community development group has dropped plans to reuse the Vineyard Avenue Firehouse and is is now planning on demolishing the brick structure. The group, Narrow Way was given the property for one dollar by the City of Yonkers in 2002, and once proposed building a tabernacle and six apartments in the building, but now they plan for eight apartments in a completely new building. The firehouse is is included in the list of "Historic Properties in the City of Yonkers" prepared by the Planning Bureau, and also eligible for listing on the National Register of Historic Places. The Narrow Way will be getting federal community development funds to build the affordable housing. This means that the New York State Historic Preservation Office (SHPO) must review the plan prior to any demolition since the site is National Register Eligible. The plans for the site of the Vineyard Avenue firehouse have been discussed at Yonkers Planning Board and City Council Real Estate meetings, yet the historic nature of the building has not been mentioned, nor has the fact that the use of federal funding automatically takes the demolition decision out of the hands of the group and of the City and places it in the hands of SHPO.

UPDATE: The Vineyard Avenue Fire Station near Ashburton Avenue was demolsihed in late June, 2008.
| | | |
| --- | --- | --- |
| | One of the tiled brick pilasters, left, and two detail images (above and right). | |
The first floor features stone arches above brick pilasters, decorated with colored tiles of various shapes and designs, including ships, flowers, and animals such as birds, crabs, turtles, a snake or serpent, and a walking winged creature of some kind. Local children painted the panels for the boarded-up windows. The appearance of a stylized Bart Simpson suggests the late 1980s or early 1990s. The top center panel was reserved for a spotted dog wearing a helmet underneath a fire alarm, a badge, and a fire hydrant.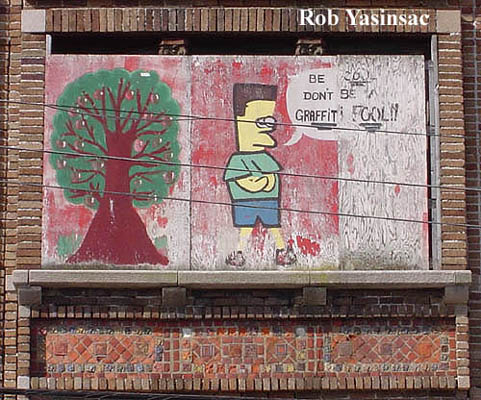 "Be cool. Don't be a graffiti fool!!"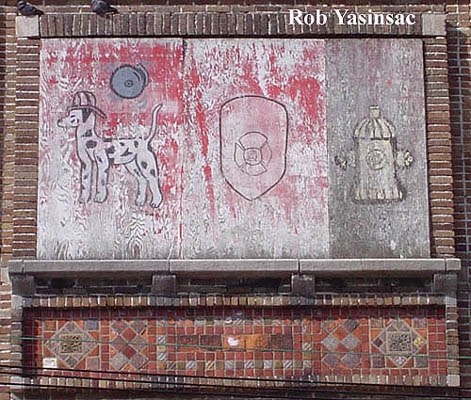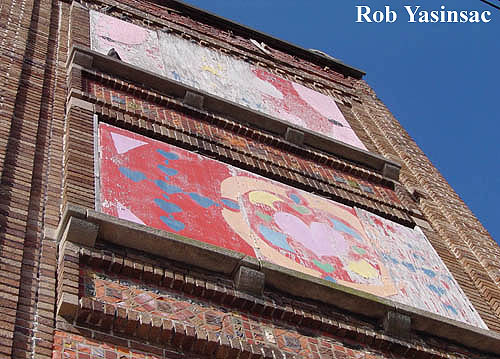 Interior, November 2006.

The Yonkers Fire Department website has more information and an historic photograph of this building.

---
---
This page and all photographs copyright © 2005 by Robert J. Yasinsac.
Reproducing these images without the permission of Robert J. Yasinsac is prohibited.