Detroit, MI
VARIOUS RUINS - PAGE 1
What follows here is a brief summary of the sights and sites I encountered over three days in Detroit in mid-November 2010, as well as some photos from a shorter visit in December 2009. Additionally, more comprehensive pages have been posted for select ruins at which I was able to spend more time. The sites are the East Grand Boulevard Methodist Church, Eastown Theater, Michigan Central Station, Michigan Theater, and the Packard Motor Car Company.

There are numerous Detroit-related websites, but I do recommend the following sites:
Detroit Funk - Documenting the rapidly changing conditions of the City of Detroit. Randy Wilcox, the author of this site, was one of my guides in Detroit. He updates his website quite frequently.
Buildings of Detroit - Raising awareness about Detroit's history and landmarks, and bringing attention to the threats to the city's architectural heritage by looting, vandalism, and demolition by neglect. The website authors also released a nice book entitled Lost Detroit, featuring color photos and histories of select ruins.
The Fabulous Ruins of Detroit - A tour through the fabulous and vanishing ruins of Lowell Boileau's beloved Detroit. This website also has a forum for people interested in the history and current affairs of Detroit, and its architectural legacy. Through the forum I also met Dave, another of my guides.
Forgotten Detroit - Photos and information about the past, present, and future situations of Detroit landmarks.

Detroit may come off as a scary place but the abundance of abandoned buildings in no way means that the city is a ghost town nor is the city given up for dead. Still, it might not be a good idea to spend several hours alone in a place like the Eastown Theater, in a notoriously bad part of town, but conversely the atmosphere in the Packard factory was that of a community block party. There we met photographers, graffiti artists, and kids on bikes, and everyone was cool. People live here and they are proud and friendly people, even if things are falling down around them. At dinner, a couple across the way from us saw the copy of my Hudson Valley Ruins book that I had out, and asked to look it over. Upon return, the woman beamed "I have met an author!" Well, now I have met Detroit! Thanks to everyone who shared their time with me, and thank you for visiting this site.





Historic Fort Wayne. November 2010.
On my first day in Detroit, my friend Dave Marcione led me around the city on a tour of its many historic sites and abandoned buildings. His work for the Detroit Historical Society allowed us access to the premises of historic Fort Wayne, which is not often opened to the public. Some buildings have been restored, but many are disused. I was also introduced to Adam, the curator of the society's amazing collection, and also a really cool guy.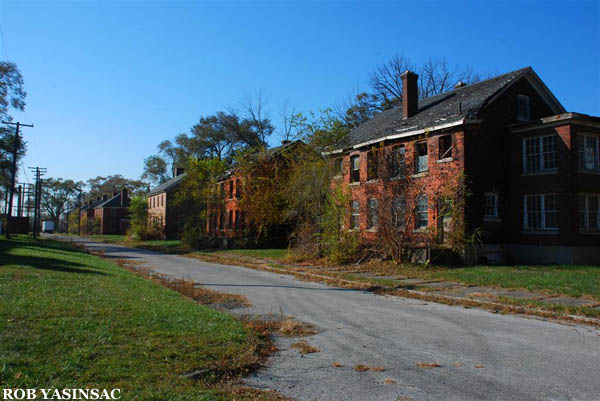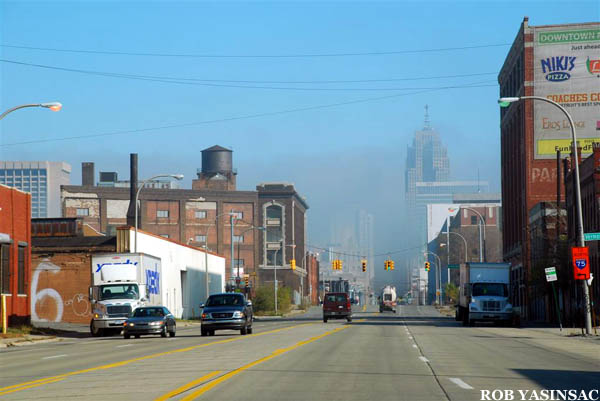 Morning fog, downtown Detroit.
I met Dave last year on wickedly cold December day, one of the first such cold days of Winter 2009. I made this trip a month earlier, and the weather was more cooperative for us, producing some great blue skies in addition to warmer temperatures. Though there was an atomic cloud of fog that morning that stretched all the way down to Toledo. Even by mid-day, downtown was still fog-shrouded.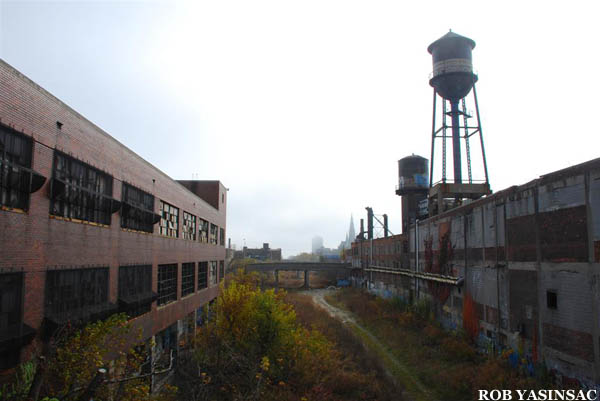 Thorne Apple Valley slaughterhouses and Duquendre Cut.
The cut is a former railroad right-of-way that is being turned into a path for bicyclists and pedestrians.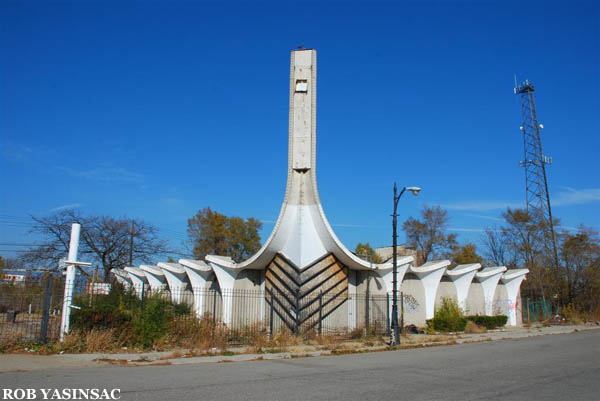 Unidentified (restaurant?).
Dave made sure we stopped to get some photos of this gem, a real great piece of architecture.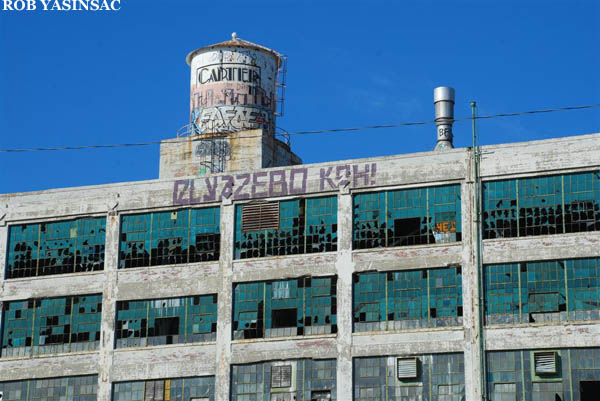 Fisher Body #21 plant.
This has been one of the more popular abandoned factories to visit and photograph. But very recently, the Detroit police began using the site as an impound lot for automobiles. One or two openings into the building were spotted, but I saved my efforts for elsewhere this weekend.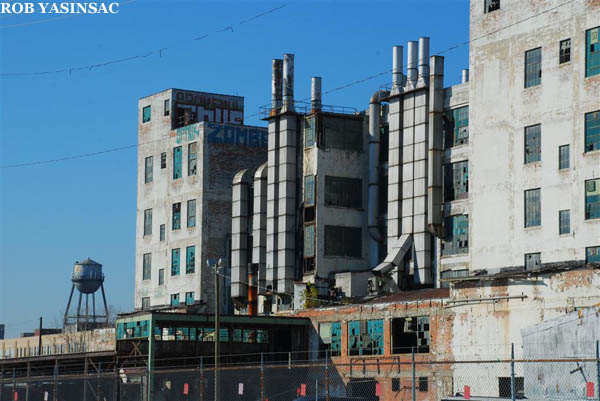 Fisher Body #21 plant.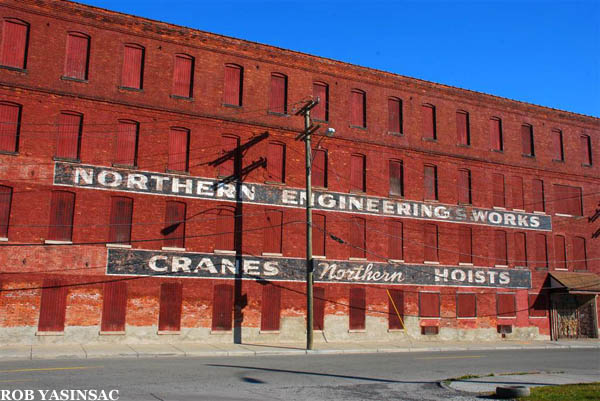 Northern Engineering works.
This photo, and others of this building, are among my favorites from the trip.
Blue skies, bright light, deep red brick, great shadows, and old painted signs. Perfect.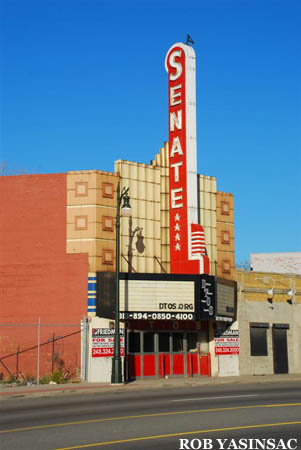 Senate Theater, Michigan Avenue.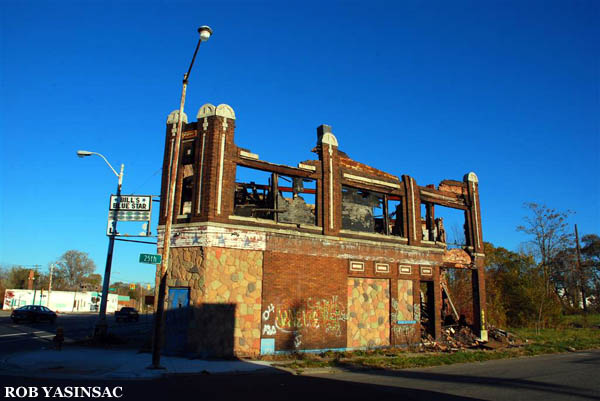 Bill's Blue Star, Michigan Avenue.
Half-burnt, half-collapsed buildings like this are allowed to stand all over the city,
and perfectly good structures are often condemned.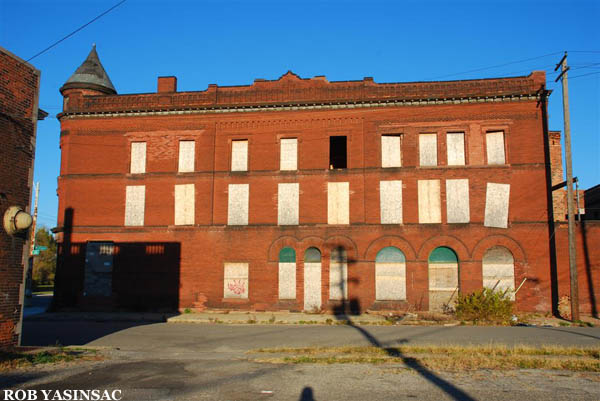 Ruins along Michigan Avenue.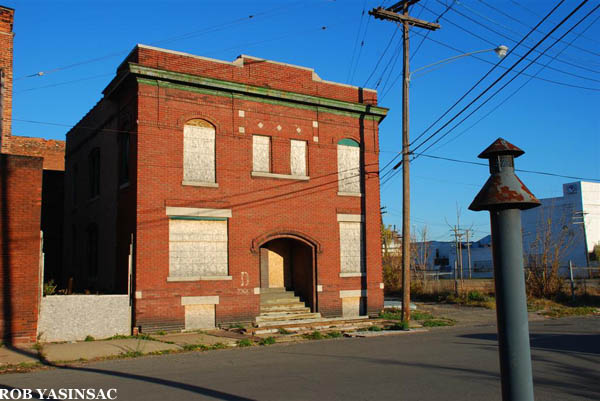 Ruins along Michigan Avenue.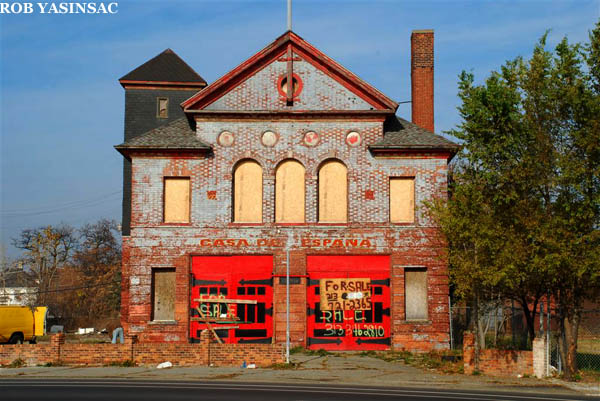 Firehouse, Michigan Avenue.


---
This page copyright © 2010 by Robert J. Yasinsac. All rights reserved.
Reproducing or copying photographs without the permission of Robert Yasinsac is prohibited.