Detroit, MI
VARIOUS RUINS - PAGE 2




Tiger Stadium. November 2010.
Dave and I spotted some folks playing ball on the field where Tiger Stadium used to be. It seems to be an unofficial public park now, and the ballplayers have even brought in wooden benches. I returned later to walk the bases myself and to take some photos. Sparky Anderson, the Tigers' manager in the championship year of 1984, passed away shortly before my visit. Ernie Harwell was the Tigers' longtime announcer, and he also passed away this year.

Upon getting out of my car, I passed some frayed police tape along the fence line and saw some bullet shells on the ground. In the rubble on the field, I saw what appeared to be a shiny, rounded piece of debris - perhaps some fragment of the building or its infrastructure. It was a bone.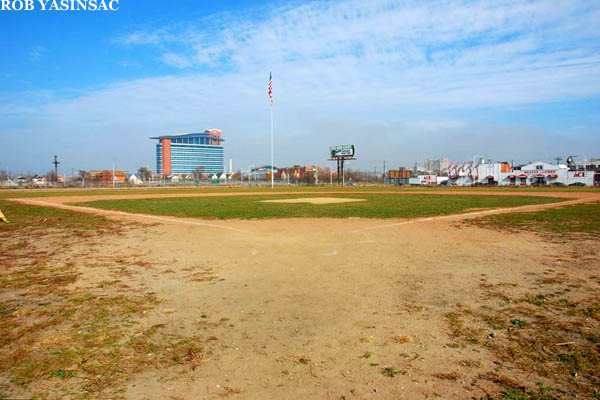 After a decade-plus of abandonment, the field was still in great shape!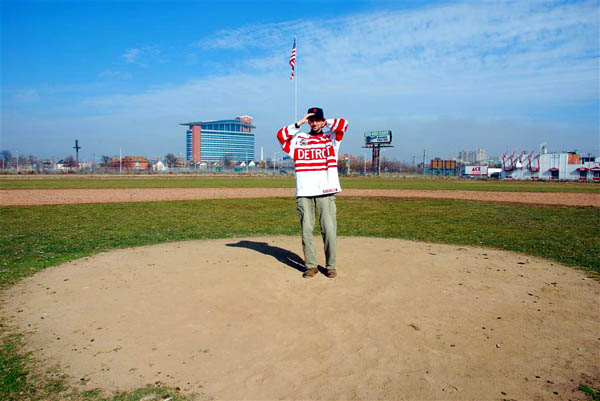 On the mound, Tiger Stadium.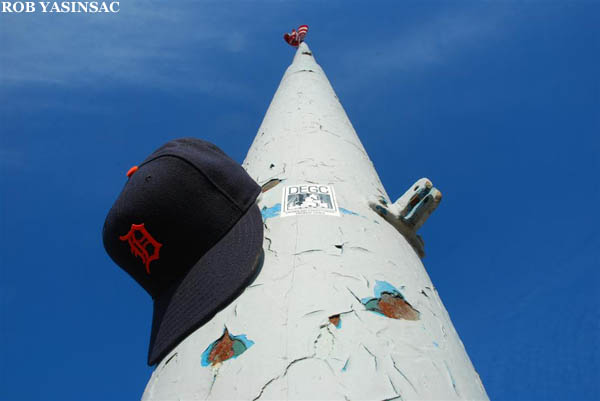 They left the flagpole in center field.
The demolition of Tiger Stadium was completely and totally unnecessary. The city gained maybe a few dollars by letting some politically -connected demolition firm walk of with scrap metal, and the site will be yet another vacant lot in a city full of vacant lots.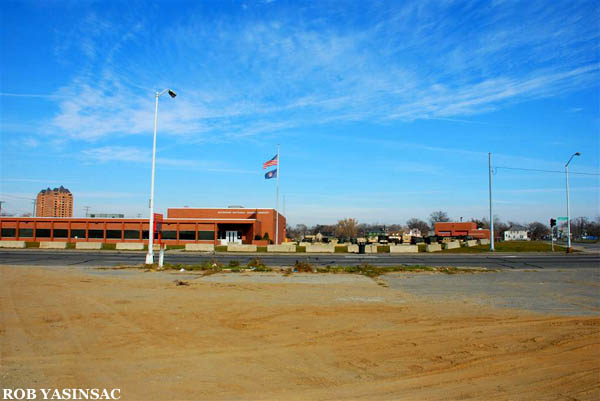 Site of the Olympia, former home of the Detroit Red Wings, on Grand River Avenue.
Scroll over the photo for a comparison image from 1986, shortly before the great old barn was demolished.
In the background of both images is the Lee Plaza, shown below.
(Alternate Image: Olympia Arena, 5920 Grand River Avenue, Detroit, Wayne, MI.
Historic American Buildings Survey (Library of Congress.
SOUTHWEST FACADE, LOOKING NORTHEAST HABS MICH,82-DETRO,25-3)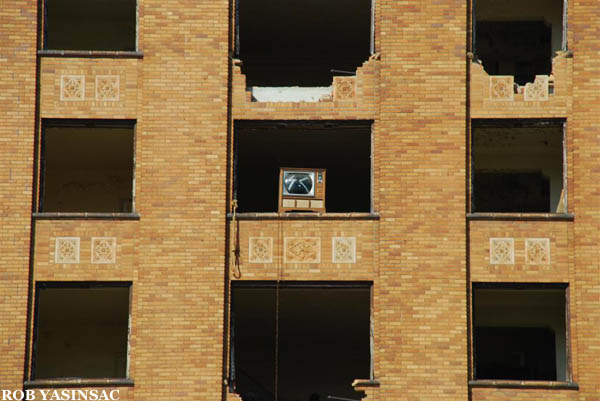 Lee Plaza.
One of Detroit's grand ruins, and sadly sacked of much of its ornamentation.
Styled after New York City's apartment hotels.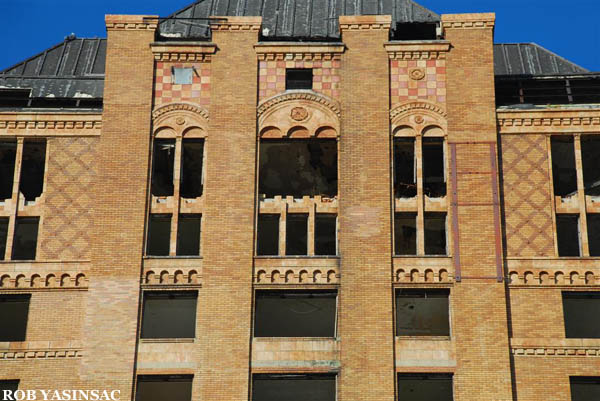 Lee Plaza.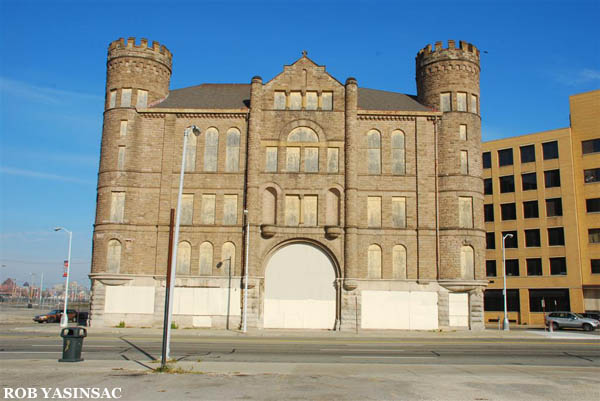 Grand Army of the Republic Building.
A social hall for veterans of the Civil War. Redevelopment proposals for this downtown castle have bogged own, leaving the building abandoned. Yet it is well-secured, and only occasionally does a random board come loose, allowing interior access.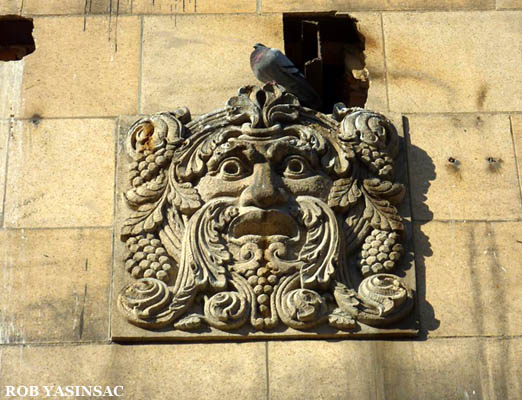 United Artists Theater. Bird, get off his head!
One block over from the more famous Michigan Theater stands the United Artists Theater and its adjoining office building. Though decayed, the theater space is intact. Olympia Development, the corporation run by the Ilitch family who own more than 150 properties in Detroit and also own the Detroit Tigers and Detroit Red Wings, own the United Artists Theater. It was considered for parking space needed for the new Comerica Park, and thus slated for demolition. It hasn't been demolished but was left to rot. The Ilitches won't refurbish the UA Theater or any other theater it owns that currently sits unused, as they already own the Fox Theater and don't need to create competition.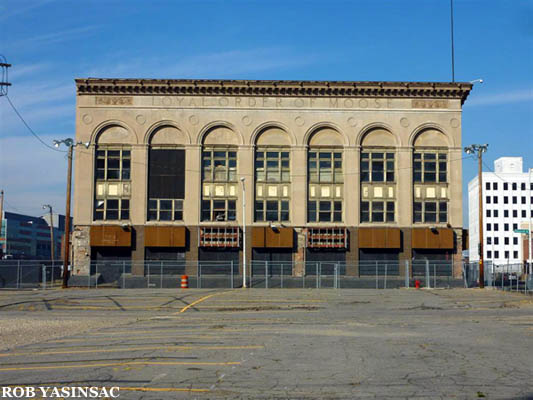 Loyal Order of Moose.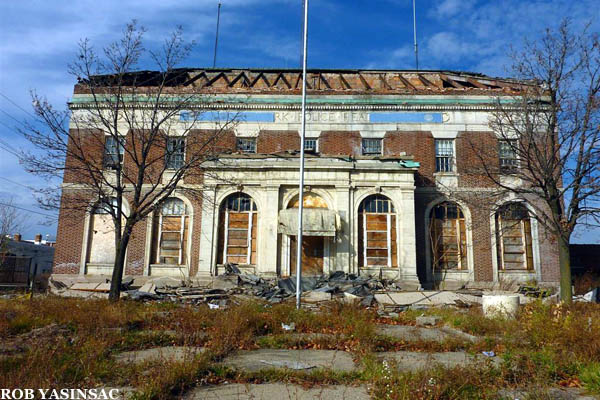 The Highland Park police station (shown here), municipal building,
and firehouse make a trio of unlikely abandoned buildings.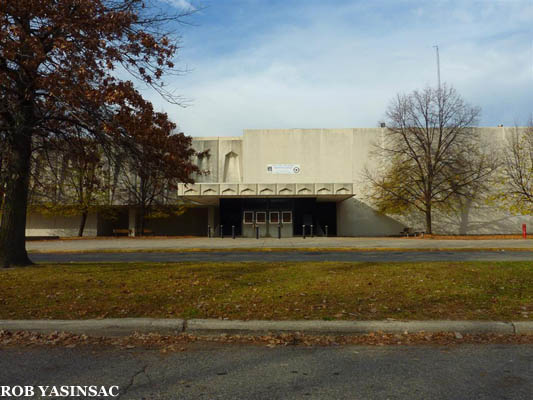 Highland Park Community High School.
Not abandoned, but I took a photo of it as a cool piece of architecture. Nevertheless, this windowless specimen must be a horrible place to encourage learning. A minimum-security educational facility.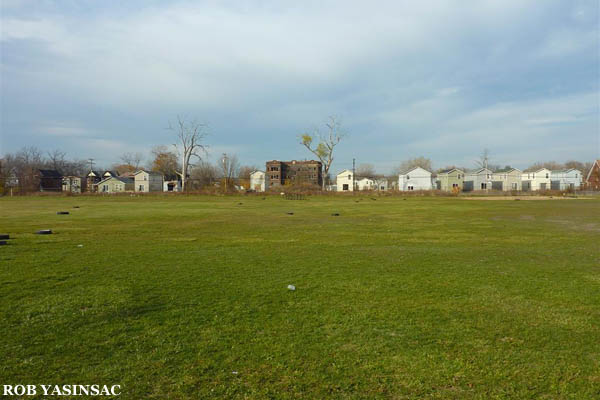 View from the playing field behind the Highland Park Community School.
A burnt-out apartment building, burnt-out homes, and-burnt-out vehicles line the street behind the school.


---
This page copyright © 2010 by Robert J. Yasinsac. All rights reserved.
Reproducing or copying photographs without the permission of Robert Yasinsac is prohibited.