Michigan Theater
DETROIT, MI




November 2010.
It is not the only theater in the world to be adaptively reused, but the Michigan Theater might be the most famous example of a 20th century movie house to be chopped up and turned into something else. Much of its auditorium and lobby ceilings remain intact, providing a grand setting for what is now a parking garage. The privately-owned garage serves only the adjacent office building and is not generally accessible to the public. I was fortunate to be allowed access to the theater space, as shortly thereafter a surge of recent interest in the building led to the owner announcing that individual requests to go inside cannot be currently be considered.

The 4,000 + seat Michigan Theater (and adjacent Michigan [office] Building) opened in 1926 and showed its last movie in 1971, after a steady decline that began in the 1950s. A short-lived dinner-theater style operation opened in 1972, and in 1973 rock concerts featuring Kiss, Aerosmith, David Bowie, New York Dolls, and other top national/international acts began to be held here. The Michigan Theater closed for good in 1976. Major tenants in the office building wanted parking, and the theater was almost demolished, except that doing so would have compromised the structural integrity of the office building. Thus, it was gutted and converted to a two-level parking garage.

Some might look at The Michigan Theater and say "only in Detroit," but New York City also had a grand old theater that in later years housed cars, a fact that seemed less widely known even in New York. The RKO Chester Theatre was located in the Bronx and most recently was a car repair shop. Like the Michigan, this theater's lower level was destroyed and much of it's ceiling and part or all of it's balcony remained. Unfortunately the RKO Chester was demolished in May 2010. Only a few interior photos seem to be on the internet, and here they are.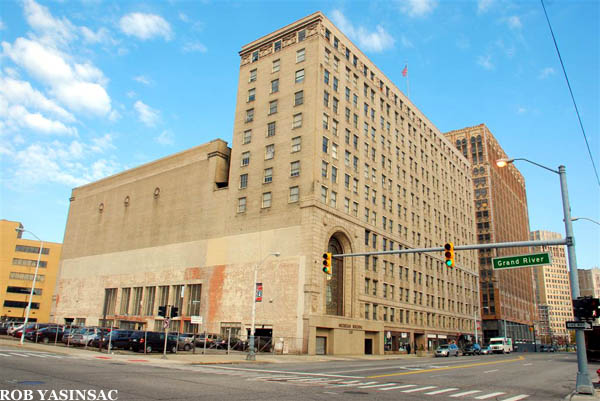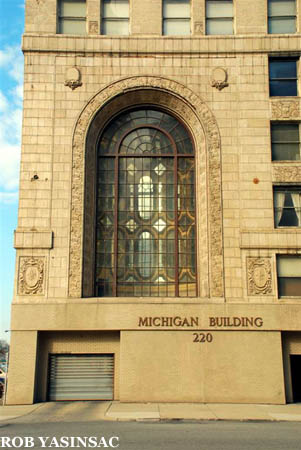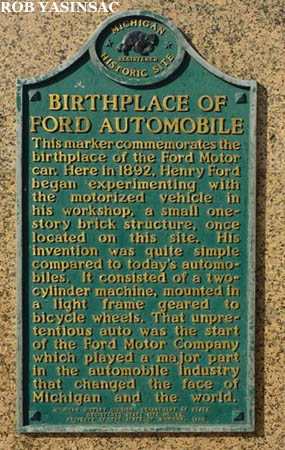 Historic marker on the front of the Michigan Building.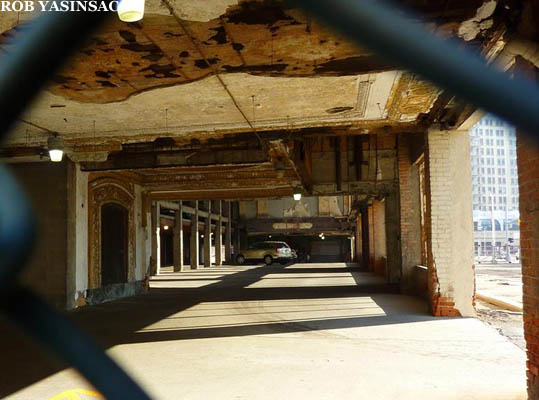 Street-level view through a chain-link fence of what had been the theater lobby.
Images of some other locations not generally visible to those privileged with interior access can be seen here and here.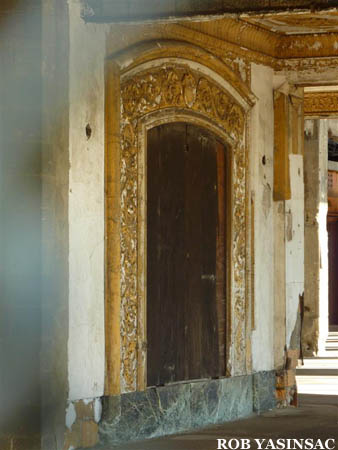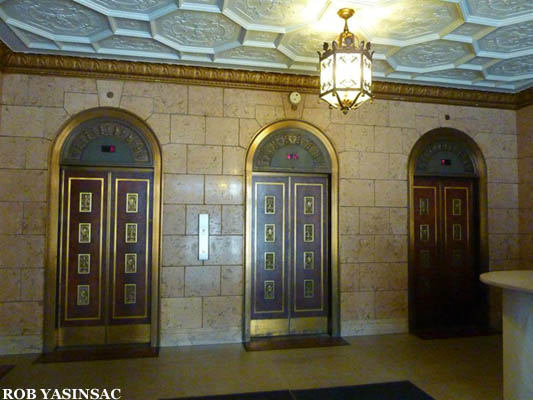 Lobby in the office building.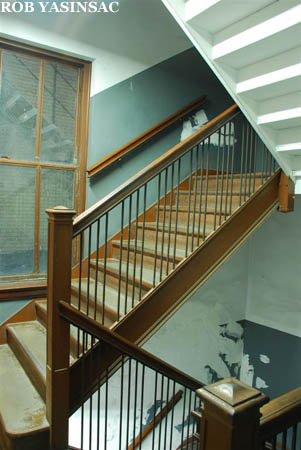 Staircase at third floor for pedestrian access from the office building.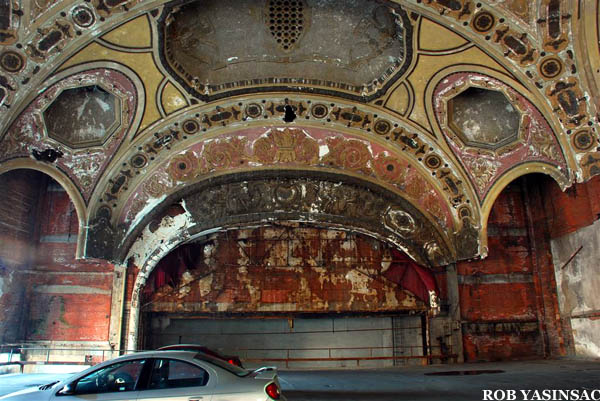 ---
This page copyright © 2010 by Robert J. Yasinsac. All rights reserved.
Reproducing or copying photographs without the permission of Robert Yasinsac is prohibited.