Northgate Gazebo Reconstruction
(Stern / Cornish Estate)
COLD SPRING, N.Y.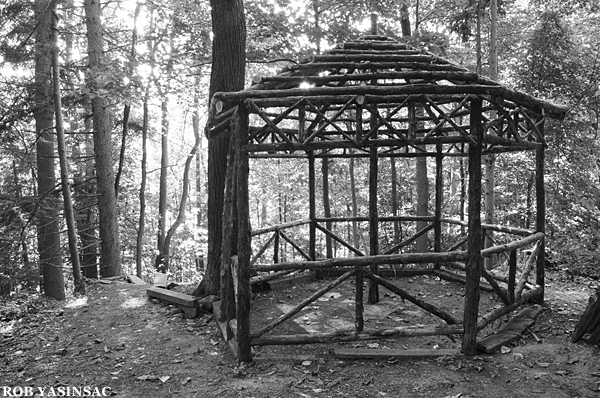 In the summer of 2014, Eagle Scout Chris Bohl of Garrison, NY, reconstructed a gazebo, sometimes referenced as a "summer house," at the Northgate estate ruins. With the assistance of his parents, Sandi and Ed, his friends and fellow scouts, and from Thom Johnson, Chris completed the projected by the end of August. The gazebo stands atop a hill east of the mansion ruin.

The reconstruction was based on a photograph from the collection of Robin Huntington, great-granddaughter of Sigmund Stern. Stern developed the estate after 1904 and built the mansion in 1913. Other images in the collection show fences and railings along the roadway and throughout the property. These photographs also helped guide the aesthetics of the gazebo reconstruction.

Many thanks to Chris, Sandi, Ed, Thom and all others who helped revive this piece of Northgate history!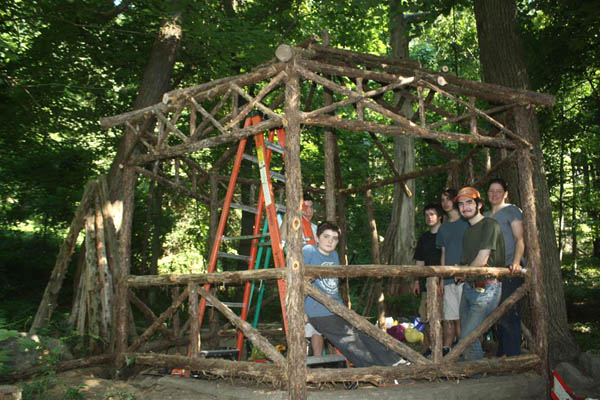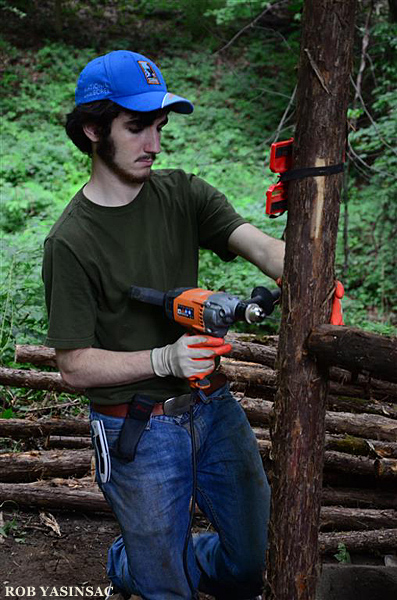 Chris Bohl.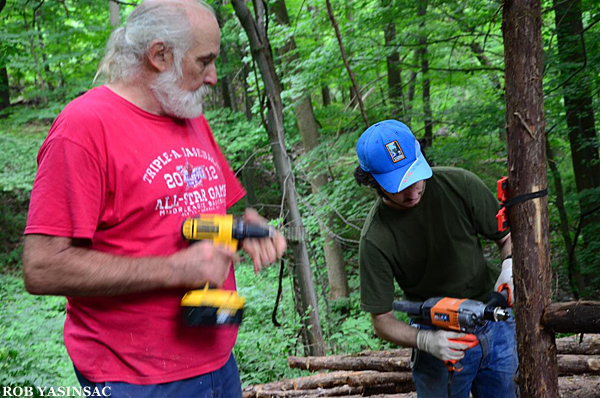 Thom Johnson and Chris Bohl.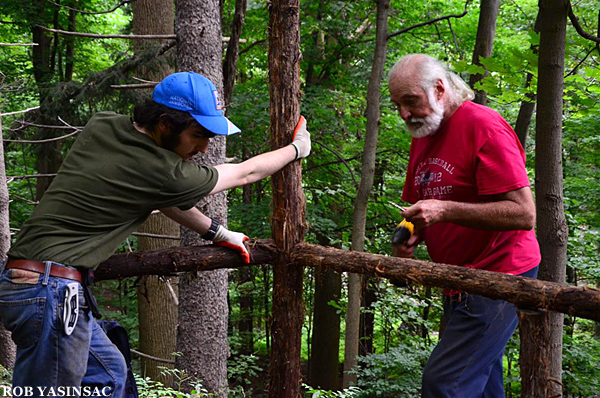 Chris and Thom.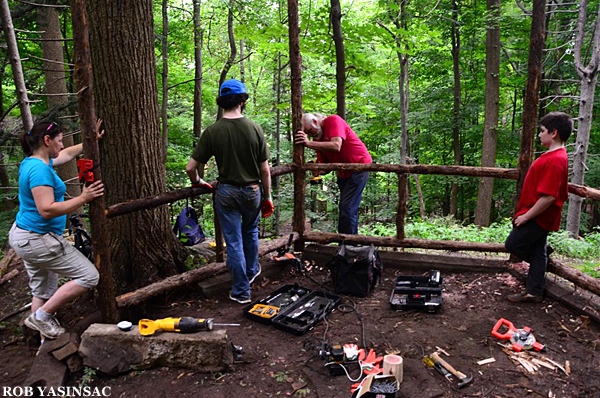 Sandi Bohl, Chris, Thom, and Chris's brother Robbie.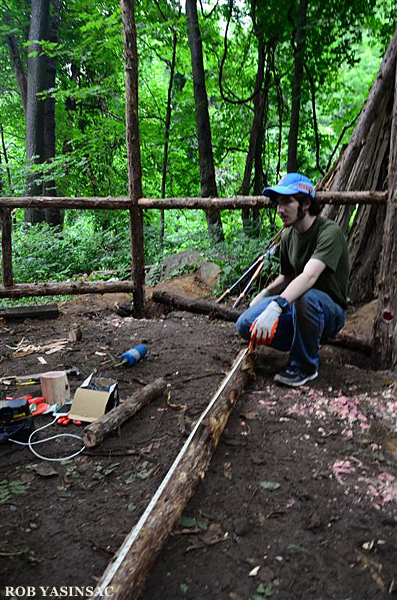 Chris.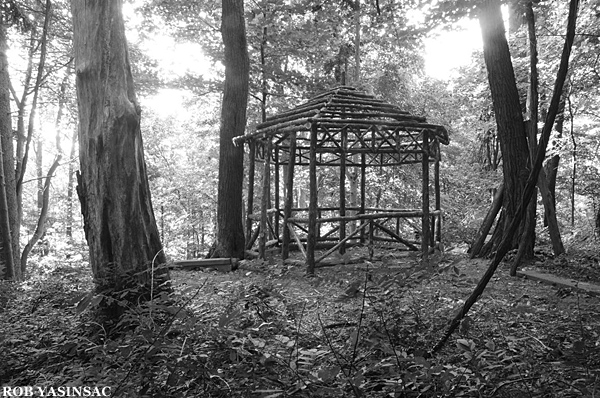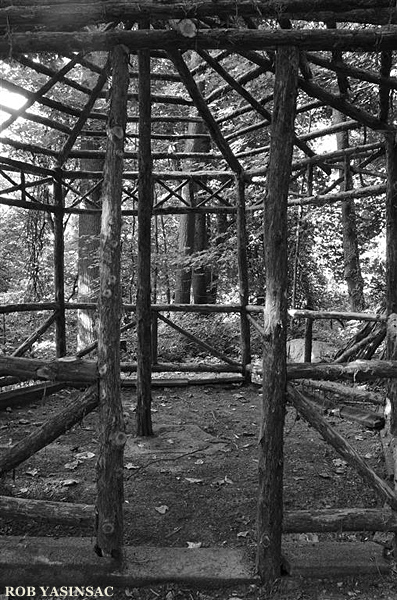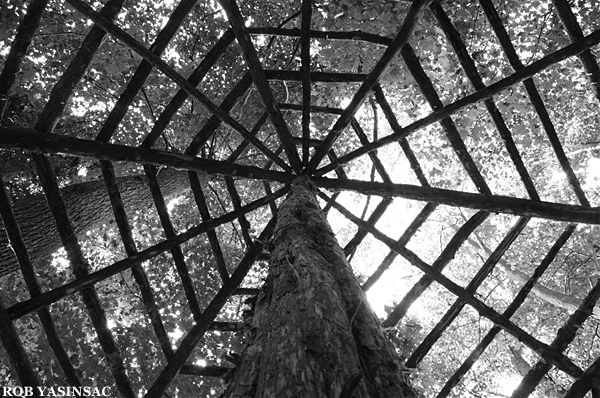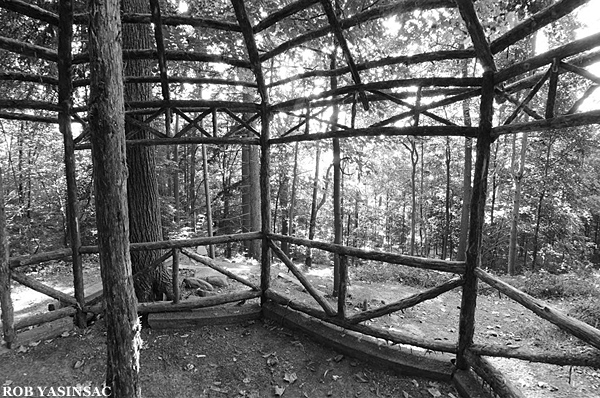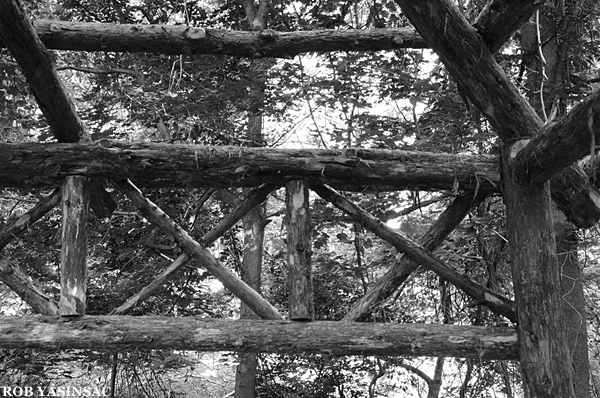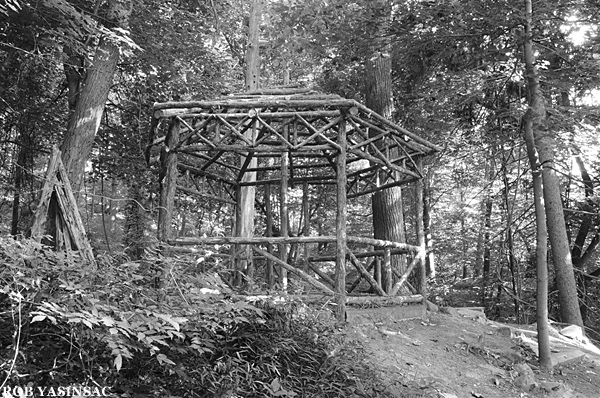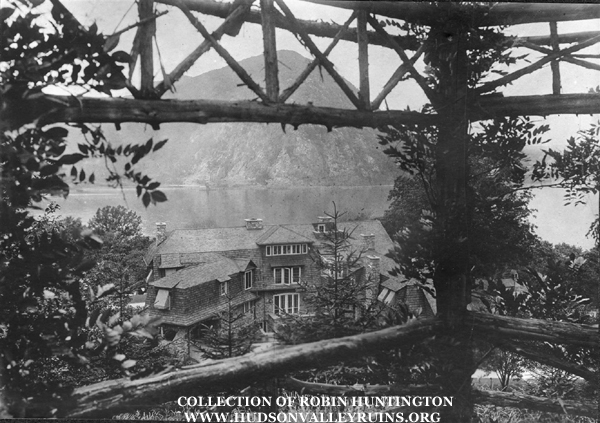 Primary image from which the gazebo was reconstructed, c. 1913-1916.
Collection of Robin Huntington.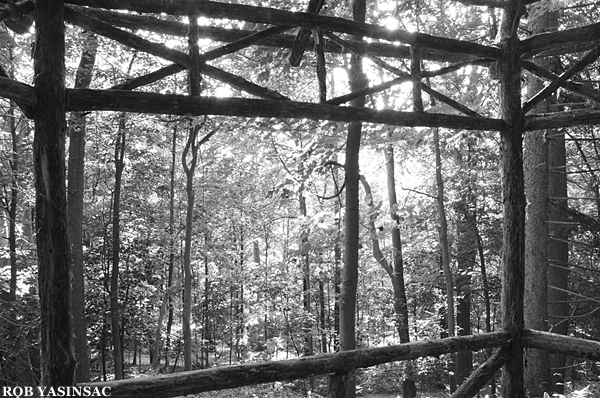 Although the view is obscured by foliage in the summer, wintertime visitors to the reconstructed gazebo will be able
to look down upon the ruins of the Northgate mansion, as suggested by the original photograph above this modern image.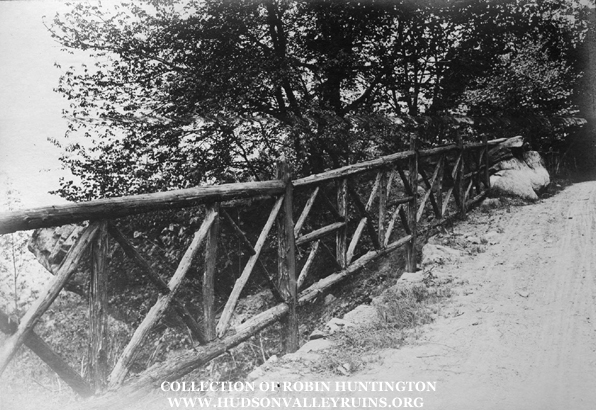 Estate road showing wooden fence.
Collection of Robin Huntington.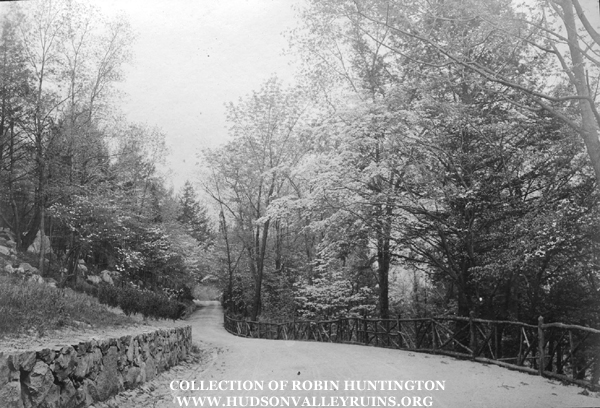 Estate road showing wooden fence.
Collection of Robin Huntington.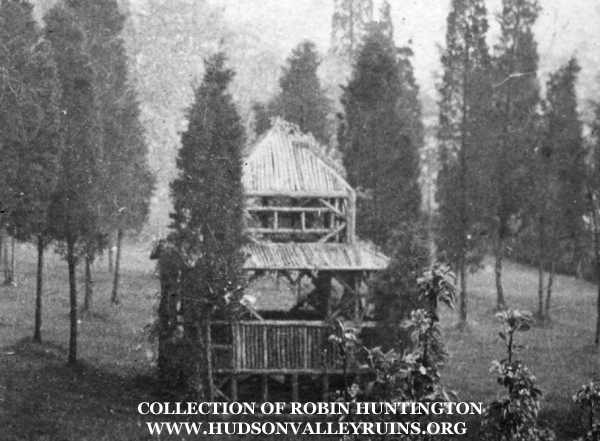 This gazebo, or "summer house", was located just south of the estate's swimming pool.
This fanciful structure would make for an amazing, albeit more complex, reconstruction project.
Collection of Robin Huntington, , c. 1913-1916.


We ask that you please do not copy these historic images for hosting on any other website nor should the images
be reprinted without permission from Robin Huntington. Please feel free to link from your website to http://www.hudsonvalleyruins.org/yasinsac/cornish/gazebo.html to share these images.

NORTHGATE ESSAY IN THE HUDSON RIVER VALLEY REVIEW
The Spring 2014 of the Hudson River Valley Review includes a new essay about the Northgate estate in Cold Spring. The 11-page article, which I co-authored with Thom Johnson and which borrows from a chapter in Hudson Valley Ruins: Forgotten Landmarks of an American Landscape, written by myself and Tom Rinaldi, shares new research about the development of the estate along with previously-unpublished historic photographs. For more information, please visit the following page: http://www.hudsonvalleyruins.org/rob/?p=1990. T
---
This page copyright © 2014 by Robert J. Yasinsac.
Copying or reproducing text or photographs without the permission of Robert Yasinsac is forbidden