Hello Friends of Hudson Valley Ruins,
Please read below for information about an upcoming photography exhibit by a good friend of mine, which I think would be of interest to you.
Rob
_____________________________________________________

Reflections On and With Mr. Bannerman's Tower
By Thom Johnson
I am presenting this series of photographs of Francis Bannerman VI's tower for a number of reasons. First and foremost to show the public the amazing structure that he created. Second, to show how I used it, as a photographer who is fascinated with mirror-images. Another reason is that, when one looks with care at these images, new and sometimes unexpected items, or even creatures, appear. Can you find Mr. Bannerman? Also, I hope to show some of the odd variations, textures, repeated patterns, and other elements in the architecture that add to the rich story of Bannerman's Island Arsenal.
I recorded the photographs over fifteen years ago using a Toyo-View 4×5 field camera that produced a larger negative than standard 35mm film. Then I contact-printed the negatives, and reprinted them with the image flipped. When the final prints were mounted as a mirror-image, I was happy with the results but not with the seams in the center of the pictures. To print them on one piece of photographic paper is possible but requires much work in the darkroom. With digital photography and computer software I am now able to make the images seamless.
Working with photographic software is a rather new experience for me and, given that I don't enjoy spending time looking at a computer screen, one that I needed motivation and help with. Patrick DiBennedetto was my student twenty years ago in art and photography classes at Irvington High School. He is now teaching some of my classes and has developed a graphic design program at the school. So it was logical for me to work with Patrick and I hope he had as much fun as I did learning from him.
Another note about using the ruins of Bannerman's Island Arsenal as an art project is that I think Francis Bannerman VI would have been very happy. My knowledge of him and how he worked is that he reused materials in the construction of the castle. Wood from old barges made into floors, old gun barrels and bayonets used to reinforce concrete; he could find a way to repurpose most anything. Using my images of the ruins of his creation in a creative way are much like his inventive reuse of materials for building construction. Another way that the ruins are being repurposed for creative art is through the project Constellation by Melissa McGill, which I think would also please Francis Bannerman.
So please enjoy what I have created using one of the Hudson Valley's most famous ruins. I hope that viewers will find new and interesting ways to see what I have long seen as a piece of sculpture, one that I hope many more artists, photographers, writers, and others who create will use to enrich our lives.
Reflections On and With Mr. Bannerman's Tower
Opening Reception:
Saturday November 14, 2015
4:00pm to 8:00pm
Bannerman Island Gallery
150 Main Street
Beacon, New York
Open weekends and by appointment.
To arrange a visit, please call Neil Caplan at 1-845-831-6346.
bannermancastle.org/bannerman-island-gallery.html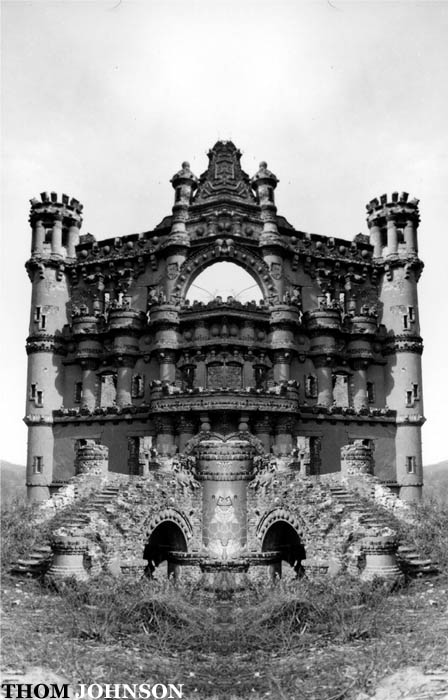 _____________________________________________________
If you did not already know, Thom Johnson was my high-school photography teacher. At the time I had a prior and general interest in photography, and a familiarity with manual-control film cameras. I also had this growing interest in the old buildings of Irvington and Tarrytown. Perhaps sensing an opportunity to inspire me to find a photographic subject that I could focus on and develop a dedication to, Thom lent me his personal copy of Hudson River Villas. The book included photographs of all the famous local historic houses – Sunnyside, Lyndhurst, Philipsburg Manor, Kykuit, as well as long-lost mansions and estates of which I found remnants in the woods off the Old Croton Aqueduct. It even showed some outright abandoned mansions, and of course Bannerman's Island Arsenal. Using Hudson River Villas and other books as guides, I researched the histories of these ruins and then began to explore further up the Hudson River.
As he was a founding member of the Bannerman Castle Trust, it was through Thom that I had legal and frequent access to one of the more sought-after and hard-to-access ruins, an association that I still maintain as a part-time tour guide with the Bannerman Castle Trust. Thom and I have explored other ruins together, and recently we have focused more of our attention on the Northgate (Cornish estate) ruins. It was because of his inspiration to me to find and photograph these ruins in the Hudson Valley that I included Thom in the dedication of "Hudson Valley Ruins: Forgotten Landmarks of an American Landscape." Here is a photograph of Thom at home with one of his paintings of Bannerman's Island Arsenal.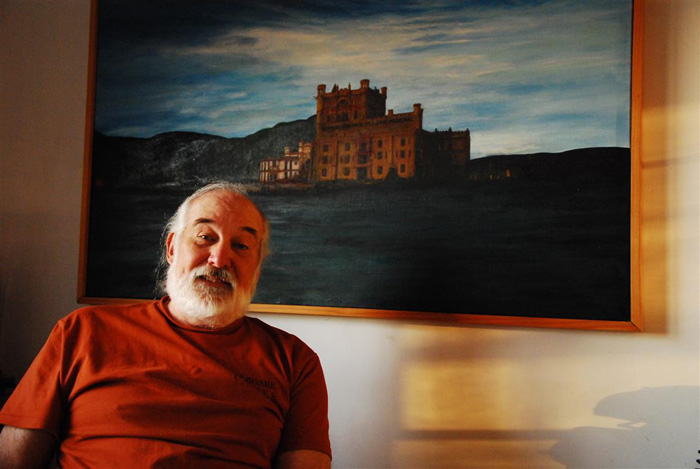 I hope to see you at Thom's show!