Earlier this year I reported on the loss of one of Westchester County's great collections of neon signs. As the year winds down I report on another loss – a set of neon signs that illuminated the Curry Chevrolet dealership on Central Park Avenue in Scarsdale, NY.


– Yonkers Herald Statesman, October 31, 1957.
Bernard F. Curry, Jr., son of a car dealer, opened his own dealership, this location, in 1957. It became the flagship location in his chain of eight stores, most of which were located in lower New York but also included an Atlanta dealership.
The metal-and-glass showroom, with adjoining repair shop and a long-canopied sales lot, at Central Avenue was built by Frank Filardi Construction of White Plains, with the showroom interior furnished by William Klahr, Inc. of White Plains. And a set of neon signs – SERVICE (yellow), CURRY (red), CHEVROLET (blue), and USED CARS (red) – were fabricated by the Albee Sign Company of Mount Vernon. As a counter to the numerous ruins featured on my website, I previously presented images of the neon signs and the dealership showroom on my website as a great example of intact, unaltered mid-20th century architecture.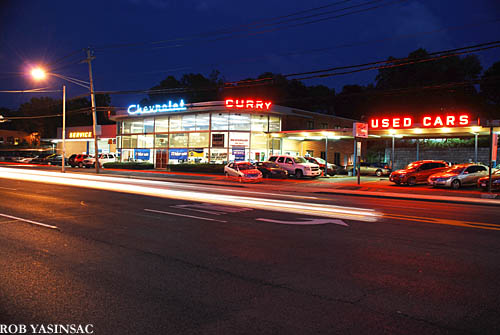 Well, we should know well by now that even great examples of architecture and signage cannot be taken for granted, no matter how rare or in good condition they may be. In July, I received a bit of a shock when I noticed the front of the dealership showroom and the entire canopy undergoing reconstruction. All of those neon signs had been removed. Perhaps the signs were being refurbished for reinstallation? Very unlikely, but one can hope.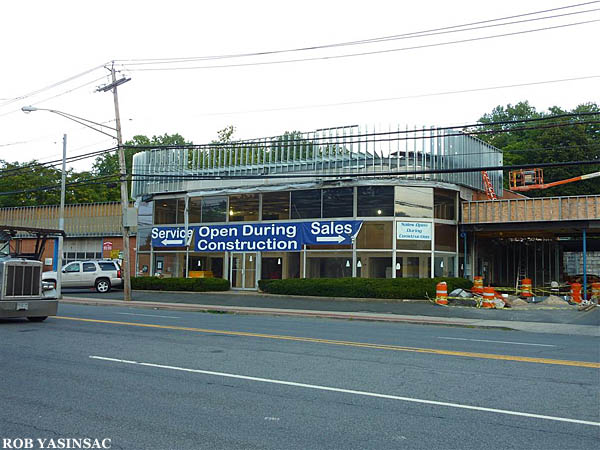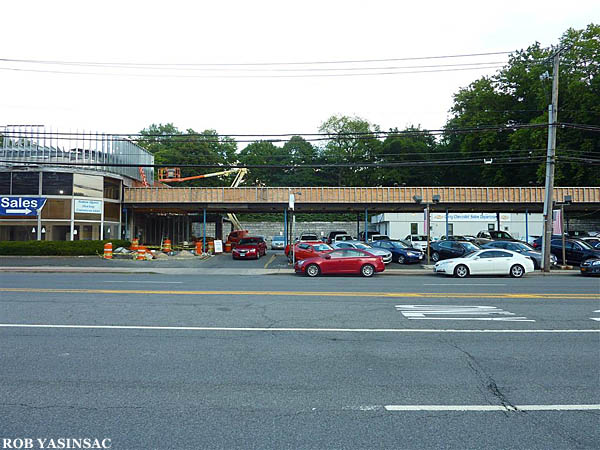 I recently returned to Central Avenue to see the results of the remodeling. Indeed the neon signs were not there. The new signs for CERTIFIED SERVICE and CERTIFIED PRE-OWNED ("pre-owned", heh – that always reminds me of this 1980s Bloom County comic strip that parodies Donald Trump) appear only in blue and are probably LED signs. The CURRY sign was not even illuminated, and there is no replacement for the CHEVROLET sign, leaving the main showroom darkened and unadorned at top.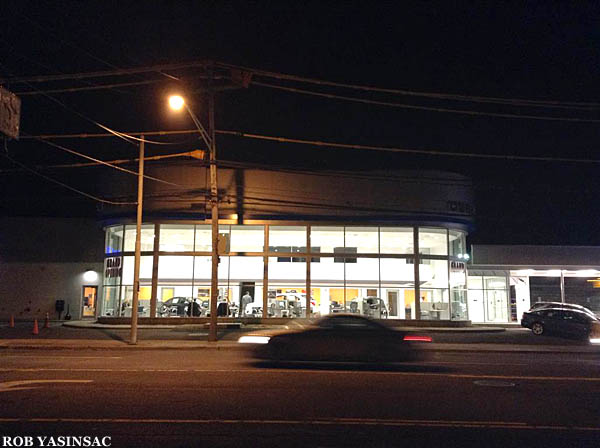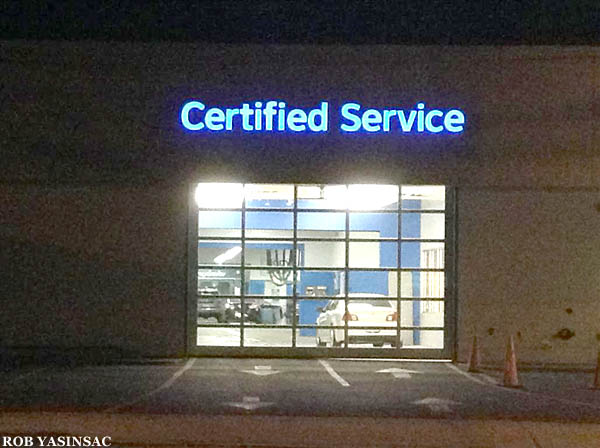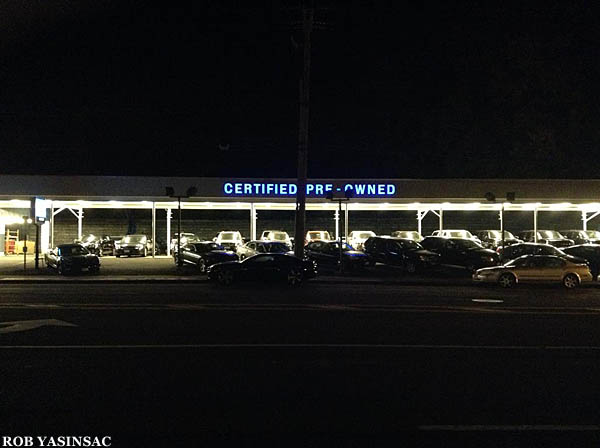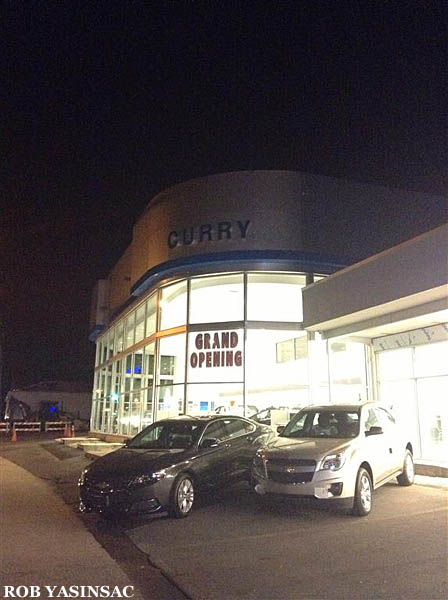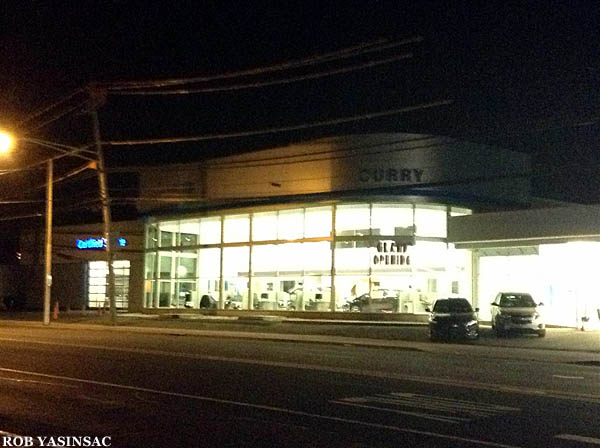 What had been a rare, unique, and easily-identifiable landmark on one of Westchester's "Miracle Miles" now looks like every other store and strip mall on Central Ave. I suppose the Chevrolet showroom shared much in common with other neon-fronted stores in the late 1950s, but its survival into the 21st century combined with the loss of other contemporary stores made the Curry neon signs singularly appealing and photogenic.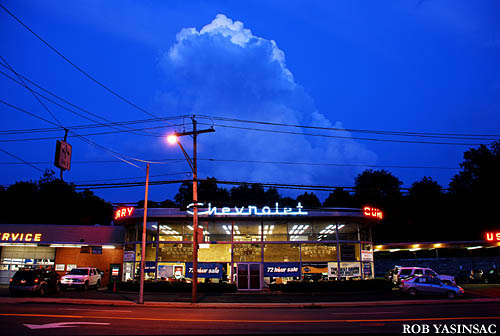 IRONY:
This colorful display of neon was certainly one of Westchester County's most spectacular displays of illuminated signage. It served well its purpose, to advertise and uniquely identify the business contained within. Cars speeding down Central Avemue would be hard pressed to not notice the red, yellow and blue signs as they zoomed by. The photograph above was deemed so representative of the dealership and its visual appeal that it was used, without my consent, on the dealer's website and facebook pages. When I called and spoke with a representative of Curry in the spring of 2013, I was buttered up by how great the photo is, how great it makes the store look, how proud I should be that they liked it… but when I asked for payment, since the image was being used for commercial purposes, I was met with disbelief and a plea of poverty (people often think that, because the picture has already been taken, that the photographer who has spent thousands of dollars on equipment and travel expenses and has worked on his or her own time, does not need to be compensated). Yet, weekly, a friend of mine called me up in the spring to tell me that he saw my photograph in advertisements on the YES Network during New York Yankees games. I guess they weren't so poor after all. To the dealer's credit, they removed my photograph from their website, but to their discredit, they took down the actual signs too. So much for appreciating the history of the location and revering its historic appearance and visual appeal.
UPDATE AUGUST 21, 2014:
Just wanted to highlight an update from don Felder of Curry Chevrolet, as posted below:
"The original "Chevrolet neon script sign was sent out for restoration and now is lit up and proudly displayed on the back wall of the showroom along with some others, The "OK used cars" sign will soon be back on display as well as some other vintage neon."