TROY, NY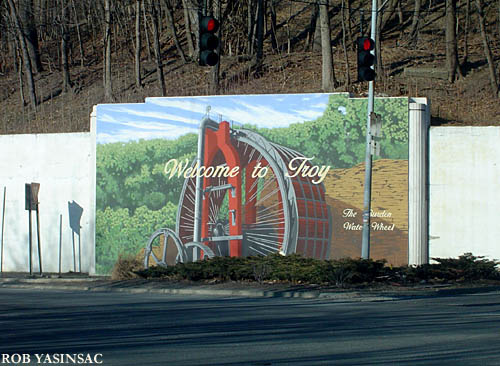 "Welcome to Troy." February 2006.
(Painting showing the famous Burden Iron Works Water Wheel)

On the Hudson River's east shore, seven miles north of Albany, is the city of Troy. In the 19th-century, the golden age for Troy, it was known as the Collar City for its shirt factories. But Troy was also home to burgeoning iron foundries and other manufacturing entities, a prosperous commercial district, and many fine examples of architectural splendor. Although the factories that gave the city its identity stopped production long ago, they continue to lend iconic imagery to the city - a painting of the famous and immense water wheel of the Burden Iron Works greets visitors at the southern gateway to Troy.

Troy today is attempting to revitalize its downtown after decades of decline. Some of the city's more notable buildings have long stood vacant, or as is often said, have been "used for storage," but in recent years there have been efforts at reusing some vacant commercial buildings, such as the Stanley Department Store, and the Hudson River Terminal Warehouse but others, including Proctor's Theater, are still dark and empty.

OFFSITE LINKS:
Troy TiverSpark Visitor Center
RPI Info:What is Troy All About?
Hudson Mohawk Industrial Gateway
The Business Review: Making History in Troy (May 4, 2001)
Labor and Industry in Troy and Cohoes: A Brief History (January 2000)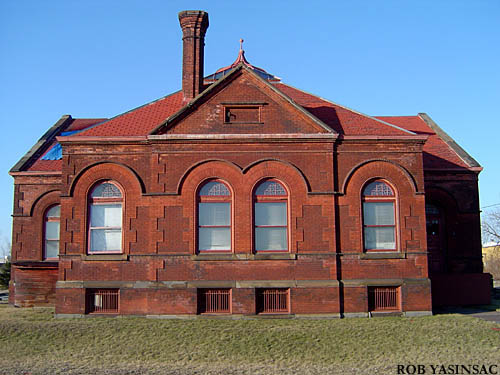 Burden Iron Company Office, February 20, 2006.

This Romanesque-Revival building was constructed 1881-82 and is the most prominent remnant of the Burden Iron Works. In 1822, inventor Henry Burden started an iron foundry that was later named H. Burden & Sons, but more popularly has been called the Burden Iron Works. One of Henry Burden's chief inventions was a machine that could make iron horseshoes, which until then were made individually, by hand. The factory and other nearby iron works also played a role (as private factories often do during wartime) in the Civil War - the Rensselaer Iron Works made the hull plates for the Monitor, the Union Army's first iron-clad battleship. The Burden company operated into the 20th century but didn't properly adjust to the changing marketplace and new consumer demands. Nearly all of the factory buildings were demolished during the Urban Renewal period of the 1960s and 1970s. The famous water wheel on the Wynantskill Creek has also been destroyed. The Burden Office is now a museum operated by the Hudson Mohawk Industrial Gateway - tours are by appointment only.

Historic American Engineering Record entry for this site: http://hdl.loc.gov/loc.pnp/hhh.ny0668


Click here for a few more photos of another Troy industrial ruin.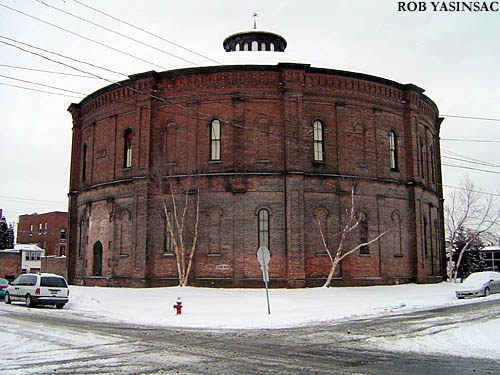 Troy Gas Light Company, Gasholder House, February 21, 2005.

Built in 1873, this building housed an iron gasholder that rose and fell with the amount of coal gas stored inside.
The gas was used to illuminate late 19th-century streetlights throughout the city. In recent years the Gasholder has hosted numerous events although it is not generally open to the public.

Historic American Engineering Record Entry for this site: http://hdl.loc.gov/loc.pnp/hhh.ny0672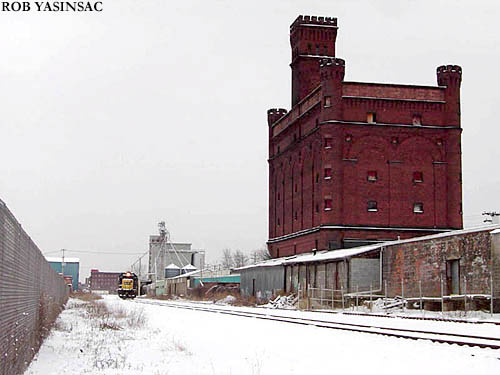 Hudson River Terminal Warehouse, February 21, 2005.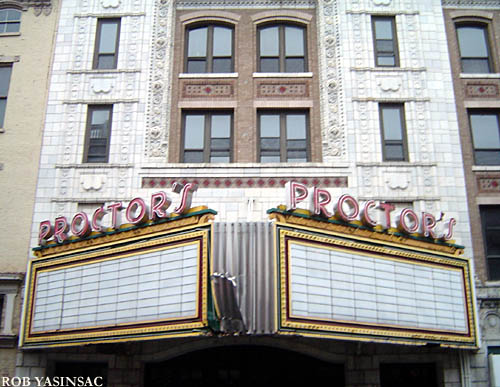 Proctor's Theater, February 21, 2005.

Theater-chain owner F.F. Proctor's Troy vaudeville theater was built in 1914 along with an adjacent office building. 2,500 seats were built into three balconies under ornate plasterwork in this palatial amusement house. Later converted to a movie theater, it suffered along with nationwide urban decline as shoppers and movies-goers fled downtown for the suburbs. The theater closed in 1977, and soon the city foreclosed on the theater's owners. Rensselaer Polytechnic Institute acquired Proctor's Theater in April 2004 and planned the convert the long-shuttered theater into a high-end hotel. That plan was perhaps a bit optimistic for current conditions; Proctor's Theater is still vacant.

UPDATE SEPTEMBER 4, 2009: Plans have been announced to "preserve the facade" of Proctor's Theater while the actual theater space will be demolished.




Office Building adjacent to Proctor's Theater, exterior detail.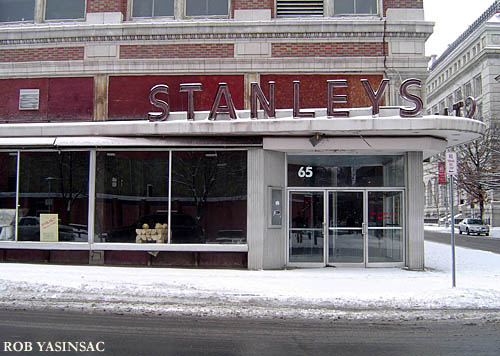 Stanley's Department Store, February 21, 2005.
Vacant since 1989, Stanley's reopened in October 2007 as an apartment building known as "The Conservatory."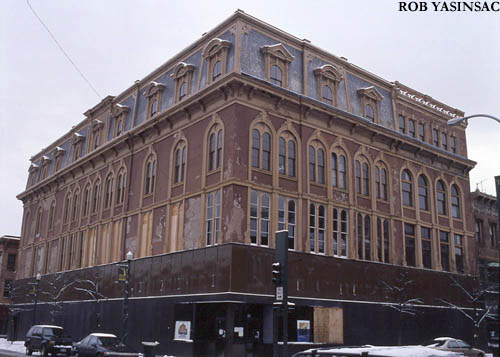 Quackenbush Department Store, February 1, 2005.

The Quackenbush store has had a home in Troy since 1824. This building, designed by Frederick Diaper, was constructed 1855-56 and expanded about fifty years later. It was modeled after a Lord and Taylor store that opened in New York City a few years earlier. The Quackenbush firm closed in 1937 and the W. T. Grant chain took over this site; Grant in turn folded in the 1970s and the building, until recently, housed a Rite-Aid.


Food Buyer's Exchange, December 1, 2006.
UPDATE APRIL 2009: I have been told that this building, at 850 River Street in Troy, has been renovated and is now home to the International Electronic Machines Corporation. The building was originally a brewery for the Quandt's company. Thanks to reader Bob F. for the tip.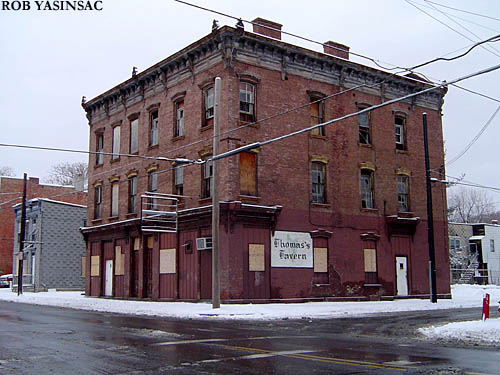 Thomas's Tavern, February 21, 2005. Demolished March 22 2005.
For More on Thomas's Tavern, visit the Lost Landmarks website.


---
Yaz' Hudson Valley Ruins and Abandoned Buildings, etc.
This page copyright © 2008 by Robert J. Yasinsac.
Reproduction or copying of text and/or photography in any form without permission of the author is not permitted.