Saw Mill River Parkway
Service Stations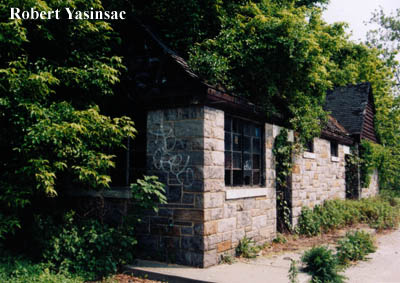 May 27, 2002

As our methods of transportation have changed to adapt to (or to bring about?) changes in our way of life, relics of the old ways have been left behind. Along the Saw Mill River Parkway are two abandoned service stations. They sit on opposite sides of the road. One remains visible to passing travelers, the other stands hidden behind thick trees and brush.

The Parkway system in Westchester County serves a model for such roadways, as it was the first of its kind to be developed. The parkways contrast with unlimited-access local roads that serve the areas where we live, work and spend the great deal of our time, and the interstate highways that let us speed along without knowing where we are as long as we get to where were going. The Westchester County Parkways were originally a mix of the other two systems. There are numerous exit/entrance ramps that let us into local areas, but the landscape and man-made features surrounding the roadway are designed coherently along the entire road, with amenities to service travelers. Scenic bridges and lodges were intended to blend into the scene. The Westchester parkways were built along streams or rivers, and meadows and trees were laid out and planted to create a park-like atmosphere. (Hence the ignorance in the joke "Why do we drive in the parkway, but park in the driveway?" - We really drive through a "park-way.")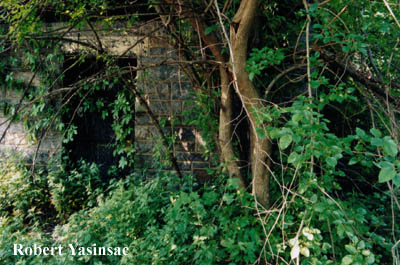 The Westchester system began with the conservation-minded interest of William Niles, who sought a solution to the pollution in the Bronx River. The Parkway may originally have been devised as a park with sewage control for the river, but a roadway was included in the 1907 Bronx Parkway Commission. The roadway concept surely was palatable to real estate investors, who helped push for the Parkway. New suburbs would, and did, spring up along the parkways. The Bronx River Parkway was completed by 1924, and two years later the Saw Mill River Parkway opened its first segment.
The two service stations along the Saw Mill River Parkway have been abandoned since 1980. The nearly identical stone buildings have cedar gables facing the road and wood-shingle roofs. The west building featured gas pumps behind the station, not visible from the road. Along the northbound lanes the pumps were located between the road and the east building. A police office was also included in the building. Architect Clinton Lloyd designed the buildings, and landscape architect Gilmore Clarke planned the shaded pump station near the Saw Mill River. Mr. Clarke was instrumental in the Bronx River Parkway and his work was later commissioned by the Westchester County Parks Commission which oversaw the parkways. Other parkways include the Hutchinson, Taconic State, Cross County, and the Sprain Brook.


The service stations and restaurants along the parkways have been outlawed, more or less. The speed of travelers increased over the years, but the Parkways physically remained the same. It would soon be that the only entrances or exits from the Parkways would be for local traffic, not for roadside stops. Presumably this was done to cut down on traffic accidents and control the flow of vehicles. And so it is in the dizzying pace to get where we want to be, we don't know where we are - just passin' thru. The service stations have been closed and neglected, but they retain beauty amongst the overgrowth.

These stations have survived abandonment long enough that there does not seem to be an imminent threat to their continued existence. On the other hand, there does not seem to be any rush to put them to adaptive reuse either. On the Bear Mountain Parkway, north of Peekskill, a similar service station has been restored as a Town of Cortlandt Visitors Center.

Sources:

www.nycroads.com, for more information on the Saw Mill River Parkway.

American Architecture, Westchester County, New York,
by Frank E. Sanchis.
---

Yaz' Hudson Valley Ruins and Abandoned Buildings, etc.
---
This page and all photographs copyright © 2002 by Robert J. Yasinsac.