Peekskill
Peekskill is situated near the northwest corner of Westchester County, opposite Dunderberg Mountain. The stretch of the Hudson from Peekskill to Newburgh has long been a difficult passage on the water, and early sailors called it "The Devil's Horse Race." The deepest part of the Hudson, near Cold Spring, is known as "World's End;" which is also the same name Peekskill native and author T. C. Boyle borrowed for one of his novels. The name of Peekskill itself goes back to one of the area's earliest settlers; it refers to a creek named in the Dutch vernacular for Jan Peeck. Geography also played a role in the types of developments here - Peekskill's clean mountainside air and location along the Hudson led several Catholic institutions to establish religious retreats in the late 19th-century.

Other famous sons of Peekskill include Henry Ward Beecher, abolitionist and brother of Harriet Beecher Stowe, the author of "Uncle Tom's Cabin." Henry Beecher's East Main Street mansion stills stands, though heavily altered. New York State Secretary of State, United States Senator, and President of the New York Central Railroad Chauncey M. Depew was born and raised in Peekskill, and a park in his name honors him today. Actor Mel Gibson was born, but not raised here, but former New York State Governor George Pataki and Los Angeles Clippers star Elton Brand can say they made their way up through Peekskill: Pataki as city mayor, Brand as public high school basketball standout.

The Lent House - "Peekskill's oldest house"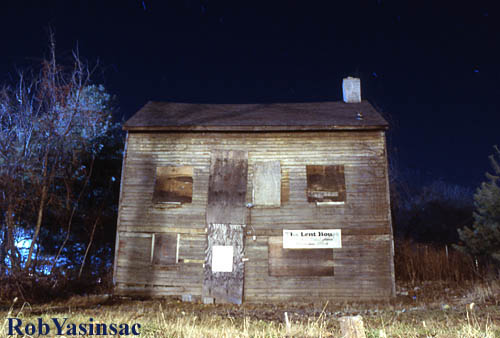 December 27, 2005
Very few of Westchester County's pre-Revolutionary homes survive. Unlike Rockland and Ulster counties, many of Westchester's colonial homes were constructed of wood and not stone or brick, which may account for survival of a greater number of older homes in those areas across the river. Many of Westchester's riverfront sites, where the tenant farmsteads were established, became estates in the 19th century for Manhattan merchants, and no doubt many of the small homes were lost during that redevelopment. Peekskill's oldest house appears to have been built just after the Revolutionary War, and is abandoned. Known as the Lent House, it was acquired by the City of Peekskill in 1984. There have been plans to move it from its current industrial zone to the waterfront where it would be restored. Thankfully, the home's former owner made interim repairs to the house which saved it from falling further into decay, yet the City itself has not taken substantial action towards preservation of the saltbox home.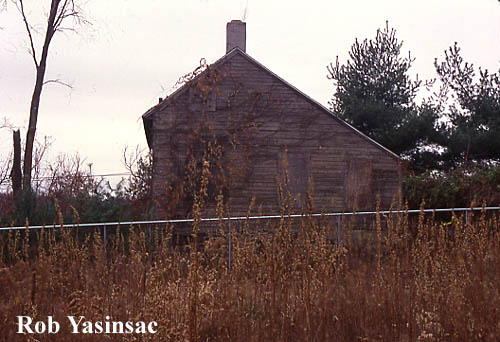 March 25, 2005

Peekskill, like nearby Croton, Ossining and Tarrytown, lost a significant amount of historic architecture during the Urban Renewal program of the 1960s and 1970s. Peekskill suffered the worst of the rivertowns in the county, as promised redevelopments never took shape, parking garages and empty lots replaced formerly vibrant commercial and residential districts, and rioters took to the streets. The effects of that era are still strong today, and Peekskill historian John Curran has written a book chronicling Urban Renewal here. A precursor to the devastation witnessed then by Peekskill was the infamous riot of 1949, when protesters became violent after a concert by Paul Robeson, a promoter of civil rights and a communist sympathizer. The riot, with racist overtones, actually occurred in the Town of Cortlandt, but is known as the "Peekskill Riot." Pete Seeger, who also performed that September 4, later recorded the song "Hold the Line" about the riot.

Franciscan Sisters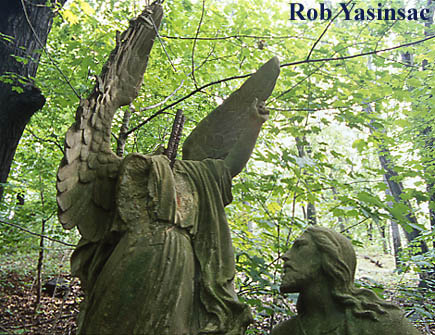 September 21, 2001

For more images of the Franciscan Sisters "Stations of the Cross," click here.

Today, the city is witnessing another round of reinvention, much of it at the hands of Ginsburg Development Company (GDC). GDC acquired part of the Franciscan Sisters property, where a placid shaded walk above the Hudson among the "Stations of the Cross" and several institutional structures were destroyed for condominiums known as Riverbend. GDC also constructed housing on the site of Mount Saint Florence, where 9 of 11 historic buildings from a Catholic convent and reformatory school were razed ca. 2000-2001. Among the buildings lost was an Italianate mansion constructed for Associated Press president Daniel H. Craig ca. 1865. The site is now a condominium development known as "Chapel Hill."

Mike Altadonna's website features photographs that he took of the Mount Saint Florence / Chapel Hill property before the buildings were razed by GDC. My first visit there occurred in August of 2001, not long after the Daniel Craig mansion and school buildings were destroyed but before reconstruction began in earnest.


Myers Brothers Storage Company

.

December 27, 2005

Centennial Hose Firehouse

.

September 27, 2005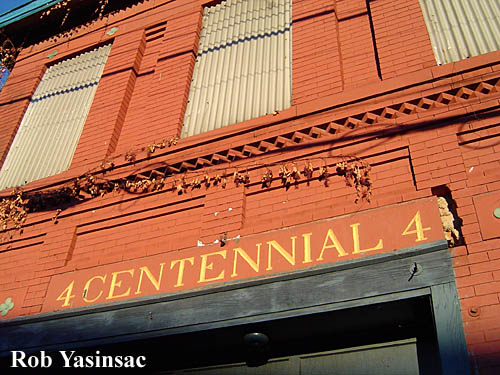 It seems there is a plan to create a potentially healthy mix of residential and retail units north of the train station, but some historic buildings may be at risk, such as the Myers Brothers Storage warehouse, built in 1928 with a fieldstone exterior. Some of the last vestiges of Peekskill's industrial heritage are soon to disappear as well. The Purina Chows warehouse, originally part of the once-vast and long-vanished Union Stove Works, will likely be demolished. There are, however, stated intentions of relocating and restoring the Centennial Hose Firehouse, which will have to make way for a new Route 9 overpass. There is good news across the street, where the Lincoln Society of Peekskill is working with the City of Peekskill towards restoring the "Lincoln Depot." A former New York Central and Hudson River Railroad freight station, it was built on the site of Peekskill's first passenger station, where President-elect Abraham Lincoln gave a speech on February 19, 1861 - the only public speech by Lincoln in Westchester. The building itself attains significance as a rare surviving Hudson Line freight station, and architectural historian Frank Sanchis has praised the "brick pilasters, carved brackets and well-proportioned roof" of the "elegant, if unpretentious, building."

UPDATE: The Centennial Hose firehouse collapsed August 21, 2008, as the building was being moved in advance of construction of a new Route 9 overpass. The Myers Brothers warehouse was also significantly altered in the past year; much of the historic character of the building was destroyed.


Purina Chows Warehouse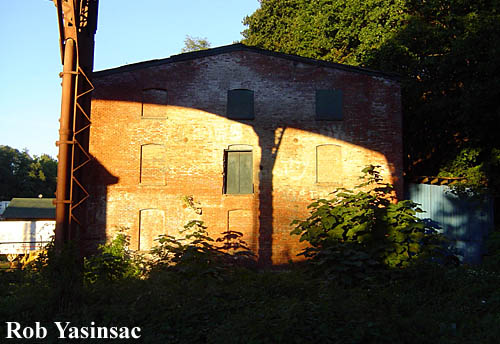 .

September 27, 2005
(UPDATE: The Purina Chows warehouse was demolished in 2007.)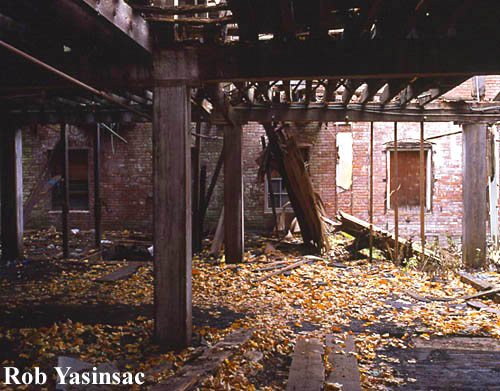 November 20, 2004


"Lincoln Depot" (NYC & HRRR Freight Station)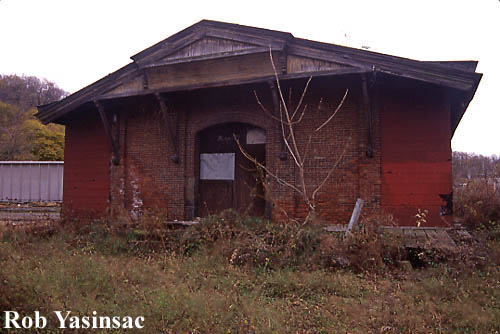 .

November 20, 2004


A View of the Hudson at night, from Peekskill.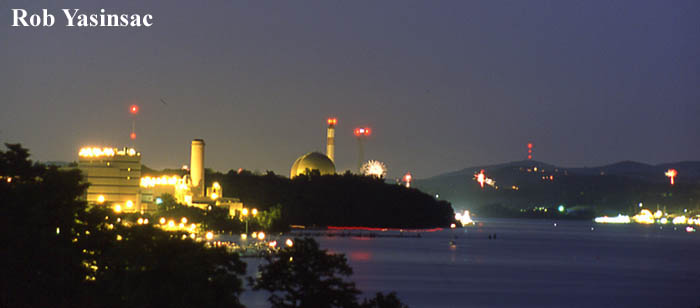 Fortunately those explosions are not on account of violence or mechanical accident, or the New York City
metro region would be in serious trouble. Rather, this photograph was taken July 4, 2005.




Yaz' Hudson Valley Ruins and Abandoned Buildings, etc.
---
This page copyright © 2006 by Robert J. Yasinsac.
Reproduction of these photos without the permission of Robert Yasinsac is prohibited.