Ossining Banks
In downtown Ossining stand a trio of long-vacant banks which are listed on the National Register of Historic Places. These building's fates were steered toward dormancy in the late twentieth-century, after Urban Renewal changed the face of downtown. Throughout the Hudson Valley, historic buildings were torn down, roads were widened, and large parking lots were constructed, changing the territory from one built on a human scale to one designed for cars. But this redesign of commercial and retail districts was completed just in time for people to steal away from the village center and enjoy the strip-malls, and later, the mega malls, built in the 1970s and 1980s on the edges of suburbia. So downtown sat vacant anyway. But in the 21st century, old downtowns once the domain of the lower working class are being gentrified. The effect will have social consequences, at the elimination of low-cost housing in an area accessible to public transportation and occasionally pedestrian-friendly, but yet in some cases we may see the revitalization of some long-neglected buildings.
Ossining National Bank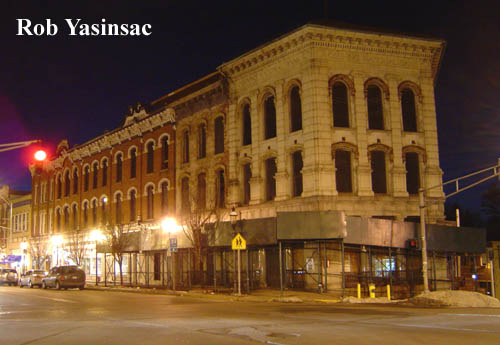 February 5, 2005
The Ossining National Bank is part of the Barlow Block, which was built in 1873 after an earlier structure on the site burned. The Barlow family operated a hardware and furniture business store. The corner lot originally continued the same Italianate architectural theme as the facade at left, but was remodeled in the Beaux-Arts style in 1907. The bank structure has been completely gutted, and was boarded up as far back as 1975. Almost all of the buildings on south side of Main Street were demolished in the 1970s.

UPDATE, APRIL 25, 2010: The Ossining National Bank has been renovated and is currently home to first-floor commercial space with restricted-income condominium units above. It is now known as Ossining TB Flats. Many thanks to several readers for pointing this out to me.

Bank for Savings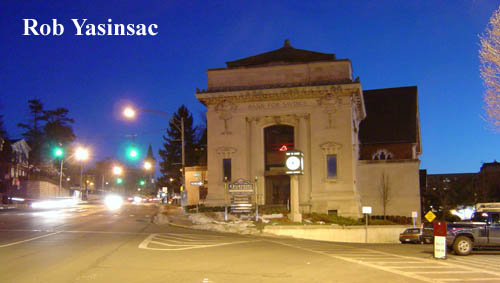 February 5, 2005
Another Beaux-Arts structure, dating to 1908, the Bank For Savings occupies a prominent lot at the entrance to downtown Ossining. This style was at its peak in the early 1900s, having been popularized by the World's Columbian Exposition of 1893 in Chicago, and later exemplified by Grand Central Terminal and the New York Public Library. Vacant since 1983, plans are underway to reuse this building to the benefit of the Ossining community. Read more about the Bank For Savings.




February 5, 2005

First National Bank and Trust Company

Also occupying a corner lot is the First National Bank and Trust Company. One of the reasons why downtown buildings sit vacant is because permits are often held up for issues like "lack of parking." A corner lot building in particular will suffer as parking is typically not allowed around a corner. An interesting design of this Art Deco gem is its hexagonal shape.

UPDATE: As of late October 2005, after years of disuse, the First National Bank and Trust Company reopened under ownership of Emigrant Savings Bank.
---
Yaz' Hudson Valley Ruins and Abandoned Buildings, etc.
---
This page and all photographs copyright © 2005 by Robert J. Yasinsac.
Reproducing these images without the permission of Robert J. Yasinsac is prohibited.