New York Ruins
A sample of sites that I visited during my August 2010 road trip.
Some ruins, some not-so-ruins, and some not ruins at all.




I camped out every night except the one night it was raining. One drawback to camping is that late check-ins are usually discouraged, and one can waste valuable daylight trying to get to a far-flung campsite in time. Sometimes the comforts of an enclosed room and electric lights are most welcome.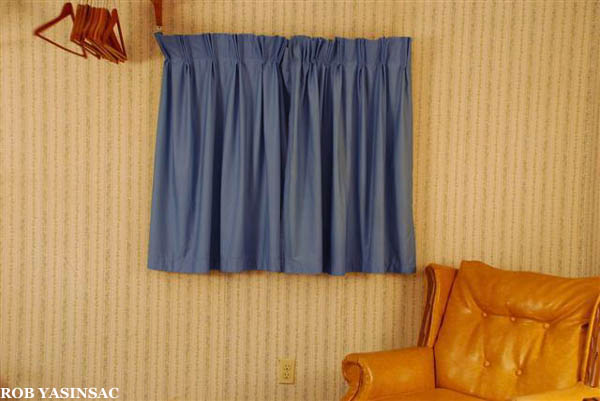 Riverside Motel, Fultonville.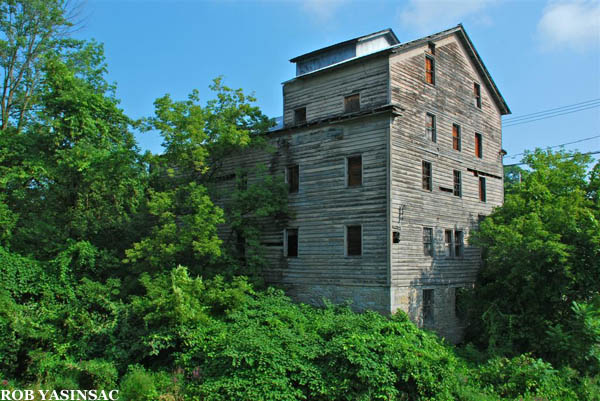 Mill, Fonda.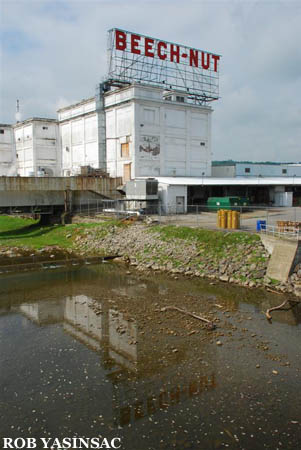 The Beech Nut factory (still active) in Canajoharie is a landmark to travelers on the New York State Thruway. It seems that Beech Nut will soon vacate this site for a newer factory.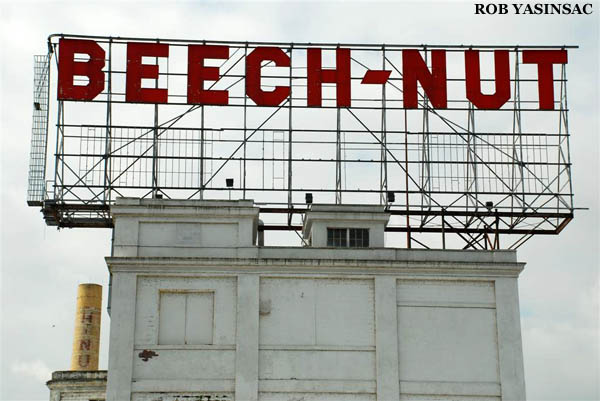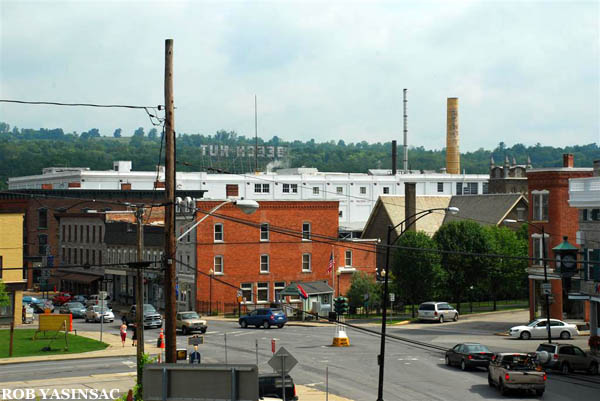 Canajoharie.
Unbeknownst to me until after my trip, the dummy traffic light on the pedestal in the middle of the street is said to be one of three such devices in use in the United States. Two are in the Hudson Valley: Beacon (Matteawan) and Croton-on-Hudson.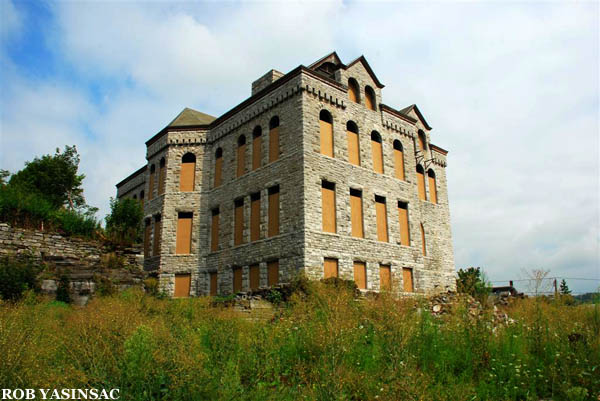 West Hill School, Canajoharie.
I'm not sure why this abandoned school is so heavily fortified. It hasn't suffered any fire damage that I am aware of. The surest way to draw attention to a site is to board up every window. I sure wouldn't have thought twice to check out this place if I hadn't noticed all the boards from downtown. The boards will also help people who sneak in at night for destructive purposes because their flashlights won't be visible to the outside world.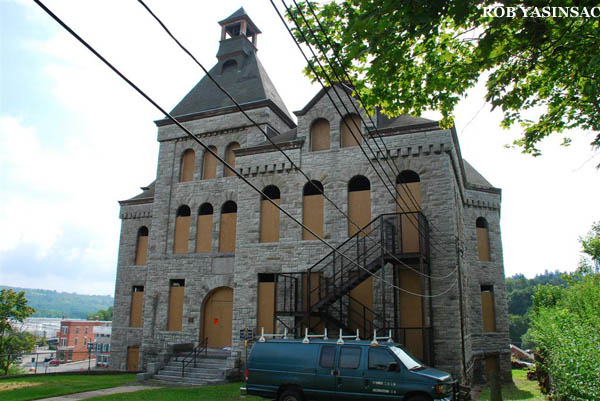 West Hill School, Canajoharie.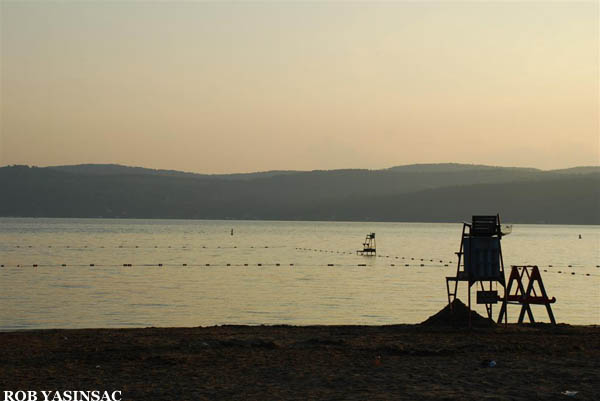 Glimmerglass Lake State Park.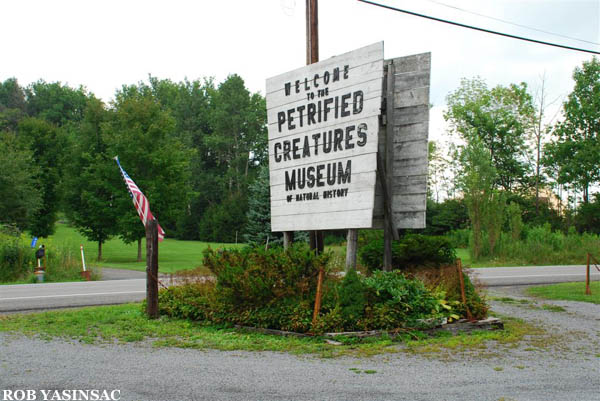 Petrified Creatures Museum, near Richfield Springs. A great way to waste nine dollars.
The only ancient things here were the displays, and the tacky mailboxes provided 1960s-style voiceovers explaining the significance of papier-mache dinosaurs. The site has a digging area where you may take home whatever you find, but the only thing going on was a bunch of bored kids hammering away at the ground to produce gravel. I thought you might actually be able to see preserved fossils in the rock, but no such luck. It's basically a dumbed-down playground for parents to occupy their kids, at a steep price, for a few hours on the family vacation.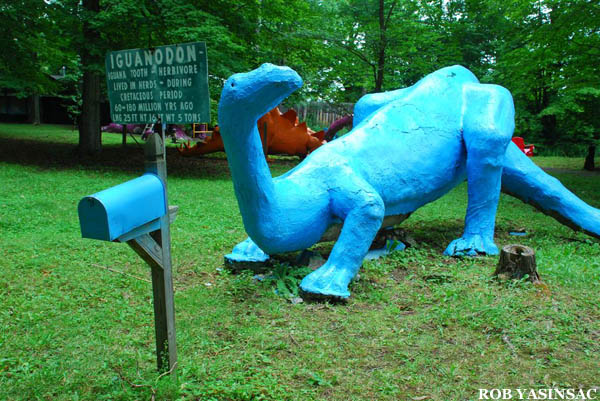 Petrified Creatures.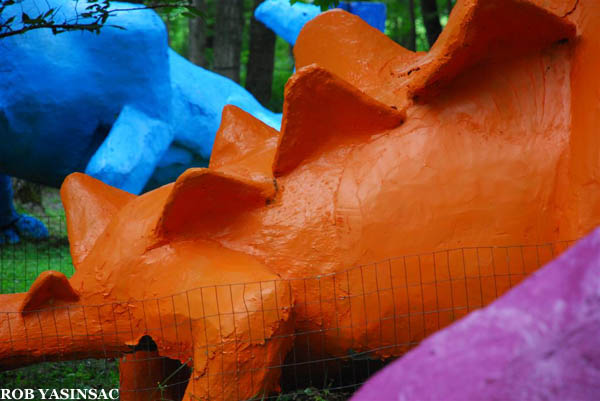 Petrified Creatures.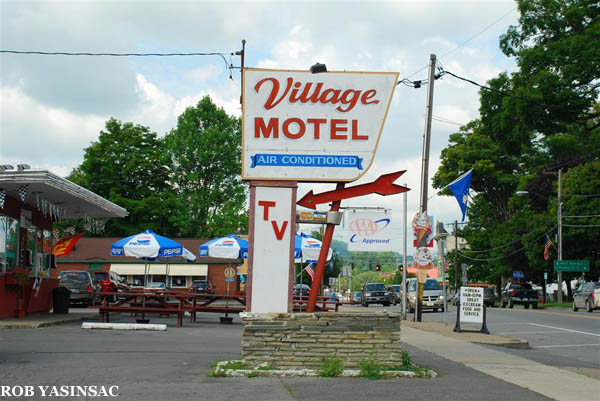 Richfield Springs.
One of my missions on this trip was to avoid the New York State Thruway and see the bypassed downtowns, where there are many old and still operating motels. Most don't have a web presence, so often advance research may not find a place to stay for the night if need be.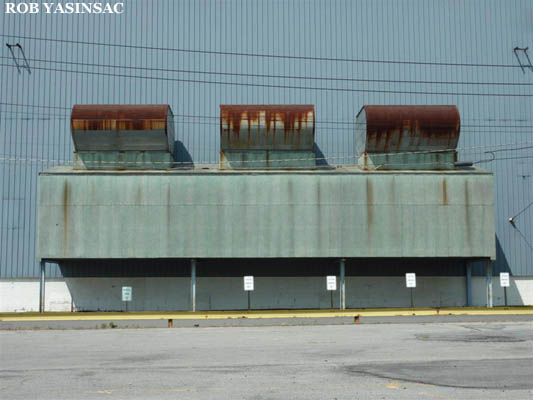 Abandoned Bombardier factory, Auburn.
They used to make parts for planes and trains here.

---
This page copyright © 2010 by Robert J. Yasinsac. All rights reserved.
Reproducing or copying photographs without the permission of Robert Yasinsac is prohibited.