Briarcliff Lodge
Links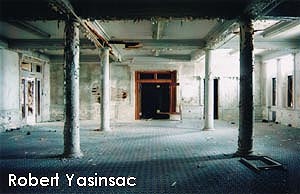 Save the Lodge
Michael Molinelli set up a website at http://www.molinelli-aia.com/briar.html to raise support for saving Briarcliff Lodge. Studies for the adaptive-reuse possibility of the building are available for downloading at this site. According to Michael, the new slogan is "Rebuild the Lodge!"

Xydexx
Exploring and Modern Ruins - Contemporary photographs of the abandoned Briarcliff Lodge, plus memorabilia found inside the former main building of The King's College.

Tim Rice
TKC alumnus Tim Rice's website with photos of the campus circa 1977-1981.

Preservation Online
Developer May Raze 1902 Hotel for Retirement Community - March 3, 2003
Briarcliff Lodge Burns in "Suspicious" Fire - September 30, 2003
Best and Worst of 2003 - December 12, 2003

The Journal News
Historic Briarcliff Lodge in Ashes. -September 21, 2003
Lodge fire may have been arson. - September 22, 2003
Historic lodge fire in Briarcliff Manor called suspicious - September 28, 2003

News12 Westchester
Fire rips through Kings College Campus

Photographs from the September 20, 2003 Fire
Millwood Fire Company

Scarborough Engine Company - Briarcliff Lodge Fire

Scarborough Engine Company - Music Building Fire (October 2000)

Sean McMains
Recollections from an alumnus.

Bizarre Coincidence
On September 20, 2003, The Daily Item in Lynn, MA, reported that a renovated Briarcliff Lodge was scheduled to reopen in that town on Monday the 22nd.
---
This page copyright © 2003 by Robert J.Yasinsac. All rights reserved. Reproduction or copying of these photos in any form is not permitted.