Halsey Teahouse
IRVINGTON, NY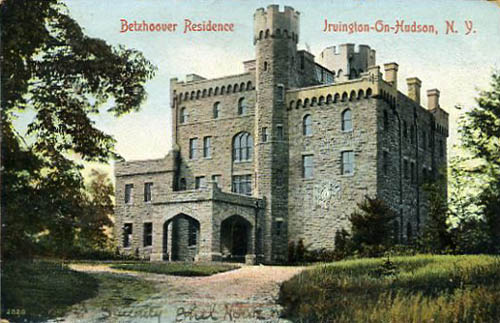 Rochroane / Grey Towers, now demolished.
Tucked away in the back part of Irvington are the remains of a once-grand estate. The centerpiece was a stone castle-like mansion known as Rochroane. Designed by local resident A.J. Manning for village president Melchior Beltzhoover in 1905, the house has been called a "Rhine Castle," as it was said to be a replica of a German Castle. (I've yet to see a photo of such to validate this, but just about any castle in the Hudson Valley is said to be a replica of some European edifice.) The estate was acquired by Benjamin Halsey in 1927, who renamed it Grey Towers. The pond now goes by the name Halsey Pond.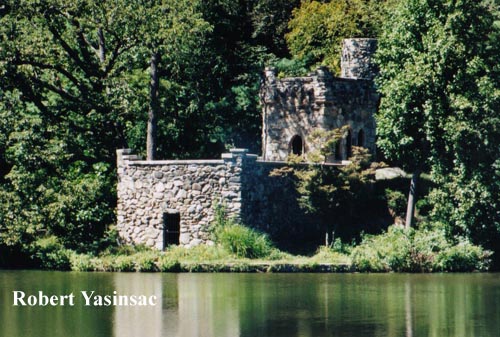 The teahouse.
The property was donated by Mrs. Halsey to the local Roman Catholic Church in the mid 1970s. Promptly enough, the house burned due to fire of unknown origin. Rochroane/Grey Towers was demolished soon thereafter. The local Catholic Church has a record of losing old structures, as the Old Immaculate Conception Church itself suffered a similar fate. Anyhow, we have now lost both buildings - the church was demolished in 1996 after standing for many years in ruin. The church was probably just after the money, as the property was sold to a developer, who gave the pond to the village in exchange for being allowed to develop the rest of the estate. The same developer now wants to build on land surrounding the pond that did not get covered over the first time around.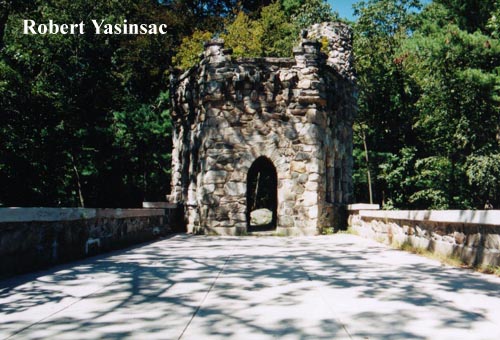 The teahouse is the only remaining BUILDING on the old estate, besides some towers that are found in private backyards. It is a quaint little building, two floors, with an open hexagonal tower featuring gothic-arched windows. A walkway surrounds the pond, surpassing along the way a stone bridge, remnants of a fountain, and a dam. Foundations of other structures can be seen in the woods. Neglected for many years, the teahouse was restored in 1997.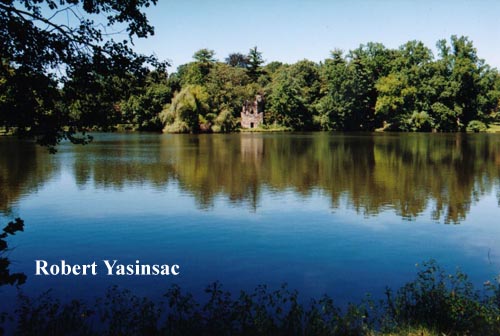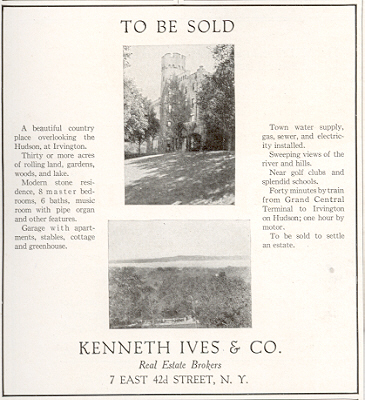 Halsey Teahouse photos - Night Photography
---

Yaz' Hudson Valley Ruins and Abandoned Buildings, etc.
---
This page copyright © 2000 by Robert J.Yasinsac. All rights reserved.
Reproducing text or images without the permission of Robert Yasinsac is prohibited.