"I heard about a man to whom I may be related..."-EV
Sparta Cemetery and The Leather Man
OSSINING, NY
Scarborough is about 30 miles north of New York City, located on the Hudson River. It might be best known for two or three old mansions in particular, such as the McKim, Mead and White-designed Woodlea, now the Sleepy Hollow Country Club. Not quite so regal but just as significant and interesting is the Sparta Cemetery, which is located directly off Route 9, about 200 feet northeast of the well known Scarborough Presbyterian Church. The Leather Man's grave is five feet from the road, behind a gate pillar. Another thing the cemetery is known for is a headstone that was pierced by cannon fire from the British sloop Vulture during the Revolutionary War. That headstone, smashed by vandals late in the 20th century, is marked by a plaque where it should be. The Sparta Cemetery is one of the oldest in the area, dating back to the era of the Philipses (1680-1750), the first major land-owning family in Westchester County.

My interest in the Leather Man was sparked in early 1998 by the new release by Pearl Jam. The B-side to the single "Given to Fly" was called "Leatherman." I knew only vaguely enough of the story about this man of the land, but I looked in my copy of History of the Tarrytowns, and sure enough, Eddie Vedder's description of the Leather Man exactly matched the story as retold in the book. My letter to Synergy, below, and a short speech by Eddie at the 9/11/98 MSG concert in New York, confirmed it that the song was based on the Leatherman of Westchester County.

The Leather Man hiked a circuit around southern New York and Connecticut while dressed in a leather outfit. His name and origins remain a mystery. Although his name was reputed to have been Jules Bourglay, research has shown that the popular legend about the Leather Man's origin was fictional. His name was not Jules Bourglay. Here is a typical account, from History of the Tarrytowns:

"A grave, unmarked for many years, in Scarborough's Sparta Cemetery holds the remains of Jules Bourglay, a Frenchman whose curious ways earned him the nickname, The Leather Man."

"Legend says Bourglay began his strange behavior after his failure in the leather business of his future father-in-law broke up his romance in the mid-19th century. Stricken with grief, he came to America and wandered between the Hudson and Connecticut Rivers, clad in the substance of his ruin--leather. His presence soon was heralded throughout the area as people came to recognize the leather-clad gentleman who was never known to speak, enter a house or accept favors or money from anyone. Some early writers believed he was a mute. He appeared many times in the Tarrytowns, reported Marcus D. Raymond, early historian and editor for the old Tarrytown Argus."

"The Leather Man was known for his great appetite. his regular order in local groceries was a loaf of bread, a can of sardines, a pound of fancy crackers, a pie, two quarts of coffee, a gill of brandy and a bottle of beer."

"He wore a suit of heavy leather year-round and must have been a strong man to wear this heavy suit and walk the many miles he tramped each day in his wandering, solitary existence."

"The Darrow family of Shrub Oak in northern Westchester developed such an interest in the Leather Man that, in the front of their account book for 1884-93, they listed the dates he passed through that community from 1885-89. the list shows that he visited Shrub Oak a little less frequently than once a month, usually appearing in mid-morning; next to the dates are brief notes about whether he stopped and, if so, for how long and what he did."

"Representatives for the Connecticut Humane Society became so concerned about the Leather Man that in December 1888 they had the old man arrested and taken to a Hartford hospital. But he wanted his freedom. He had money and refused to stay, so hospital authorities judged him sane except for an emotional affliction, and released him to his wanderings."
"He died March 24, 1889, some say of cancer, in a shelter on the George Dell farm in Briarcliff and, after a coroner's inquest, he was buried as a public charge in an unmarked grave. History enthusiasts of the Westchester County Historical Society learned the location of the grave and placed markers on it in the 1930's."

"the inscription on the modest headstone near the entrance to Sparta Cemetery on Route 9 reads: 'Final resting place of Jules Bourglay of Lyons, France, "The Leather Man," who regularly walked a 365-mile route through Westchester and Connecticut from the Connecticut River to the Hudson, living in caves, in the years 1858-1889.'"

Above text taken from History of the Tarrytowns, Canning, Jeff and Wally Buxton. Harbor Hill Books 1975.

"Leatherman," words/music by Eddie Vedder
I heard about a man to whom I may be related
He's leatherman
Died a long time ago in the 1880s leatherman, leatherman
Covered with leather but it wasn't tight
Underneath the moon in the woods at night
Making the rounds 10 miles a day
Once a month they spot him and
Here's what they say
Here he comes he's a man of the land
He's leatherman, smile on his face, axe in his pack
He's leatherman, leatherman, leatherman
Comes out of the caves once a day to be fed
Wasn't known to say much
But thanks for the bread
So modern day I walk my way with my jacket faded
Just like a man of leather to whom I may be related
Rolled cigarette for which he asked for a light
Appeared to be an animal yet so polite
Making the rounds ten miles a day
Once a month they spot him and
Here's what they say
Here he comes he's a man of the land
He's leatherman, smile on his face, axe in his hand
He's leatherman, leatherman, leatherman, leatherman, leatherman
Shakes his hand, he's leatherman
Bake some bread, he's leatherman
Shame he's dead, I saw his bed
It's all that's left of leatherman
Leatherman
Give me some skin
Leatherman

Photograph of the Leather Man,
from the collection of Dan W. DeLuca.

Photograph by James Frances Rodgers of Branford, Conn.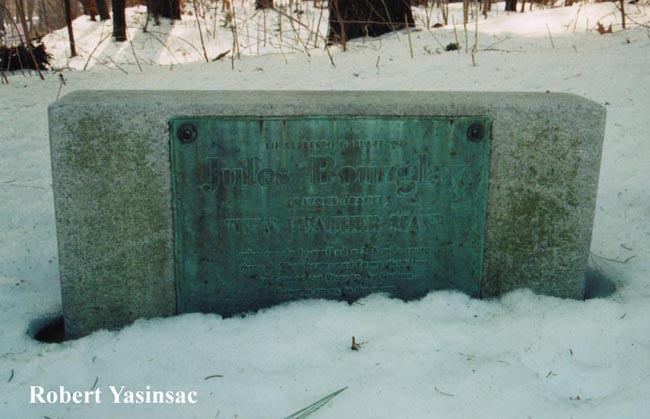 Headstone of the Leather Man. It reads (still, erroneously):

FINAL RESTING PLACE OF
Jules Bourglay
OF LYONS, FRANCE
"THE LEATHER MAN"
who regualrly walked a 365 mile route
through Westchester and Connecticut from
the Connecticut River to the Hudson
living in caves in the years
1858-1889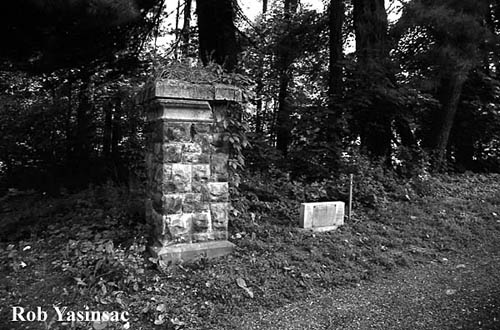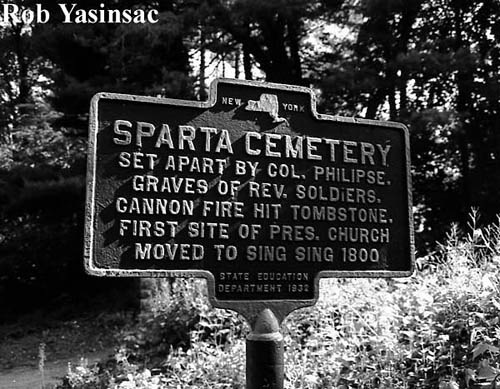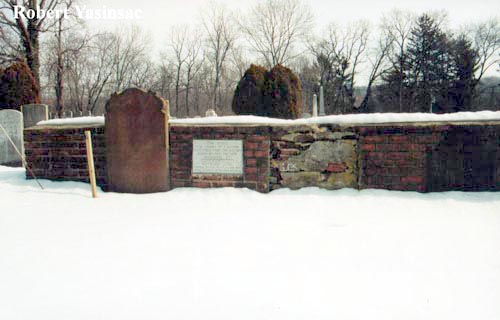 Headstone pierced by cannon fire from British Sloop-of-War Vulture, September 1780. The Vulture was the same boat that left Major Andre to meet his fate. Andre, a messenger for Henry Clinton, British Commander in New York, was captured with the plans for West Point in his boot. After meeting with the spy and traitor Benedict Arnold, farmers refused to row Andre back to the Vulture, protesting it was too close to daylight and that they were tired. Arnold was forced to ferry to Peekskill. By horseback he rode south, and was captured in Tarrytown, by three members of the American militia.

LINKS:
Leave the Leatherman Alone - Chronicle about the exhumation of the Leather Man's remains.

Another Leather Man page.

Two Feet Thick has collaborated with me on this article about the history of the song Leatherman.

The Hermit of Irvington, a contemporary of the Leather Man.

Here's a word from Synergy-the official Pearl Jam page:
Q: Ever since "Leatherman" was released, I've wondered if it was written about a certain Jules Bourglay, The Leather Man, who wandered Westchester County, NY in the late 19th century. Was it?
A: Yes.
UPDATE MAY 5, 2004:
I recently received the following email from Dan W. DeLuca:

"I have been researching the "Old Leather Man" for about 20 years now and have been collecting many articles on him. The first "Jules Bourglay story was printed by the Waterbury Daily American, August 16, 1884. And "Four Denials" were printed.
1. Waterbury Daily American Dated (March 25, 1889)
2. Waterbury Daily American Dated (March 26, 1889)
3. Waterbury Daily Republican Dated (March 27, 1889)
4. The Meriden Daily Journal Dated (March 29, 1889)

Also, Historian Allison Albee of Rye, N. Y. who was an authority on the history of the well-known character, spent endless years to keep historical facts from legends. He did research in France, to try to confirm the "Jules Bourglay story." (No names in the story were able to be confirmed)

Research was done on the person who penned the story, and there was no person of that name from that town. ("Sailson" from Roxbury Connecticut.) The Story was made up.

The "Old Leather Man" was not Joules Bourglay."

UPDATE DECEMBER 2008:
The Wesleyan University Press has released Dan DeLuca's book "The Old Leather Man." For more information, visit the University Press of New England website.

UPDATE NOVEMBER 16, 2009:
Eddie Vedder recently recommended the book on the Pearl Jam website.

UPDATE MAY 23, 2011:
The Leather Man's remains are being exhumed, tested, and reburied this week.

UPDATE MAY 27, 2011:
The Leather Man's remains (soil deposits actually) were reburied this week, and memorialized by a new grave marker.


---



Hudson Valley Ruins and Abandoned Buildings, etc.

E-mail Rob Yasinsac
"Shame he's dead, saw his bed, that's all that's left of Leatherman!" -EV
---
Copyright © 1998 by Robert J. Yasinsac. All rights reserved.
Reproduction of original photographs without permission of Robert Yasinsac is prohibited.