SPRINGFIELD
VERMONT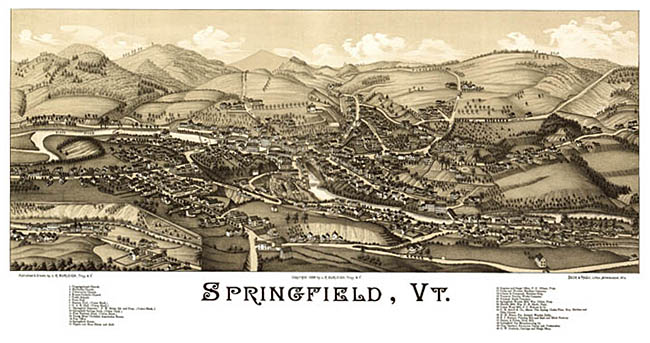 Springfield, Vermont, is one of those great old mill towns where businesses, homes and factories were built in close proximity enabling a walkable community. Many of the 19th- and early 20th-century buildings still stand but it seems that prosperity has not remained in town. One mill complex still hosts a number of small business, but milling itself recently came to an end in this postcard-perfect village.

On October 24, 2005, I passed through Springfield for the first time in over a decade. As a teen, I attended the annual Stellafane convention of amateur astronomers, held each summer on Breezy Hill. I was curious enough about the mills when I was younger, but fascination with ruins had not completely consumed me yet. Upon my return, there were more mills and impressive old buildings than I remembered. It was a gray autumnal day with occasional rain, but the worst of the weather held off. I thank Tom Rinaldi for allowing me the indulgence of stooping here on our way home from Hanover, NH - earlier that day we left the Hudson Valley Ruins manuscript in the good hands of the University Press of New England. A pleasant stroll around Springfield was a breath of relief after running down to the wire with the book.

For great Springfield photographs (and sites for other industrial New England towns) visit Joe Manning's Mornings on Maple Street website. Much of the information contained here was gleaned from the Springfield Downtown Historic District National Register Nomination Form. Former Springfield resident Ron Jasinski has a webpage for the Slack Shoddy Mill with some great historic images. User WildDoogyPlumb uploaded to Youtube four videos produced by the Fellow Gear Shaper Company, inclusive of aerial footage of Springfield.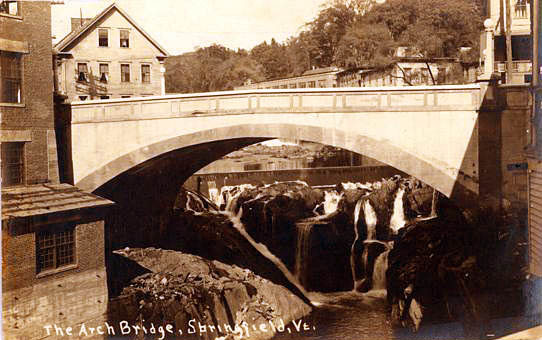 The Falls Bridge, looking due north, upstream. The building with the gable facing
the camera is the one that houses the bowling alley shown in the photos below.
(Historic postcard image)



The building housing the bowling alley, shown above, consists of three segments: the 1841 Barney Block; the c.1870 Collins, Dillon and Company Mill; and the pie-shaped c.1920 Corliss Hardware Co., addition between the bridge, the Black River and Park Street. Park Street Bowl did not appear to be a going concern in late 2005.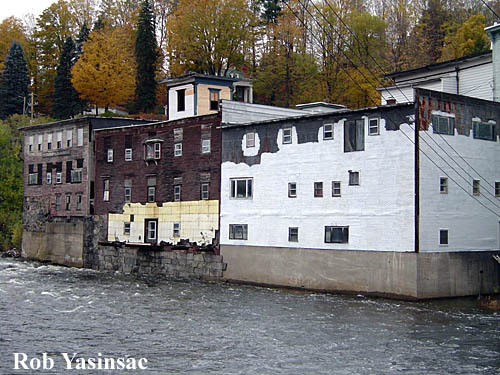 Rear of commercial & residential buildings along the east side of the Black River, north of the Falls Bridge.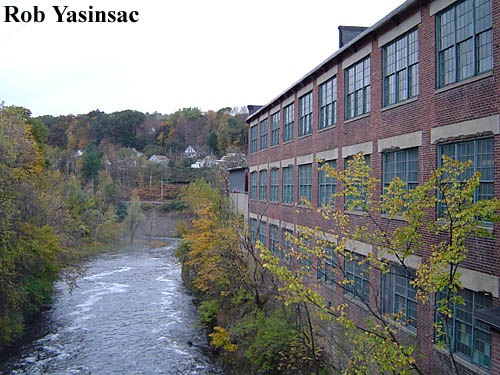 View looking downstream from the bridge. Mill-H of the Slack Shoddy Mill is at right.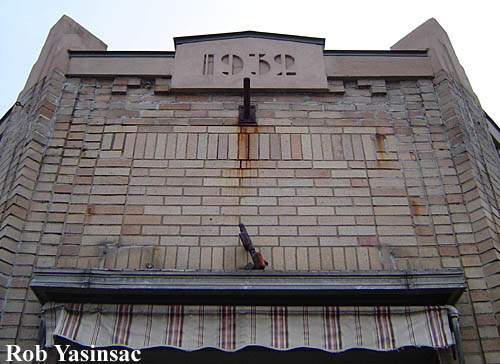 Art Deco detail at Wheeler's, 27-31 Main Street.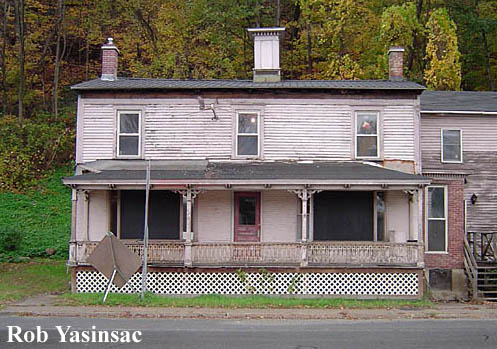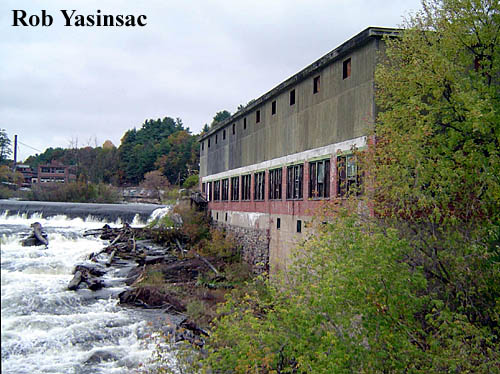 By the upper falls.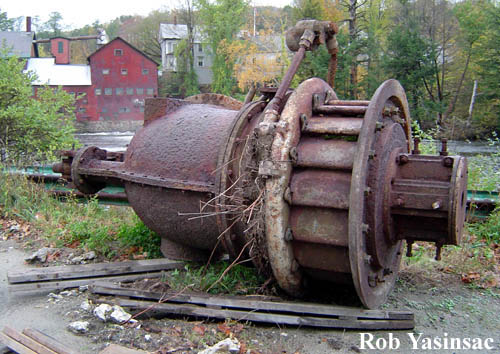 More Springfield, VT:
Springfield, Page 2 - Parks and Woolson


---

Yaz' Hudson Valley Ruins and Abandoned Buildings, etc.
---
This page copyright © 2006 by Robert J. Yasinsac.
Reproduction of these photos without the permission of Robert Yasinsac is prohibited.