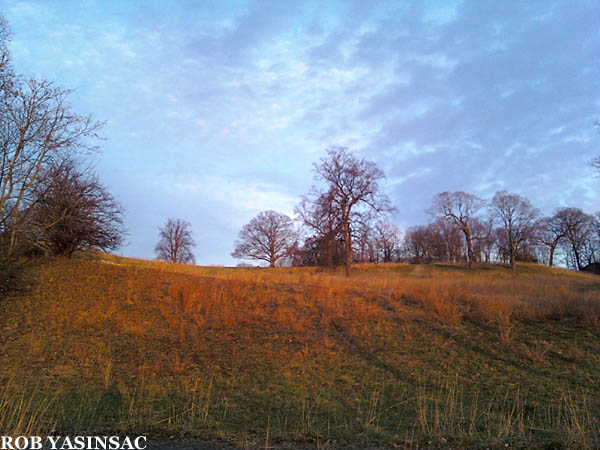 On Christmas Day I walked the site of Rockwood Hall, a great, vanished Hudson River mansion. It was a nice afternoon, brisk, but not chilly, and the sky opened up a bit to allow the setting sun to illuminate the slightly-but-perfectly overgrown hillside below the mansion site.
A stone house was built here in 1849 for Edwin Bartlett. William Aspinwall acquired the house about a decade later. William Rockefeller (brother of John D. Rockefeller) enlarged the house in the late 1880s. Rockwood Hall was demolished in 1925 1942 and man-made remnants of the estate survive today. The grounds are part of Rockefeller State Park Preserve.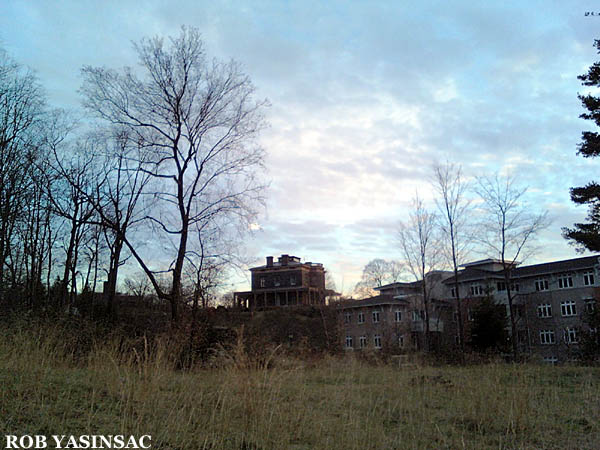 Adjoining Rockwood on the south is the Phelps-James House, a magnificent survival of an Italiante-style Hudson River mansion. It was built in 1851 for Anson G Phelps of the Phelps-Dodge copper company. Arthur Curtiss James, who I believe was Phelps's great-grandson, owned the house in the 20th century. The mansion now belongs to Phelps Memorial Hospital.
Not only has the house survived in good condition with most of its details, but its riverfront acres were intact until just a few years ago, when a continuing care retirement community (seen at right in the photograph above) was constructed immediately adjacent to the Phelps-James House. Phelps Hospital should have built the new facility on land east of the hospital, closer to Broadway, and preserved the context and landscape of this historic Hudson River mansion.
The Phelps-James House was one of the first places I visited when I first set out to photograph these old riverfront homes in the mid-1990s. I remember walking the old carriage loop past the house and a field of tall grass below it, down toward the river where the trail became kind of a tunnel in a small forest of tall, old trees. And then the loop curled back up and into the field again and back up to the house. It really could have been 1859 and not 1995. That experience has been lost forever thanks to the new construction.
Rockwood Hall and the Phelps-James House appear alongside numerous mansions lost and extant in John Zukowsky's and Robbe Pierce Stimson's immortal book Hudson River Villas.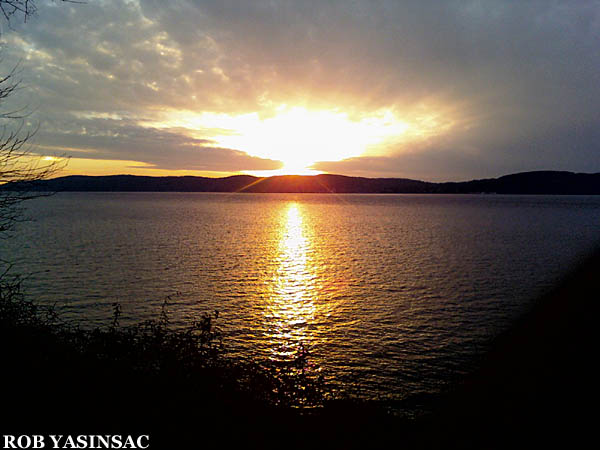 I waited for sunset, but shortly after this photograph was taken, the sun got lost behind some clouds, and I called it a day.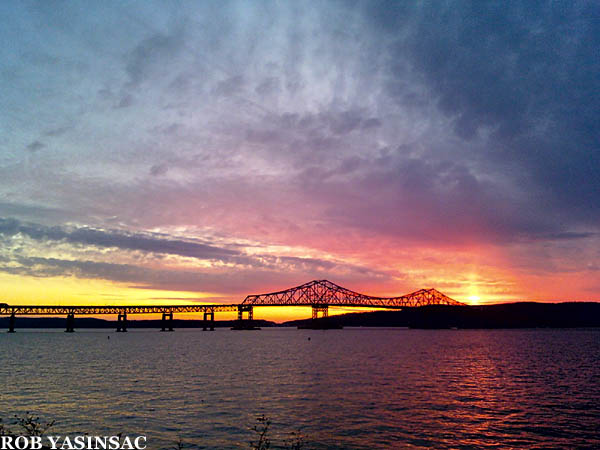 Driving home, I turned off Broadway and took my usual route down to the bottom of Beekman Avenue, past the Tarrytown train station, and back up toward Broadway again, to bypass the downtown traffic. Heading up the hill toward Broadway, I noticed the sunset scene above the Tappan Zee, and I turned back to the waterfront park by the train station. There was a great big flare of sunlight shooting up behind the Tappan Zee Bridge, and I got this photograph of it.
I'll leave you all with this photograph, from another time, another place. Happy Holidays everybody.