They took away our Kodachrome, but they gave us back our Polaroid.
Er, Fujiroid?
My latest camera is the Fuji Instax 210 Instant Film Camera. I seem to be a few years in most cases and a few decades in some to be behind current technological trends. I don't own a smartphone or a GPS device, but I am happy to have this instant print camera.
I purchased it because I tend to shoot exponentially more images with digital cameras than I ever did with film, because it is easier and less expensive to do so, and therefore I have so many digital images to sort through and weed out that I almost never get any printed anymore. Now, I have instant prints. I am more selective in what I shoot with this, of course, but sometimes you really don't need 200 photos of the same place.
The images are surprisingly sharp and they render color well. I seem to have some trouble centering the images, as it is a rangefinder camera, and wearing glasses sets me back from the viewfinder a bit too. It works best in fair to bright light, as the only "shutter speed" controls are Normal, Lighten, and Darken. A flash and a close-up adapter lens round out the effects-controls.
As long as it is acceptable to call mechanically reproduced documents "xeroxes," regardless of the manufacturer of the copy device, I think we can call these photographs "Polaroids."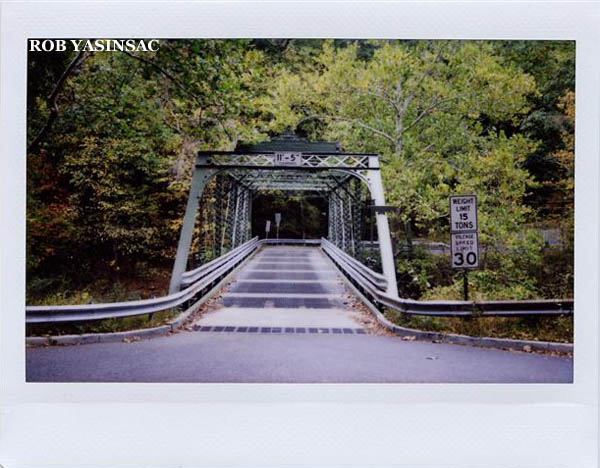 Quaker Bridge, Croton-on-Hudson, NY. October 12, 2011.
A great transportation relic, located on a surprisingly busy road in the back woods of Croton.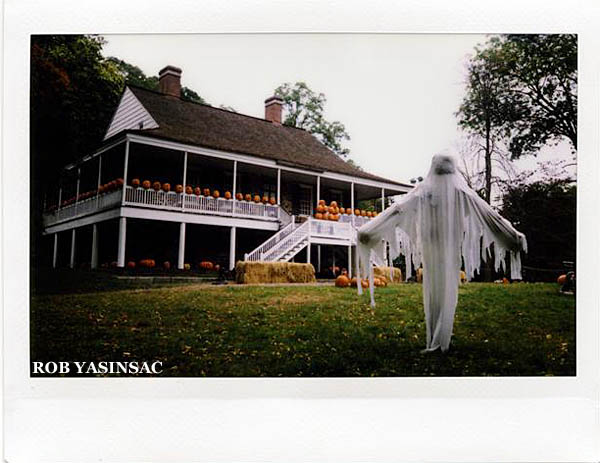 Van Cortlandt Manor, Croton-on-Hudson, NY. October 12, 2011.
Decorated for the Great Jack O-Lantern Blaze.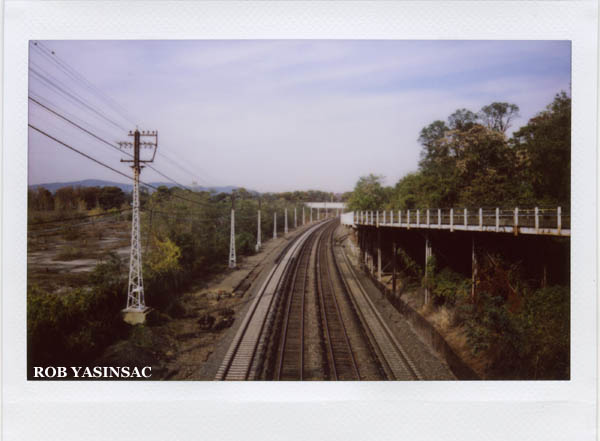 Railroad tracks adjacent to vacant General Motors property, Sleepy Hollow, NY. November 3, 2011.
Before I owned a car, I took the Metro North trains up the river to visit ruins. I watched in awe as the train chugged out of Tarrytown past the GM factory, which closed in 1996 and was demolished by the end of the decade. I wish I had a digital camera with video capability back then, to capture those train rides. Some day I will scan my black-and-white prints of the demolition and post those to the website.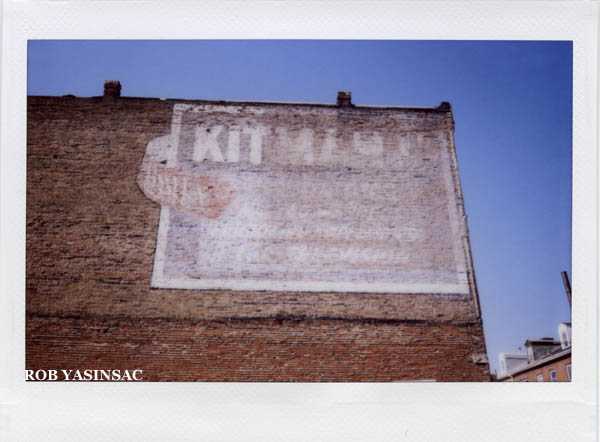 Painted Sign, southwest corner Marion Street at Fifth Avenue, Pittsburgh, PA. October 25, 2011.
I can't make out what it says. KIT…?? There is a Kitman's furniture store in Pittsburgh, perhaps this sign in theirs?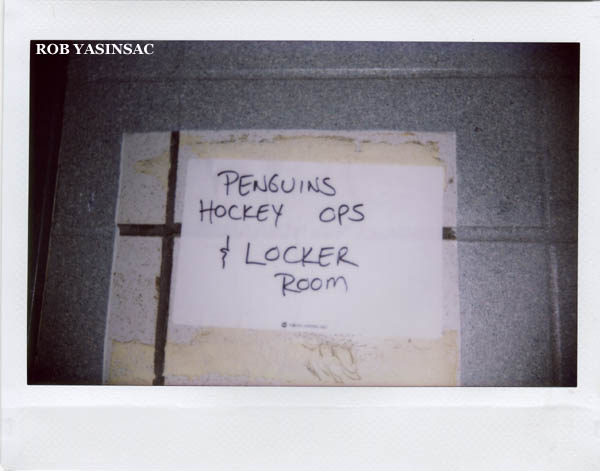 Penguins Hockey Ops & Locker Room, Civic Arena, October 25, 2011.
I shot this with the close-up adapter and flash.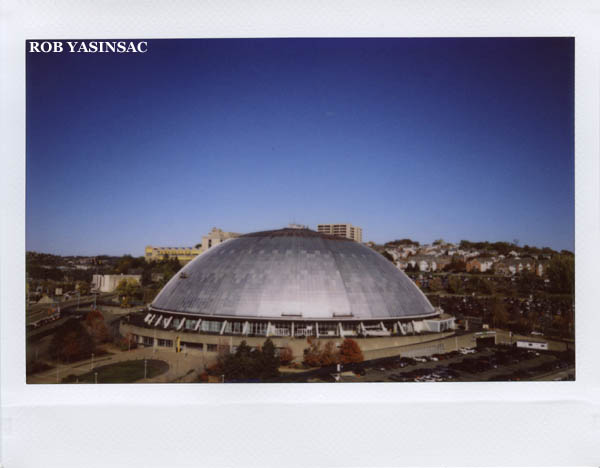 Pittsburgh Civic Arena, November 4, 2011.
I have been following the ongoing demolition work of this mid-century marvel. This retractable-dome arena was built in 1961 for the Civic Light opera and later served as the home rink for the Pittsburgh Penguins hockey club. The Pens waddled across the street to the Consol Center in 2010, and now the "Igloo" is being torn down. The interior seating sections are mostly gone by now, and the roof may come down late this year or early 2012.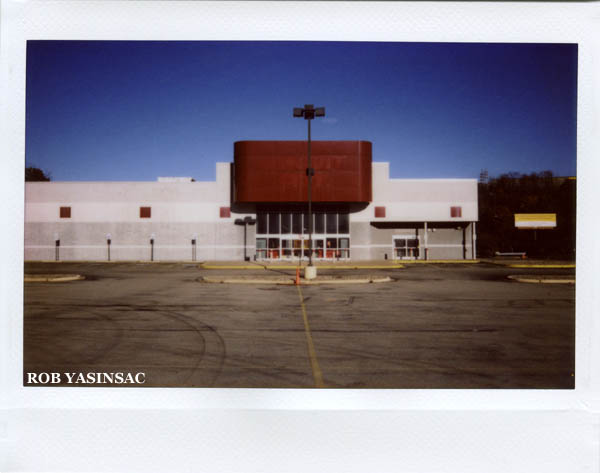 Abandoned Circuit City, Monroeville, PA. November 4, 2011.
Last Friday the Monroeville, PA, police must have been on quota duty, as they were pulling cars into this lot one after another after another, coming downhill on Route 22 westbound.
Bath house, Lyndhurst estate, Tarrytown, NY. November 5, 2011.
Some of the first ruins I ever photographed were on and near the Lyndhurst estate. The bath house has been stabilized and looks much as it did when I first photographed it in 1994, but it still awaits complete restoration.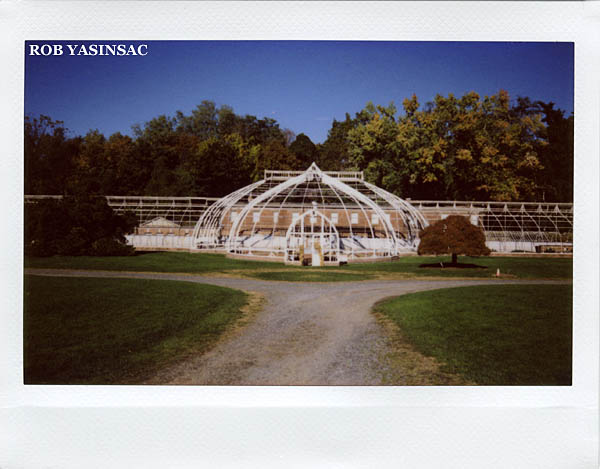 Greenhouse, Lyndhurst estate, Tarrytown, NY. November 5, 2011.
The greenhouse is another one of my favorite buildings to photograph.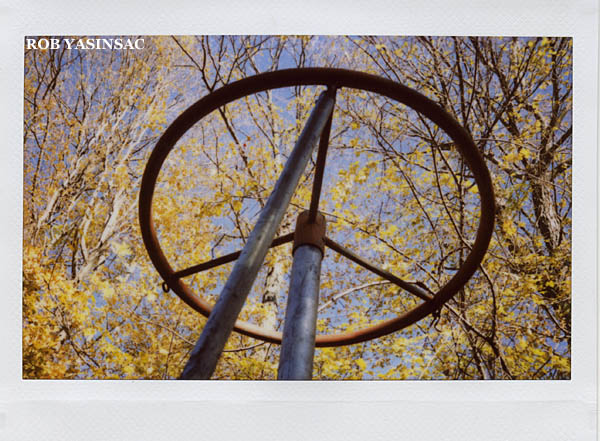 Playground equipment, former Pinsly Day Camp, Tarrytown, NY. November 5, 2011.
This playground equipment is a great piece of design work that probably could have debuted at one of the two New York's World's Fairs held in Flushing. Pinsly Day Camp was located on the site of a 19th century estate originally known as Graystone. In the mid-20th century, the Bernarr McFadden Tarrytown School was located here. Pinsly shut down in the 1980s, and the abandoned estate buildings, fantastic ruins they were, were demolished in 1996. The story of Graystone and the rise and fall of the great estates in Tarrytown is told in the book version of Hudson Valley Ruins. Landscapers were busy clearing brush and downed trees from the site this weekend, as the property is being parceled into home lots, known as Greystone Estates.