Last Thursday I attended Scott Craven's lecture about the Icons of Route 9, presented by the Croton Friends of History. Scott told us about the stories behind things we pass every day but might not think about.
The tank at the entrance to Camp Smith in Peekskill? It's named the Countess Lucille VI, placed at Camp Smith in honor of a National Guard soldier who served in World War II and had five tanks all named after his wife Lucille.
That 400+ foot tall tower atop the Palisades? A broadcast tower built 1937-1938 by Edwin Armstrong, inventor of FM radio, across the Hudson from his boyhood home in Yonkers. Armstrong received little compensation for his invention and he fought and lost legal battles to recoup cost and credit. He took his own life in 1954. His tower played an important role in transmitting television signals after September 11, 2001.
A cannon at Nelson Park in Ossining? A genuine Hudson River artifact, it was cast at the West Point Foundry in Cold Spring, served in the Civil War, was partly buried at the Newburgh waterfront, relocated to Fort Ontario at Oswego, and brought to Ossining in the 1980s by Peter Carpenter (a high school boy scout at the time) to replace a World War I cannon that was melted down for scrap during World War II. Near this cannon is one of Benjamin Franklin's Albany Post Road milestones. Another nearby memorial commemorates a young girl who was killed by a car while crossing Route 9 to get to Nelson Park. Sadly Route 9 is a very dangerous road, and little to no concessions are made for pedestrians, even where parks are located across from several apartment buildings. We sacrifice safety for speed.
Scott asked that we take note of the things we pass by daily and think about them. Chances are, they all have a story to tell.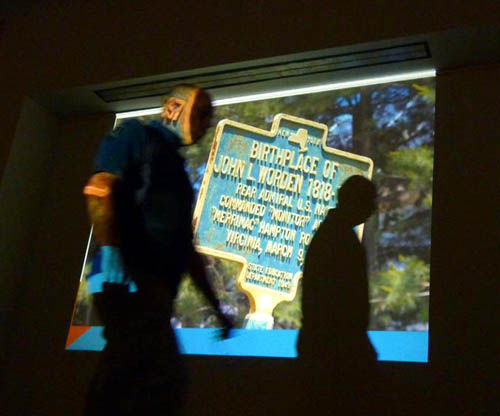 New York State Historical Marker signifying the Scarborough birthplace of John L. Worden, Civil War commander of the ironclad Monitor.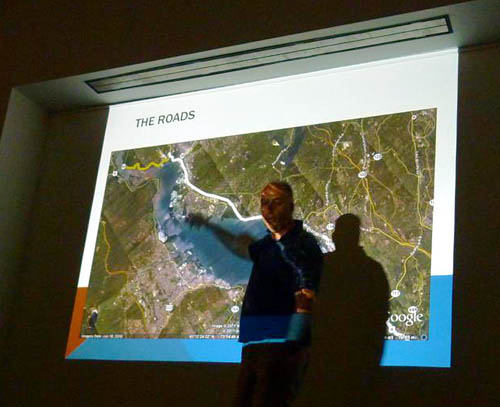 Most people think Route 9's southern end point is in New York City. It is in Delaware. Scott also told us that Route 6 stretches from Massachusetts to California. Road trip, anyone?
Scott will deliver the second of three presentations at the Shattemuc Yacht Club in Ossining, Friday June 10. This talk will cover the history of Croton Point and the Croton River.
It was great to see Carl Oeschner and his group again. The Friends of History have great lectures and a nice website. I also met with Mark Jelley (land steward at Doodletown) for the first time in a while, and through him met David Steinberg, author of Hiking The Road To Ruins.