As the rest of the east coast seemingly plans for the end of the world, I'm planning for the end of commercial E-6 film processing, from which which color slide film is developed. I dropped off a few rolls of film at PDK Labs in Harrison yesterday and was told by Frederick there that they will stop processing E-6 by the end of the year. They are the last lab in Westchester to process the film in-house. I'm told one or two labs in New York City will still develop slide film, among perhaps a handful of sites across the country. (Most places that process film, including pharmacies and department stores, will still process C-41, or color print film.)
I hope that I don't have to soon permanently retire my film cameras, especially my medium format camera. The images that came out of that camera are so sharp and full of detail and color and don't require any photoshopping. Even in terrible light, the resulting images are still quite usable, thanks perhaps to the great lens quality. I don't use that camera as often as I did while shooting photos for the Hudson Valley Ruins book, but I bring it on most every road trip and to document local sites new to me, for the archival record.
Even with the 35mm camera, color slide film seems to pack in such deeper color than negative film. Great results can be obtained from negative film of course, but so many variations of a final image can be made, depending on how negative is printed. You've got to hope the printer's machine is working properly, or you can scan the negatives yourself and fidget around with the results. With color slides, what you see is the final image and can pretty much only be printed as is. Which is fine, as if the image is exposed properly, it shouldn't require any tweaking.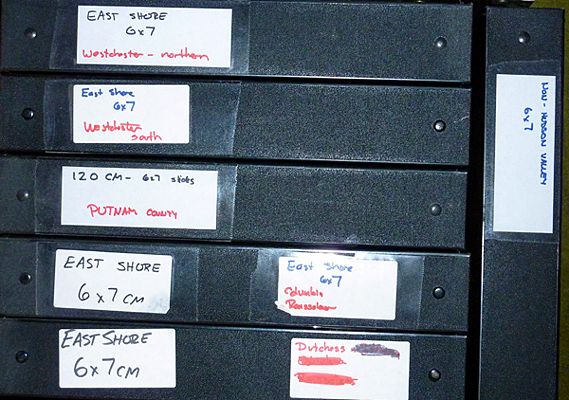 Above: Just a few of my binders holding pages of 6×7 color slides.
Below: Here's a few pages I copied with my digicam point and shoot, for reference.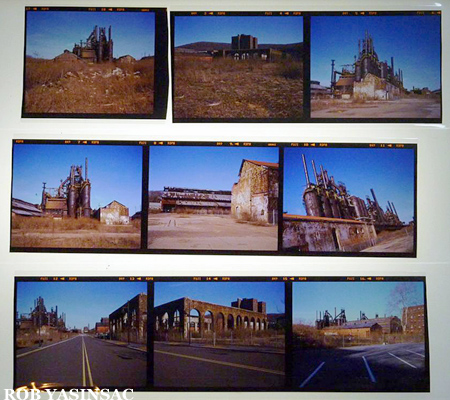 Bethlehem Steel, Bethlehem PA. March 2008.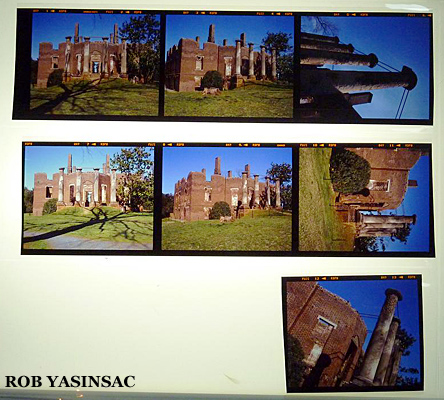 Barboursville ruins, Barboursville, VA. March 2008.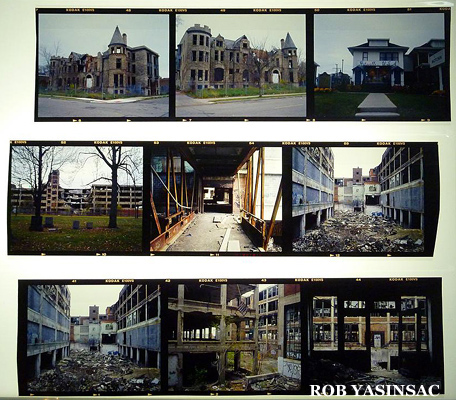 James Scott Mansion; Motown Office and Studio; Packard factory, Detroit, November 2010. DFunk kept watch while I played the part of ruin-tourist and took photos with all my cameras, ha.