STONY POINT
---
A RETIRED marine salvage expert I know in Rondout told me about this old fishing boat, whose hulk lies off the west shore of the Hudson between Stony Point and Tomkins Cove. I first spotted the wreck in August 2003 - "the day of the blackout" - from the deck of the sloop Clearwater. Within two weeks I'd gone back down to Stony Point to photograph her.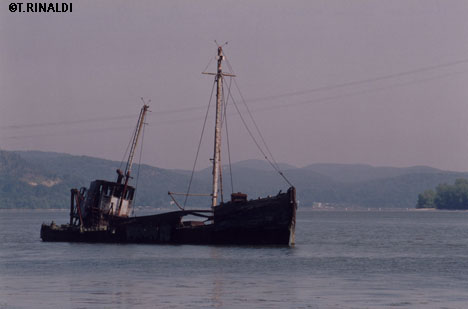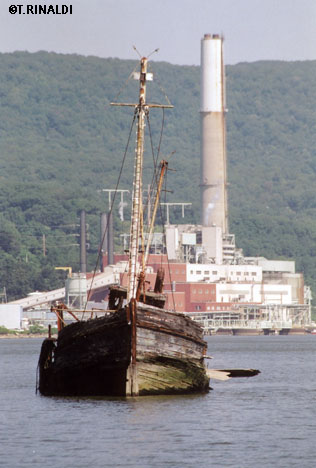 SHE'S A CURIOUS old craft, if not a particularly distinguished one. To date I've found no one who can tell me how she got here. The name on the bow appears to be King's Ferry. To see her (as long as the wreck is still there), walk north along the shore from the Stony Point Battlefield Historic Site. For the time being her upright masts and weathered hull planking make an evocative scene here between the stumpy Stony Point lighthouse and the towering Tomkins Cove power station, river landmarks 150 years apart.
UPDATE: The Tomkins Cove power station has been closed and dismantled (its stack was dramatically imploded on November 25, 2008) and the remains of the King's Ferry haven't fared much better as of 2010.
---

---
© T.E. Rinaldi, 2006