THE POINT
- S T A A T S B U R G -
---
STAATSBURG is a village in the town of Hyde Park, New York. Perhaps best known for the McKim, Mead and White-designed Ogden Mills mansion, Staatsburg is also home to a smaller estate called "The Point."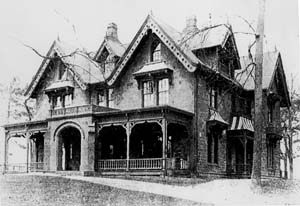 ____"Click on image to enlarge."____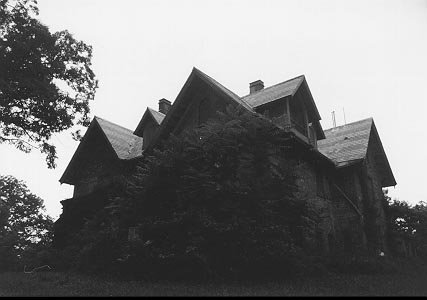 ERECTED in 1855, the house was designed by well-known architect Calvert Vaux. Vaux, who worked for a time with Andrew Jackson Downing and then with Frederick Law Olmsted in the design of New York's Central Park, also had a hand in the nearby Wilderstein estate and in Olana, home of Frederic Church, just south of Hudson, NY.
TODAY The Point is also known as "Hoyt House," a name derived from that of the only family ever to have lived here. In 1963, the State of New York, which had already acquired the neighboring Mills Mansion to the north, purchased the house from the Hoyt family. Initially the state planned to raze the mansion and build in its place a large public swimming pool complex.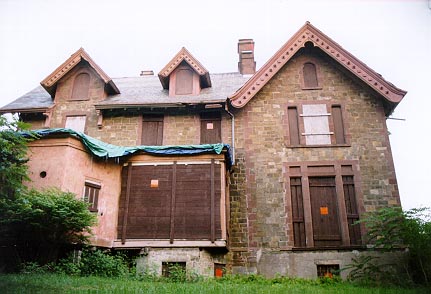 ____"Click on image to enlarge."____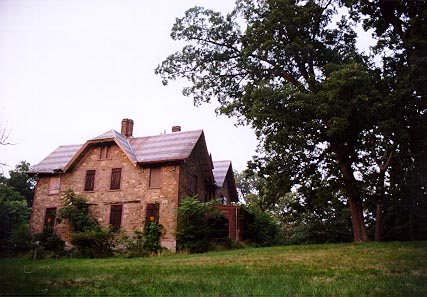 THANKFULLY, the ill-conceived plan never materialized, and within a few years of its purchase, the state recognized the estate's historic significance. Spared demolition, no plan for re-using the house has ever been developed, and it has stood empty and boarded-up since its acquisition by the state. Shorn most its elaborate wood trim it still stands today, awaiting the allocation of funds necessary for its restoration.
---

---
© T.E. Rinaldi, 2006