COLD SPRING
---
COLD SPRING enjoys perhaps the most spectacular setting of any town on the Hudson. The village center lies immediately on the river amid the remarkable scenery of the Hudson Highlands. It is a great base for hikers, with hundreds of miles of trails accessable via trailheads within walking distance of the train station. Cold Spring's attractive streetscapes, proximity to New York City and dramatic setting have made it a popular weekend travel destination, especially during the fall. This is evidenced by the antique shops, fancy eateries and B&Bs that have proliferated in and around Main Street, lending the village a somewhat high end character over the past thirty years or so.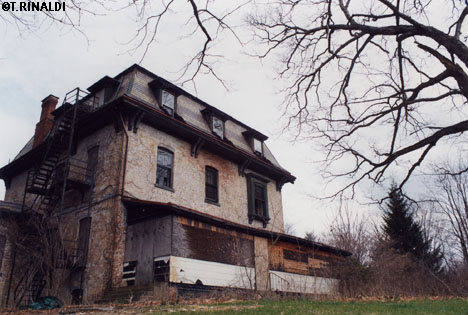 "Click on image to enlarge."
BUT COLD SPRING'S fashionable reputation is a relatively recent phenomenon. For most of its life, this was a factory town, and the trained eye will detect the village's bluecollar roots in the character of its buildings, many of which are handsome but modest nineteenth century workers houses. The town initially developed around the West Point Foundry, opened in 1817 and one of the America's most important iron foundries for decades thereafter. Later, Cold Spring was home to the Marathon Battery plant, which turned out to be the source of some of the most toxic pollution on the river.
THE MARATHON Battery plant is gone today, but just south of the village, tangible evidence of Cold Spring's forgotten industrial heritage can be found in the ruins of the old West Point Foundry. Just north of town meanwhile are the ruins of the vast country estate of Edward J. Cornish. Both sites are open to the public.
---

---
© T.E. Rinaldi, 2006