Wyndclyffe
RHINEBECK, NEW YORK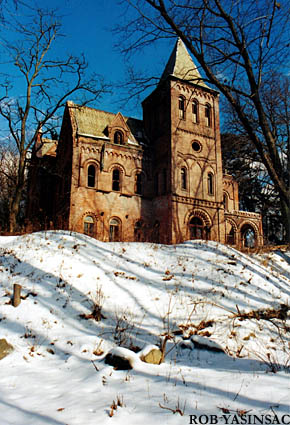 January 12, 1999
In 1994, I was introduced to the book Hudson River Villas. This book is a record of the many fine mansions that were built along the banks of the Hudson River. Some of these buildings are still standing, some have been redesigned or restored, but a great many have been left to ruin or demolished. American culture constantly builds great things, only to tear them down, or let them fall apart.
The great mansions of the Hudson River Valley are remnants from the time of the great merchants and bankers of the 19th century. The advent of the railroad in 1849 made it possible for people to travel to New York City to work in the morning, and escape to the countryside in the evening. Many people simply owned mansions as summer houses, or used them for parties in the fall. Then, as now, social status was important, and having a larger, more grand residence than your neighbors was important.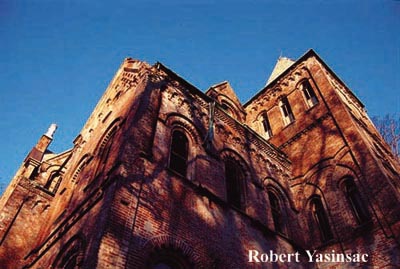 January 2000
It is out of this estate-building that the phrase "keeping up with the Joneses" supposedly originated from. On the eastern shore of the Hudson, near Rhinebeck, is the ruined shell of a mansion known as Wyndclyffe, which is featured in Hudson River Villas. It was built in 1853 for Elizabeth Schermerhorn Jones, a relative by marriage to the wealthy Astor Family, and it is rumored she is the source of the old adage. A later owner was Andrew Finck, New York City beer baron and a cooper by trade, and associate of brewer Jacob Rupert, of nearby Linwood. Wyndclyffe, then known as Linden Hall or Finck Castle, supposedly had an underground tap line from the mansion to the tennis courts.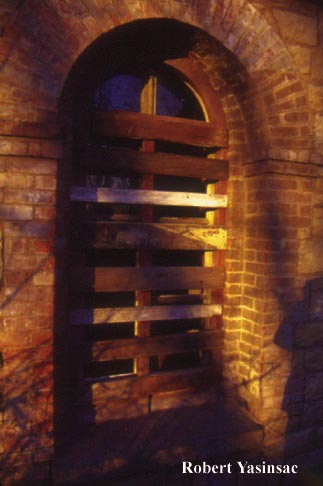 January 2000

The house was a private residence until 1936, and was finally abandoned for good sometime after 1950. Wyndclyffe remained remarkable intact through the 1980s, but decay worsened as abandonment neared the end of a half-century. The eastern turet collapsed in 1998, and other sections have fallen since. Yet Wyndclyffe is still an imposing sight. It is amazing that such a fascinating building had been left to ruin. Maybe it is true, that America is all about "keeping up with the Joneses." This house, that for so long was held in esteem, no longer mattered. At some point, it was deemed not necessary to pay for the maintenance of the mansion, grounds and outbuildings. Wyndclyffe was no longer a status symbol. People would rather have built new houses somewhere else than buy this awesome structure.


Historic American Buildings Survey, 1979.
First floor parlor, southeast corner section seen from west, showing parlor badly damaged by elements.
Wyndcliffe, Mill Road, Rhinebeck vicinity, Dutchess County, NY. Call Number HABS NY,14-RHINB.V,2-40
Library of Congress, Prints and Photograph Division, Washington, D.C. 20540 USA.

From the river, it appears ominous, and yet itís not readily apparent itís a ruin. The western side of the house is remarkably well kept for 50 years of exposure to the elements. The east side of the house has completely fallen in, only the exterior walls still stand, allowing a glimpse of the interior. Several interior support columns stand amidst the debris. Fine wood panels still line the walls, and great sliding doors open to what was once the library. Stairways end in midair and continue somewhere else. There was an opening in the staircase above the first floor, which once allowed light in from a skylight, its sideboards hang suspended in the air today. The skylight is still in place, but its windows have long been destroyed by vandals, or time.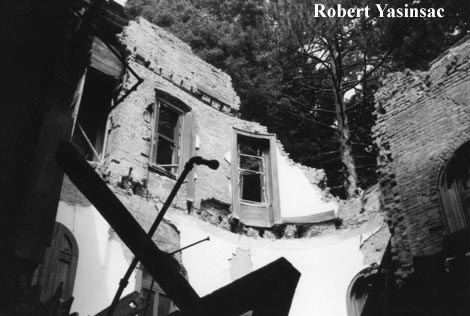 July 1999

Persons past and present have owned Wyndclyffe with an interest in preserving it. But such intentions never led to any degree of fruition. As the house decayed, the surrounding property has shrunk, so that just 2 or 3 tangled overgrown acres remain, home to foxes and turkeys. The carriage house has been restored, and a Mediterranean style mansion nearby, said to have been built for a member of the Finck family around 1906, was recently restored after years of its own neglect.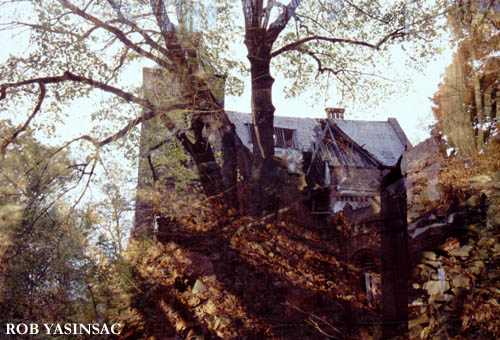 Multiple Exposure

There are many similar tales of mansions being left to ruin in the Hudson Valley. For now, Wyndclyffe is one of the lucky ones. Many mansions and buildings were demolished outright before even falling into ruin. But Wyndclyffe continues to fall apart. Entering this ruins is not advised. During 2001, a good chunk of the northwest corner of the first floor of the mansion collapsed into the basement. Neighbors have called the police when observing cars entering the property, and I don't blame them. In 2003, a new owner appeared on the scene with the intention of restoring the mansion. Windows were boarded up and a fence was installed surrounding the house.



February 2007.
Numerous trees surrounding the house have been cut down. The ground behind the house has been dug up with large earth-moving equipment. I can only speculate at the purpose of such work. It appears that nothing has been to to the house itself since it was boarded up and fenced off in late 2003.





May 2007





August 2010
A large hole now appears on the north wall.





August 2010

UPDATE OCTOBER 1, 2016
Wndclyffe was recently sold. Its new owner and future plans have not been announced. Prior to the sale of the house I took another set of photographs, which can be viewed at this link.


---
LINKS:
Hudson Valley Ruins - Tom Rianldi's page.

Historic American Buildings Survey - 43 photos from the late 1970s, taken by the legendary Jack Boucher.

Maltz Auctions - "Waterview Mansion" 2016 auction listing.

Wall Street Journal/Associated Press - September 22, 2016. "Wyndclyffe Castle Sold For $120,000."

Wall Street Journal - September 14, 2016. "Faded Mansion Evokes Opulence of a Bygone Age," by Keiko Morris.

Wall Street Journal - October 8, 2003. "Wyndclyffe, a House With a Literary Past, Is a Ruin in Trouble," by Rachel Emma Silverman.

Preservation Online - February 21, 3003. "Down and Out on the Hudson - The mansion that inspired the phrase "keeping up with the Joneses" is for sale as a possible teardown." David Griffin's article on Wyndclyffe is illustrated by a Rob Yasinsac photograph.(DEAD LINK/LINK REMOVED)

Lee Richey had the original Wyndclyffe web page, which is no longer online. That page, and the entry for Wyndclyffe in the book Hudson River Villas, inspired my first visits to the house in the late 1990s.

---

Yazí Hudson Valley Ruins and Abandoned Buildings, etc.
---
This page copyright © 1999, 2010 by Robert J. Yasinsac. All rights reserved.
Reproduction of text and images without the permission of Robert Yasinsac is prohibited.