James House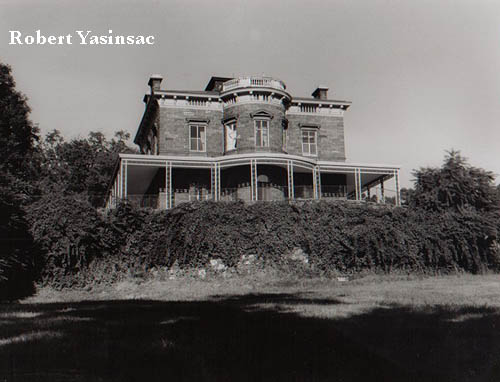 July 11, 1997
The James House is located on the grounds of Phelps Memorial Hospital and is a rare surviving examples of a mid-19th century stone mansion along the Hudson River in Westchester County. The house features many intact architectural details and is still in use today - the house can be rented for weddings and other affairs. It is featured here on Hudson Valley Ruins because the integrity of the house is threatened by the destruction of its surroundings.

A continuing-care retirement center (CCRC) known as Kendall-on-Hudson is being built on the grounds between the house and the Hudson River. Those of you who have been on the river or on the Metro-North trains this summer may have noticed the appearance of a "new" house. I believe that the removal of some trees and creation of a direct river view is an improvement, but it won't be long until the new buildings are erected on site and the view seen above is lost forever.

The James House has long been one of the best-kept architectural secrets in the Hudson Valley. I used to walk the old overgrown carriage road under a dark canopy of trees down to the river and come back up for a view of the house above a field of tall grass. That landscape is now gone. Preservation organizations lobbied for the CCRC to be sited elsewhere on hospital property, but it just had to be built in that spot, to the detriment of the house.
---

Yaz' Hudson Valley Ruins and Abandoned Buildings, etc.
---
This page and all photographs copyright © 2003 by Robert J. Yasinsac. All rights reserved.