Nyack Waterfront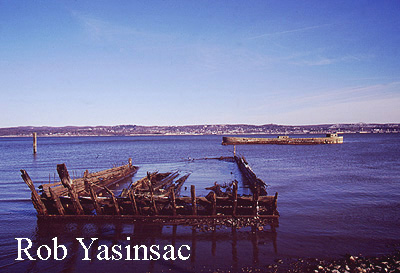 Barge and boat. March 3, 2003


The Hudson River is not quite as famous for being a graveyard for ships and shipwrecks, but the riverbed and the shores are the final resting place for some of the most famous boats to traverse "America's River." Sloops, steamboats, ferries, tugs and barges alike are at rest in the river, while quite a few can been seen still. Amazingly, not one intact steamboat survives today on the Hudson - just ruins. A four-year study of the Hudson River directed by Robin Bell, a research scientist at the Lamont-Doherty Earth Observatory in Palisades, produced a map of the river bottom, locating over 200 wrecks in the muck. The New York State Office of Parks, Recreation and Historic Preservation is in the process of identifying these bones, and as the shipwrecks are considered archaeological sites, their locations cannot be revealed.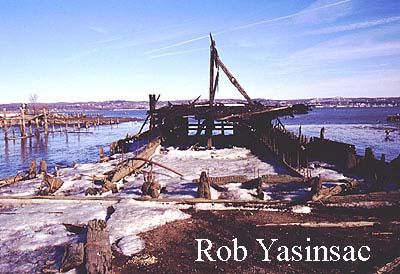 Barge. March 3, 2003
To one who frequents the often secluded and overlooked bays and coves of the Hudson, their location is not always a mystery. But seeing a few wood beams in the marsh weeds and realizing it was once a grand steamboat is every bit evocative of investigating the ruins of an old mansion. These hulks are significant as tangible remnants of an era when these boats carried brick, ice and other Hudson Valley products to New York City and beyond. The river was once the primary means of transporting people too, but today we choose instead to make more room for more roadways to congest them with even more cars.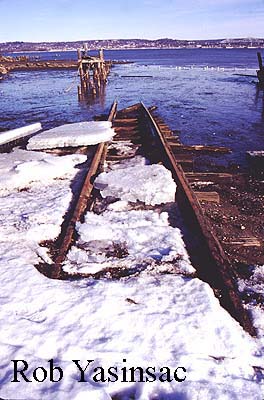 Rail spur at dock. March 3, 2003
---

Yaz' Hudson Valley Ruins and Abandoned Buildings, etc.
---
This page and all photographs copyright © 2003 by Robert J. Yasinsac. These photographs are posted for private, non-commercial viewing purposes only. All other uses prohibited. All rights reserved.