Potter Estate Ruins
OSSINING, NY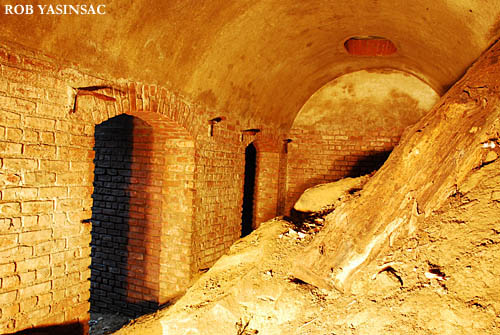 Photographs taken May 2007.

Excitement abounded in the spring of 2007 when a roadway into a condominium complex partly collapsed, revealing underground rooms constructed of brick walls with arched ceilings. It seems that the builders of the Mystic Pointe condominiums conveniently ignored these rooms, which stood right below the entrance from Route 9 into the complex. While residents of the site were largely unaware of what they drove over everyday, these rooms had long been known to village old-timers.

From the 1870s through the 1890s, Orlando B. Potter, United States Representative (1883-1885, R-NY), owned the land upon which Mystic Point was built a century later. Like many merchant millionaires with estates along the Hudson, Potter engaged in small-scale agriculture. His Ossining estate included "stables, a sawmill, hay and feed buildings, a blacksmith shop, greenhouses, a grist mill, a conservatory, hanging gardens, vineyards, orchards, a lime kiln" (Visit the St. Augustine at Eagle Park website for more reading) Also built were this series of interconnected rooms, which are similar to the well-known wine cellars at Croton Point Park. According to the St. Augustine website, the underground rooms on the Potter estate were used to store food for cattle and/or as root cellars.

So now the Mystic Pointe condominium board is forced to address an issue that should have been examined and resolved when the condominiums were built. The current options as presented by the condo board are to fill in the chambers at cost of $50,000, essentially destroying them, or to preserve them and rebuild the road at cost of $200,000. Of course I hope these structures survive and can be accessed again. It is unfortunate that a developer's sloppy construction has led a condo board to make a decision based purely on financial terms, making preservation all that much less likely an attractive option to a group with probably little interest in preservation to begin with.

Since these chambers were re-unearthed, they've drawn the attention of the New York Times and the Journal News, and a public tour of the chambers drew dozens one spring day. Ironically what was once a minor part of a vast estate garners so much interest, yet most people tend to ignore or dismiss abandoned buildings or other ruins that stand in plain sight every day. Maybe it is the "underground" factor that's got everybody swept up. In the end, something that gets people interested in preservation is good enough for a cause surely needs all the help it can get.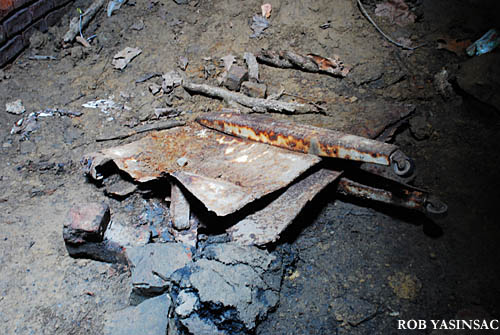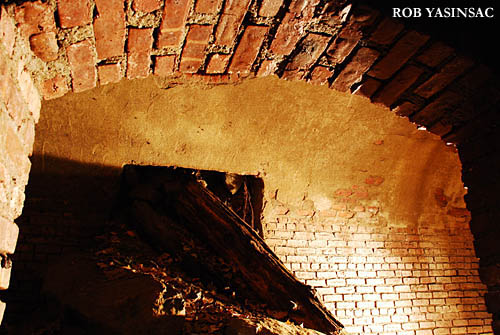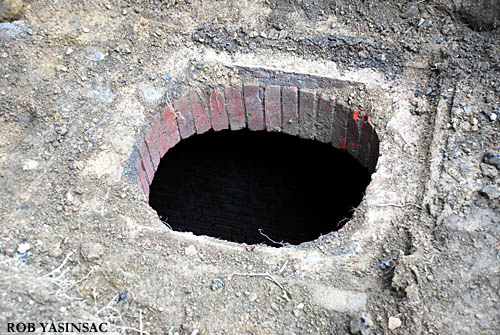 Exterior view of roof opening.



---
Yaz' Hudson Valley Ruins and Abandoned Buildings, etc.
---
This page copyright © 2007 by Robert J. Yasinsac.
Reproduction of these photos without the permission of Robert Yasinsac is prohibited.