Middle Hope Drive-In Theater
MIDDLE HOPE, NEW YORK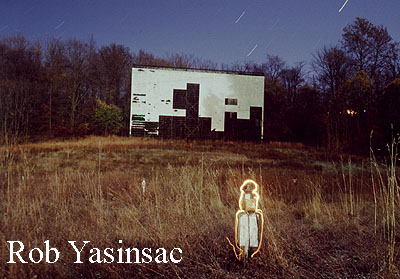 With rising startrails of Castor and Pollux, the Gemini Twins, and Saturn.
November 9, 2003
The Middle Hope Drive-In Theater north of Newburgh is one the most intact abandoned drive-in theaters I have come across in the Hudson Valley, with ticket booths, speaker poles (minus working equipment) and a well boarded-up and well-preserved projection building with restrooms and a concession stand. The screen needs reinstallation of a few panels however.

Opened in 1950, the theater has not operated since October 1987. In the late 1990s there was an attempt at reopening, but the project was held up by the Zoning Board without explanation to the site manager. Oftentimes communities invoke or write zoning laws to keep out "undesirable" businesses or operations, and that appears to have been the case here, even though the theater has existed here for over half a century.

UPDATE JUNE 2012:
The Middle Hope Drive-In Theater was demolished over the winter of 2011-2012. A gas station was built on the site of the parking area.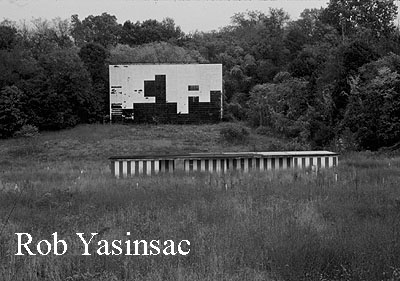 Screen and projection building.
October 17, 2003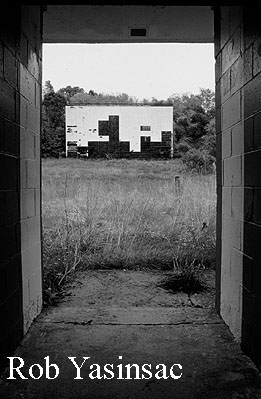 From the hallway in the projection building.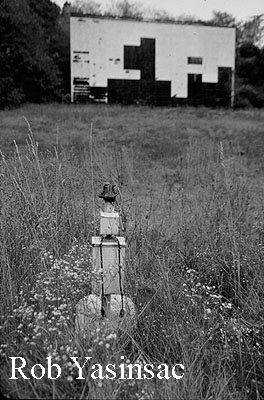 A speaker pole.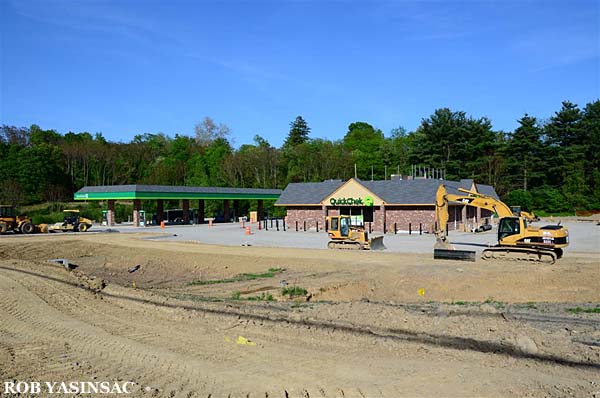 Site of the drive-in theater, May 12, 2012.
---

Yaz' Hudson Valley Ruins and Abandoned Buildings, etc.
---
This page and all photographs copyright © 2003 by Robert J. Yasinsac. These photographs are posted for private, non-commercial viewing purposes only. All other uses prohibited. All rights reserved.