New Rochelle Water Company
MOUNT PLEASANT, NY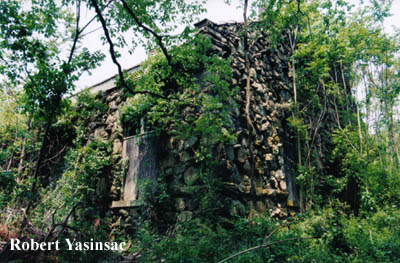 Pump House - from southeast
May 27, 2002
The New Rochelle Water Company ruins are part of a 120-acre property along the Pocantico River in the Town of Mount Pleasant. The site consisted of a stone pump house, a wood frame caretaker's cottage (burned on or about early 2006), a smaller service building with concrete retaining basins and a large metal water tank.
The company was providing water to local residents in the 1880s, when it contracted with North Tarrytown to install the first water system in the village. The nearby Pocantico Lake was also the site of an ice harvesting operation in the winter. North Tarrytown connected to New York City's Croton Aqueduct system in the 1920s. Purification of the Pocantico water was improved after litigation between the village and New Rochelle Water Company at that time.

The New Rochelle Water Company was servicing about two dozen homes in the neighborhood when the property was sold to Westchester County in 1992. A license to operate the pump house was maintained by the company, but it appears the facility has not been in service since then. Legislation to authorize a perpetual easement over part of the property and buildings to the Village of Briarcliff Manor was approved in 2000. The legislation also called for the County Parks Department to remove the "unsightly former residence," while transferring maintenance and operation of the pump station to Briarcliff Manor.

The pump house and other functionally related structures still exist as of early 2007. The caretakers residence burned to the ground sometime between July 2005 and July 2006. Coincidentally, another unwanted building on county-owned land was torched during this time period as well - the Stokes-Greene mansion in Cortlandt. How convenient that both of these structures were made to disappear in the easiest manner possible.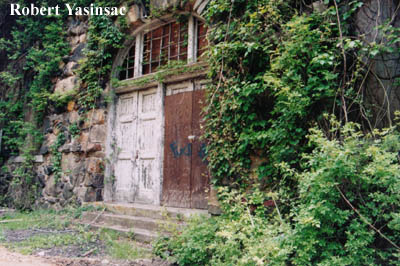 Pump House - west entrance


>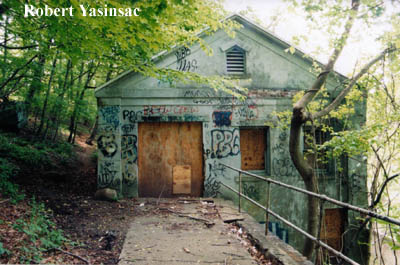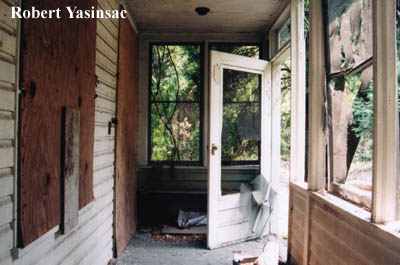 Caretaker's Residence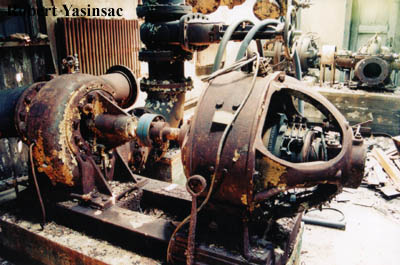 This industrial relic reminds me of the skeleton of another dinosaur, the coelecanth.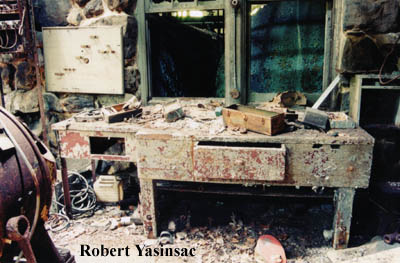 The water tanks can be seen through the windows of this machine room.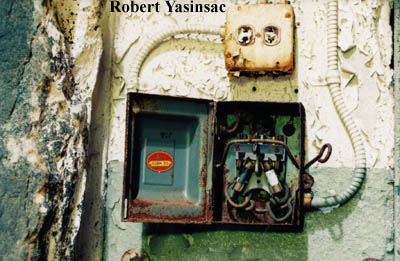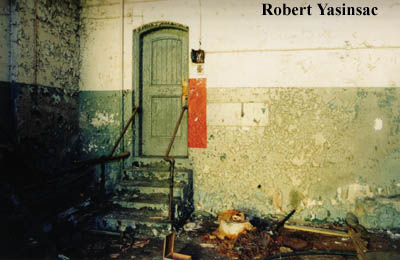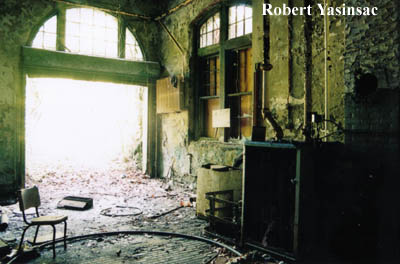 More Photographs:

New Rochelle Water Company - July 2005


New Rochelle Water Company - January 2007

---



Ruins of Tarrytown, Sleepy Hollow and vicinity
Yaz' Hudson Valley Ruins and Abandoned Buildings, etc.
---
This page and all photographs copyright © 2007 by Robert J. Yasinsac.
Copying or reproducing images without the permission of Robert Yasinsac is prohibited.