Irving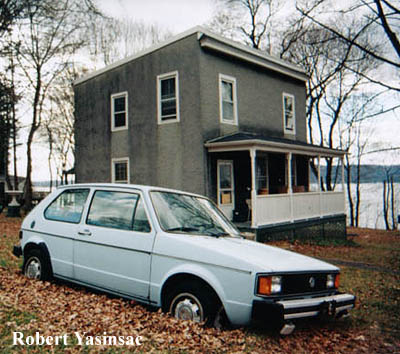 February 17, 2002
On 19th century maps the name "Irving" is given to a small neighborhood in Tarrytown, bounded by millionaire's estates. It is curious this small parcel of river-front land was carved up into plots for the common-folk, directly south of and adjacent to the New York State Thruway. The streets here feature an interesting mix of architecture, from a small Federal-style mansion that bears resemblance to larger forerunners upriver, to a Gothic-inspired house that contains nearly as much charm as Henry Sheldon's Millbrook (demolished) or Jay Gould's Lyndhurst, two neighboring country villas designed by Alexander Jackson Davis. Some houses here, like others in the neighborhood which have vanished, might best be described as Hudson River vernacular. Perhaps Italianate if they have some fancy molding under the eaves.
I like Irving because it is a neighborhood, something that is not in vogue anymore. Irving is not as much as it was, but it is still a neighborhood. A Tarrytown resident remembers walking home from the old Transfiguration School in the 1940s, and stopping in Irving at Joe's Country Store, next to the gas station, and getting potato chips while her classmates ate ice cream. Those days ended when the great improvement of the New York State Throughway plowed through, like an ox turning over old ground for the new growth that came after the war. Many of Irving's houses remain, but the gas station and Joe's Country Store are gone. A Mobil gas station stands across the street, but it doesn't evoke any kind of spirit. You can find Mobil anywhere, but Joe's Country Store only stood in Irving.

---

Developers don't build neighborhoods anymore because our society does not allow it. Mixed-use is a bad word at Village Council meetings and behind the gates of the new development. Do you like visiting Main Street and perusing antique shop windows while you walk to your favorite deli for your weekend lunch? Or maybe do you live in the two or three floors above the main street commercial spaces? Well, chances are pretty good that your town or village would not allow such a thing to be created today.

We can curse the developers, those who build McMansions and duplexes-that-all-look-the-same on old estates or on the grounds of your old catholic reform school that just got demolished. After all, developers are out for money right? But just like anyone else in business, developers wish to maximize profit, and that's not really bad, is it? So they build costly residences that primarily NYC-commuting dads and soccer-moms can afford. This is ironic especially In Westchester County, where there is a huge demand for affordable housing but not quite so many powerful and influential practitioners of the business. (Hey, I know this great building in the Hudson Valley that could be turned into affordable housing. It used to be a 225-room hotel. Oops, that's right - existing area residents will openly complain about the traffic that will come in. I wonder if they mean the vehicular kind or the lower-wage earning kind.)

But do developers do this kind of thing out of choice? Can we really blame them? If they wanted to build new downtowns, with 2 or 3 story buildings with retail on floor one and apartments above, could they? Could they put some mixed-use into their new subdivisions like a scaled-down Main Street through the middle of the campus or a corner deli somewhere? Or even a village green in the center of it all - a place for neighbors to congregate and socialize instead of willfully imprisoning ourselves in front of our TVs? Probably not.

Nowadays, it seems we (or our Village Council Members who represent us) like our homes in one place, our stores in another, preferably in a really big mall (what a corruption of the original word this turned out to be!), and our schools and playgrounds in yet another place. And make them all really far away from each other, so much that you can't walk from one to another.

What we end up with is an officially-sanctioned form of segregation. Segregation against those who cannot afford to live there, and segregation against those who do not own automobiles - anyone under 16, or anyone who is impaired, or those who are old enough but smart enough to know their senses and reflexes are not what they used to be and have turned in their licenses. In effect, these people cannot fully participate in what society now offers. (If only our government supported and promoted public-transportation as much it it did private industry...)

We have built our society around cars, machines - not around people. That's bad. There is some hope, in the people out there who recognize this and are setting out to right some wrongs. The astute reader here may think I've been reading too much James Kunstler. His works are not the first I've come across these concepts, but he expresses them in Geography of Nowhere and Home from Nowhere.

One the theories Kunstler outlines is the abolition of zoning codes. Pretty drastic, eh? After all, don't we go to village meetings to protest developments that violate our sacred codes? Well, the Main Streets and those charming 19th century abodes you walk past in Nyack and Cold Spring were all built before zoning codes. What came after zoning codes is a little less aesthetic and, well, impractical for many people.

Kunstler does not propose a complete elimination of any kind of code, but for the replacement of zoning codes with something more humane. A school of thought known as New Urbanism seeks to implement in place of zoning codes a new formal architectural code. This code would implement Traditional Neighborhood Development ordinances that would make it relatively easy to create an aesthetic and hospitable environment which can be functional and accessible to all who live, work, shop and eat there.

---

I have yet to learn if the house in the photo is abandoned, or just a bit forlorn. The lawn seems tended, but something is not quite right about the windows. Maybe the owner just passed away and the legalities amongst heirs are being sorted, I don't know. This house is the last of three that stood in this block in the 1800s. Now it is looked after by some old trees which frame passing ships plying the river's water below. And the car is in demise.

Take our cultural landscape from the car and give it back to the people, to whom it belongs.

---
UPDATE: March 5, 2004
The house in the photograph at this top of this page has been demolished and is being replaced by two McMansions. The owners of these houses in a few years will have lovely views of the Tappan Zee Bridge improvement project, which could be the repair or replacement of the existing span, or even the construction of an additional span. What will happen to these huge houses when all of a sudden the neighborhood becomes an undesirable place to live? They'll be lucky if the land isn't condemned for a new bridge.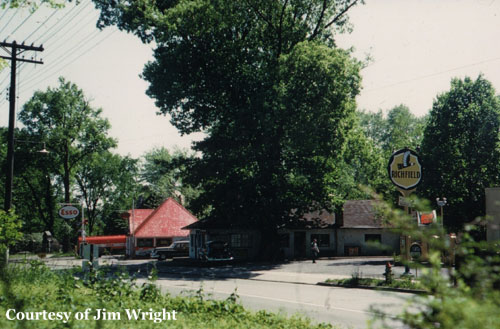 Joe's Country Store, ca. 1950s?. Courtesy of Jim Wright
---

Yaz' Hudson Valley Ruins and Abandoned Buildings, etc.
---
This page copyright © 2002 by Robert J.Yasinsac. All rights reserved. These images are for private, non-commercial viewing purposes only and cannot be copied or reproduced without permission from Robert Yasinsac. Any other uses of these photographs without the permission of Robert Yasinsac is strictly forbidden. This page is a combination of original thoughts, years of listening to Thom Johnson, and recent readings from the books of James Kunstler.