European Health Spa
SCARSDALE, NY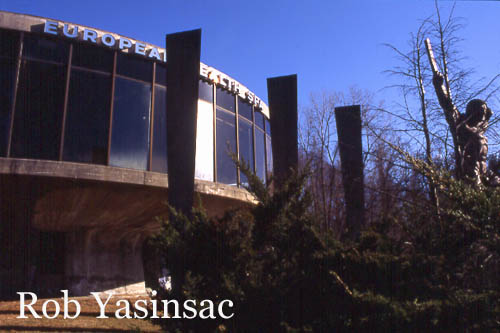 March 13, 2004.
The European Health Spa in Scarsdale is quite simply a Westchester architectural landmark, looking like nothing else in the area. The circular main building is raised on a pedestal and walled almost entirely by glass, and fronted by three "torches" and a statue of Atlas, minus his globe. Frank Sanchis cited the building in the publication "American Architecture: Westchester County, New York" as "an unusual example" of a design mean to capture the eye of passing motorists.

Sanchis cited Lee Underwood of Salt Lake City as the architect of the spa, which was built in 1969. In the summer of 2011, I received email from a descendant of Don Parry claiming that Parry was the architect of this particular building. Parry was the original owner of the building and the property was landleased to Parry / Spa Health Clubs Incorporated. In July 2012, I received email from David Dilmaghani of Dilmaghani Oriental Rugs, current owner of the European Health Spa, stating that Thomas J. Walters of Wilmington, Delaware was in fact the architect of the spa on Central Avenue. Walters's name appeared as architect on blueprints for this particular health spa.

The building has been vacant for a few years now, and misplaced shrubbery has overgrown the base of the Atlas statue, distracting the eye from the neat lines of the spa. The current owner announced plans to demolish the spa in 2001, and in its place build a 3 to 4-store shopping center. The old health spa may have survived a few extra years, but I won't be surprised to drive by one day and see and empty lot.

Here are links to surviving Atlas-and-globe statues in Burnaby, British Columbia, Reno, Nevada, and Sacramento, California.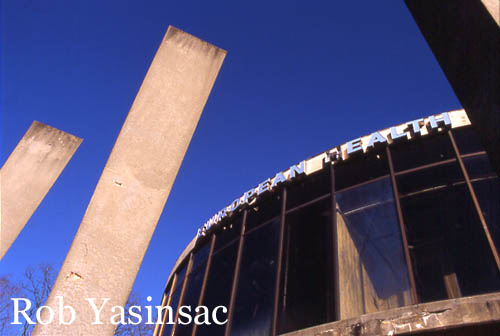 March 13, 2004.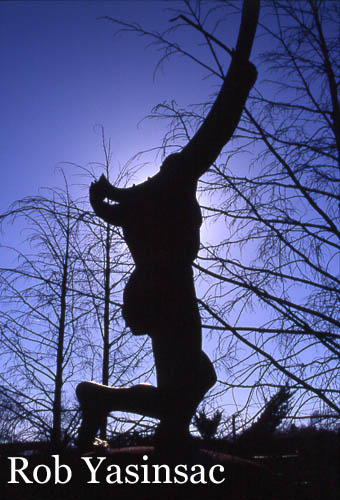 March 13, 2004.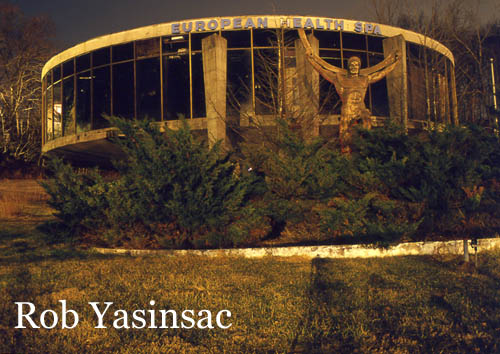 March 10, 2004.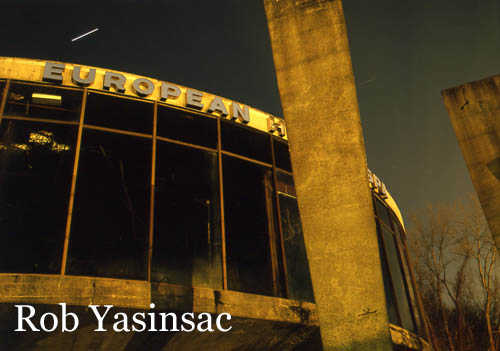 With Jupiter Rising.
March 10, 2004.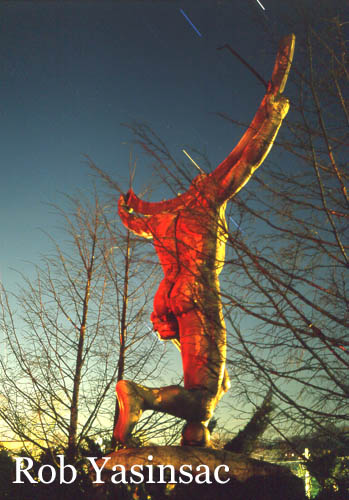 Atlas with the weight of the world relieved from his shoulders.
Startrails are from Saturn and the constellation Gemini.
March 10, 2004.

---
This page and all photographs copyright © 2004 by Robert J. Yasinsac.
These photographs are posted for private, non-commercial viewing purposes only.
All other uses prohibited. All rights reserved.