Catskill Game Farm
CATSKILL, NY




Bumper Sticker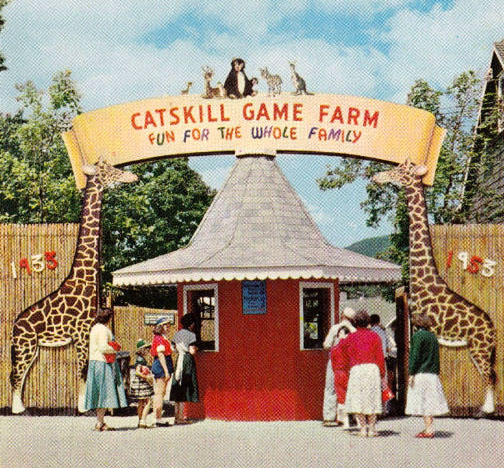 Postcard, 1953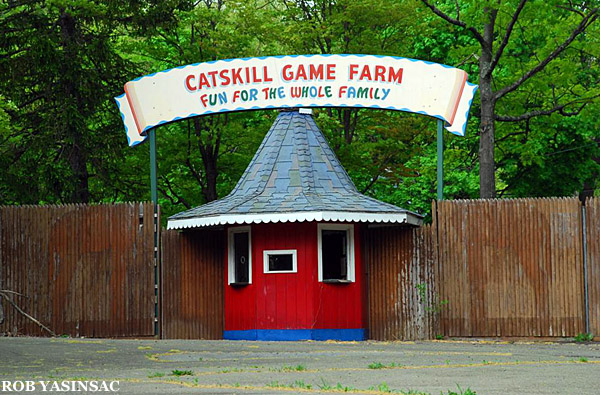 May 2011
Still fun for the whole family.
NOTE:
[I wrote this entry for a select audience in 2011 but I did not show these pages publicly. The Catskill Game Farm now appears on several other websites, and in fact has a new owner, so I may as well show my pages too finally. The property is undergoing cleanup/renovations, and small events are being held there. The Catskill Game Farm is no longer abandoned, but these images show the site as it was for a few years. I am keeping this entry as it was originally written.]

One of the Hudson Valley's newest ruins is a long-standing family vacation destination, the Catskill Game Farm. Roland and Kathryn Lindemann began the farm as a hobby in 1933 with 28 deer in one enclosure. The farm grew to include 2,500 animals; about 2,000 remained in number when the privately-owned zoo closed in 2006. The animals were auctioned off that fall, but their barns and enclosures remain intact, overgrown, and silent except for the few wild animals that might venture through.

According to the New York Times (1971), 500,000 visitors paid the "relatively steep admission fee" of $2.75 for adults, $1.35 for children (kids under four years of age free) to "pet, stroke and feed" approximately 130 species of generally gentle mammals. Entertainment options included feeding vanilla ice cream cones to nine black bear cubs, while it cost 20 cents for bottles of milk to feed lambs and baby goats, or $1.06 for 40 crackers to feed to the animals. Deer, llamas, and pygmy donkeys were among the critters that casually wandered the grounds looking for endless handouts. Those kept in pens included kangaroos, giraffes and camels. Among the prized possessions were Przewalski horses, believed to have been extinct in their native Mongolian wilds and only found in captivity.

The farm encompassed 1,200 acres, 200 of which were publicly accessible. It also included a conventional amusement area with swings, slides, see-saws, and kiddie rides, none of which impressed the Times' reporter. To staff the operation the Catskill Game Farm employed 200 seasonal personnel, 80 of whom worked year-round.

Similar zoos contemporary with the Catskill Game Farm were Long Island Game Farm (still active, Manorville, LI), Warner Brothers' Jungle Habitat (closed, West Milford, NJ), and Great Adventure Safari Park (still operating, Jackson, NJ). Great Adventure Safari Park and Jungle Habitat were drive-through parks where in perverse amusement, animals would climb on cars, often destructively (people are warned to keep their windows closed), and sadly, sometimes get hit by cars. Jungle Habitat closed amid various infractions, but Great Adventure shows no intention of shutting down their drive through safari.

On Monday October 9, 2006, the Catskill Game Farm admitted its last paying visitors. The New York Times (2006) cited the zoo as a "casualty of the struggling economy in upstate New York." Owner Kathie Schulz claimed the cost of operating had grown so steeply that it could no longer remain a viable business. Attendance dipped to 100,000 annual visitors at time of closing, with admission at $17.95 for adults and $12.95 for children ages 4-11. 1.5 to 2 times as many visitors would have been needed each year for the site to be profitable. The number of employees shrunk as attendance declined and 80 workers, 30 employed year-round, lost their jobs.
Perhaps the Catskill Game Farm could have been lauded for raising rare or endangered animals in captivity, but animal advocates would have preferred instead that resources be spent toward the protection of wild habitats. The Game Farm also faced allegations of unsafe conditions and ties to shady dealers and trophy hunters. This is the lasting impression of the Game Farm and other small "roadside attraction" zoos. The farm was cited by federal inspectors for violations like exposing animals to injury hazards and failing to provide medical care to injured animals. The San Francisco Zoo and Toronto Zoo both broke off associations with the farm, which they believed sold animals to enclosed or "canned hunts" in Texas.

At canned hunts wealthy "sportsmen" - perhaps imagining themselves to be Teddy Roosevelt or Crocodile Dundee but in actuality mere caricatures - shoot and kill at close range rare, tame, hand-fed animals with no wild instincts and no chance for escape. All for the purpose of putting a stuffed head on their living room wall.

The Catskill Game Farm auctioned off its inventory of vending machines, rides, farm vehicles and equipment, and about half of the last 2,000 animals, over two days in October 2006. Among the approximately 1,000 animals auctioned off were elk, antelope, rhinos, monkeys, snakes, alligators and tortoises. Amid fears that the animals would end up at the canned hunts, advocates pleaded with the owner to donate animals to over a dozen sanctuaries. The Game Farm did not donate the animals but responded that it would try to sell them to licensed dealers. But some of the dealers were believed to be among those who sell animals to hunting ranches, and no laws prohibited such sales.

To try to rescue some of the animals up for auction, advocates bid for animals at greatest risk of being purchased for enclosed hunts. A warthog, a wild boar, and two white rhinos eventually acquired in partnership between Marc Ecko and the International Rhino Fund were among the lucky "winners" of the auction. Other animal rescue organizations, including the Catskill Animal Sanctuary in Saugerties had successful bids. After the Humane Society filed complaint with the United States Department of Agriculture, the owner of the game farm arranged for several large cats to be sent to the Wildcat Sanctuary in Minnesota. Sadly, many other animals such as bison, wisent, yaks, elk, deer, sheep and others were sold to dealers with connections to canned hunts.

One long-time Hudson Valley establishment has shut its doors, perhaps to the dismay of families who attended several generations down the line. But in recent years other ventures have opened that will create more powerful impressions on children who can grow up with a more enlightened view of animals, not as mere objects of amusement, but as creatures deserving our compassion. In the Hudson Valley, the Catskill Animal Sanctuary and the Woodstock Farm Animal Sanctuary, and in Central New York the Farm Sanctuary in Watkins Glen provide havens for abused and neglected animals, and education about the "commodification" of livestock and profit-driven factory farming.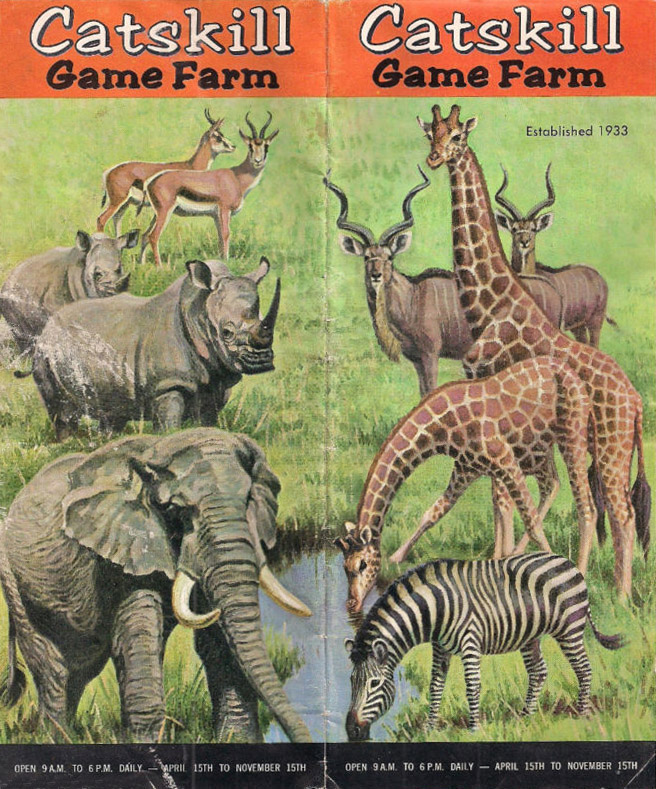 Site brochure, year unknown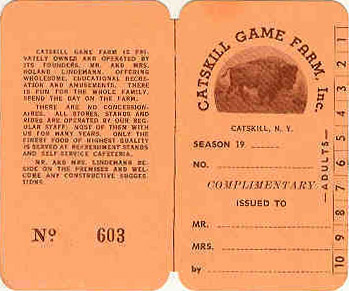 Pass, 1960







Ruler, year unknown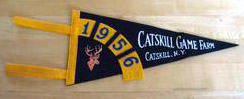 Pennant, 1956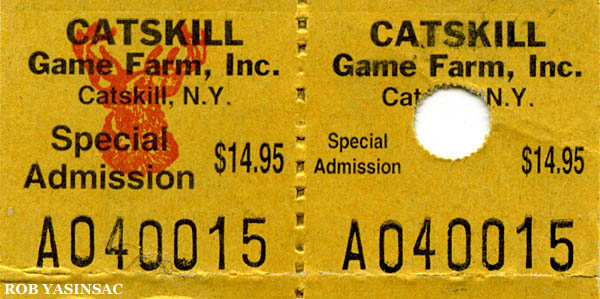 My admission ticket from August 2000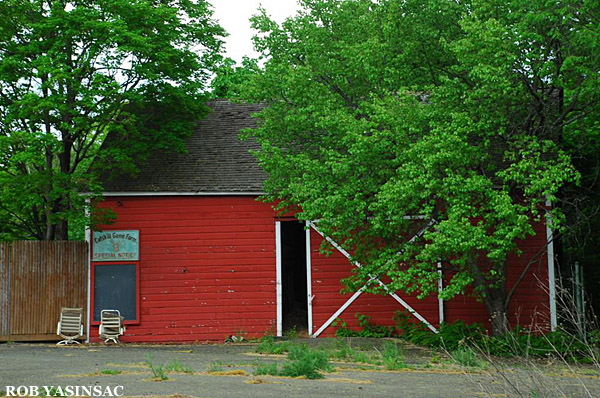 Barn, admission courtyard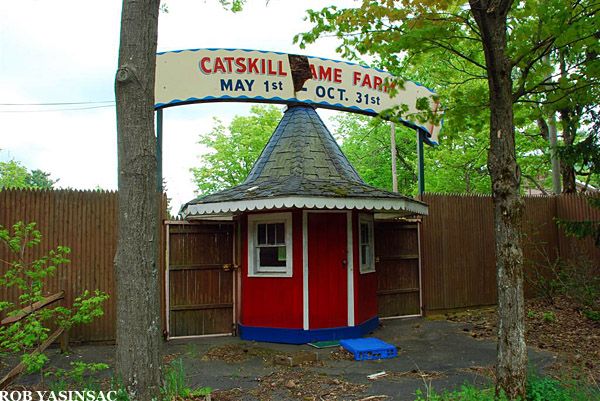 Ticket booth from the inside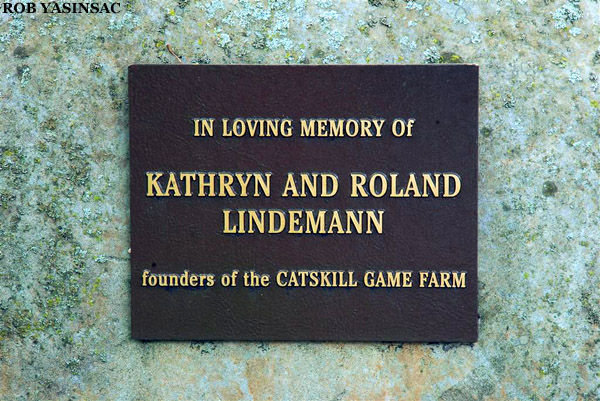 Memorial rock inside the entrance gate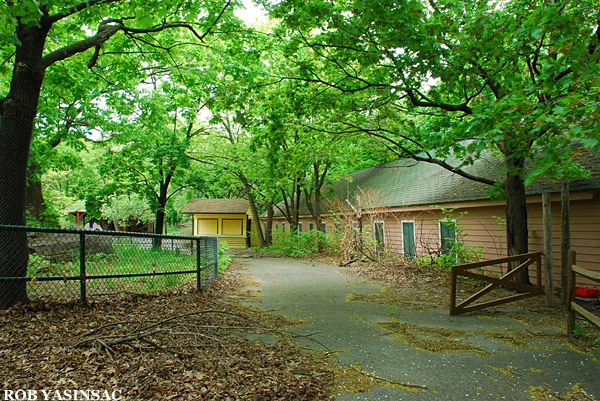 Inside the entrance gate



---
This page copyright © 2011 by Robert J. Yasinsac. All rights reserved.
Reproducing or copying photographs without the permission of Robert J. Yasinsac is prohibited.