St. Cabrini Novitiate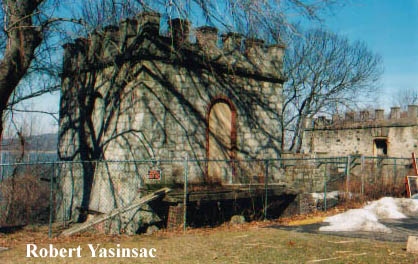 February 19. 2001
This small ruin, perched on a cliff behind the St. Cabrini Nursing Home in Dobbs Ferry, overlooks the broadest expanse of the Hudson River, where the Tappan Zee to the northwest stretches a good three miles. If you ever poke your head up while taking the Hudson Line trains, you might catch a glimpse of it, just south of the Dobbs Ferry Station.
Not knowing a thing about it, I stopped into the Nursing Home and asked for help. A friendly receptionist didn't know a thing either, so she called an administrator while October the cat walked across the desk. October's drooping belly belied its agility, surprising me with a deft leap up from the floor.
After a few minutes, the receptionist got off the phone and gave me my history lesson for the day. The castle-like ruin was built in the early 1900s by St. Cabrini as part of its Novitiate, or training school for nuns. My friend T.J., who grew up in Dobbs Ferry, tells me the original St. Cabrini building, which he seems to remember was in the Italian Villa style, was demolished before the current structure, the antiseptic, oversized cinder-block it is, was constructed around 1971-72.
The castle-like ruin is actually three levels. On the ground (upper) level by the parking lot are two towers flanking a open court, the towers and walls surmounted by crenellations. Interestingly the window and door treatments vary, from Romanesque arches to Gothic arches to a utilitarian-looking factory-style door. All the while I'm thinking this could be a great place for the residents to sit and have tea and look at the River, and it seemed someone else had the same idea also. Behind the receptionist's desk, I noticed just when I asked her about "the castle-like thing," there on the wall was a painting of what it would look like in all its glory of a sunny winter afternoon. I was assuming they would surely want to restore it when I was told it will be torn down.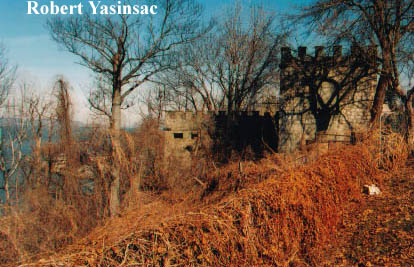 February 19. 2001

---

Yaz' Hudson Valley Ruins and Abandoned Buildings, etc.
---
This page copyright © 2000 by Robert J.Yasinsac. All rights reserved. These images are for private, non-commercial viewing purposes only and cannot be copied or reproduced without permission from Robert Yasinsac. Any other uses of these photographs without the permission of Robert Yasinsac are strictly forbidden