Steamer Lancaster
HASTINGS-ON-HUDSON, NY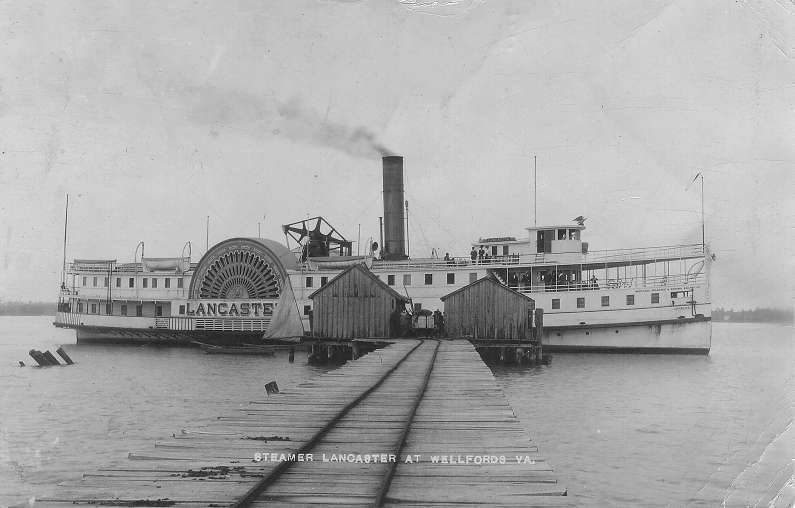 Steamer Lancaster at Wellsford, VA
Besides offering up decaying mansions and derelict factories, the Hudson River Valley is also a graveyard for "water-borne" architecture as well. Wooden barges that carried ice and brick can be found scuttled in the muck, and a foot or two below the surface one might see the deck of an old ferry. At Hastings-on-Hudson are the remains of a steamship, a grand kind of public transportation, a resort hotel on water. The Lancaster, pictured above featured a brilliantly painted and gold-leafed paddle box that would have shown like a jewel in the sun's rays, a scene hard to picture today when we see it's rusted hull partially buried and long stripped of its glory.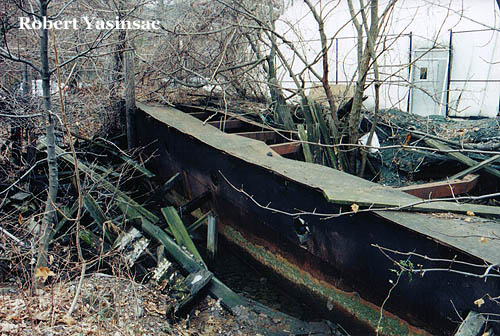 The Lancaster was a Chesapeake Bay steamer launched by the Maryland Steel Company in 1892 and primarily ran the route to the Rappahannock River. Steamers were used for passenger transportation and also for tobacco and other freight runs. The Lancaster was sold in 1924 to New York and brought to Hastings, where it was abandoned four years later.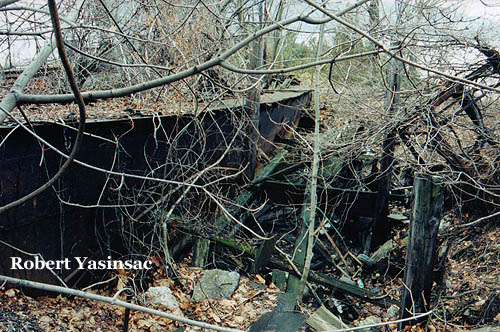 The ship got another life, however, when it was adaptively reused by Gus and Suzi Popp, local shad fishermen who ran a camp out of Hastings. The deck of "Capt. Popp's fish house" featured a wooden cabin that had been put in place of the upper quarters of the old steamer. The boat held a shad smoker and workspaces for mending nets. Old barges were used for the crew's kitchen and sleeping quarters. The ruins of the barges can be found at Hastings as well. The business died out in the early 1960s, in part to decline in shad and "reports of oily tasting fish." For many years, the Lancaster was overshadowed by the Buccaneer, a five-mast vessel used as a breakwater. It was prominent and had it's own colorful history, but unfortunately burned in 1994 (arson) and the ruins were dismantled.

UPDATE, APRIL 24, 2008:
The village of Hastings-on-Hudson recently buried the remains of the steamboat Lancaster during the creation of a new riverfront park. A small remnant of the boat is still visible at low tide. Although celebrated on the village's "Museum in the Streets" signs, the actual boat was apparently forgotten about, or deemed not worthy of inclusion in the new park.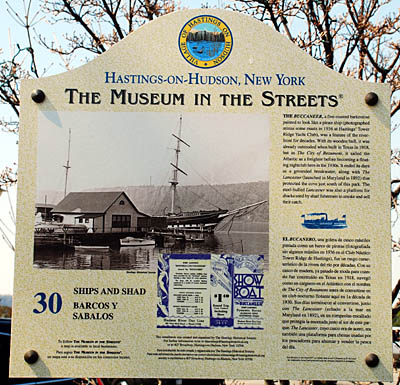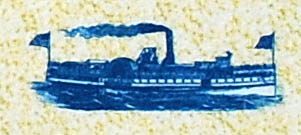 Postcards of the Lancaster and Chesapeake Bay boats can be viewed at Baydreaming.com.
---
This page copyright © 2008 by Robert J. Yasinsac. All rights reserved.
Reproduction or copying of these photos in any form is not permitted.