Heritage Park
COLONIE, NY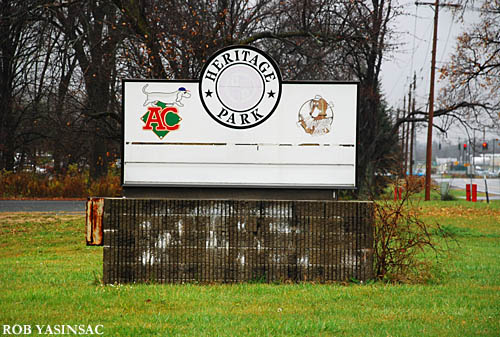 Located in Colonie, a suburb of Albany, NY, Heritage Park hosted minor league baseball from 1983 to 2002. No doubt the name was borrowed from the Shaker Heritage historic district, located across the street from the stadium (historic apple orchards adjoin the stadium beyond right field.) One of several parks to host minor league ball in the Albany area, Heritage Park was rendered obsolete when "The Joe" opened in 2002 at Hudson Valley Community College in Troy, across the Hudson River. The AA-Eastern League Albany A's opened Heritage Park on August 20, 1983 to a crowd of 9,211 fans. That game went into extra innings and was called at 1am; due to rain the next day, that opening game was completed two days after it started, when the visiting Nashua Angels won in the 19th inning of a three-day affair.

The Albany-Colonie Yankees moved in in 1985 and stayed until 1994. Some of the core Yankees of the late 1990s dynasty played their AA ball here, including Derek Jeter, Mariano River and Bernie Williams. The Yankees left town, supposedly, because they could not force the owners of the stadium to make upgrades. Independent league baseball was played here until 2002. Development proposals for the land are under consideration, and Heritage Park will surely be demolished within the next few years.

According to one internet source, an auction of stadium contents was held in 2005. Save for a handful of seats still mounted to the home plate grandstand, little remains that would be of interest to the collector today. The office behind home plate and the first base locker room / concessions building was thoroughly sealed on our visit. Scraps of signs that once adorned the outfield wall lay scattered about. The grass growing on the dirt basepaths is different from the grass on the field, giving the playing surface a strange look when viewed from above. All photos were taken November 17, 2008 in the rain.

UPDATE SEPTEMBER 4, 2009: Heritage Park baseball stadium was demolished in the summer of 2009.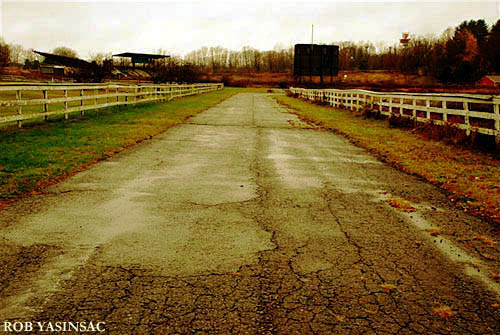 View from entrance road toward playing field, with back of scoreboard at right-center.
Apple orchards are at left, parking lot at right.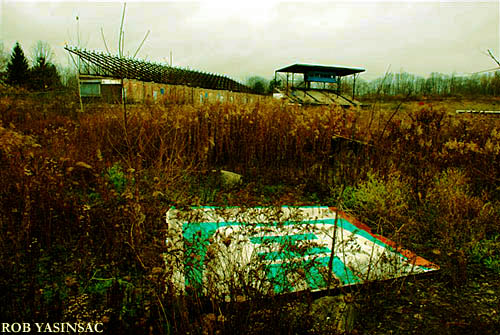 View from the outfield.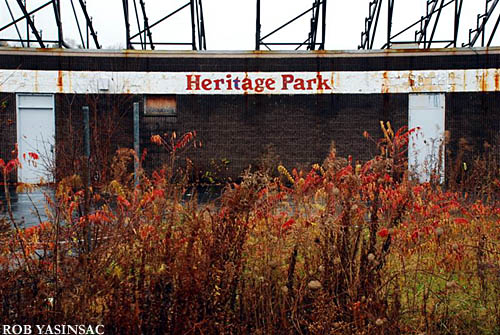 First base grandstand remnant and locker room / concessions building. Same as following images.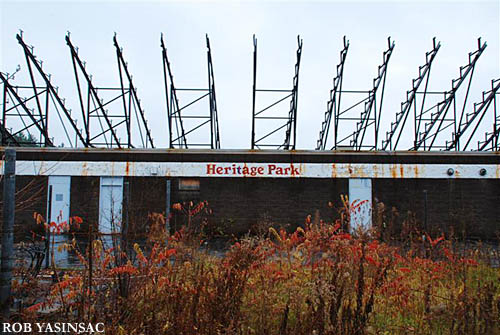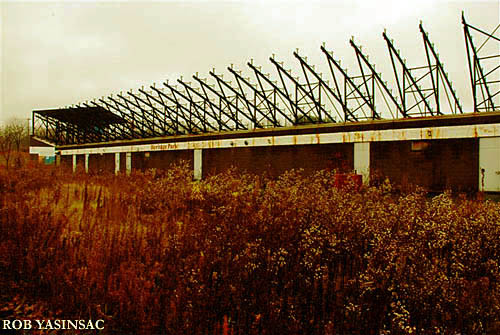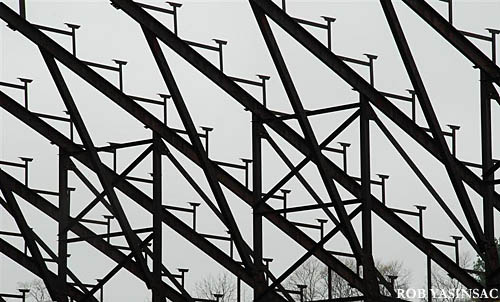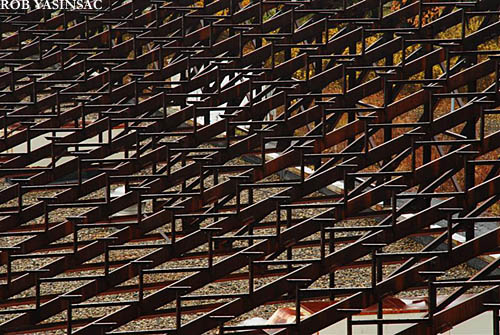 More Heritage Park Photos - Page 2



Yaz' Hudson Valley Ruins and Abandoned Buildings, etc.
---
This page copyright © 2008 by Robert J. Yasinsac.
Reproduction of these photos without the permission of Robert Yasinsac is prohibited.