Up the hill from where I grew up in Tarrytown was an old estate whose mansion was demolished about 1980. The property was left undeveloped and it reverted to woods, though traces of the estate could still be found. Actually my entire neighborhood was surrounded by old estates, all which left some kinds of ruins. That's how I got into this hobby, having first explored these properties in the 1990s.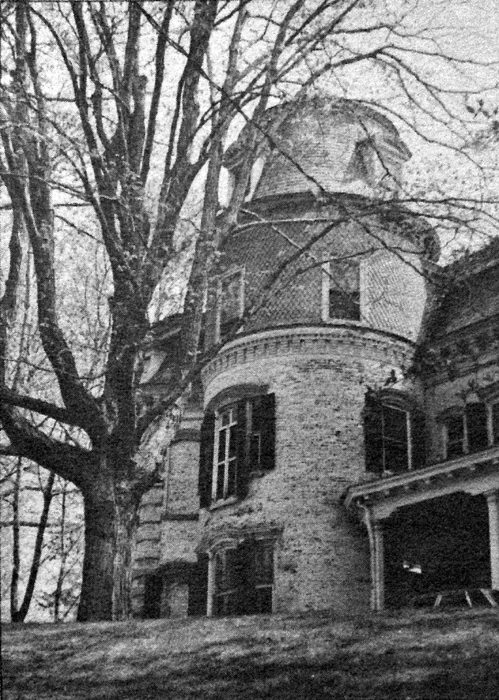 Scott Periodicals. Magazines to the Trade:
Plumbing, Heating, Air Conditioning, and Water Systems. Martling Ave.
Tarrytown Centennial 1870-1970
A few of these old estates are now being redeveloped, now thirty-forty years later. This week I saw for the first time that work is occurring at the Tarrytown estate known as Shadyside (perhaps a play on the name of the nearby home of celebrated author Washington Irving). The mansion was a 22-room brick structure built in 1875 by E. C. Spofford. It went through several different owners throughout the 1900s, eventually ending up with a publishing company who set up offices inside the old house. It seemed to be in great condition as recently as 1970, but the house was gone a decade later, and not even replaced by anything.
Although the mansion disappeared, estate remnants survived including two cold frames (low greenhouse-like structures) and these gate pillars. Gate pillars for the old estates often remain, though sometimes they are repositioned or repurposed. So far, these pillars have been left in place, as have the Broadway entrance pillars which now serve an apartment complex on what had been the estate's front lawn.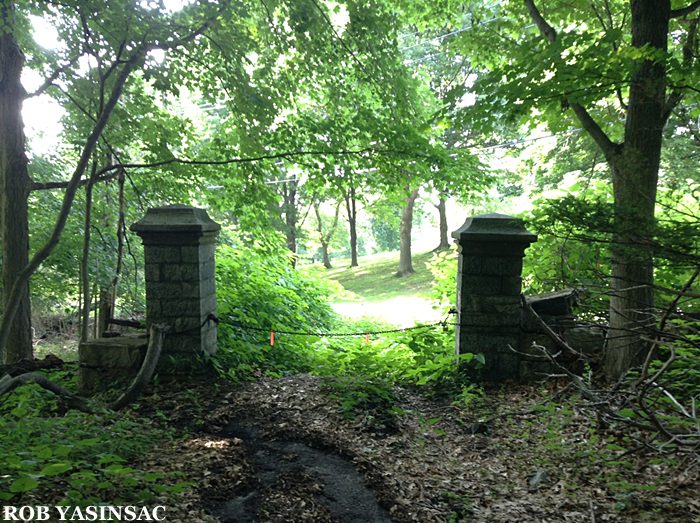 These gate pillars can still be viewed from Martling Avenue.
As much as I like exploring abandoned buildings, I also enjoy exploring the sites where something once was. Although it may first appear that "nothing remains", these abandoned properties have left behind plenty of treasures for those who look.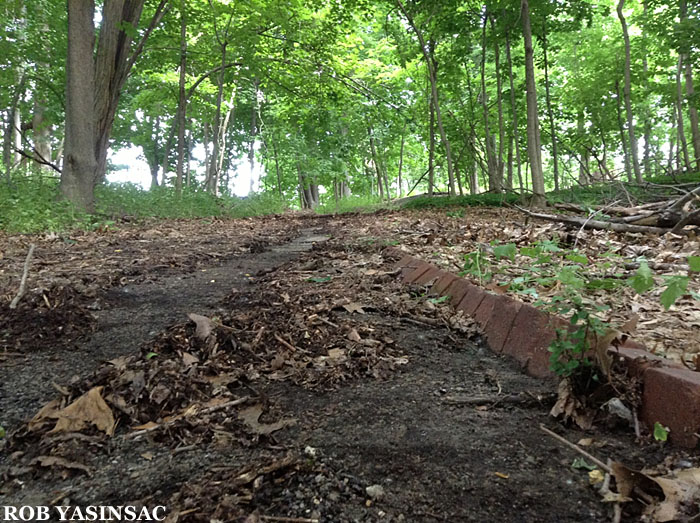 Looking uphill along the brick-lined estate drive.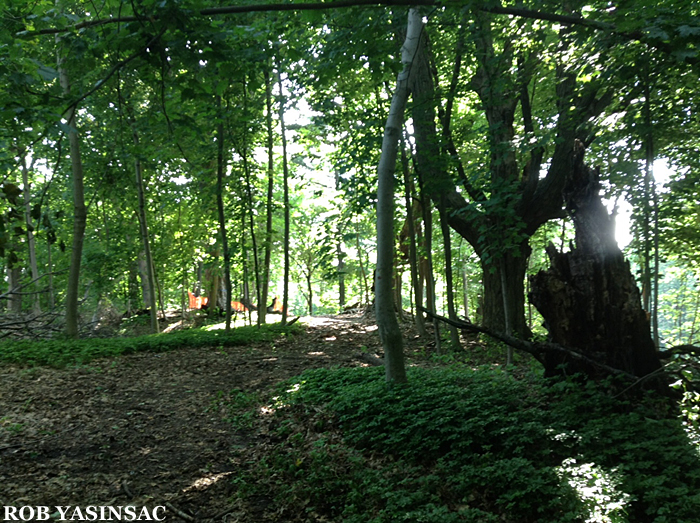 The estate drive is not the least bit overgrown and pachysandra has kept neat borders near the house site.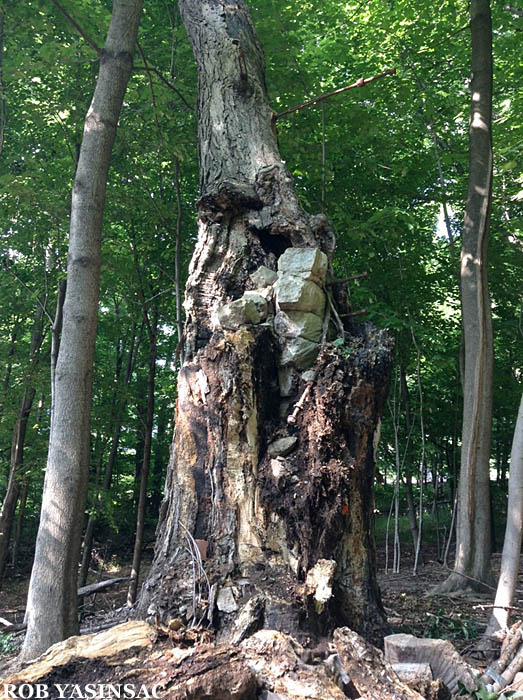 THis interesting site is an old tree near what was the northwest corner of the house site. Blocks of stone inside this tree, perhaps placed in more recent times to prop up an older but favored landscape element. Also one long metal rod extends, horizontal to the ground, at top and two smaller rods protrude from the blocks in the middle of the tree.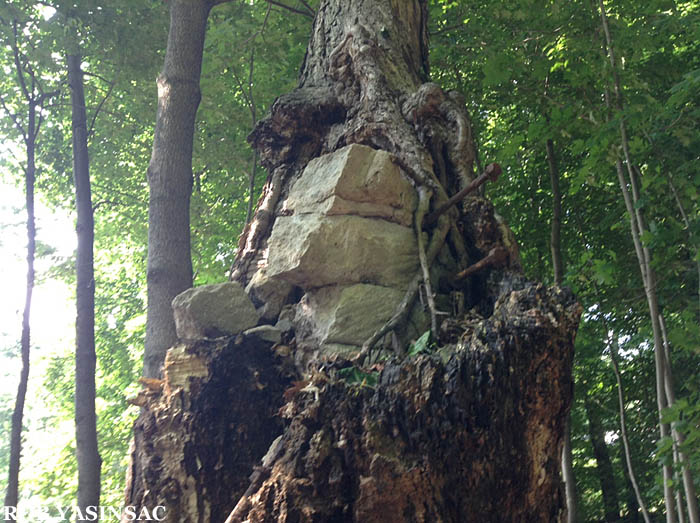 A close up view of the blocks.
Although the old houses are long gone, I still find it sad to see the woods, and the relics they contain, be destroyed for new projects. Usually it is for houses, but the Shadyside property is being developed for office buildings and the woods have already been cleared and new roads are being put through.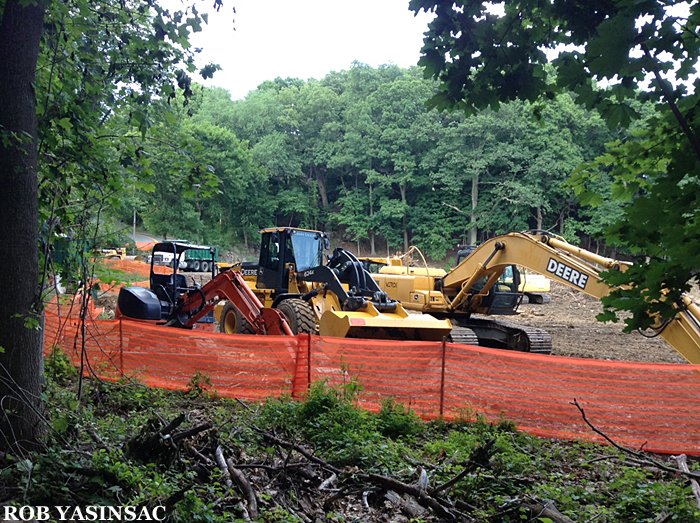 This was behind the mansion. Once it was probably gardens and service buildings. I remember that there were two cold frames back here.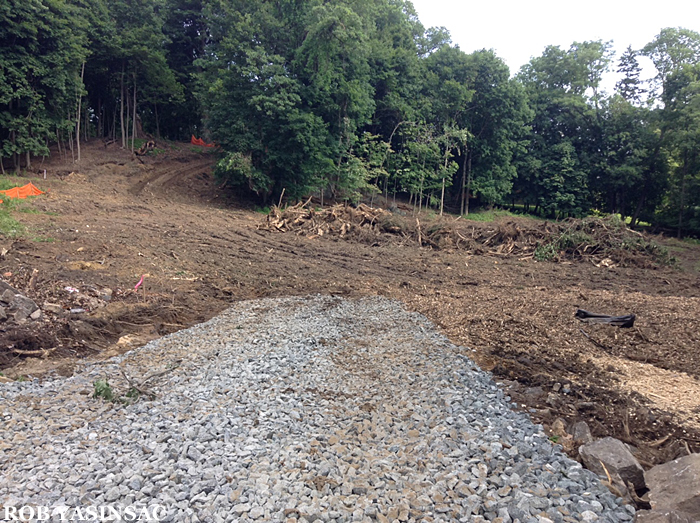 The orange snow fencing marks the old tree visible in the historic image of the house, at page top. I guess that tree, at least, will be saved, though a new road has been cut pretty close to its root system.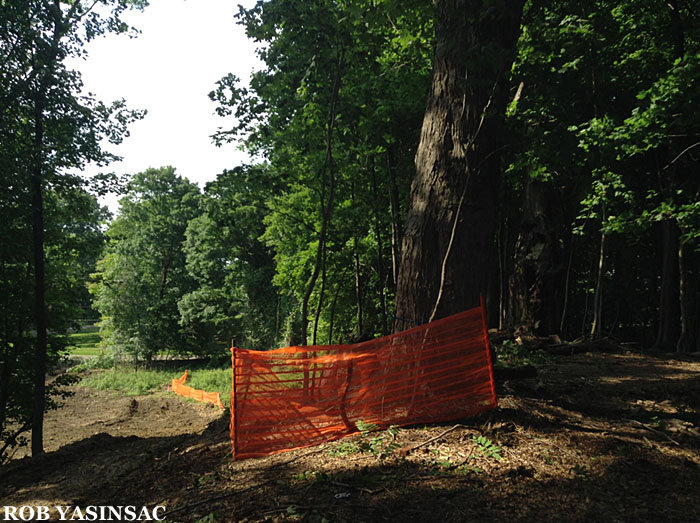 It had been quite a while since I explored Shadyside, since I don't live in Tarrytown anymore, but for so long I counted on it to always be there. Now it too will be erased. To the sounds of birds, I walked down the estate drive, still lined by bricks, through the gate pillars, back to "civilization."