In this post I present the artwork of my grandmother Edith (Stein) Downing, particularly her images of the construction of the Tappan Zee Bridge.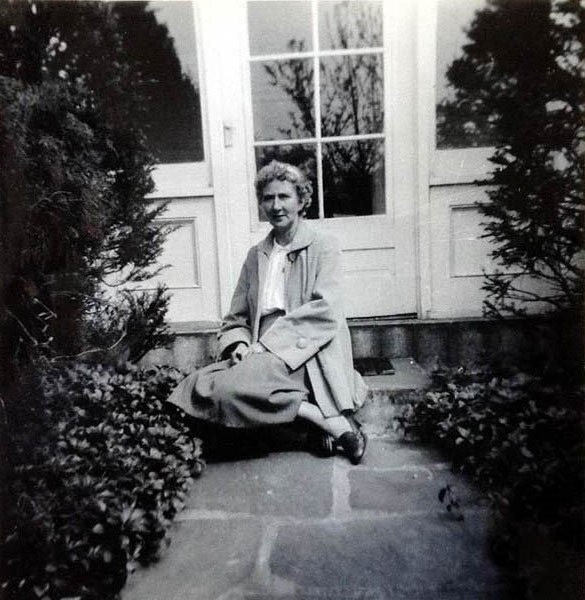 Edith S. Downing, Tarrytown, NY.
As you may well know by now, a new Tappan Zee Bridge is under construction between Tarrytown and Nyack. I took the occasion of a recent holiday gathering at my aunt's house to inquire about the paintings that my grandmother composed of the Tappan Zee Bridge as it was being built. Not only did I think there would be renewed interest in images of the Tappan Zee, but the Hudson River Museum in Yonkers just displayed some amazing artwork of similar themes in an exhibit entitled Industrial Sublime. The Tappan Zee Bridge may have presented new subject matter to my grandmother, but for her the Hudson River was a very familiar place.
Edith Downing painted a variety of subject matter including flowers, the human figure (we have her art school model sketches from 1922!), and portraits (low-res photo of a photo on that last link, sorry). For family members she painted reproductions of famous paintings – my favorite was a Remington scene. But it should be no surprise that I appreciate mostly her Hudson River scenes, which include images of Tarrytown, fishermen on the river, and historic buildings. Unlike the pastoral landscape artists of earlier generations whose works included distant farms, churches, and the occasional mill, and unlike Modernist painters who emphasized architectural form and structure as a triumph over nature, my grandmother's watercolors embrace equally the Hudson River's natural beauty and the architectural creations that have risen alongside of, and on, the river.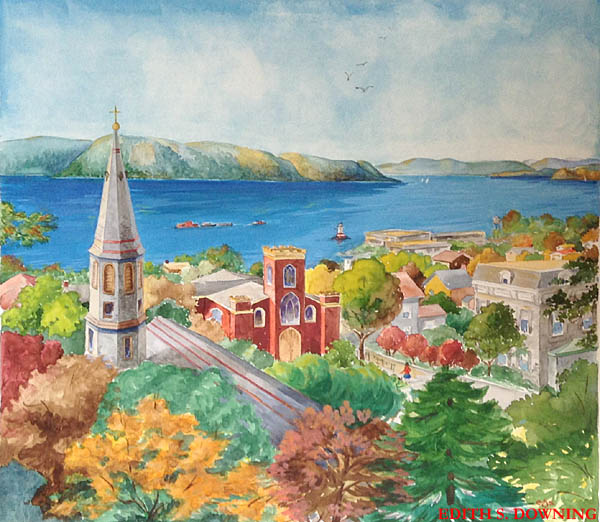 Tarrytown, showing the First Baptist Church, Christ Church, Tarrytown Lighthouse, Chevrolet factory, barges on the Hudson River, and Hook Mountain in Rockland County. Look too for sailboats further up the Hudson, the factory's water tower, and a girl in a red jacket walking her dog.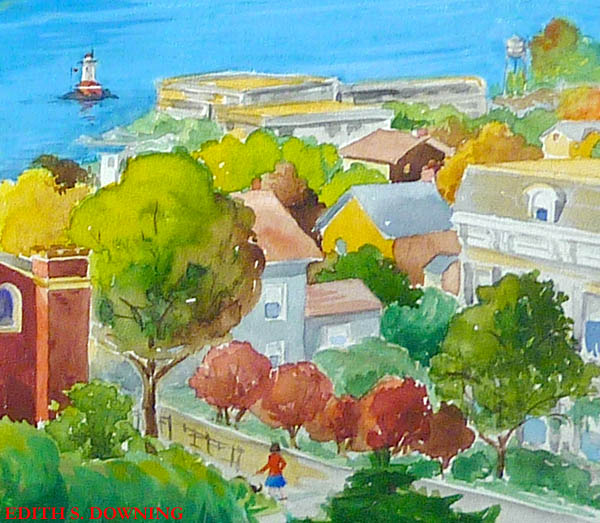 Detail from above painting.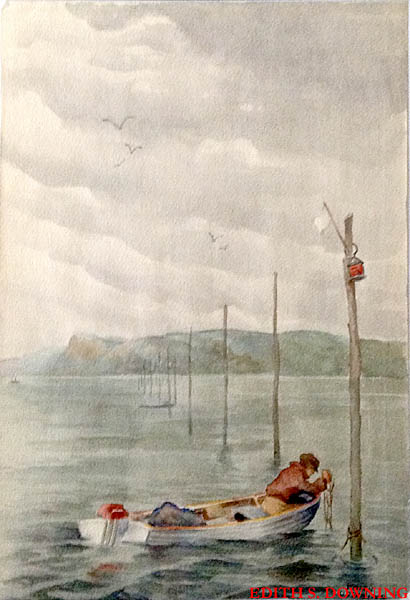 A fisherman checking his run off Croton Point, with Hook Mountain in the background. Five gulls are included as the only elements in the otherwise "blank", cloudy, top-half of the scene. Downing included gulls in almost all her river paintings.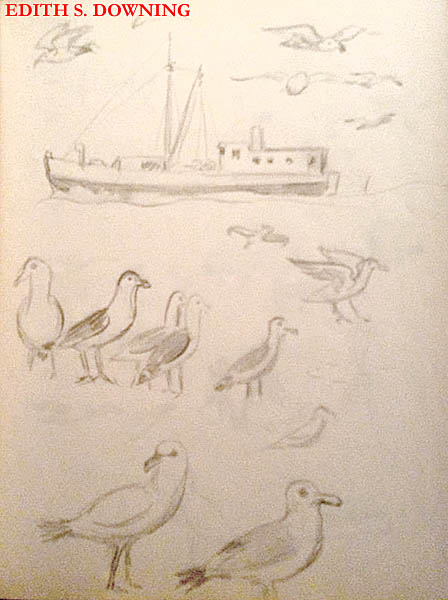 From a sketchbook, this image may be related to the Tappan Zee Bridge series.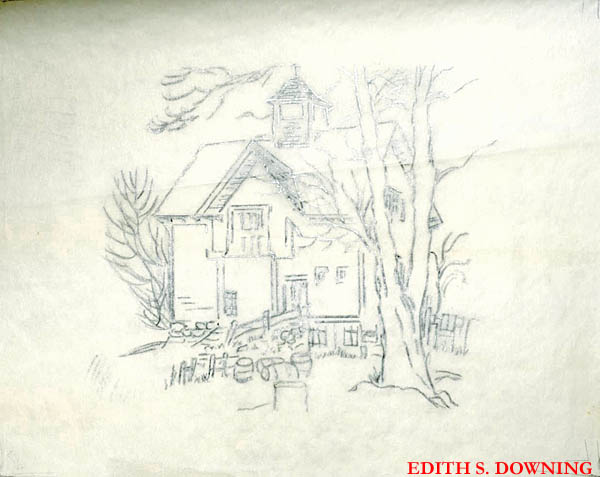 A carriage house or barn with barrels. I wish I knew which, but I cannot identify the building. It likely does not survive anymore.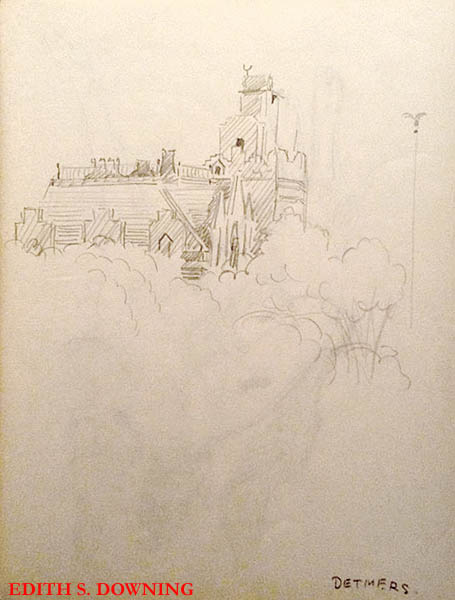 Edgemont, or Detmer's Castle, was located in Tarrytown between Martling Avenue and Prospect Avenue. It was demolished in the early 1970s and replaced by condominiums.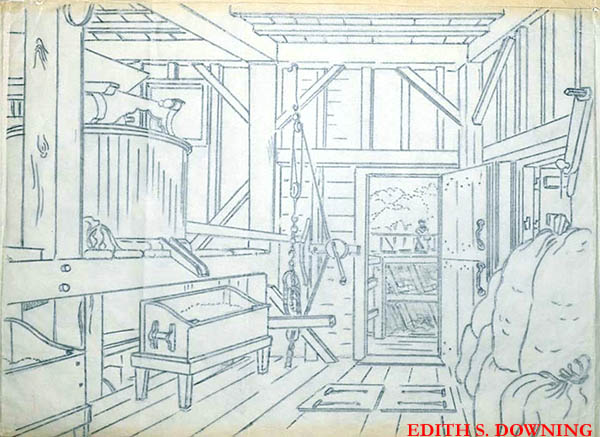 The Mill at Philipsburg Manor in Sleepy Hollow.

The Tappan Zee Bridge
John Charles, a clothing store on Main Street in Tarrytown, commissioned my grandmother to paint the proposed bridge on a mirror in the store for its annual holiday display. Merritt-Chapman & Scott Corporation, underwater engineers for the bridge supports, shared with her blueprints of the bridge to assist with her drawings. A construction official identified as Mr. Sanders brought her out on the Hudson River for closer views of the boats and the construction activity.
A 1980 article in the Tarrytown Daily News written by Phyllis Riffel discussed the origin of this artistic endeavor and further stated:
"During the ensuing years, Mrs. Downing continued to sketch in and around the waterfront and the collection of her work will be of particular interest to those who take the bridge for granted as part of the Tarrytown scene but were not present during its construction."
"Included in the display are studies of the workboats in the river, heavy equipment on the shore of the river, the construction of the piers and views of activity from several vantage points. Unlike architectural drawings, Mrs. Downing has captured the mood of the river with its swift currents, busy traffic and the gulls and clouds overhead."
In 1980, on he 25th anniversary of the opening of the Tappan Zee Bridge, the Warner Library in Tarrytown exhibited Edith Downing's paintings and sketches. In the exhibit, the images were numbered and entitled as shown below. Some of the images remain definitively identifiable in 2014, while others are identified on this website as guesses. I am not showing all images at present, but I hope that all of the original artworks may be exhibited again.
1. Study of the Workboats
2. The Workboats
3. "Curlew"
4. "Cricket"
5. "Cheyenne" – Dredging
6. Caissons Begin to Appear
7. Sunset
8. Coming Through the Channel
9. Pile-driving the H-Beams
10. Study of the Piers
11. Cementing the Piers
12. Cement Mixer
13. View Through the Piers
14. Icy Morning
15. The Lighthouse View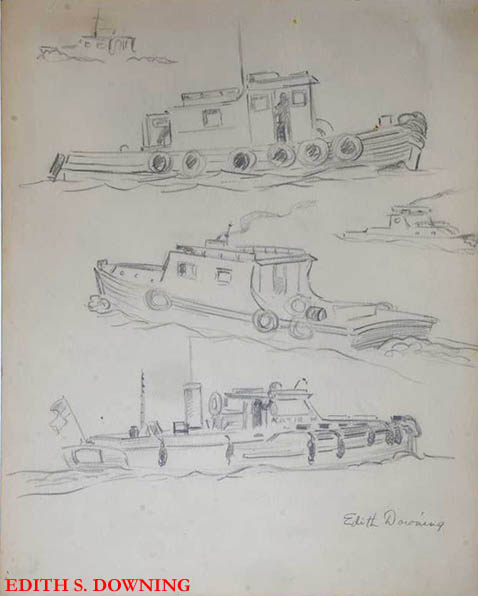 02. The Workboats

03. "Curlew" (detail)

04. "Cricket"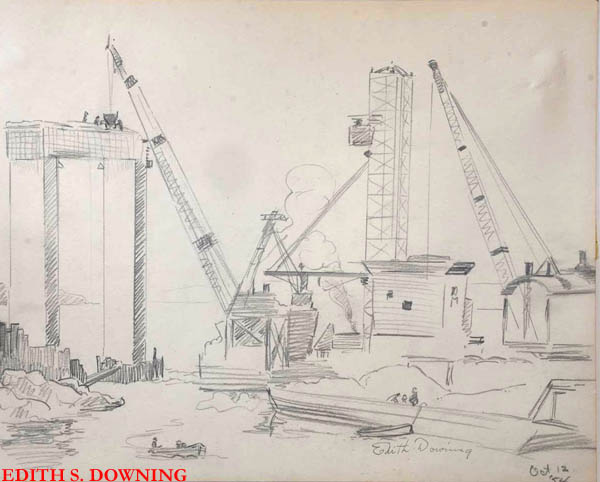 09. Pile Driving the H-Beams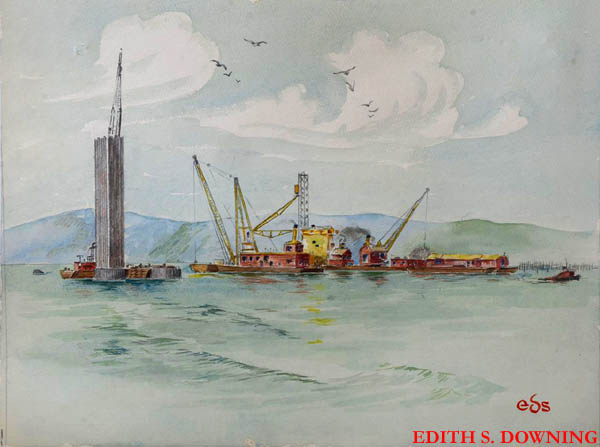 11. Cementing the Piers.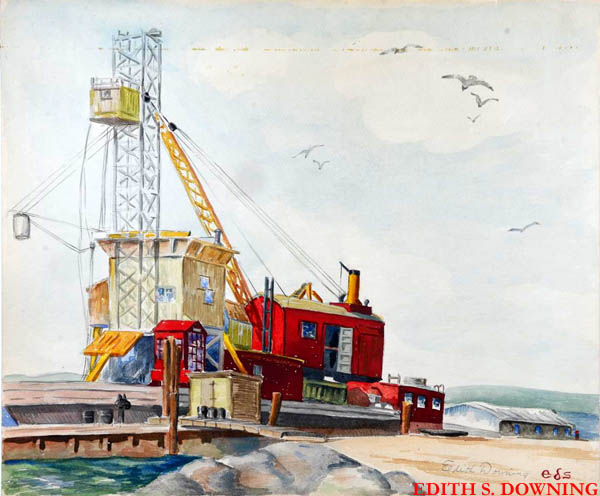 12. The Cement Mixer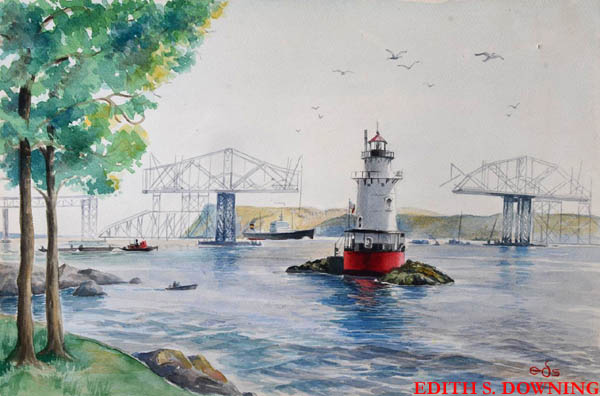 15. The Lighthouse View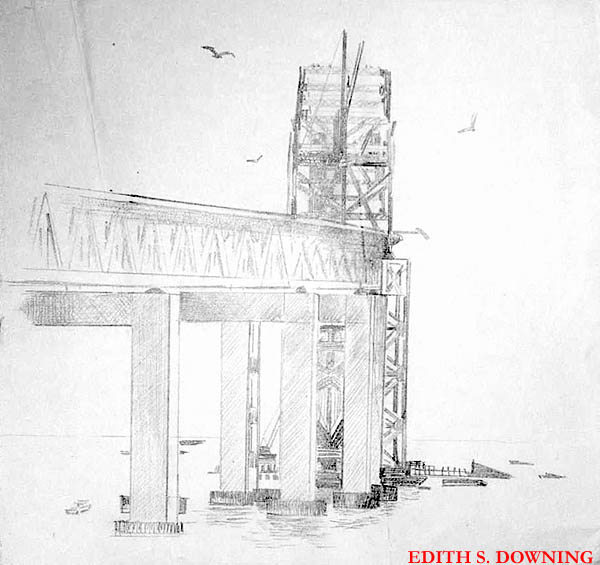 This small sketch was not part of the series of images displayed at the Warner Library in 1980. It seems to show the finishing touches being applied to the Tappan Zee Bridge.
Two pages of photographs of Edith Downing, construction officials, and workboats for the Bridge project appear in a family photo album. Some of those images are shown below.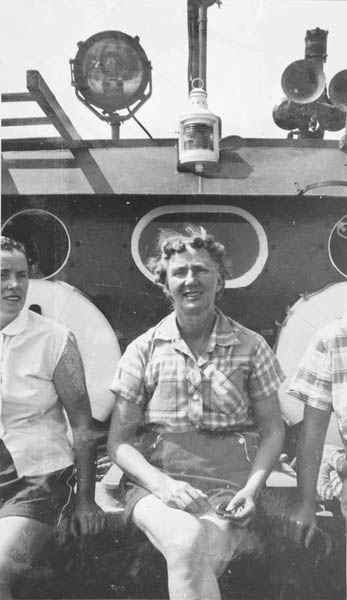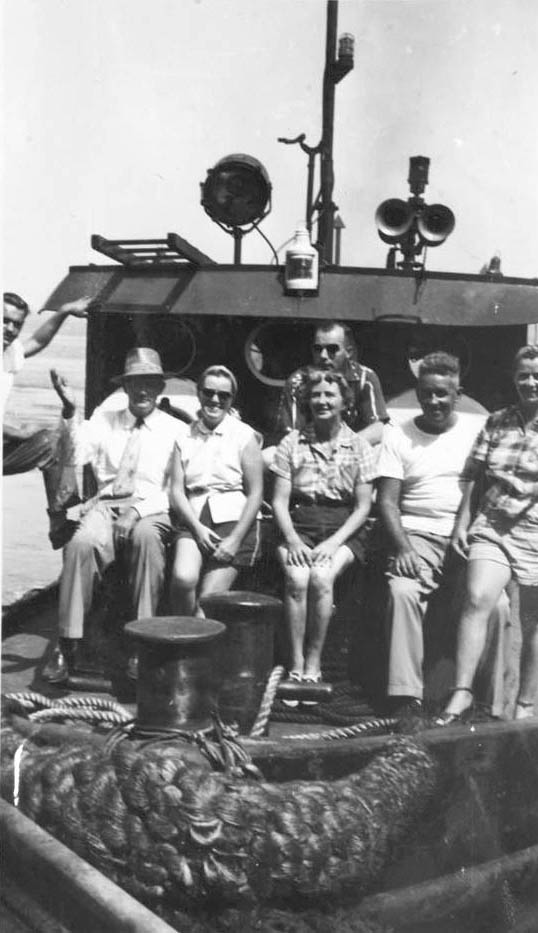 Left to right: "Mr. Sanders, Fr. Corcoran, Edith, Mr. Smith."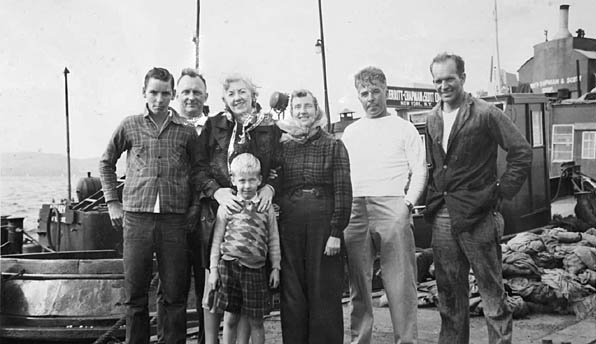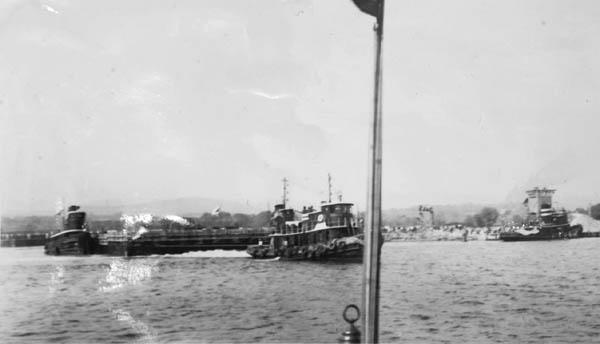 The Tappan Zee Bridge opened December 15, 1955.
Edith Downing (1903-1992) was born in New York City to Augusta Cantor Stein and Henry Charles Stein. She attended schools in the city until age 14 when the family moved to Tarrytown, where she graduated from Washington Irving High School. In the early 1920s she studied at Cooper Union in New York City under Victor Perard (an internationally known Parisian emigre and a prolific illustrator of fiction and nonfiction) and Joseph Cummings Chase (a portrait artist whose portfolio included images of Teddy Roosevelt, Will Rogers, and Albert Einstein). Ms. Downing continued her studies at Grand Central School of Art, also in New York, with Eric Pape (an illustrator for historical and fiction books) and Edmund Greacen (an Impressionist painter).
Downing later taught art at the Irving School for Boys (demolished, now the site of Sleepy Hollow High School), Marymount College (now the home of EF International), Hackley School, Transfiguration School, Our Lady of Victory Academy (demolished; located on County House Road in Tarrytown before it moved to Dobbs Ferry), and other parochial schools in Westchester and New York City. Because schools only offered art one day per week, she worked in five different locations each week, sometimes in Westchester, sometimes in Manhattan. She retired from teaching in 1960. Afterwards, until 1978, she was a guide for Sleepy Hollow Restorations and led tours at Van Cortlandt Manor (Croton-on-Hudson), Philipsburg Manor (Sleepy Hollow), and at Sunnyside (Tarrytown).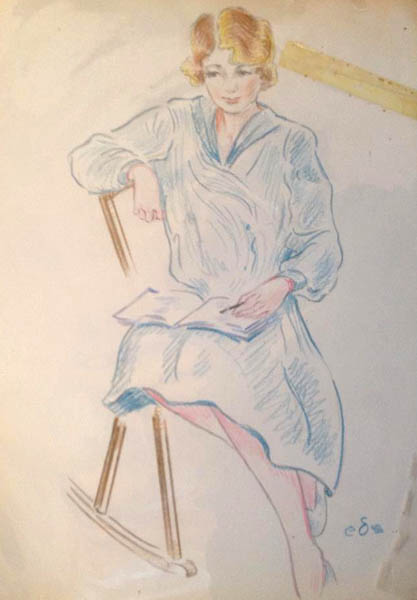 Edith Downing, self portrait. This is from a book of drawings she made of my mom when my mom was a child. My grandmother made drawings of her children and gave them each their own book.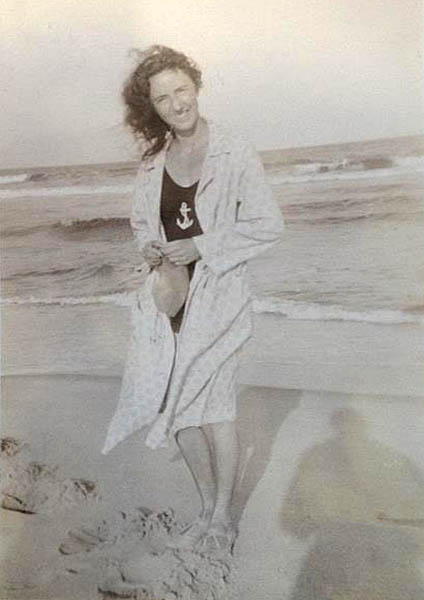 Edith at Point Pleasant, New Jersey. Probably in the 1920s on her honeymoon with her husband Daniel. Point Pleasant continued to be a family vacation spot.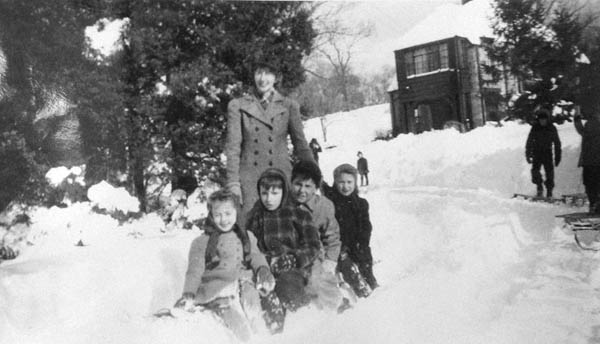 In the Glenwolde neighborhood, Tarrytown. Left to right, Kathleen (my mother) and her siblings John, Daniel, and Margeurite.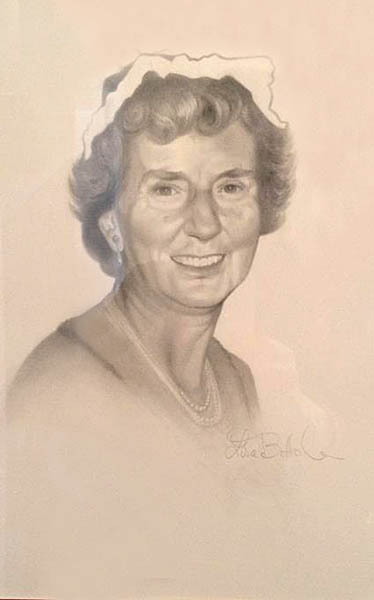 A drawing by my cousin Lisa Botto Lee.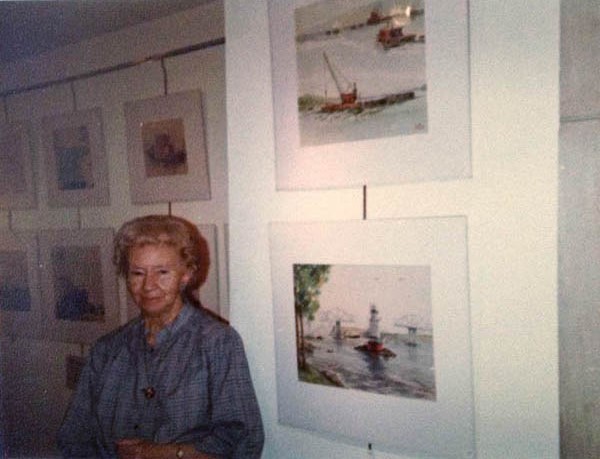 Warner Library Exhibit, December 1980.

Warner Library Exhibit, December 1980.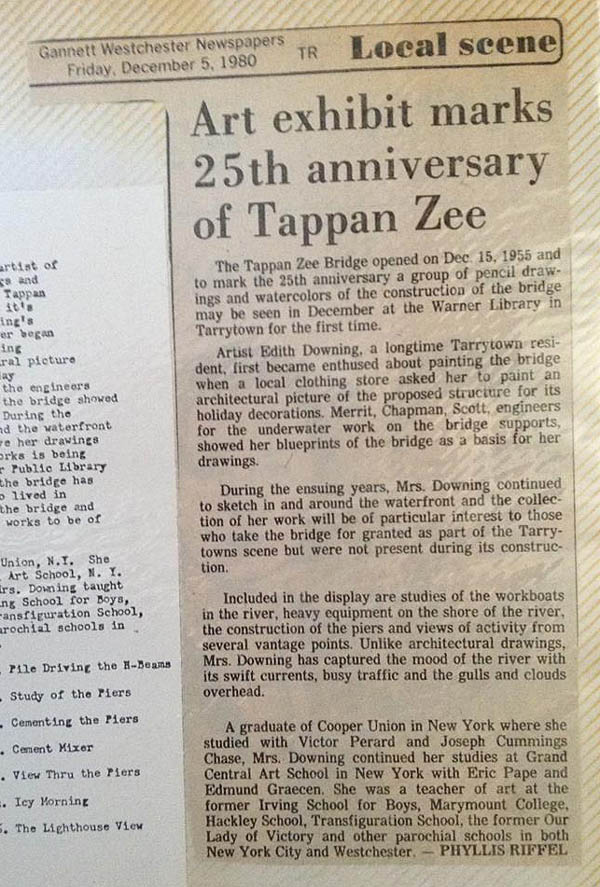 Gannett Westchester Newspapers, December 5, 1980.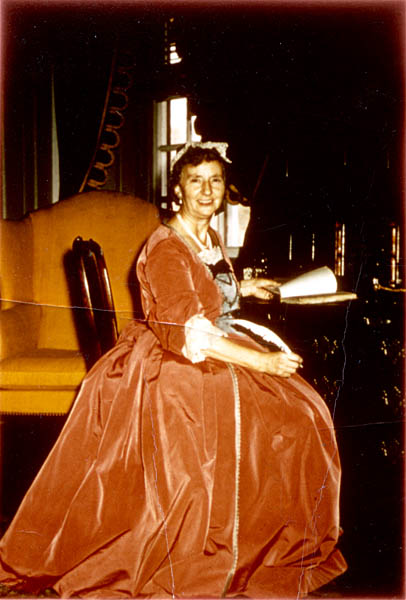 Edith Downing at Van Cortlandt Manor.
As is custom with all other content on hudsonvalleyruins.org, please do not reprint or republish elsewhere these images, in print or digitally. To share the images, please use this link: http://www.hudsonvalleyruins.org/rob/?p=1766.
__________________________________________________________________________________
One other item about the Tappan Zee Bridge that I would like to remark upon is the repeated mistaken assertion by politicians, public officials, and reporters that the bridge was built to last only fifty years, and that it was built with substandard materials. Such a possibility defies logic. The statement was repeated again in the New York Times on January 19, 2014. (That article also includes a small selection of excellent historic images.)
The myth of the fifty-year lifespan seems to have modern origins in the timeline of discussions for replacing the bridge and cannot be found in any construction-era documentation. The Journal News researched this story and the New York State Thruway Authority itself debunked this myth in 2006 (See "Thruway Authority debunks Tappan Zee myth").
__________________________________________________________________________________
BONUS:
Sorry for the lack of posts lately. There may be one or two other posts coming in the near future, but if you would like to keep up with me in real-time I have been adding a couple photos a day to Instagram (*sigh*). My account can be found at: http://instagram.com/yazcountry# You don't need an account to view the photos, just to comment. The content is not strictly HVR-related, hence the greater frequency of material being posted there, but you might like it anyway. See you out there.
_____________________________________________
UPDATE 2/10/14:
Some more Tappan Zee Bridge goodness:
Here's a promo film for the opening of the bridge:
http://www.youtube.com/watch?v=NaReVTZkNNg
And Liz Taylor drives over the TZB in this film, just before getting in the "best and possibly most fabulous car crash ever." Skip ahead to 1:55 or so.
http://www.youtube.com/watch?v=WH1yqy35xbk
Thanks to Paul Barrett for finding those links.