DUTCH REFORMED CHURCH
- N E W B U R G H -
---
ONE OF Newburgh's more impressive abandoned buildings is its stately Dutch Reformed Church, completed in 1837, which overlooks the river from Grand Street. I had glimpsed the building many times over the years and often wondered what it could be. When I finally made my first trip to photograph Newburgh's ruins in August of 1998, I was drawn immediately to this forlorn building. What I found was a rotting Greek temple standing squarely over the busy parking lot of Newburgh's public library.
IN THE LIBRARY'S entrance vestibule was a large color photograph of the church as it appeared in the late 1950s. It turns out the building was the work of Alexander Jackson Davis, one of the most important names in American architectural history. Davis' works include some of the Hudson Valley's best known landmarks, among them Lyndhurst at Tarrytown, Locust Grove at Poughkeepsie, and the Delamater House at Rhinebeck. Federal Hall on Wall Street in New York is one his best known buildings.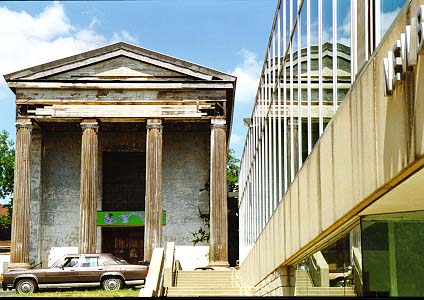 "Click on image to enlarge."
From what I gathered, the church closed in the mid-1960s, about thirty years after its centennial, and has sat vacant ever since. Plans have come and gone for restoration, but nothing seems close to materialization. Still, the building is quite an eye-full - enough to attract First Lady Hillary Clinton, who during a 1998 tour of the nation's needy historic sites actually spoke from the chuch's portico.
TODAY the old building looks quite like the Greek temples one normally identifies with the term "ruin." Bit-by-bit its old walls crumble as each year the old roof sags a little more. Yet this impressive old place still stands proud. Ready to meet its fate - whatever that may be - It seems to know who the real losers will be if something isn't done to save it soon.
UPDATE: Since the fall of 1998, a state and federal grant has funded needed stabilization work. An active group has organized and made strides toward the church's preservation. In 2001 the federal government declared the building a National Historic Landmark, and in 2005 it was included on the World Monuments Fund's "Monuments Watch List."
---
---
© T.E. Rinaldi, 2006