CITY HALL
- K I N G S T O N -
---
LOOMING over the skyline here is the old tower of Kingston's old City Hall. Not overly familiar with the city, I didn't take much note of it as I glimpsed the old brick tower through the forest of small buildings and shops of Kingston. But as I drove down Broadway, I was surprised to find that the great tower and the building to which it was attached both stood abandoned.
THE BROKEN WINDOWS had been covered with plastic, and a recently-erected chain link fence surrounded the old Victorian structure. But the gate was open, and inside were two pick-up trucks. Apparently some work was being done here. Anxious to learn more about my new-found ruin, I introduced myself to an older gent who was busy boarding-up one of the first floor windows.
BUILT around 1873, Kingston City Hall was renovated after a fire in the early 1920's. By the early 1970s, the building needed another renovation. The city found that it would be cheaper to build a new building than to renovate the old one, and so City Hall was abandoned.
ARCHITECTURALLY Kingston City Hall was initially designed in the High Victorian style. Altered after the fire in the 1920s, today it represents two eras in popular taste. It is a three-story brick structure capped with a mansard roof, and accented with carved gothic columns and stone trim, the great tower dominating the whole.
NOW THE CITY has decided finally to renovate the old building. Work began just at the end of 1998, and is expected to be completed around 2000. I knew the answer would be "no," but I decided to ask if I could look around inside. "Feel free," he said to my amazement. Problem was they were locking up in 15 minutes, so I'd have to hurry.
THE FIRST and second stories are traversed by an east-west corridor, at either end of which are the stairways. Ascending these stairs from the lowest level, I found each floor more elaborate than the last. On the third floor I found myself in the grand meeting hall, its five great chandeliers and a bronze city seal still in place after all these years.
STILL, I wasn't yet at the top. The clock ticking, I quickly found my way to the tower. Here a steel stairway led me through several unfinished rooms, and then up a spiral staircase to a hatch. I climbed all the way up, but pressed for time and light I couldn't manage to open it. It was still a great little adventure, one I certainly never expected to be allowed in today's over-litigated society.
I DIDN'T SEE the building that replaced Kingston's old city hall, but my guess is that I wouldn't have found plaster reliefs, great chandeliers, or marble stairways with ornate iron railings. Clearly Kingston went all out in building old city hall. It was something the city had every right to be proud of, and now thanks to a proactive city government, Kingston will soon be proud of it again.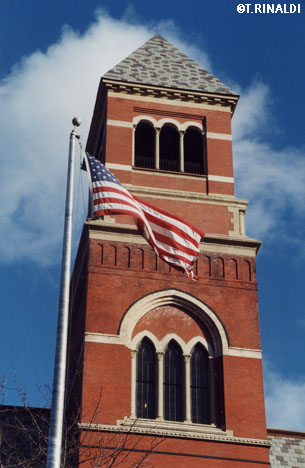 "Click on image to enlarge."
UPDATE: Kingston City Hall reopened in May, 2000 and looks as good as new. To walk through these halls now one would never imagine they once looked as they do here. This building is proof that years of abandonment do not translate into death sentences, as so many developers would have us believe. Mayor T.R. Gallo, who spearheaded the movement to have the building restored, passed away unexpectedly in January, 2002. As a gesture toward his accomplishments as mayor, the city named a prominent park on the Rondout Creek in his honor.
---
---
© T.E. Rinaldi, 2006