THE DEAD LINE
- C R O T O N -
---
FOR MORE than a century and a half, the railroad has played an integral role in the history of the Hudson River Valley. Beginning in the late 1840s, the Hudson River Railroad began working its way north from New York. By 1849 it had reached Poughkeepsie, and in the year 1851 service was provided all the way up to Albany. In the late 1860s the Hudson River Railroad merged with the New York Central, under whose name the line operated for nearly a century. In 1971 Amtrak assumed control of long-distance passenger traffic, and a few years later the commuter lines were taken-over by the government under the auspices of Metro North.
AROUND the turn of the century, the New York Central converted from steam to electric power for all service out of Grand Central Terminal as far north as the Croton-Harmon station: trains headed further north would have to change to steam power there. The facilities built to support that system are today used by the Metro North Commuter Railroad. There the railroad trains its engineers, services its engines, cleans its passenger coaches, and stores equipment. And there they keep what is called "the dead line," the train of old equipment whose next and final destination is the scrap yard.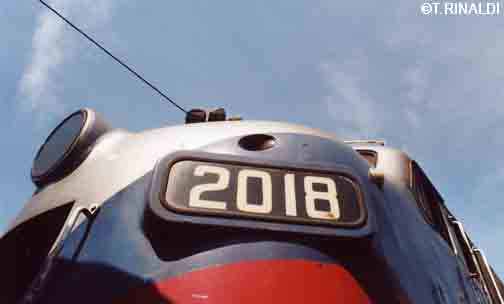 _ "Click on image to enlarge."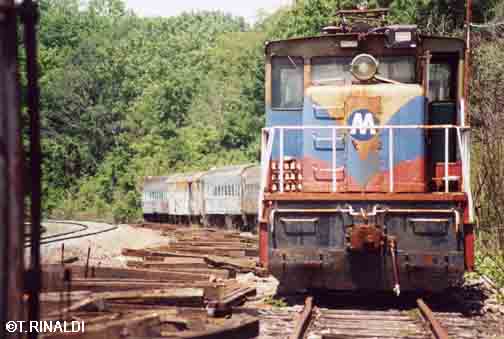 SOMETIMES years pass before the dead lines are dispatched to their fate. In the mean time they sit in abandonment. At Croton a large amount of equipment has accumulated over the past few years. Most notable are the dozen or so venerable FL9-type engines, built originally for the New Haven Railroad around 1960, which have plied the Hudson Line since the New York Central merged with the New Haven (and the Pennsylvania) to form the Penn Central in 1968. In recent years these engines have been phased-out in favor of "Genesis" engines, whose squared-off tank-like appearance leave the Hudson bereft of the classic, graceful lines of the streamlined FL9s.
UPDATE: Much of the moribund rail equipment pictured here has been scrapped as of 2006.
---

---
© T.E. Rinaldi, 2006