A L B A N Y.
---
FOR THE TIME BEING, Albany marks the northern terminus of this tour. Among the oldest cities in North America, its settlement began under Dutch rule in the 1620s. Today of course it is the state capital. A small city, Albany isn't known for being an especially exciting place to visit. But its low key reputation underestimates a quirky character that makes this very old town actually considerably more interesting than one might expect. There is a lot to see here, a lot to think about, especially for students of planning and design. And it is, at its heart, a river town like the rest. I like to come to Albany.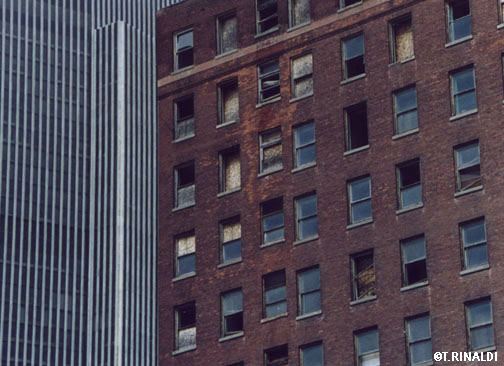 Weathered facade of the Hotel Wellington annex makes a jarring contrast against the towering mass of the Empire State Plaza beyond.
THE SECOND HALF of the twentieth century oversaw the decline of many American cities, and even Albany's position as the state capital couldn't save it from the same symptoms of urban decay that plagued other towns large and small. A stark testiment to this can be found right on State Street, where a row of impressive old buildings stands abandoned just half a block from the capitol building. Most prominent among these is the historic Hotel Wellington. As discussion continues as to what will be done with them, these and other ruins remain an acutely ironic spectacle here at the doorstep of the state's political leadership.
---

---
© T.E. Rinaldi, 2006