Westchester County is currently vetting proposals to reinvent the historic Playland Amusement Park in Rye (Bing aerial). Citing financial losses in recent years, County Executive Rob Astorino "invited developers to do away with the amusement park entirely, if they chose, or to expand it. The only stipulations: public access to the beach and the boardwalk had to be maintained, and housing was off limits" (New York Times March 27, 2012). I certainly hope that the amusement park is not done away with and I don't think that drastic changes are necessary – I am pretty happy with Playland as it is. "Improvements" are fine as long as the site remains in majority an amusement park with its seven historic rides intact, perhaps along with a few of the better newer rides/attractions.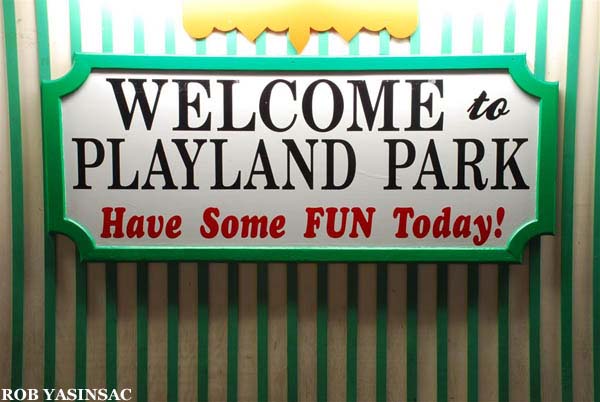 Playland shouldn't be redesigned to compete with the vast Six Flags-style parks – the size and historic nature of the park are what make it appealing (Playland is listed on the National Register of Historic Places and is also a National Historic Landmark). I guess the lack of frequently sold-out crowds is not good for the bottom line, but I would much rather take Playland's rides over and over than go to a more popular park and wait in line for 30 minutes for a one-minute ride.
Playland is one of my favorite places to visit in the summer – in some years it has been a birthday week tradition of mine to go there, with the big day coming at the high water mark of summer. Usually I go on a Wednesday night when there are fireworks and when the park is less busy than it would be on a weekend.
Playland is not just a summer attraction but there is an ice rink, er, casino too. That sheet of ice was the second-best surface I ever skated on, behind West Point's Tate Rink. Memorably Playland was my home rink in 1993-1994. The New York Rangers still practiced there in that Stanley Cup-winning year, and we often watched the end of their sessions before taking the ice for our own practices
There will be a meeting Wednesday March 28 at 7:00pm at the White Plains Public Library for the presentation of one group's plan to reinvent Playland. Presentations of other proposals will follow at later dates.
Here is a sample of photographs taken in July 2011.