A few weeks back , Tom Rinaldi and I made a trip up to Ulster and Greene counties. We stopped for lunch in Saugerties before embarking up to Cementon in search of a ruined school we had only become aware of through aerial photos.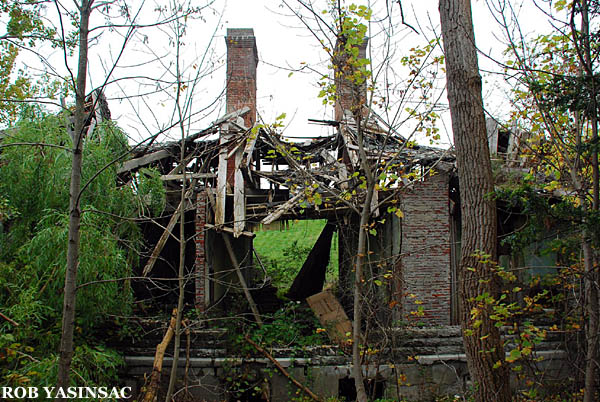 The Alsen School, north side.
The area familiarly known as Cementon was and is again primarily a village named Smith's Landing, north of which were built three Portland cement factories. Near one of the factories, built by the German firm Alsen'sche Portland Cement Fabriken, was a small hamlet known as Alsen, situated between the factory and the Hudson River. Almost no trace of the hamlet of Alsen remains today. The school was built in 1907 and closed in 1953. In its last year, one student attended the school. A couple of photos appear in Alsen, New York, A Cement Plant, A Railroad Station, A School, A Post Office, A Community, edited and self-published by Joseph Pavlak. The school ruin would have merited attention in our book too, if only we knew of it before October 2005.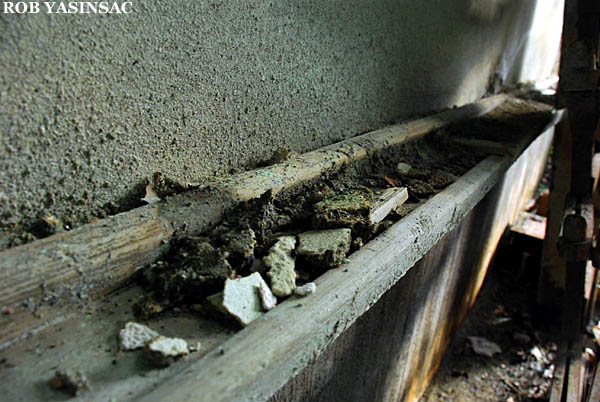 Chalk tray for blackboard. How will smart boards age in ruined schools of the future?
The school had two classrooms and a large central hall. This is the western classroom.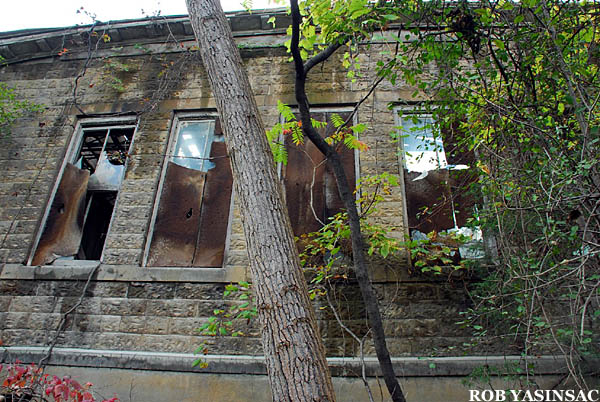 Alsen school, east side.
The school is now a ruin and the factory is abandoned. Further north, another German firm, Holcim, "mothballed" their cement plant in June 2011. Theoretically they could resume operations at a moment's notice, but it seems this era of big industry in "Cementon" is at an end.
Following five images: Alsen's American Portland Cement Works.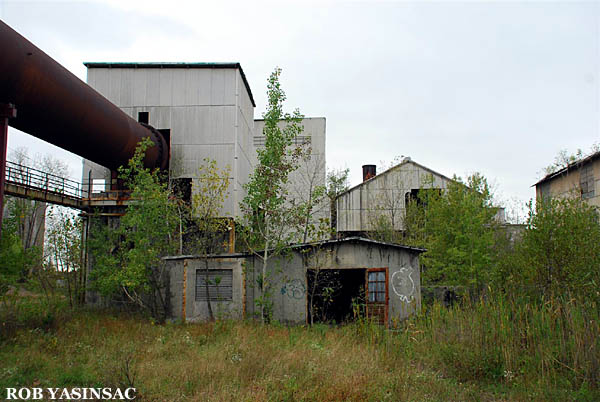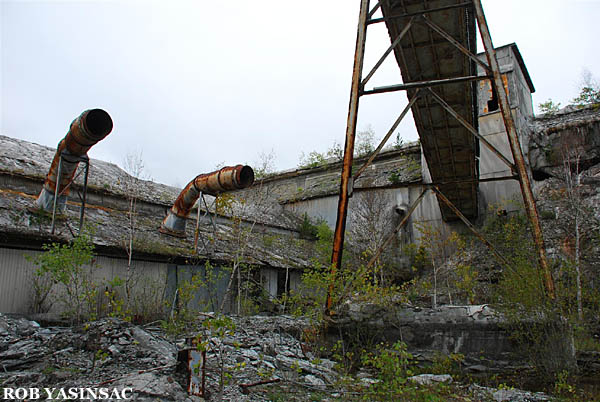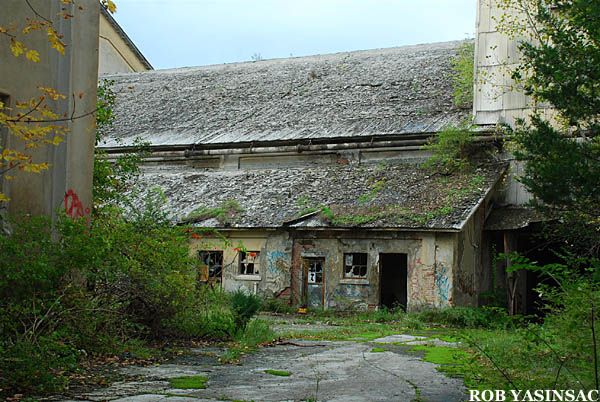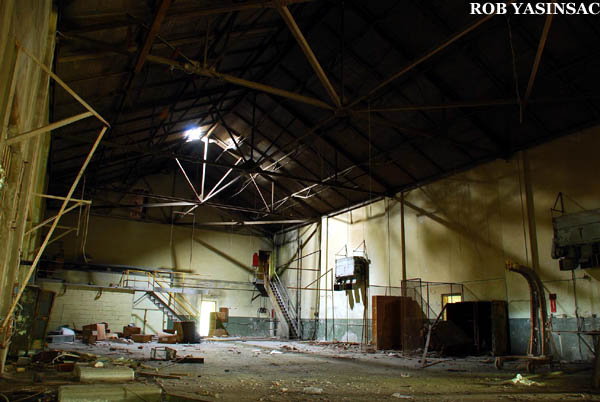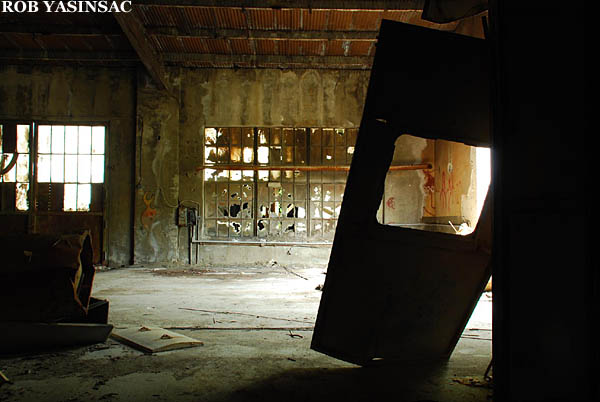 Smith's Landing today is a quiet community. Crowds gather for dinner on Saturday nights at the Sportsman Club, and fine old homes still stand along the water. A few other relics of bygone industries survive here as well. We spotted two more mushroom farm buildings in the village, on a hill above a couple of houses.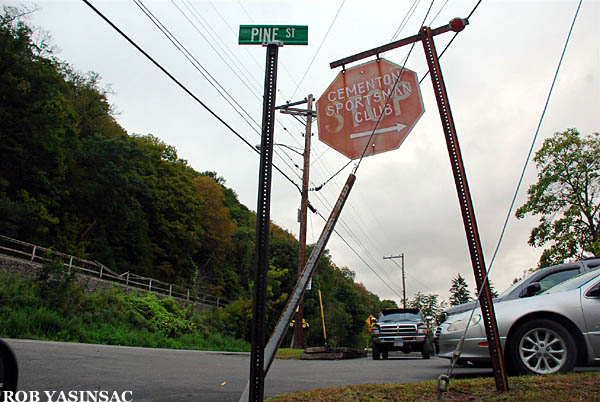 I think Tom actually took this shot with my camera.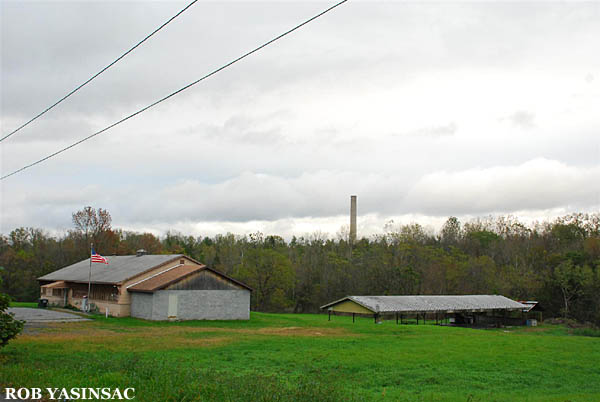 Cementon Sportsman Club and lone smokestack.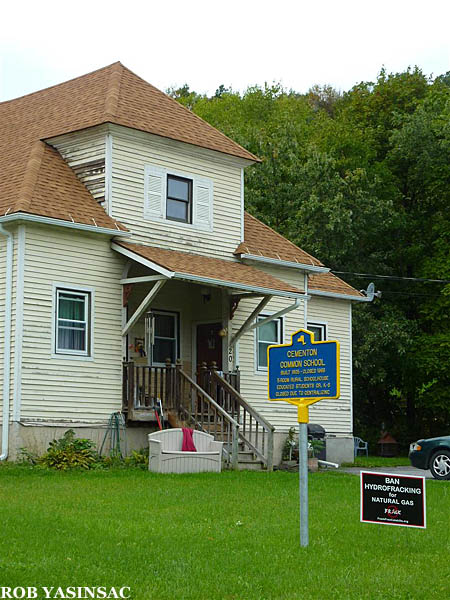 Cementon Common School.
A sign below the historical marker protests the proposed hydrofracking industry. The hydrofracking process could seriously pollute the environment, ruining communities forever in return for a few quick bucks (money that will go into corporate pockets, not local pockets). High risk, small reward. Let's not find out the hard way.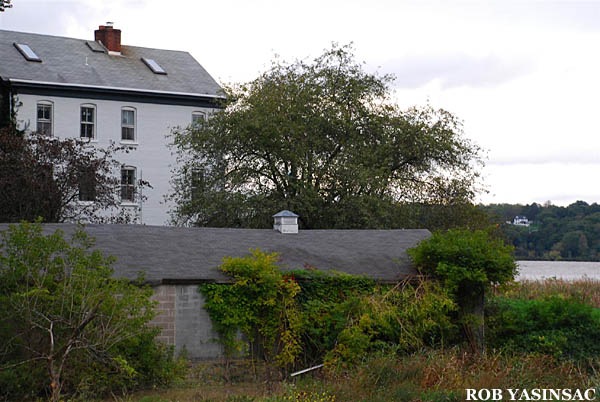 My kind of house on the Hudson.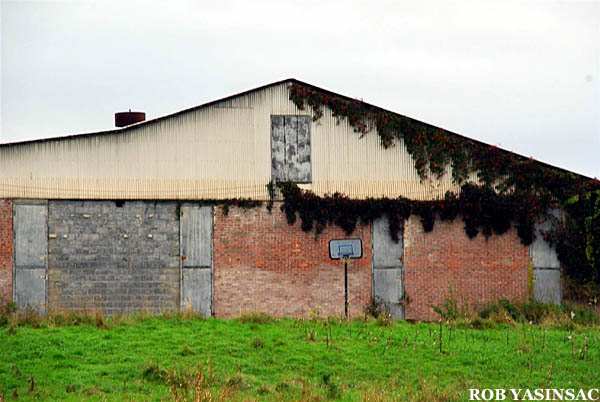 Mushroom farm building.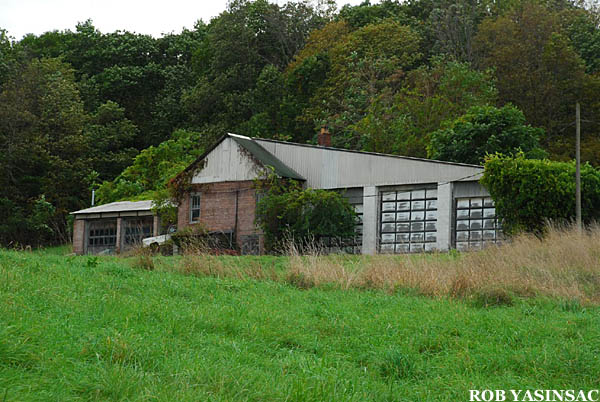 Other mushroom farm building.
We returned to Saugerties for celebratory drinks at the Exchange Hotel bar, and admired the Orpheum Theater (where I've still yet to see a film) and other great buildings in town. Saugerties, like Beacon on the east shore of the Hudson, is seeing something of a legitimate revival these days. Instead of developers coming into town and promising a glorious future of several thousand condominiums on the waterfront (ahem, Haverstraw, Yonkers, Tarrytown, Kingston, anyone?), hoping they will lead to other, more relevant projects magically appearing out of thin air, growth here is starting small with projects that neatly fit the existing character, infrastructure and needs of the community.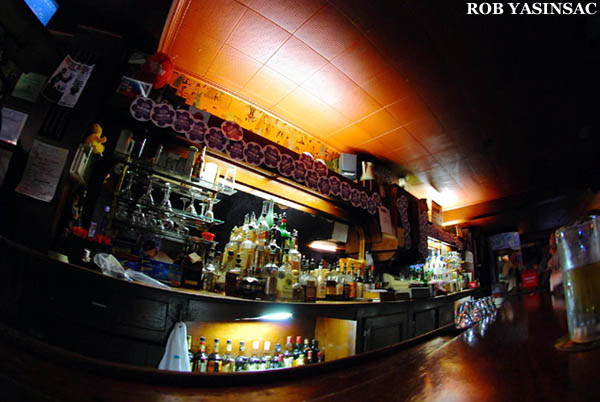 Exchange Hotel bar, Saugerties.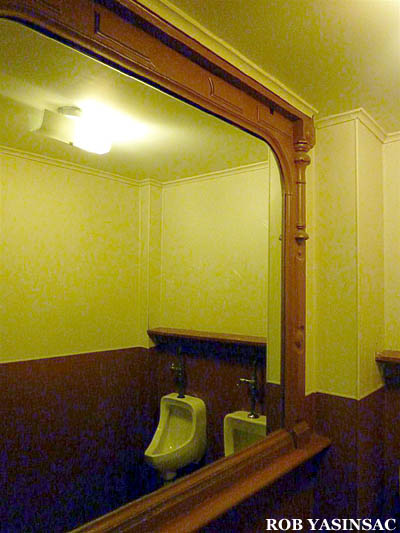 Exchange Hotel bar men's room.
Nice mirror, but not the coolest bathroom I've been in this week.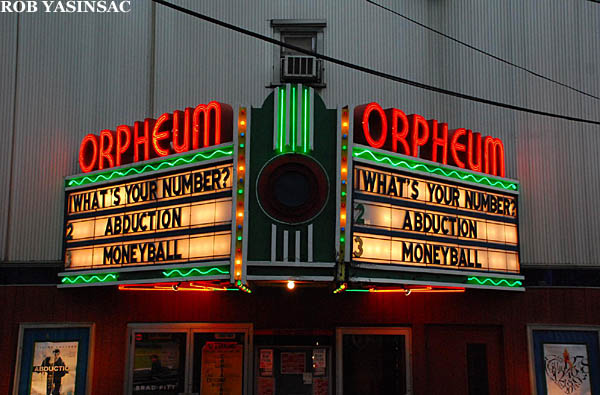 Orpheum Theater, Saugerties.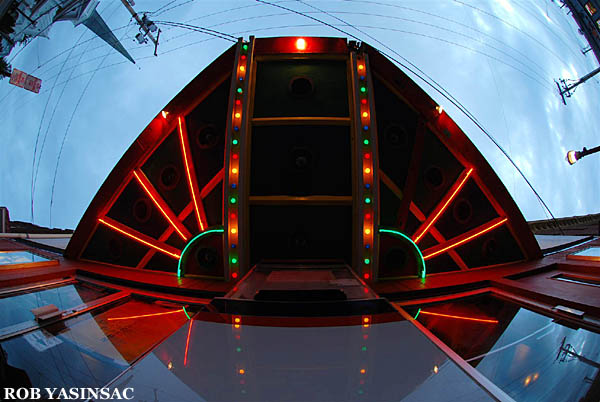 Under the marquee.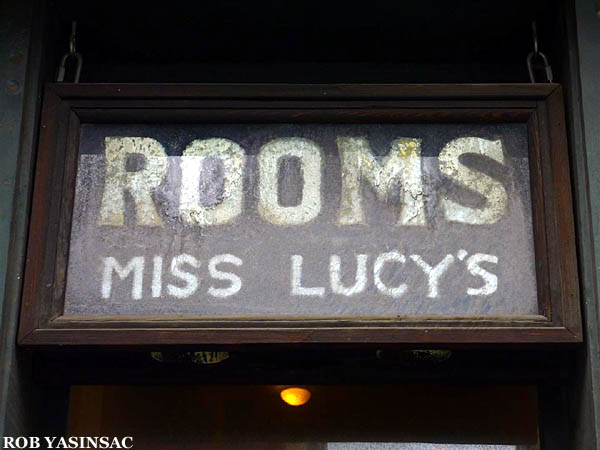 I used to visit Saugerties and eat at Miss Lucy's Kitchen in another lifetime…

A small hotel is being built in downtown Saugerties on the site of a long-gone mill. This project has aroused ire in some quarters, with critics pointing to reduced access to the Esopus Creek, shady political connections and misuse of public funding, and ugly architecture. I don't know enough of the matter to comment on the first two claims, but visually I was pleasantly surprised as I had been expecting the worst. The northerly building that is mostly complete looks quite handsome on the exterior, looking quite a bit like a mill building. The "boutique" room rates planned for the hotel are probably out of my reach (though I did splurge for a night at the Saugerties Lighthouse B&B in 2003, that was a treat), but I feel this place will work as there aren't many fine hoteliers along this stretch of the river and a good number of folks with money to spend do come to Saugerties.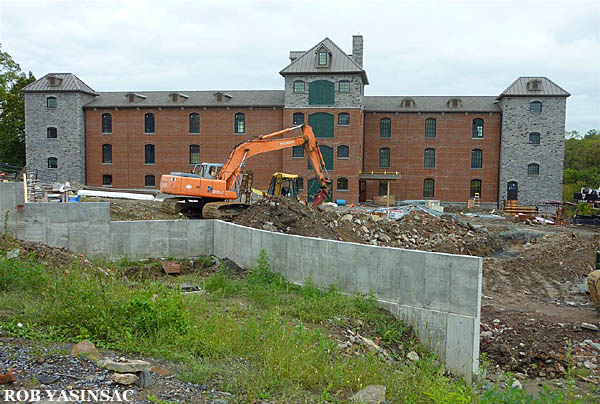 One of the new buildings under construction at the Partition Street Hotel. Looks quite handsome to me.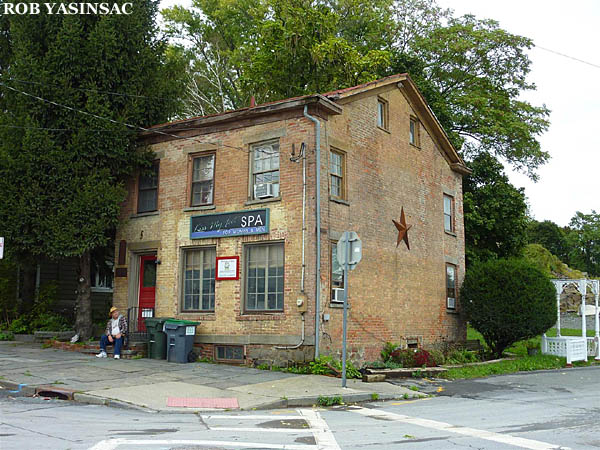 Maybe some people don't like change and don't like new trends and fashions coming to town, but there are still lots of cool old buildings in Saugerties like this one where old timers can sit on the stoop and watch the world go by.