Picking up from where we left off in Part One, in the Matteawan section of Beacon:
25. Main Street, Beacon
I lucked out here! I just walked up the street from the Tip Top Construction site when, rounding the corner, a red Ford pickup truck appeared – Sully's vehicle updated to 2015! I knew that my camera wasn't properly set for this scene but I didn't have time to adjust. I snapped away and fortunately I got some usable images.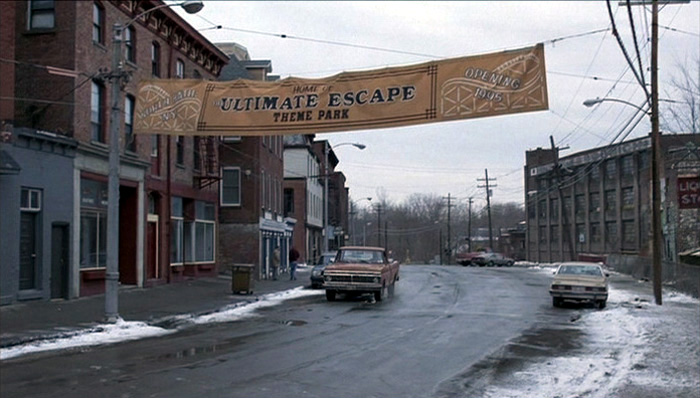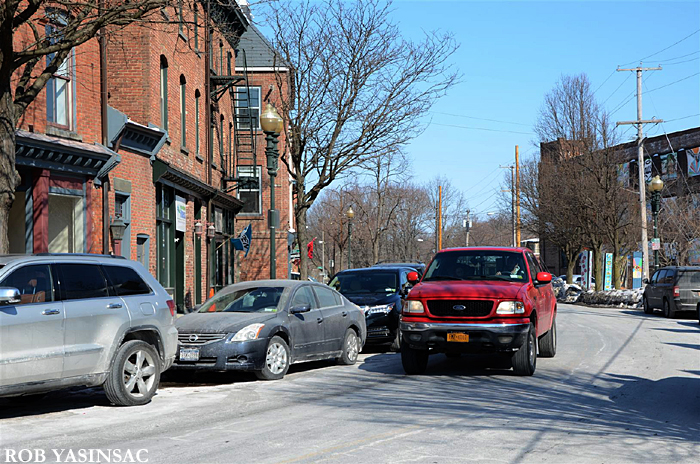 26. Main Street, Beacon
Sully's truck rounds the bend in East Main Street, affording a good view of the Howland Cultural Center. At right scaffolding is set-up in front of blank storefronts, suggesting slowly-progressing renovations in North Bath. Of also-almost-serendipitous note in the present day photograph is the name on the taxi cab. Richard Russo has authored several books about post-industrial small towns, including "Empire Falls."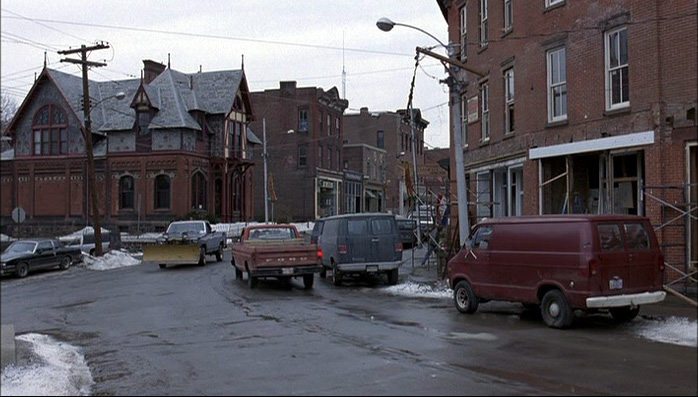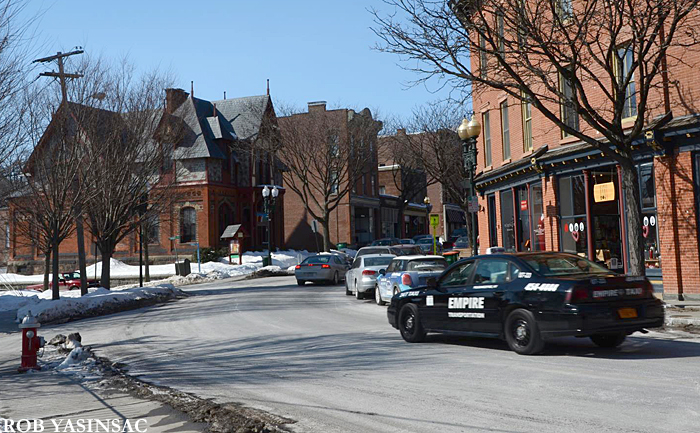 27. Tioronda Avenue, Beacon.
Sully makes the left-turn down Tioronda Avenue to the office of the Tip Top Construction Company. This time he meets Carl in the Annex across the street from the brick office building. In the background are the coal silos of the Garret-Storm Company, built in 1931 to store anthracite coal for home heating.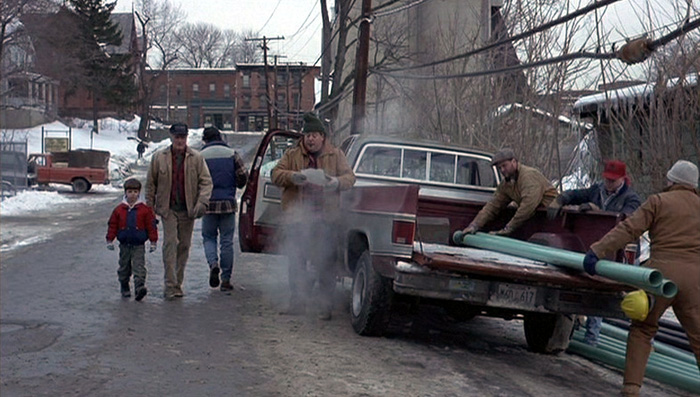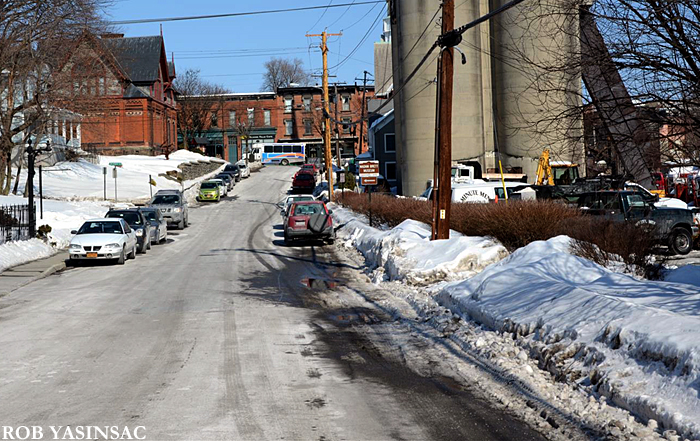 28. Tioronda Avenue, Beacon.
Sully and Will walk into the Annex. In the background is the Rothery File Works/Ellrodt & Lynch Silk Mill.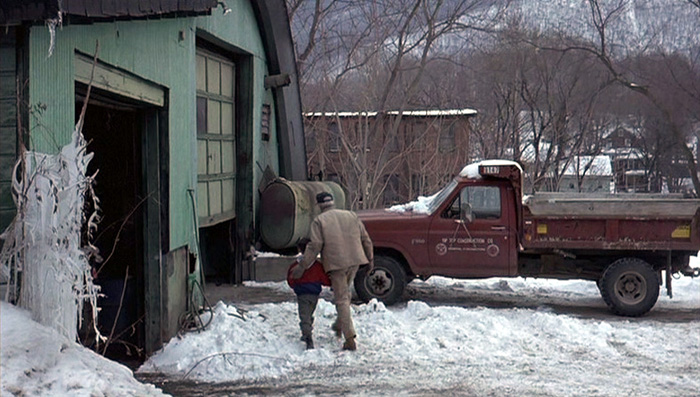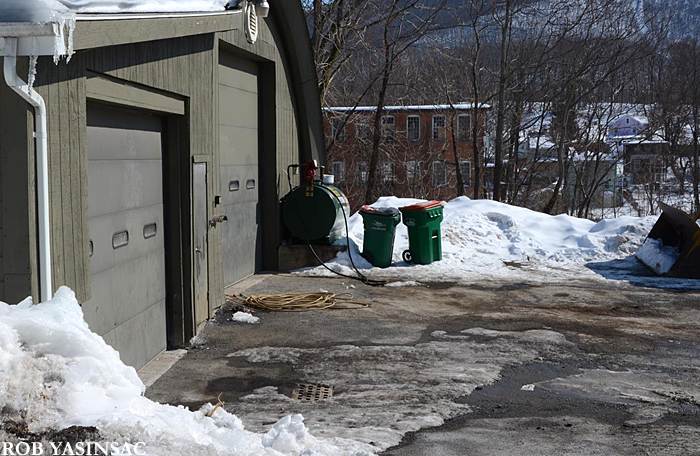 29. Sully's House, Cliff Street and Beacon Street, Beacon
At the Annex, Sully tries to get some work from Carl. Carl won't give Sully the job he wants, but he suggests they go look at Sully's old house on "Bowdon Street." They go inside for a quick look, leaving Will outside. A few trees have been lost here too, as have the gate pillars (movie props?). I'd love to know the story of this house.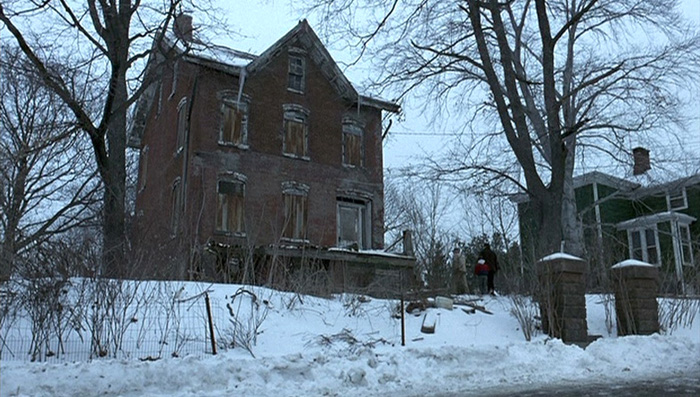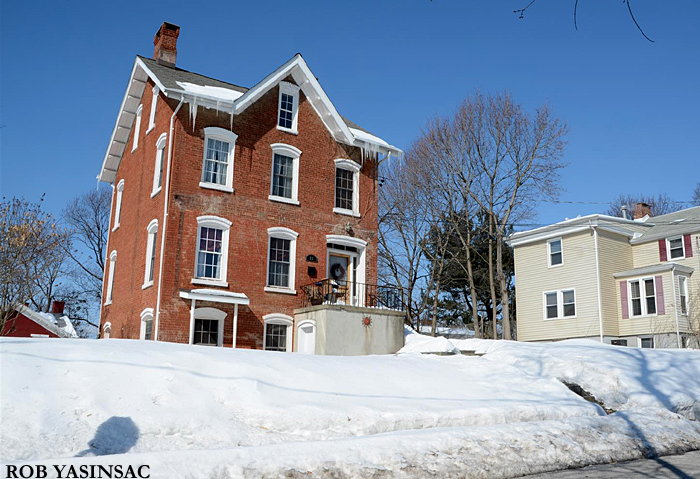 30. Cliff Street and Beacon Street, Beacon
The view across the street from the front stoop of Sully's house. Sully hasn't been in his childhood home, where he witnessed (and once was the recipient of) domestic violence, in years, and it is a ruin. Carl suggests that wrecking the house by neglect is Sully's way of getting back at his father. Carl offered to buy the the wood flooring from Sully, but he realizes he doesn't even want the money that is associated with bad memories – he tells Carl to just take the lumber and give the work to Peter and Rub.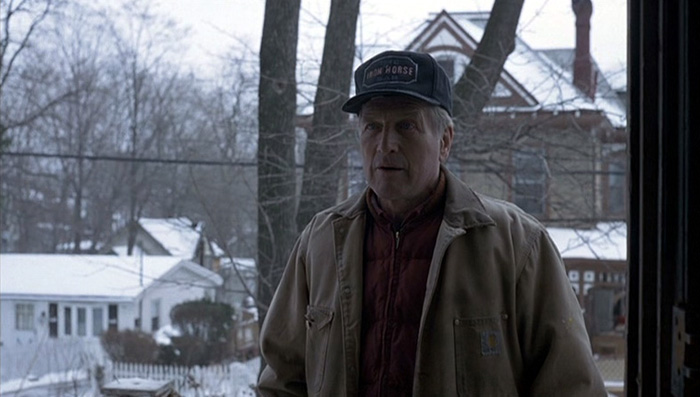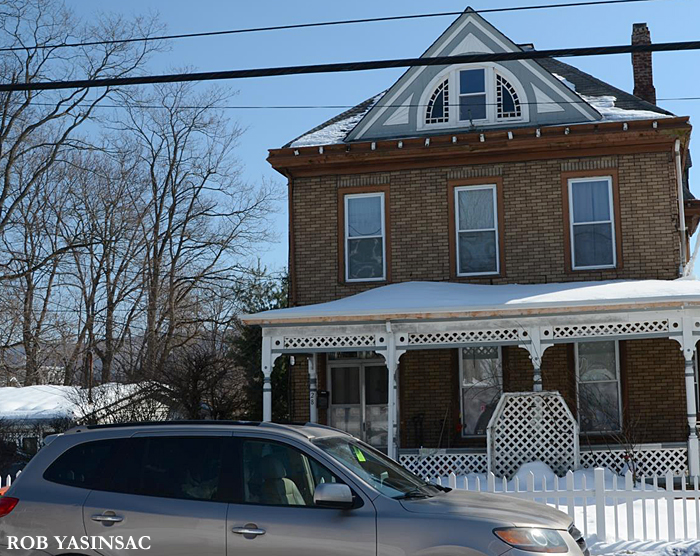 31. Looking east towards Matteawan and Mount Beacon, Main Street, Beacon
Beacon has since replaced its streetlights with "historic-looking" light posts. Also in the last 20 years a plethora of street trees have sprouted on Main Street. Street trees are not only a source of shade but they are now often associated in municipal planning with safer neighborhoods and lower crime rates, a reversal of earlier thoughts about urban plantings. Beacon is one of the Hudson River towns that has most successfully revitalized its Main Street.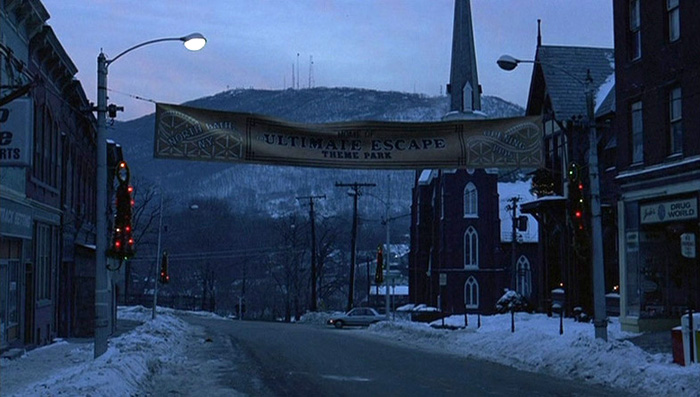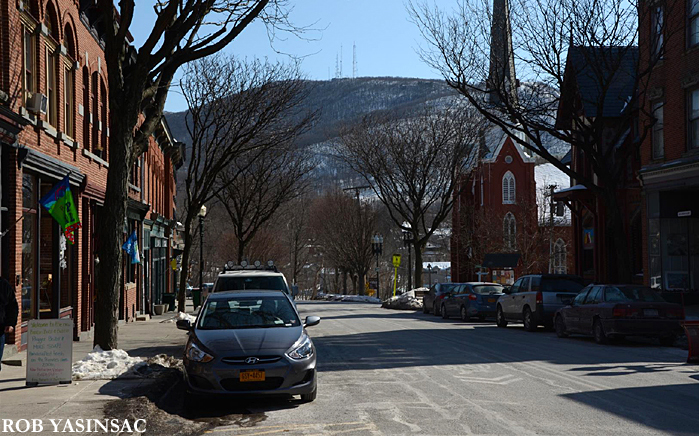 32. Saint Francis Hospital, Hastings Drive, Beacon
In this scene Sully picks up Miss Beryl at Saint Francis Hospital (real name and movie name) where she was admitted after suffering a stroke at home.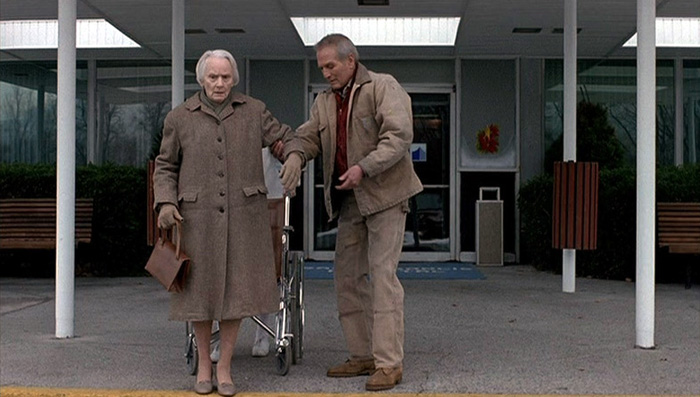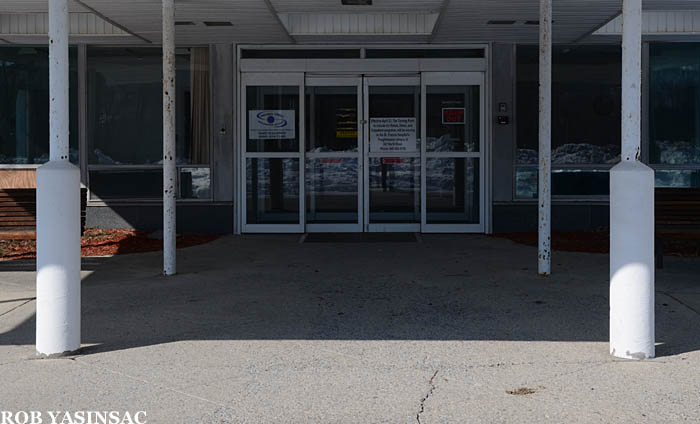 33. Saint Francis Hospital, Hastings Drive, Beacon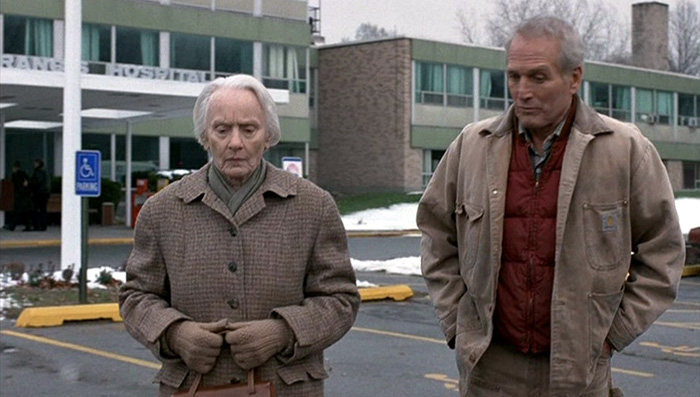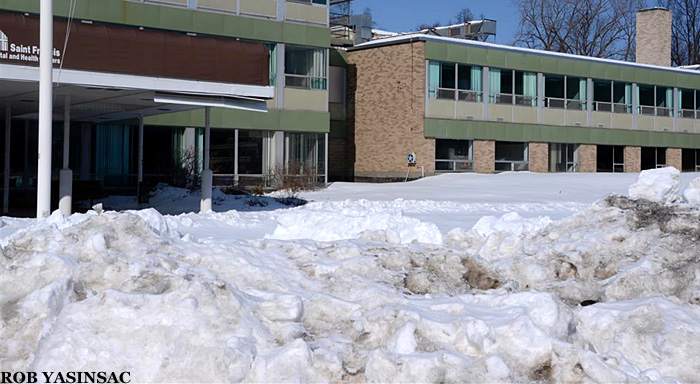 34. Saint Francis Hospital, Hastings Drive, Beacon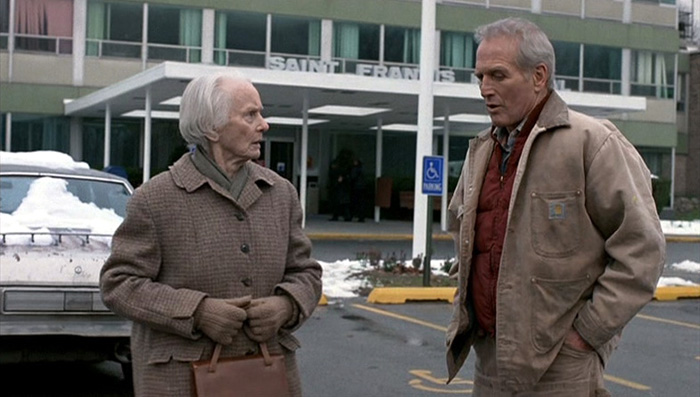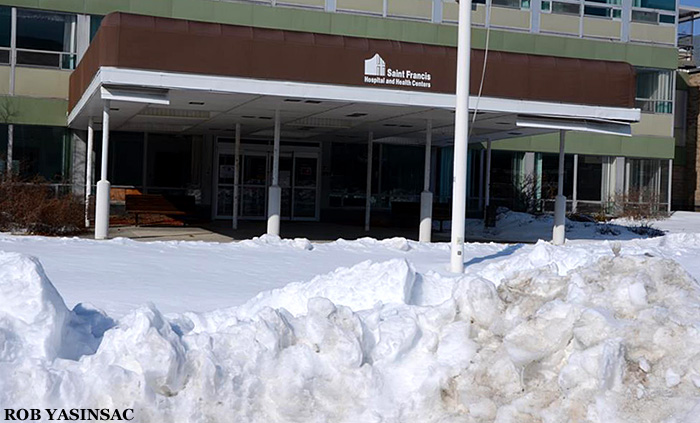 35. Sully's House, Cliff Street and Beacon Street, Beacon
Sully returns to his old house where he is supervising Rub on the removal of the old flooring for Carl. Peter arrives with some beers. Rub, increasingly agitated with Peter's presence (and attention from Sully), takes a beer and throws it against the house before storming off.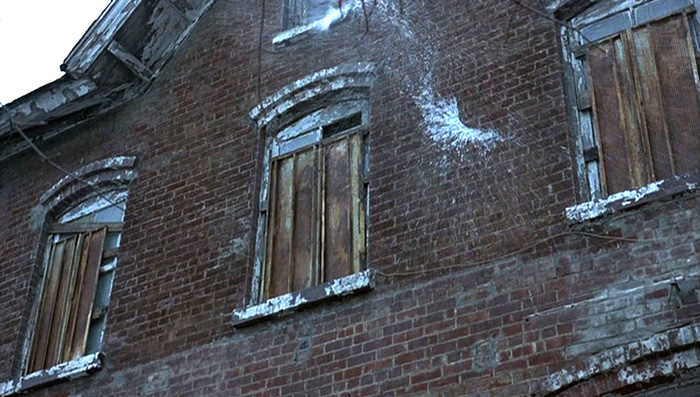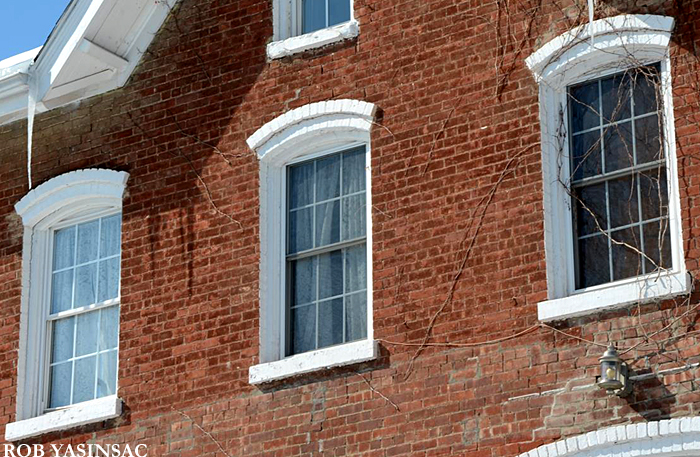 36. Broad Street, Fishkill.
Sully takes off in his pickup truck to track down Rub, literally – he drives down the sidewalk right behind Rub. The big tree at right has been cut down and replaced with a new planting.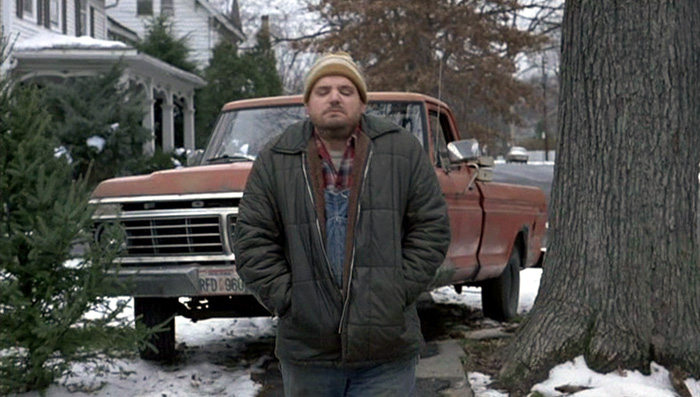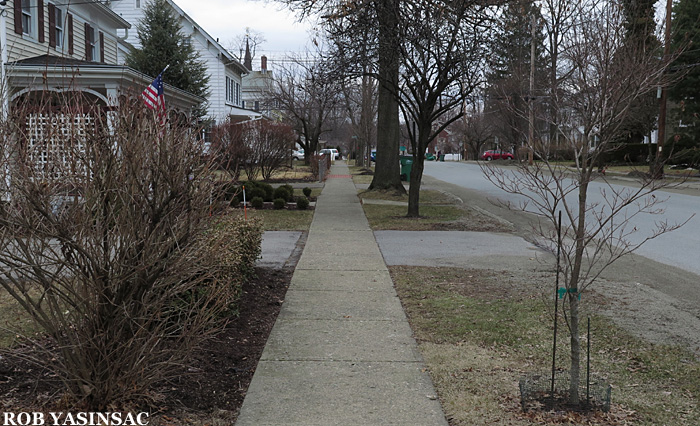 37. Broad Street, Fishkill.
The brick building at right is the Blodgett Memorial Library.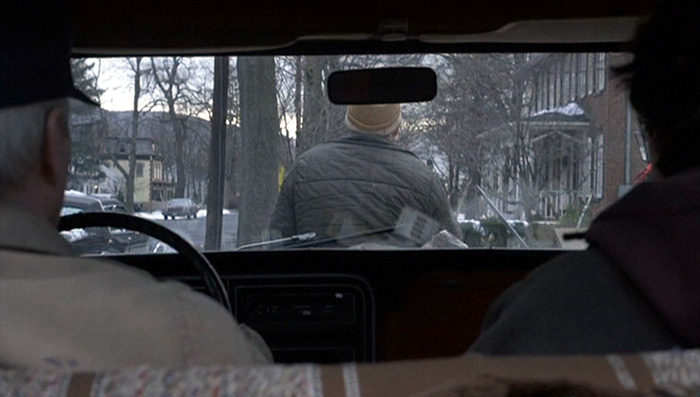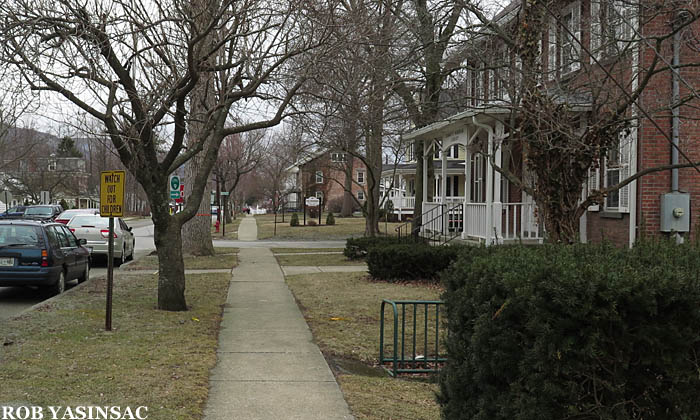 38. Broad Street, Fishkill.
Following the sequence depicted here, Sully's attempt to reconcile with Rub is interrupted by Office Raymer who stops his police car at the end of the sidewalk. Sully stops, then proceeds again while Officer Raymer exits his vehicle and fires his gun. Sully, amazed that Raymer actually fired his pistol, gets out of the truck and punches Office Raymer.
The real shutters on this house (at least the upper floor shutters appear to have been real) have been replaced by fake shutters. Quite symbolic of many changes in the Hudson Valley, really everywhere, that have occurred in the last twenty years. So much authenticity lost and replaced with lesser-quality, or non-functional/just-for-looks, materials. Maybe one day there will be an historic district consisting of vinyl-sided houses.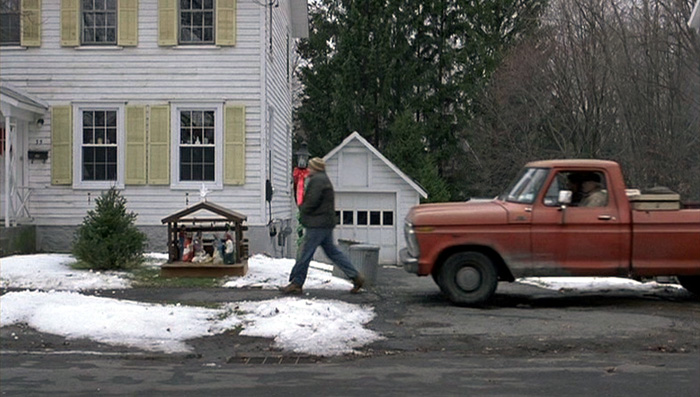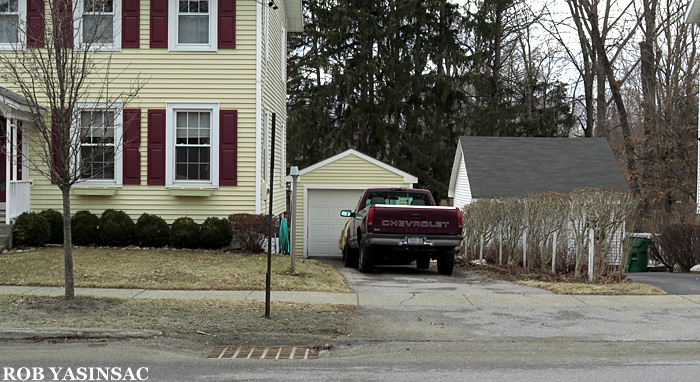 39. Police Department, Main Street, Beacon.
Sully is, of course, sentenced to a few days in jail for assaulting a police officer. Peter sees him off, and is assigned to look after Sully's responsibilities, including buying Rub his jelly donuts. Formerly a bank, this was not the actual City of Beacon Police Department in 1994. It is now Dim Sum GoGo Restaurant.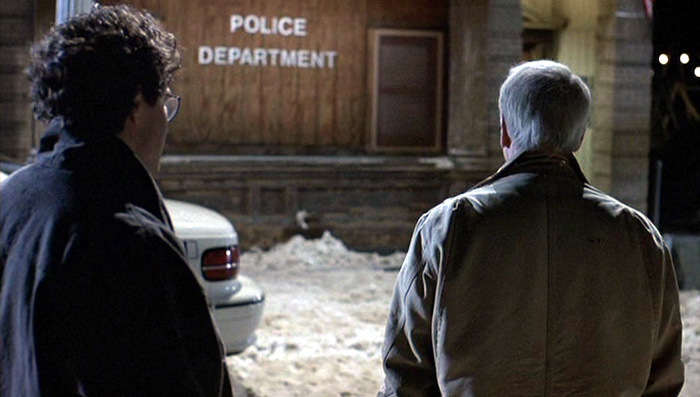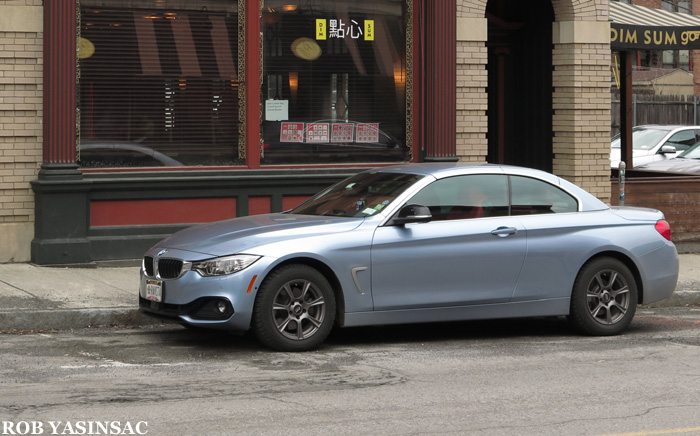 40. North Bath Savings Bank, Main Street, Beacon
While Sully is in jail, a number of significant events occur in town. Clive Jr. received a phone call at his bank desk on Christmas Eve from one of the financiers of his big development, the one that will resurrect North Bath, who informs Clive he is backing out of the promised (but not contracted to) investment. Clive leaves town. Actually a bank in 1994, the Bank of New York, it is now a Chase bank.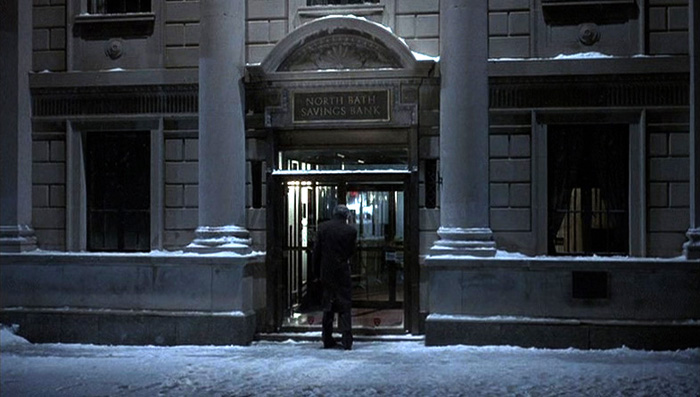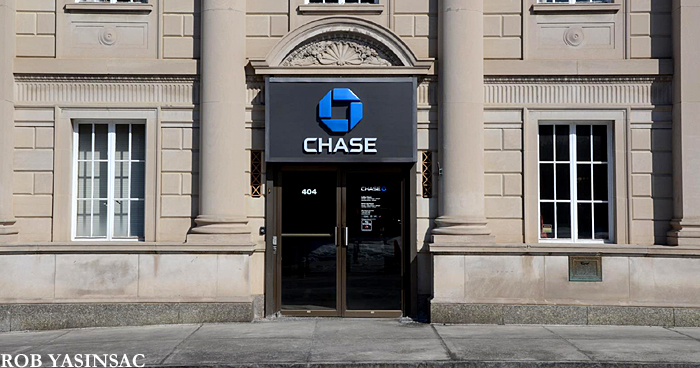 41. Main Street, Beacon
As Clive leaves the bank, an adjacent building is shown with a neon Rexall drug store sign – a movie prop I have read, just like the Iron Horse sign. The book version of Nobody's Fool specifically mentions a Rexall's.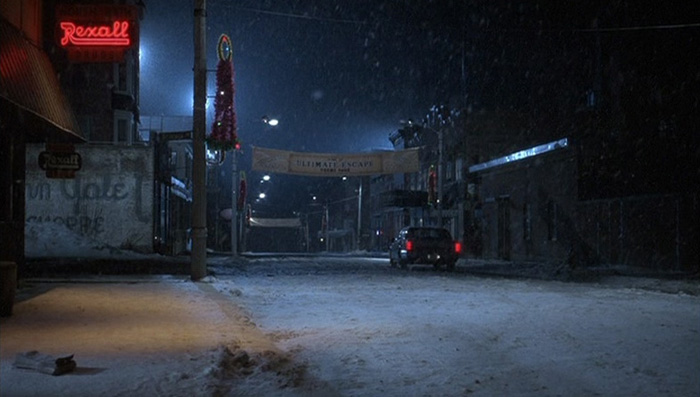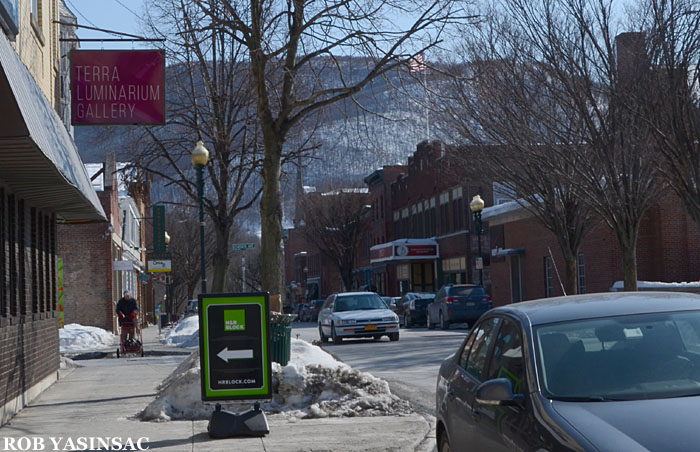 42. Hattie's Funeral, St. Luke's Episcopal Church and Cemetery, Wolcott Avenue, Beacon
Also while in Sully was in jail, Hattie passed away.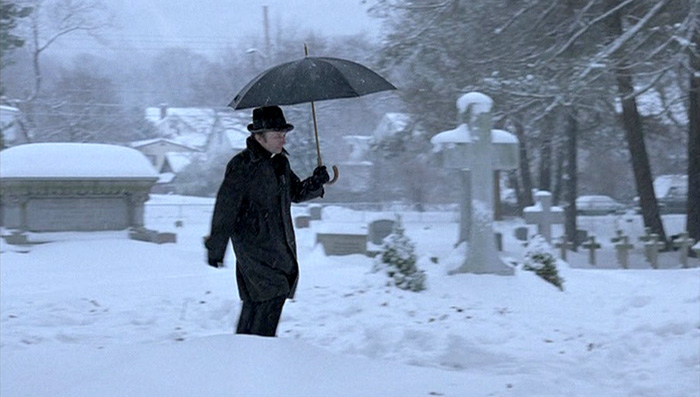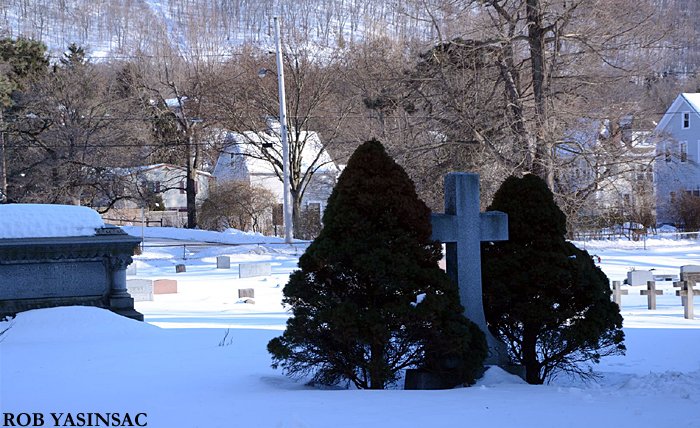 43. Hattie's Funeral, St. Luke's Episcopal Church and Cemetery, Wolcott Avenue, Beacon
Sully arrived at the funeral to act as pallbearer and he heard the news that the Great Escape fell through, and that Clive Jr. left town. Sully also found out that his trifecta came in – of course Sully was not around to place his bets.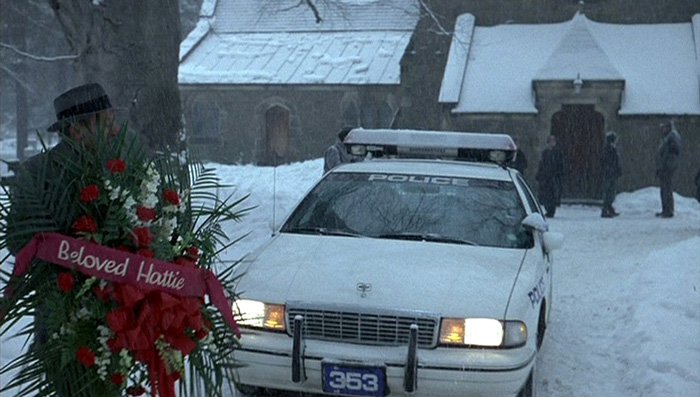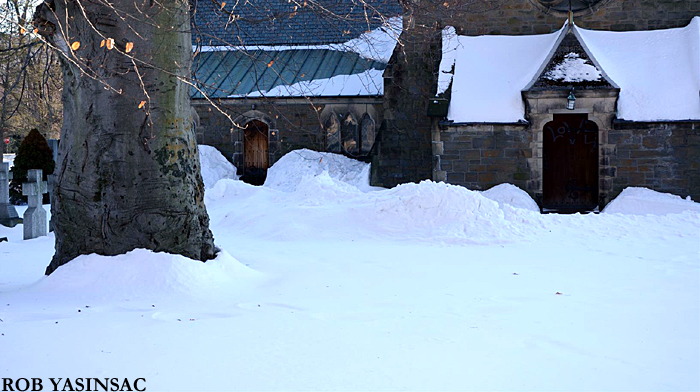 44. Hattie's Funeral, St. Luke's Episcopal Church and Cemetery, Wolcott Avenue, Beacon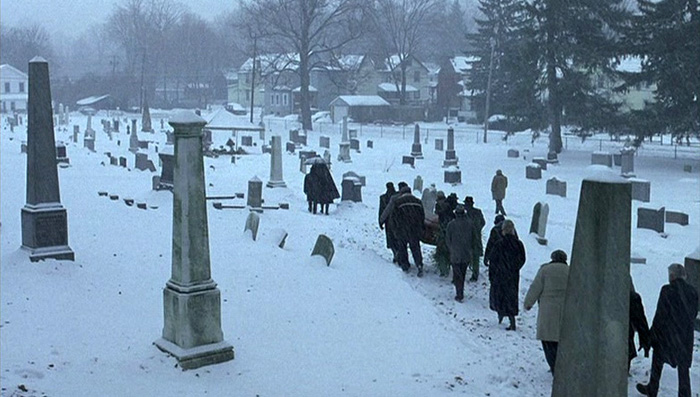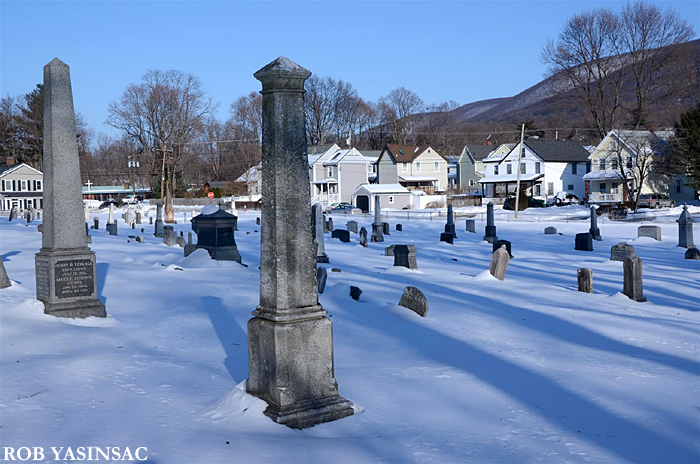 45. Hattie's Funeral, St. Luke's Episcopal Church and Cemetery, Wolcott Avenue, Beacon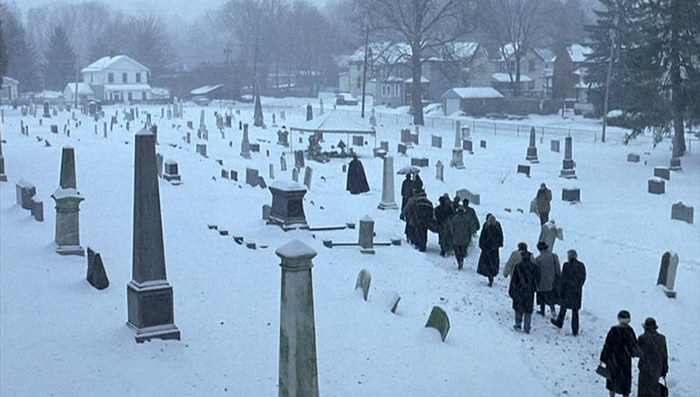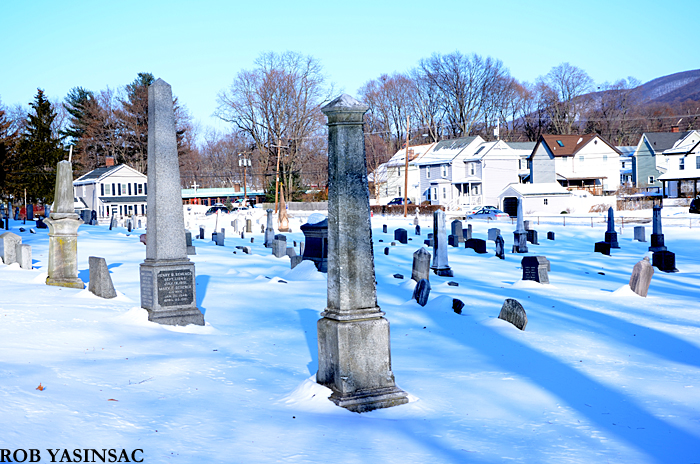 46. North Street, Beacon.
Sully drives up North Street towards Rub's House in one of Beacon's most photogenic locations with the 1912 Carroll Hat factory in the background.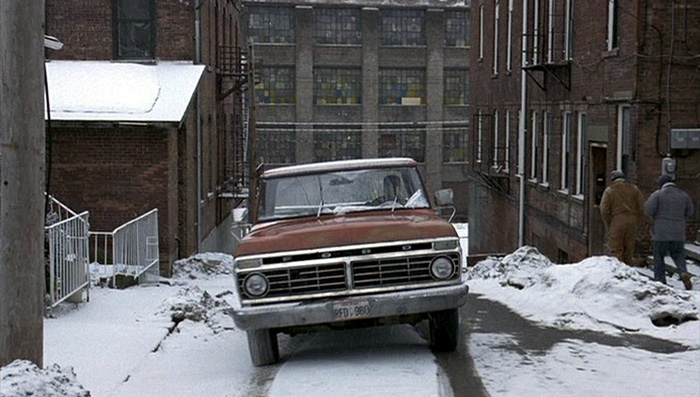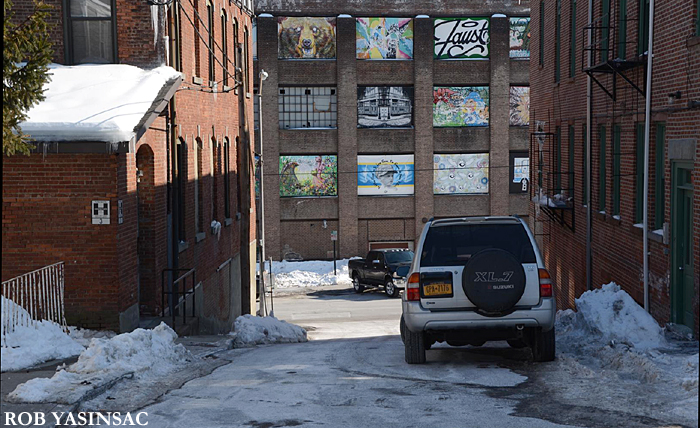 47. Rub's House, North Street, Beacon
Sully and Rub reconnect in an especially poignant scene on the front steps of Rub's asphalt-shingled gem of a house. I have previously reviewed that sequence on the blog. Clearly, that scene could not be filmed at this house today.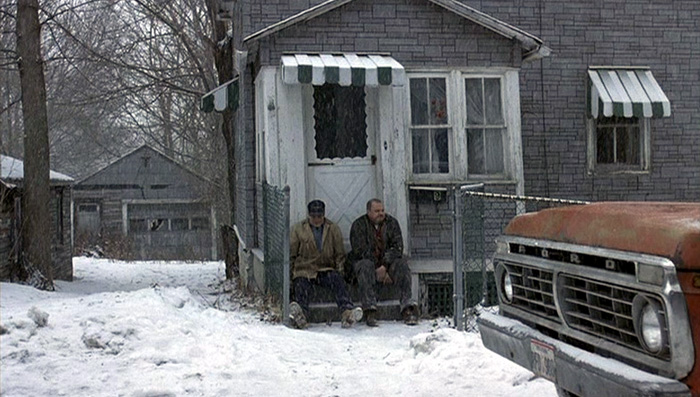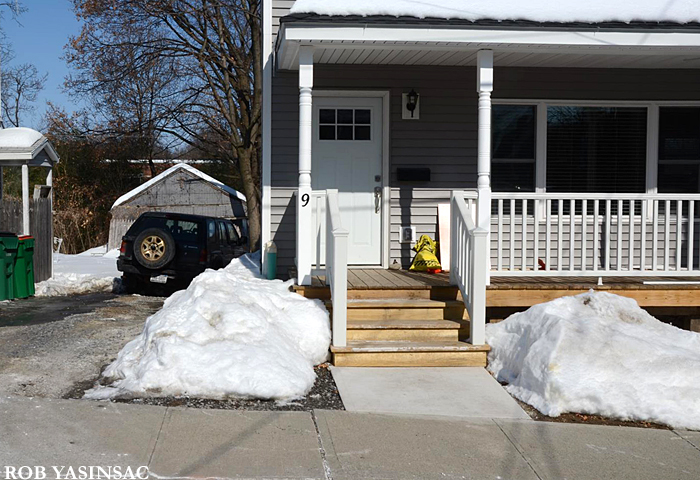 48. The Iron Horse Bar, South 7th Street, Hudson
Late in the movie, during a game of poker in the back of the Iron Horse, Toby arrives and announces she is leaving Carl, telling Sully she's got two plane tickets to Hawaii. Sully gentlemanly declines Toby's offer and she drives away uphill past the Horse on the snow-encrusted street.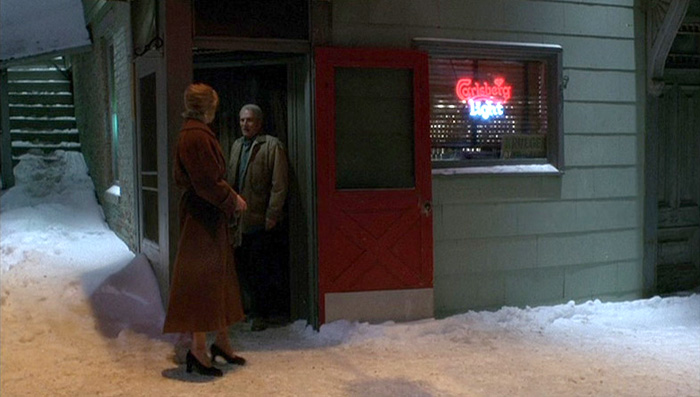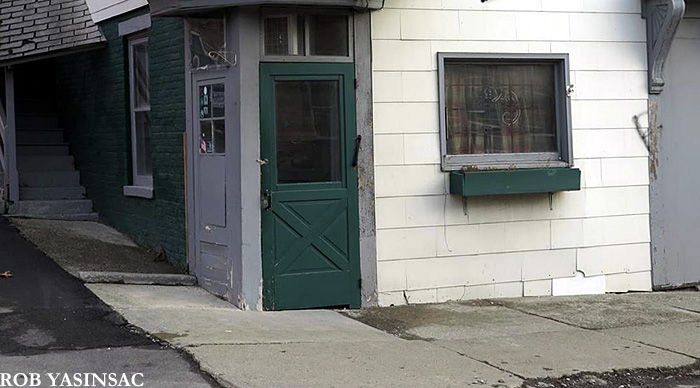 49. Miss Beryl's House
Sully heads back into the Iron Horse and makes Peter call his estranged wife on the payphone (while the song "Near You" by George Jones and Tammy Wynette plays in the background on the jukebox) and they make plans to reconnect. Sully also learns that Miss Beryl paid the back taxes on his Bowdon Street house and that Peter placed his trifecta bet while he was in jail. He returns late to Miss Beryl's House and tells her that he fixed the front railing, and Miss Beryl goes into the kitchen to make him a cup of tea at last. Sully doesn't drink tea but here we learn that she asks him throughout the movie if he'd like some tea, not because she is crazy or forgetful but, because she thinks that one day he'll change his mind and say yes – a concept that seems novel and appealing to him. Sully falls asleep in her chair, and Miss Beryl lets in Carl's security dog, "broken" and now adopted by Sully,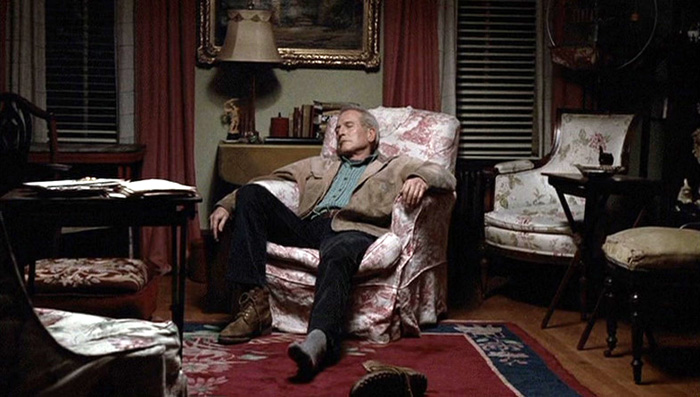 50. Miss Beryl's House
The film ends with a moment of contentment for Sully who, whether he is stubborn or a "man of conviction," "'never does anything right,' in reality virtually everything he does, at least within the confines of the movie's timeline, is right". On the surface the story might seem to just be about small town characters with big-time dreams, but "Nobody's Fool" leaves the viewer wondering about any person's "freedom to choose, whether it really exists, and whether we have ourselves to blame for our predicaments or some other force."
I'm no film connoisseur and I don't know how this movie rates among the masses, but I know I like it a lot. Nobody's Fool has been described as "one of those films that you stumble across on cable on a Sunday afternoon and wonder, 'How did I ever miss this?'", but it's been one of my favorite movies for years. And if you've read this far and if you share our "sense of place" for the Hudson Valley, you'll probably like it too!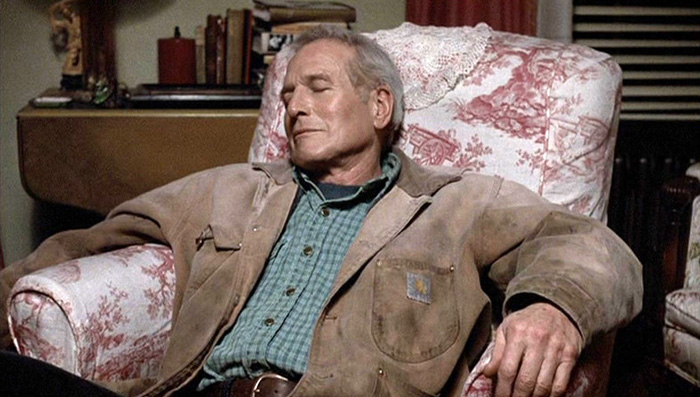 Nobody's Fool – Real-Life Connections
AP News Archive – "Upstate New York Life Portrayed in 'Nobody's Fool'"
New York Times – "Hollywood on the Hudson"
Beacon Citizen – Message Board Comments
Beacon Historical Society Facebook Page – Photographs and newspaper articles from the time of filming
Nobody's Fool – Reviews
The Coffee Coaster – "Little Movie: Big Essence of Paul Newman"
Free Republic – "Nobody's Fool … Mark Steyn on Paul Newman"
LA Times
Morning Call – "`Nobody's Fool' An Homage To Small-town Life"
New York Times
Roger Ebert
Internet Movie Cars Database – Identification of cars used in the movie. Seriously awesome link.
Internet Movie Database
Daniel B. Roberts – Book V. Movie
Nobody's Fool – Transcript
If you liked this concept then you may want to head over to Scouting NY for Then-And-Now comparisons of movies filmed in New York City. Similarly, Pop Spots NYC has tracked down many famous album cover art locations.
BONUS:
This is like the part where you stick around through the end credits. There are a few scenes that I have not identified. If you can identify them, let me know. To make it worth your while, I'll send an old black-and-white print of some random Hudson Valley Ruin from my decade-plus old pile of outtakes (since these are the outtakes of this post) to the first person(s) to correctly ID any of these locations. To claim a print, I'll need a corresponding modern-day photo and the street & town names – an address alone won't suffice – that confirms and compares with the images below. Consider it a participatory contest. OK, good luck exploring and let's see some photos!
1.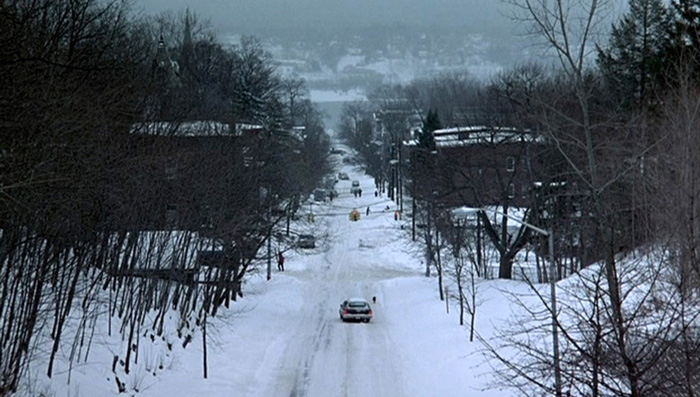 A scene from the opening montage.
2.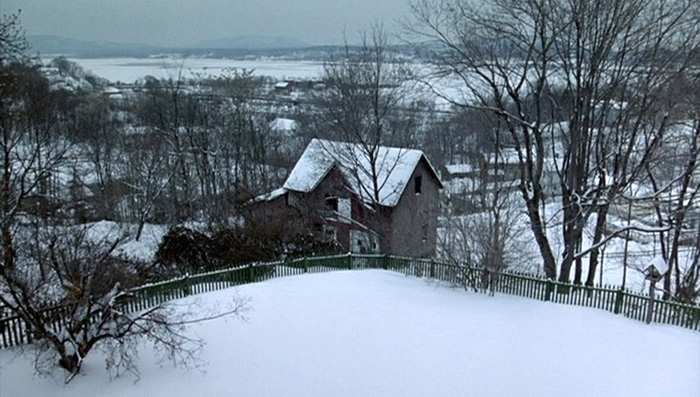 Another scene from the opening montage.
3.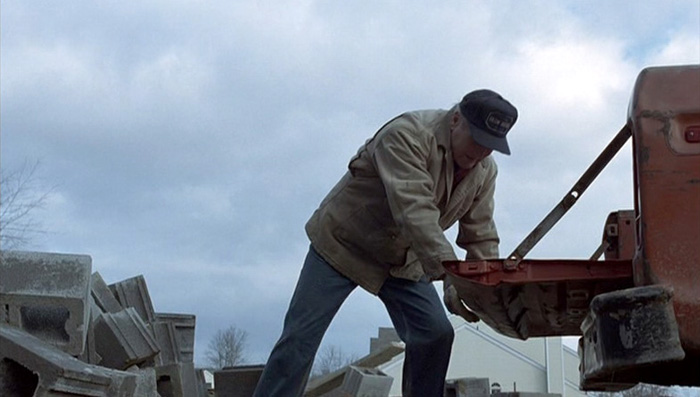 This one will be tough to compare since many condos look alike nowadays, but this location stepped in as Carl Roebuck's housing development.
4.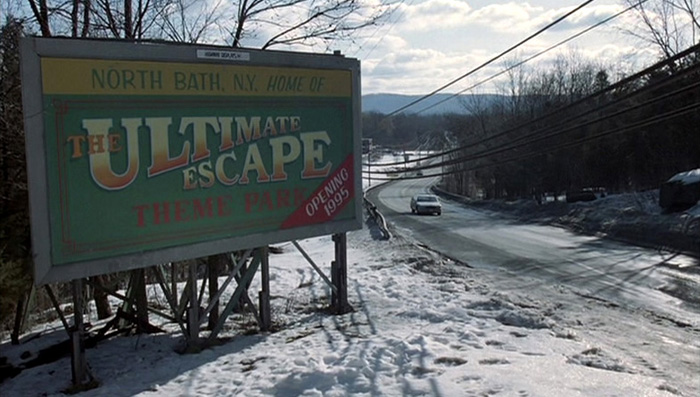 This one will be especially hard to locate, but I think we can match it up with the mountains in the background and the road curve in the foreground.
5.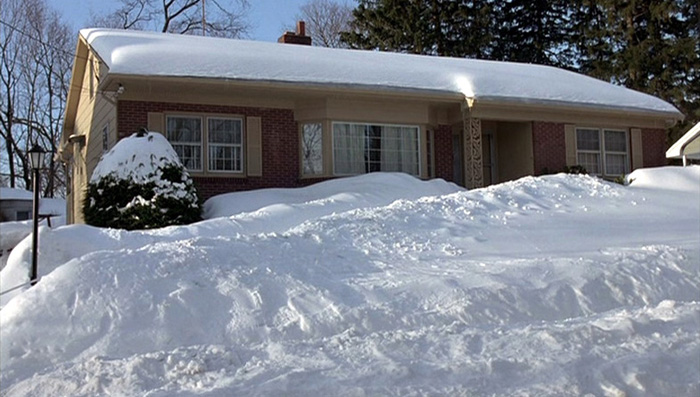 This was Sully's ex-wife's house.
6.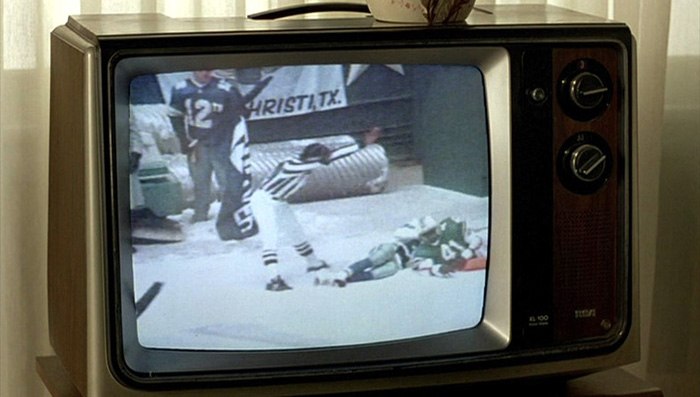 And just for kicks, this was someone's TV in the movie. Remember, this film was set around 1993-1994. Did anyone have a TV like this in 1994? I guess it may not have been that rare, heck, my TV now, which I almost never use anyway, is from 1990.