Welcome to the (Post)-Halloween Blog Part 5, the final installment I have planned for this year's series.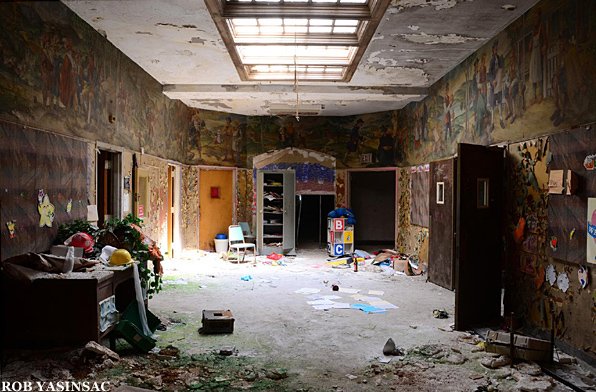 Halloween is rapidly becoming something of a new national holiday, and an expensive holiday too – not to mention another PR opportunity for celebrities. No longer just for kids, Americans are estimated to spend over seven billion dollars for Halloween costumes, decorations, and candy, and more for travel. And if any place can claim to be the home of Halloween, it is New York's Hudson River Valley which is the legitimate home of the Headless Horseman. OK, it has been claimed since, at least, the 1930s that Washington Irving borrowed from German folk tales when he penned both "The Legend of Sleepy Hollow" and "Rip van Winkle," but in America if you want to find the real Headless Horseman, you will have to visit Sleepy Hollow.
For it is here in Sleepy Hollow Country that the author Washington Irving made his home and set his stories. His house, Sunnyside, is a museum and national landmark, and the village that was long informally known as Sleepy Hollow has adopted officially (since 1996) Irving's moniker for the area. And every October, visitors by the tens of thousands descend upon the Hollow to visit historic sites and seasonal attractions, and hopefully to catch a glimpse of the elusive ghostly rider.
Adaptions of Irving's stories, especially the Legend of Sleepy Hollow, are numerous over the last two centuries, from Joseph Jefferson's stage re-creation of Rip van Winkle to Johnny Depp's film version (latest in a long line) of Ichabod Crane. The United States Postal Service even issued a stamp in 1974 that depicts the famous chase of Crane by the Headless Horseman. Other visual interpretations of Irving's works have been numerous, and perhaps the most sought-after original editions are Arthur Rackham's illustrations of Rip van Winkle and the denizens of Sleepy Hollow.
Other artistic interpretations exist too, including Daniel Chester French's Memorial to Washington Irving which includes a statue of post-slumber Rip van Winkle, and Milgo/Bufkin's 18-foot tall metal sculpture of the Horseman and Crane along Broadway, near the Old Dutch Church and the site of the Chase.
Also somewhat well-known, but out of the public eye, are Victor Pedrotti Trent's c. 1941-42 Works Progress Administration (WPA) murals at Rockland Psychiatric Center in Orangetown. One of several historically-themed murals at the hospital, the "Sleepy Hollow mural" is a an artistic mash-up of Washington Irving's two most-famous literary works, consisting of scenes from both "The Legend of Sleepy Hollow" and "Rip van Winkle."
The mural includes a young Rip looking pensive at his dog; Rip heading out from his farm with his rifle, his wife pointing him onto some errand; Rip encountering the short, bearded men dressed in the Dutch style of clothing from a century before – reputed to be the ghosts of Henry Hudson's crew, from whose flagon rip took numerous sips before falling into deep sleep. Next we see Rip waking up and being given odd looks by townsfolk; and then a scene of Ichabod Crane encountering Hulda the witch and her alien-like minions – she is not mentioned in Irving's story, but Hulda is part of Sleepy Hollow lore. I am not sure about the alien minions however. Next we see a gathering, possibly outside the Van Tassel home where the story of the Headless Horseman is told. The last scene, as I read the mural, is the image of a headless ghostly horse rider chasing Ichabod Cane across the wooden bridge.
The mural is situated in a building that is currently vacant, which has caused concern to the Orangetown community. To move and restore the paintings was estimated to cost $100,000. Further documentation of the Victor Pedrotti Trent murals is found in this 2008 RocklandTV video.
The following four photographs show the four sides of the "Sleepy Hollow mural."


South Wall


West Wall


North Wall


East Wall
The following photographs show individual scenes from the murals, along with corresponding texts by Washington Irving.
Full texts may be found at these links:
The Legend of Sleepy Hollow
Rip van Winkle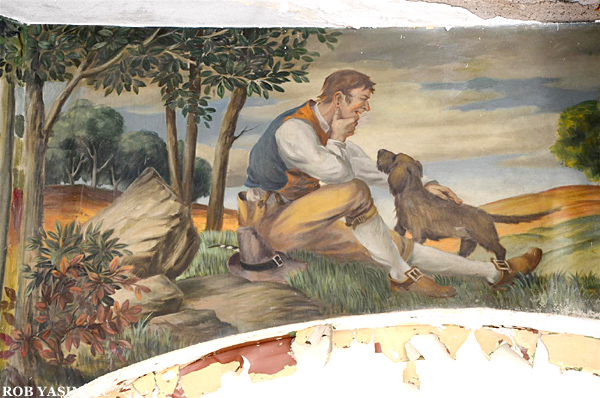 "The great error in Rip's composition was a strong dislike of all kinds of profitable labor. It could not be from the want of perseverance; for he would sit on a wet rock, with a rod as long and heavy as a lance, and fish all day without a murmur, even though he should not be encouraged by a single nibble. He would carry a fowling piece on his shoulder for hours together, trudging through woods and swamps, and up hill and down dale, to shoot a few squirrels or wild pigeons. He would never refuse to assist a neighbor even in the roughest toil, and was a foremost man at all country frolics for husking Indian corn, or building stone fences; the women of the village, too, used to employ him to run their errands, and to do such little odd jobs as their less obliging husbands would not do for them. In a word, Rip was ready to attend to anybody's business but his own; but as to doing family duty, and keeping his farm in order, he found it impossible….
Rip's sole domestic adherent was his dog Wolf, who was as much henpecked as his master; for Dame Van Winkle regarded them as companions in idleness, and even looked upon Wolf with an evil eye, as the cause of his master's going so often astray. True it is, in all points of spirit befitting an honorable dog, he was[13] as courageous an animal as ever scoured the woods; but what courage can withstand the ever-enduring and all-besetting terrors of a woman's tongue? The moment Wolf entered the house his crest fell, his tail drooped to the ground or curled between his legs, he sneaked about with a gallows air, casting many a sidelong glance at Dame Van Winkle, and at the least flourish of a broomstick or ladle he would fly to the door with yelping precipitation."
-Rip van Winkle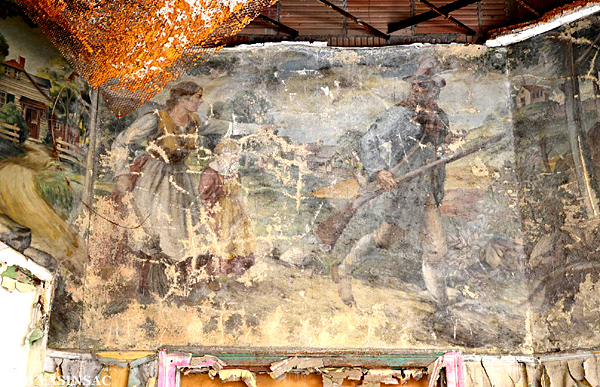 (I think the two images, shown here as they appear in placement, should have been reversed to match the linear chronology of the story.)
"Times grew worse and worse with Rip Van Winkle as years of matrimony rolled on. A tart temper never mellows with age, and a sharp tongue is the only edged tool that grows keener with constant use. For a long while he used to console himself, when driven from home, by frequenting a kind of perpetual club of sages, philosophers, and other idle personages of the village, which held its sessions on a bench before a small inn, designated by a rubicund portrait of His Majesty George III….
Poor Rip was at last reduced almost to despair; and his only alternative, to escape from the labor of the farm and clamor of his wife, was to take gun in hand and stroll away into the woods. Here he would sometimes seat himself at the foot of a tree, and share the contents of his wallet with Wolf, with whom he sympathized as a fellow-sufferer in persecution. "Poor Wolf," he would say, "thy mistress leads thee a dog's life of it; but never mind, my lad, whilst I live thou shalt never want a friend to stand by thee." Wolf would wag his tail, look wistfully in his master's face; and if dogs can feel pity, I verily believe he reciprocated the sentiment with all his heart."
-Rip van Winkle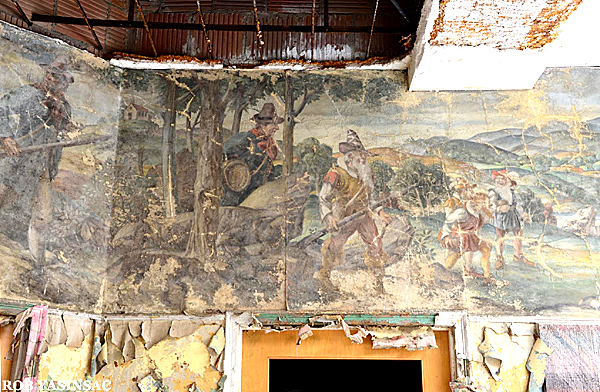 "As he was about to descend, he heard a voice from a distance, hallooing, "Rip Van Winkle! Rip Van Winkle!" He looked round, but could see nothing but a crow winging its solitary flight across the mountain. He thought his fancy must have deceived him, and turned again to descend, when he heard the same cry ring through the still evening air: "Rip Van Winkle! Rip Van Winkle!"—at the same time Wolf bristled up his back, and giving a low growl, skulked to his master's side, looking fearfully down into the glen. Rip now felt a vague apprehension stealing over him; he looked anxiously in the same direction, and perceived a strange figure slowly toiling up the rocks, and bending under the weight of something he carried on his back. He was surprised to see any human being in this lonely and unfrequented place; but supposing it to be some one of the neighborhood in need of his assistance, he hastened down to yield it."
-Rip van Winkle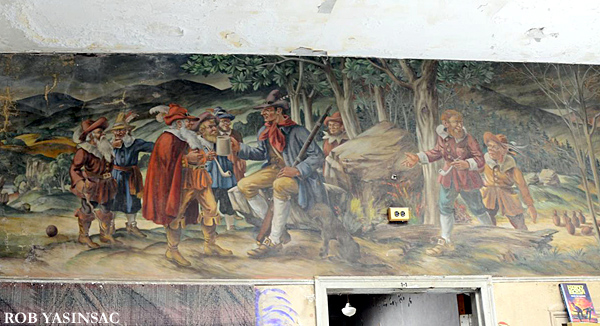 "On nearer approach he was still more surprised at the singularity of the stranger's appearance. He was a short, square-built old fellow, with thick bushy hair, and a grizzled beard. His dress was of the antique Dutch fashion,—a cloth jerkin strapped round the waist, and several pair of breeches, the outer one of ample volume, decorated with rows of buttons down the sides. He bore on his shoulder a stout keg that seemed full of liquor, and made signs for Rip to approach and assist him with the load. Though rather shy and distrustful of this new acquaintance, Rip complied with his usual alacrity, and relieving one another, they clambered up a narrow gully, apparently the dry bed of a mountain torrent."
-Rip van Winkle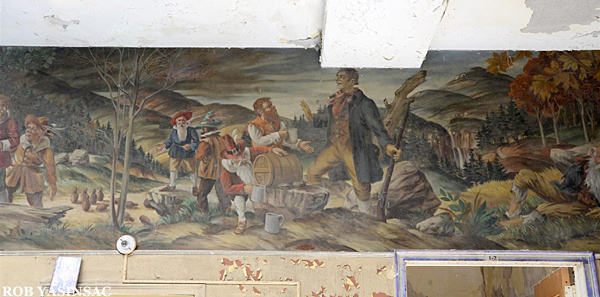 (Here the painting seems to contradict the story, in that the artist shows the Dutchmen offering Rip some beverage which he declines.)
"As Rip and his companion approached them, they suddenly desisted from their play, and stared at him with such fixed, statue-like gaze, and such strange, uncouth countenances, that his heart turned within him, and his knees smote together. His companion now emptied the contents of the keg into large flagons, and made signs to him to wait upon the company. He obeyed with fear and trembling; they quaffed the liquor in profound silence, and then returned to their game.
By degrees Rip's awe and apprehension subsided. He even ventured, when no eye was fixed upon him, to taste the beverage, which he found had much of the flavor of excellent Hollands. He was naturally a thirsty soul, and was soon tempted to repeat the draught. One taste provoked another; and he repeated his visits to the flagon so often that at length his senses were overpowered, his eyes swam in his head, his head gradually declined, and he fell into a deep sleep."
-Rip van Winkle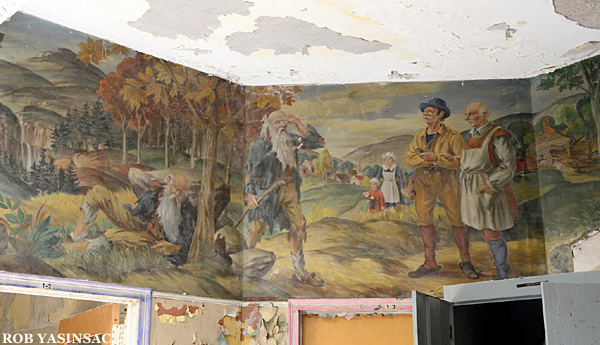 "On waking he found himself on the green knoll whence he had first seen the old man of the glen. He rubbed his eyes—it was a bright, sunny morning. The[20] birds were hopping and twittering among the bushes, and the eagle was wheeling aloft, and breasting the pure mountain breeze. "Surely," thought Rip, "I have not slept here all night." He recalled the occurrences before he fell asleep. The strange man with a keg of liquor—the mountain ravine—the wild retreat among the rocks—the woe-begone party at ninepins—the flagon—"Oh! that flagon! that wicked flagon!" thought Rip; "what excuse shall I make to Dame Van Winkle?."
He looked round for his gun, but in place of the clean, well-oiled fowling piece, he found an old firelock lying by him, the barrel incrusted with rust, the lock falling off, and the stock worm-eaten. He now suspected that the grave revelers of the mountain had put a trick upon him and, having dosed him with liquor, had robbed him of his gun. Wolf, too, had disappeared, but he might have strayed away after a squirrel or partridge. He whistled after him, and shouted his name, but all in vain; the echoes repeated his whistle and shout, but no dog was to be seen…
As he approached the village he met a number of people, but none whom he knew, which somewhat surprised him, for he had thought himself acquainted with every one in the country round. Their dress, too, was of a different fashion from that to which he was accustomed. They all stared at him with equal marks of surprise, and whenever they cast their eyes upon him, invariably stroked their chins. The constant recurrence of this gesture induced Rip, involuntarily, to do the same, when, to his astonishment, he found his beard had grown a foot long!"
-Rip van Winkle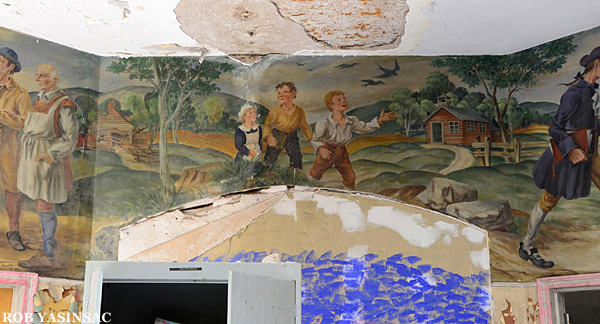 (Now the painting switches over to the Legend of Sleepy Hollow, showing some of the subjects of Schoolmaster Ichabod Crane.)
" I would not have it imagined, however, that he was one of those cruel potentates of the school who joy in the smart of their subjects; on the contrary, he administered justice with discrimination rather than severity; taking the burden off the backs of the weak, and laying it on those of the strong. Your mere puny stripling, that winced at the least flourish of the rod, was passed by with indulgence; but the claims of justice were satisfied by inflicting a double portion on some little tough wrong-headed, broad-skirted Dutch urchin, who sulked and swelled and grew dogged and sullen beneath the birch. All this he called "doing his duty by their parents;" and he never inflicted a chastisement without following it by the assurance, so consolatory to the smarting urchin, that "he would remember it and thank him for it the longest day he had to live."
When school hours were over, he was even the companion and playmate of the larger boys; and on holiday afternoons would convoy some of the smaller ones home, who happened to have pretty sisters, or good housewives for mothers, noted for the comforts of the cupboard. Indeed, it behooved him to keep on good terms with his pupils. The revenue arising from his school was small, and would have been scarcely sufficient to furnish him with daily bread, for he was a huge feeder, and, though lank, had the dilating powers of an anaconda; but to help out his maintenance, he was, according to country custom in those parts, boarded and lodged at the houses of the farmers whose children he instructed. With these he lived successively a week at a time, thus going the rounds of the neighborhood, with all his worldly effects tied up in a cotton handkerchief.
That all this might not be too onerous on the purses of his rustic patrons, who are apt to consider the costs of schooling a grievous burden, and schoolmasters as mere drones, he had various ways of rendering himself both useful and agreeable. He assisted the farmers occasionally in the lighter labors of their farms, helped to make hay, mended the fences, took the horses to water, drove the cows from pasture, and cut wood for the winter fire. He laid aside, too, all the dominant dignity and absolute sway with which he lorded it in his little empire, the school, and became wonderfully gentle and ingratiating. He found favor in the eyes of the mothers by petting the children, particularly the youngest; and like the lion bold, which whilom so magnanimously the lamb did hold, he would sit with a child on one knee, and rock a cradle with his foot for whole hours together."
-The Legend of sleepy Hollow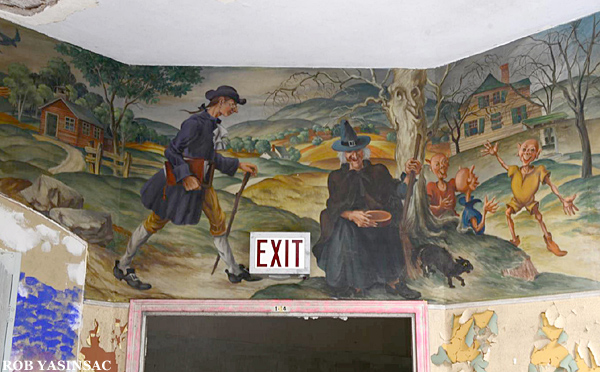 (Now this image seems to really deviate from Irving's words. The closest element of the story that I can see is shown below. A possible interpretation exists in the form a witch named Mother Hulda, who is also part of Sleepy Hollow mythology as re-told by Jonathan Kruk in his book "The Legends and Lore of Sleepy Hollow and the Hudson Valley." I suppose the alien-like creatures are Trent's interpretation of "goblins." Crane seems quite nonchalant in his encounter with the witch and her goblins.)
"From the listless repose of the place, and the peculiar character of its inhabitants, who are descendants from the original Dutch settlers, this sequestered glen has long been known by the name of SLEEPY HOLLOW, and its rustic lads are called the Sleepy Hollow Boys throughout all the neighboring country. A drowsy, dreamy influence seems to hang over the land, and to pervade the very atmosphere. Some say that the place was bewitched by a High German doctor, during the early days of the settlement; others, that an old Indian chief, the prophet or wizard of his tribe, held his powwows there before the country was discovered by Master Hendrick Hudson. Certain it is, the place still continues under the sway of some witching power, that holds a spell over the minds of the good people, causing them to walk in a continual reverie. They are given to all kinds of marvellous beliefs, are subject to trances and visions, and frequently see strange sights, and hear music and voices in the air. The whole neighborhood abounds with local tales, haunted spots, and twilight superstitions; stars shoot and meteors glare oftener across the valley than in any other part of the country, and the nightmare, with her whole ninefold, seems to make it the favorite scene of her gambols."
-The Legend of Sleepy Hollow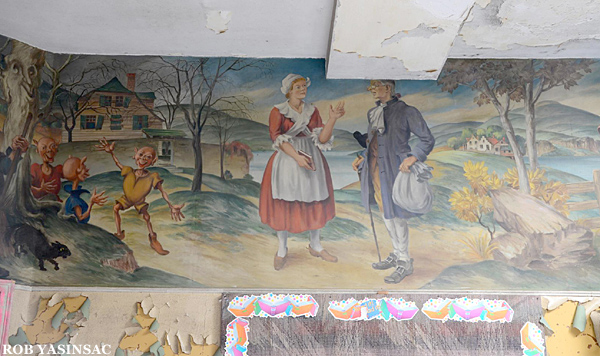 (I presume this image to represent Katrina van Tassel, who is about to be instructed in singing by Ichabod Crane, and her father Baltus van Tassel.)
"Among the musical disciples who assembled, one evening in each week, to receive his instructions in psalmody, was Katrina Van Tassel, the daughter and only child of a substantial Dutch farmer. She was a blooming lass of fresh eighteen; plump as a partridge; ripe and melting and rosy-cheeked as one of her father's peaches, and universally famed, not merely for her beauty, but her vast expectations. She was withal a little of a coquette, as might be perceived even in her dress, which was a mixture of ancient and modern fashions, as most suited to set off her charms. She wore the ornaments of pure yellow gold, which her great-great-grandmother had brought over from Saardam; the tempting stomacher of the olden time, and withal a provokingly short petticoat, to display the prettiest foot and ankle in the country round. "
-The Legend of Sleepy Hollow

(Again the painting deviates from the story, where instead of a fancy autumn ball at the palatial Van Tassel house attended by farm families we have an informal outdoor gathering of men. The young man holding the pumpkin is a great element of foreshadowing however.)
"It was toward evening that Ichabod arrived at the castle of the Heer Van Tassel, which he found thronged with the pride and flower of the adjacent country. Old farmers, a spare leathern-faced race, in homespun coats and breeches, blue stockings, huge shoes, and magnificent pewter buckles. Their brisk, withered little dames, in close-crimped caps, long-waisted short gowns, homespun petticoats, with scissors and pincushions, and gay calico pockets hanging on the outside. Buxom lasses, almost as antiquated as their mothers, excepting where a straw hat, a fine ribbon, or perhaps a white frock, gave symptoms of city innovation. The sons, in short square-skirted coats, with rows of stupendous brass buttons, and their hair generally queued in the fashion of the times, especially if they could procure an eel-skin for the purpose, it being esteemed throughout the country as a potent nourisher and strengthener of the hair…
The chief part of the stories, however, turned upon the favorite spectre of Sleepy Hollow, the Headless Horseman, who had been heard several times of late, patrolling the country; and, it was said, tethered his horse nightly among the graves in the churchyard.
The sequestered situation of this church seems always to have made it a favorite haunt of troubled spirits. It stands on a knoll, surrounded by locust-trees and lofty elms, from among which its decent, whitewashed walls shine modestly forth, like Christian purity beaming through the shades of retirement. A gentle slope descends from it to a silver sheet of water, bordered by high trees, between which, peeps may be caught at the blue hills of the Hudson. To look upon its grass-grown yard, where the sunbeams seem to sleep so quietly, one would think that there at least the dead might rest in peace. On one side of the church extends a wide woody dell, along which raves a large brook among broken rocks and trunks of fallen trees. Over a deep black part of the stream, not far from the church, was formerly thrown a wooden bridge; the road that led to it, and the bridge itself, were thickly shaded by overhanging trees, which cast a gloom about it, even in the daytime; but occasioned a fearful darkness at night. Such was one of the favorite haunts of the Headless Horseman, and the place where he was most frequently encountered. The tale was told of old Brouwer, a most heretical disbeliever in ghosts, how he met the Horseman returning from his foray into Sleepy Hollow, and was obliged to get up behind him; how they galloped over bush and brake, over hill and swamp, until they reached the bridge; when the Horseman suddenly turned into a skeleton, threw old Brouwer into the brook, and sprang away over the tree-tops with a clap of thunder.
This story was immediately matched by a thrice marvellous adventure of Brom Bones, who made light of the Galloping Hessian as an arrant jockey. He affirmed that on returning one night from the neighboring village of Sing Sing, he had been overtaken by this midnight trooper; that he had offered to race with him for a bowl of punch, and should have won it too, for Daredevil beat the goblin horse all hollow, but just as they came to the church bridge, the Hessian bolted, and vanished in a flash of fire."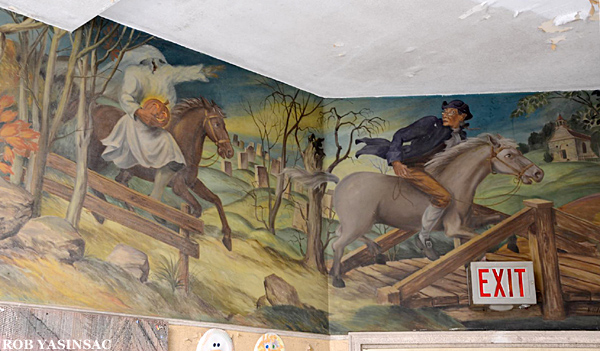 (And of course the famous chase scene. I am going out on a limb to suggest that the appropriately-placed EXIT sign was not on the wall when the mural was painted in the early 1940s.)
"As he approached the stream, his heart began to thump; he summoned up, however, all his resolution, gave his horse half a score of kicks in the ribs, and attempted to dash briskly across the bridge; but instead of starting forward, the perverse old animal made a lateral movement, and ran broadside against the fence. Ichabod, whose fears increased with the delay, jerked the reins on the other side, and kicked lustily with the contrary foot: it was all in vain; his steed started, it is true, but it was only to plunge to the opposite side of the road into a thicket of brambles and alder bushes. The schoolmaster now bestowed both whip and heel upon the starveling ribs of old Gunpowder, who dashed forward, snuffling and snorting, but came to a stand just by the bridge, with a suddenness that had nearly sent his rider sprawling over his head. Just at this moment a plashy tramp by the side of the bridge caught the sensitive ear of Ichabod. In the dark shadow of the grove, on the margin of the brook, he beheld something huge, misshapen and towering. It stirred not, but seemed gathered up in the gloom, like some gigantic monster ready to spring upon the traveller.
The hair of the affrighted pedagogue rose upon his head with terror. What was to be done? To turn and fly was now too late; and besides, what chance was there of escaping ghost or goblin, if such it was, which could ride upon the wings of the wind? Summoning up, therefore, a show of courage, he demanded in stammering accents, "Who are you?" He received no reply. He repeated his demand in a still more agitated voice. Still there was no answer. Once more he cudgelled the sides of the inflexible Gunpowder, and, shutting his eyes, broke forth with involuntary fervor into a psalm tune. Just then the shadowy object of alarm put itself in motion, and with a scramble and a bound stood at once in the middle of the road. Though the night was dark and dismal, yet the form of the unknown might now in some degree be ascertained. He appeared to be a horseman of large dimensions, and mounted on a black horse of powerful frame. He made no offer of molestation or sociability, but kept aloof on one side of the road, jogging along on the blind side of old Gunpowder, who had now got over his fright and waywardness.
Ichabod, who had no relish for this strange midnight companion, and bethought himself of the adventure of Brom Bones with the Galloping Hessian, now quickened his steed in hopes of leaving him behind. The stranger, however, quickened his horse to an equal pace. Ichabod pulled up, and fell into a walk, thinking to lag behind,—the other did the same. His heart began to sink within him; he endeavored to resume his psalm tune, but his parched tongue clove to the roof of his mouth, and he could not utter a stave. There was something in the moody and dogged silence of this pertinacious companion that was mysterious and appalling. It was soon fearfully accounted for. On mounting a rising ground, which brought the figure of his fellow-traveller in relief against the sky, gigantic in height, and muffled in a cloak, Ichabod was horror-struck on perceiving that he was headless!—but his horror was still more increased on observing that the head, which should have rested on his shoulders, was carried before him on the pommel of his saddle! His terror rose to desperation; he rained a shower of kicks and blows upon Gunpowder, hoping by a sudden movement to give his companion the slip; but the spectre started full jump with him. Away, then, they dashed through thick and thin; stones flying and sparks flashing at every bound. Ichabod's flimsy garments fluttered in the air, as he stretched his long lank body away over his horse's head, in the eagerness of his flight.
They had now reached the road which turns off to Sleepy Hollow; but Gunpowder, who seemed possessed with a demon, instead of keeping up it, made an opposite turn, and plunged headlong downhill to the left. This road leads through a sandy hollow shaded by trees for about a quarter of a mile, where it crosses the bridge famous in goblin story; and just beyond swells the green knoll on which stands the whitewashed church.
As yet the panic of the steed had given his unskilful rider an apparent advantage in the chase, but just as he had got half way through the hollow, the girths of the saddle gave way, and he felt it slipping from under him. He seized it by the pommel, and endeavored to hold it firm, but in vain; and had just time to save himself by clasping old Gunpowder round the neck, when the saddle fell to the earth, and he heard it trampled under foot by his pursuer. For a moment the terror of Hans Van Ripper's wrath passed across his mind,—for it was his Sunday saddle; but this was no time for petty fears; the goblin was hard on his haunches; and (unskilful rider that he was!) he had much ado to maintain his seat; sometimes slipping on one side, sometimes on another, and sometimes jolted on the high ridge of his horse's backbone, with a violence that he verily feared would cleave him asunder.
An opening in the trees now cheered him with the hopes that the church bridge was at hand. The wavering reflection of a silver star in the bosom of the brook told him that he was not mistaken. He saw the walls of the church dimly glaring under the trees beyond. He recollected the place where Brom Bones's ghostly competitor had disappeared. "If I can but reach that bridge," thought Ichabod, "I am safe." Just then he heard the black steed panting and blowing close behind him; he even fancied that he felt his hot breath. Another convulsive kick in the ribs, and old Gunpowder sprang upon the bridge; he thundered over the resounding planks; he gained the opposite side; and now Ichabod cast a look behind to see if his pursuer should vanish, according to rule, in a flash of fire and brimstone. Just then he saw the goblin rising in his stirrups, and in the very act of hurling his head at him. Ichabod endeavored to dodge the horrible missile, but too late. It encountered his cranium with a tremendous crash,—he was tumbled headlong into the dust, and Gunpowder, the black steed, and the goblin rider, passed by like a whirlwind."
-The Legend of Sleepy Hollow
____________________________________________
And that concludes the Halloween Blog Series, 2014 edition. Thank you all for following along. For further reading in the realm of spooky Hudson Valley subjects I suggest Judith Richardsons's Possessions: The History and Uses of Hauntings in the Hudson Valley. (Harvard University Press, 2003.) As I have already written on this blog, "Possessions" is not the usual haunted house book ("This house is abandoned. People see flickering lights in the windows at night. It must be haunted!") but it attaches meaning to the stories of haunting within the context of social and cultural matters of the times, and provides historical origins of these tales. The book covers the full range of European occupation of the Hudson Valley, and weaves in world-famous and locally-known tales. Washington Irving's Headless Horseman and other ghostly apparitions address the "dilemma of identity – a sense of alienation, dividedness and uncertainty" that affected Irving personally and the young nation at large, while Irving helped create a uniquely American identity and folklore that all could agree on. 19th century variations of a ghost tale in Leeds (Greene County) express gender and racial undercurrents. Maxwell Anderson's play High Tor intersects with the nascent environmental conservation movement of the 1930s against a scale of industrialization unprecedented in the Hudson Valley. T. Coraghessan Boyle's 1987 novel World's End attempts to discover what it is that continues to haunt Peterskill (Peekskill). Possessions is one of the most insightful and relevant Hudson Valley books to have been published in quite a long time.
____________________________________________
PS – If you did not already know, Hudson Valley Ruins can now be found on Facebook and Instagram. Our links are as follows;
* https://www.facebook.com/pages/Hudson-Valley-Ruins/282092108618191
* http://instagram.com/hudsonvalleyruins
Thanks for checking them out.