I received the following email in March:
"Rob Yasinsac,
Good afternoon. I came upon Hudson Valley Ruins in my search for industrial architecture in the Hudson Valley area. My following inquiry may be odd, and you may not be able to help, but I feel it doesn't hurt to ask.
I am curious if you know if any of the beautiful ruins locations might be suitable for a wedding. My fiancé and I are both architects and appreciate raw, industrial spaces. We have been looking for a site in New York to celebrate our wedding that suits our mutual passion for history and architecture. We have come upon a slight few renovated spaces (the Basilica Hudson and Roundhouse at Beacon Falls among them), but have decided to branch out our search to locations overlooked by others. The building/structure/location we are looking for does not need to have any sort of amenities, and I suspect it would not. We want an outdoor wedding, with such a location as more of a backdrop to our celebration. If the structure can be inhabited, all the better, but is not necessary. For example, I believe Bannerman Castle holds weddings, though the structure itself is in ruins. I understand that my request is a bit precarious, but I appreciate any input you may have, be they sites you have written about, or some you have heard about. Obviously this isn't the kind of location I can search for on a wedding blog.
Thank you so much for your assistance. I look forward to speaking with you
Very Best,
Rebecca"
Additionally, I have received numerous requests for information about visiting these sites for photo shoots, filming for movies, and other site-use rentals. Since many of the ruins are privately owned and may or may not be up to code for occupation, and since I am not in the business of being a location scout (not that many of the people asking for photo shoot locations ever offer to pay, or usually disappear when I ask for a fee), I do not pass on contact information about how to gain access to the ruins.
But the wedding idea was a fun concept, and I sent Rebecca a list of sites and left it up to her to find out the who and what and where to see about renting a site.
What follows here is an illustrated version of that list, and presented somewhat tongue-in-cheek. I actually have no idea if the owners of these sites would consider requests for location rentals and, in fact, I suspect that most of them would say no. So this is in no way an acclamation of sites open to the public/for private rentals. Consider it, rather, as my own personal list of places of that I think would make great settings for weddings, regardless of accessibility. Just a wish list.
As the inquirer stated, I didn't factor in amenities and presumed there to be none. And really, a special day need not be about the amenities, but about the people gathered together and the unique setting for where you want to create one of your most-cherished memories. Everything else is tangential to an infinitely smaller degree.
I did factor in logistics to some extent, and considered how convenient or not it might be to actually get to the site. For example, I did not include the Overlook Mountain House ruins, given the ~45 minute hike uphill in normal clothes and shoes. And not all locations recommended were chosen for interior access, but to serve as backdrop.
I also figured that anyone wishing to have a wedding at a truly off-the-beaten path location would probably have just their immediate family and closest friends in attendance, so imagine these sites with small audiences, although some of them could include larger crowds.
I kept the list reasonably short in order to keep it from being a copy of my main webpage (from which you can make your own wish list anyway). And in the brief, off-the-cuff selection process, most of my choices were industrial sites (because they lend themselves so well for events and functions) as well as some houses/estates, and also some old church ruins.
Without further ado, here is my List of Places I Think It Would Be Really Awesome to Have a Wedding At (aka Sites You Won't Find on Wedding Blogs).
INDUSTRIAL SITES:

Bannerman's Island Arsenal, Pollepel Island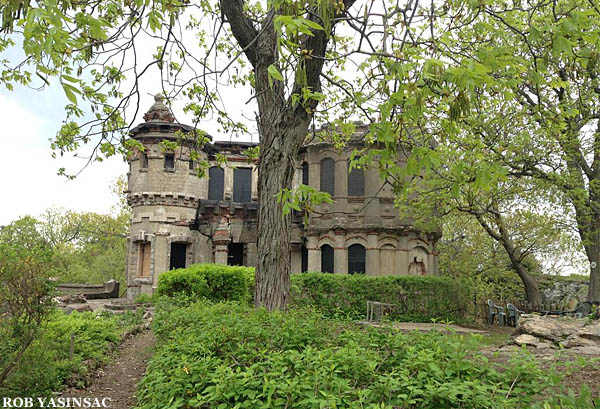 Commonly known as Bannerman's Castle, the Arsenal has served as a backdrop for at least one or two weddings on Pollepel Island, as the 6+ acre rock is officially known. The Bannerman Castle Trust advertises for weddings on its website. Pictured above is actually the summer residence of Frank and Helen Bannerman, not the castle/arsenal.
Brandreth Pill Factory, Ossining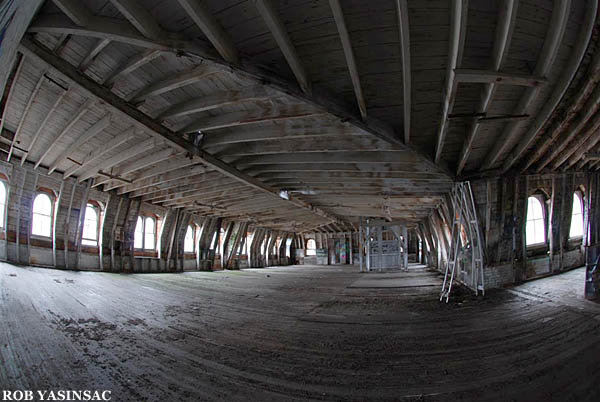 This building was, and still is, a shoe-in for adaptive reuse/historic preservation, but its owners are demolishing it by neglect. This past winter, a part of the roof caved in.
When I look at this photo, all I can imagine are people using this space and having a grand-old time.
Garner Print Works, Garnerville (West Haverstraw)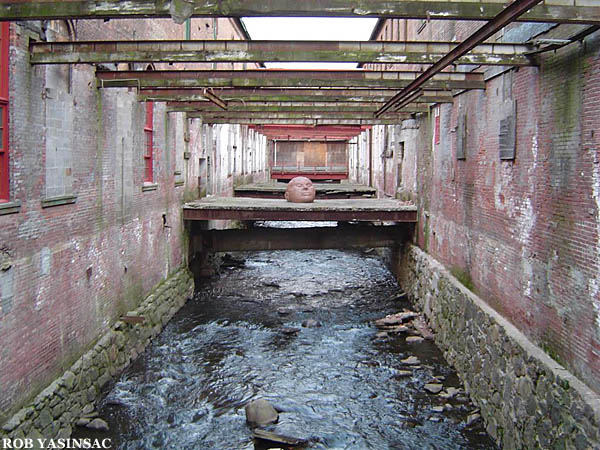 The Garner Print Works is one of the best preserved collections of industrial buildings in the Hudson Valley, along with the Alexander Smith Carpet Mills in Yonkers and the Harmony Mills in Cohoes, and to a lesser extent the Garner Dye Works in Wappingers Falls. Including the Harmony Mills, the Garnerville and Wappingers sites were part of the Garner brothers' textile empire. Incredibly these locations still exist, mostly intact. The Garnerville site now is the home of the Garnerville Arts & Industrial Center. Could you imagine exchanging vows above a stream of rushing water in-between historic brick factory walls? I think it would be pretty cool.

Hutton Company Brick Works, Kingston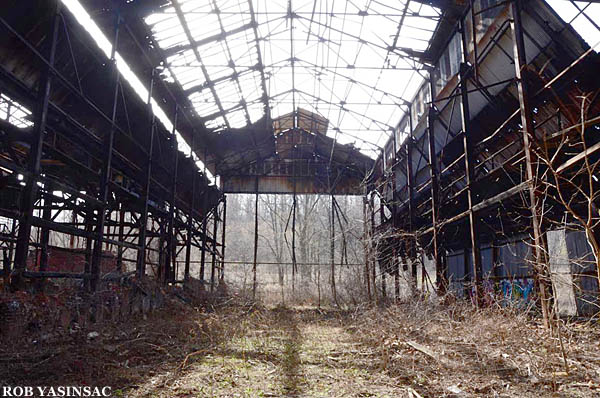 I shake my head every time I read the articles about the proposed redevelopment of the Hutton brickyard and about the exclusion of the kiln sheds in future plans for the site. I think they lend themselves well to a number of activities. Maybe some weddings?
R & W Scott Ice Company Power House, Nutten Hook (Stuyvesant)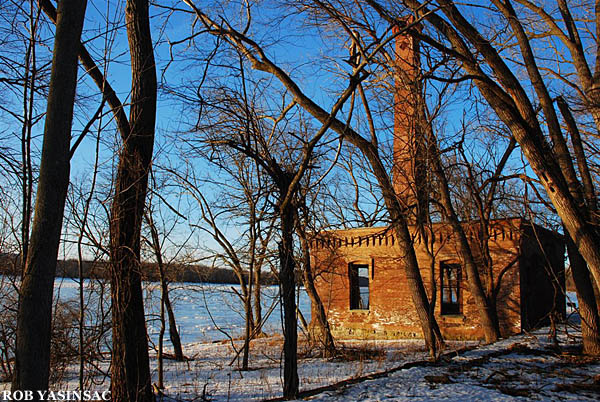 The grounds are a little overgrown, so without some cleaning up this might be suited best for an off-season event. It's certainly one of the most peaceful locations along the river, and you could imagine the powerhouse ruin as your "chapel."
Mount Lebanon Shaker Barn, New Lebanon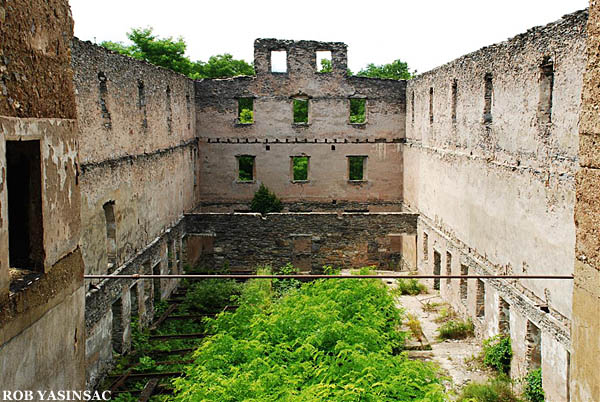 Reminiscent of the Overlook Mountain House ruin, the Mount Lebanon Shaker Barn looks like the kind of place where a crowd of people could have a fun night. Last I visited, over five years ago, the building was not accessible as stabilization work was occurring, and I don't know that site tours even go in the building now, but just dreaming of the possibility of this ruin as an event space.
New York Central Railroad Station, Stuyvesant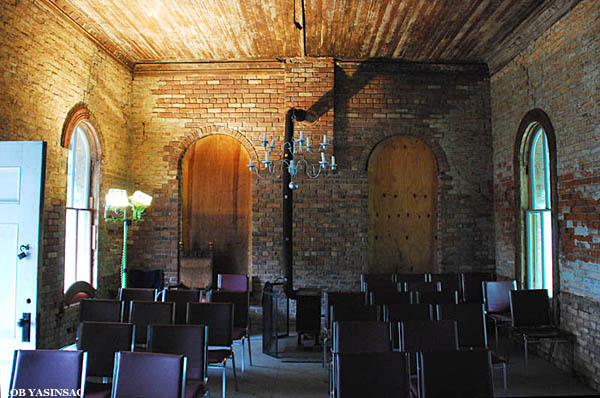 A Hudson Valley Ruins book-tour lecture was the first, or one of the very first, events held in the restored Stuyvesant station. It can hold a small crowd for a nice ceremony! And maybe a train rolling by will blow its whistle for you.
Summit Mill, Philmont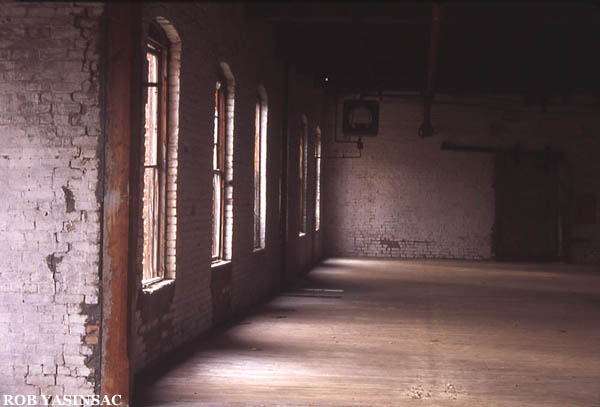 The mill building itself is pretty cool, but there is a partial ruin on the site, the roofless walled-in enclosure of a former building (of which I do not have a photograph) that is now an outdoor patio of sorts, that would make for an ideal spot for cocktail hour, next to the Ockawamick Creek.
JFK Marina Park, Yonkers (Yonkers Power Station)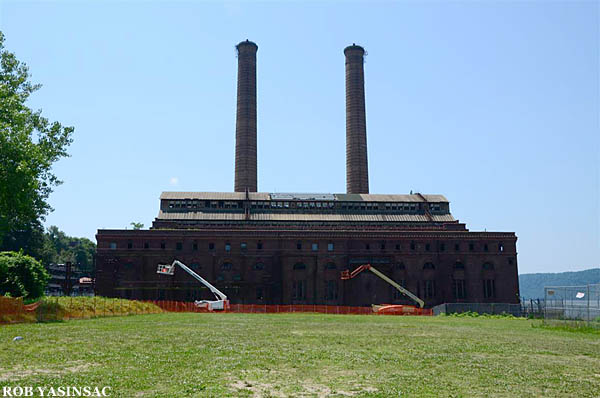 With a pavilion and park already in place, the Yonkers Power Station could be the backdrop of your wedding.
RESIDENTIAL/RECREATIONAL SITES:
Halcyon Hall, Bennett School for Girls, Millbrook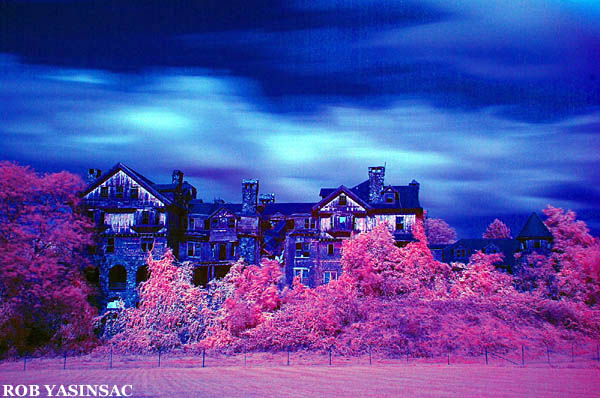 Built in 1893 as a hotel, Halcyon Hall (shown above in infrared light) probably has hosted its share of weddings already. The expansive lawn below it would make a great setting for a party, with the epic, world-famous (it's on numerous top-25 ruins lists) ruins of Halcyon Hall above. Time is running out however, as the building has been sold to a local group that plans to demolish Halcyon Hall.
Arryl House, Clermont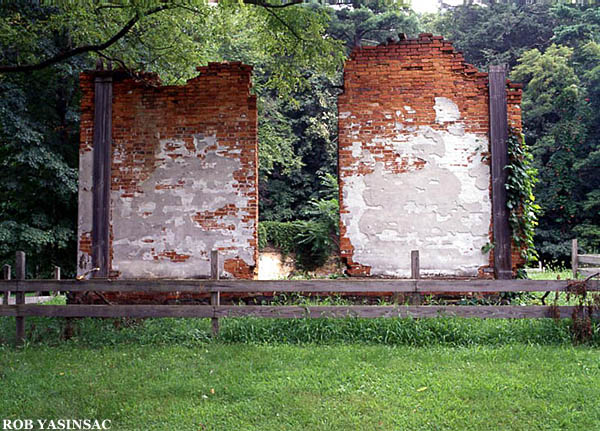 Positively among the most ancient ruins in the Hudson Valley, Arryl House was built in 1792 by Chancellor Robert Livingston, a signer of the Declaration of Independence. It burned in 1909 and the Livingston family preserved its idyllic ruins, located today on the grounds of Clermont State Historic Site.
Dr. Oliver Bronson House, Hudson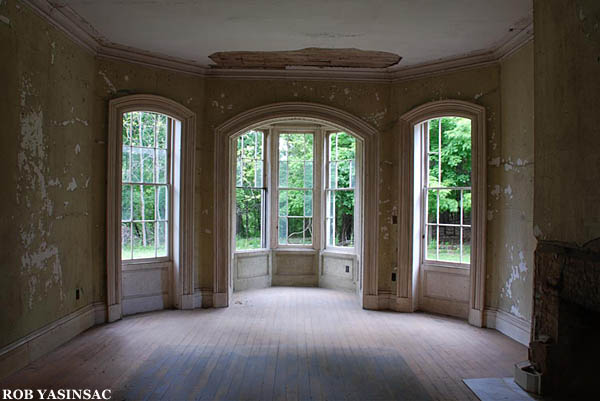 The once long-abandoned Bronson House, the forerunner of "Hudson River Bracketed" architecture, is now in the good hands of Historic Hudson who have been overseeing its preservation and restoration. The interior might too fragile for a large event right now, but the grounds have held events already, including another Hudson Valley Ruins book-tour lecture.
Halsey Teahouse, Irvington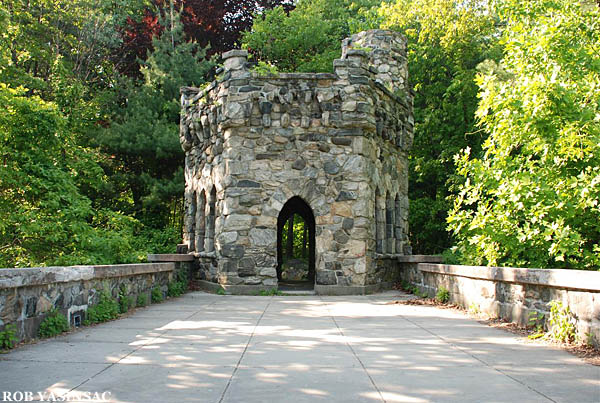 Once a playhouse on the estate grounds of a Hudson River castle, this charming stone structure overlooks a pond. I totally see a few columns of chairs and an aisle here, and envision an altar in the "tower", or behind the photographers view overlooking the pond. Which would you choose?
Maple Grove, Poughkeepsie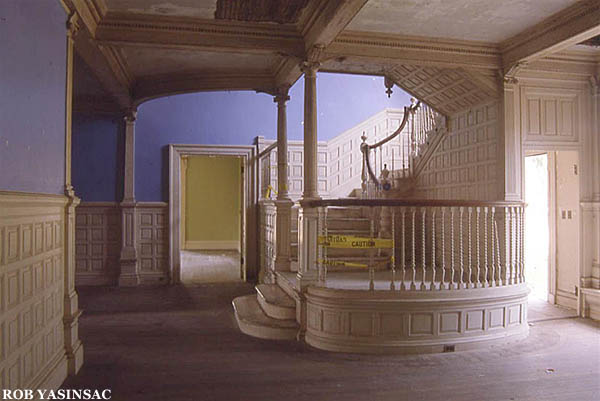 This beautiful Hudson River villa was undergoing preservation efforts when I visited it in 2004 and presented a pre-book lecture in 2005. From its website, Maple Grove seems to be looking great now. It really isn't a "ruin" anymore, but it's certainly one of the great lesser-known Hudson Valley locations. Book readings and other events are held here.
Northgate, Cold Spring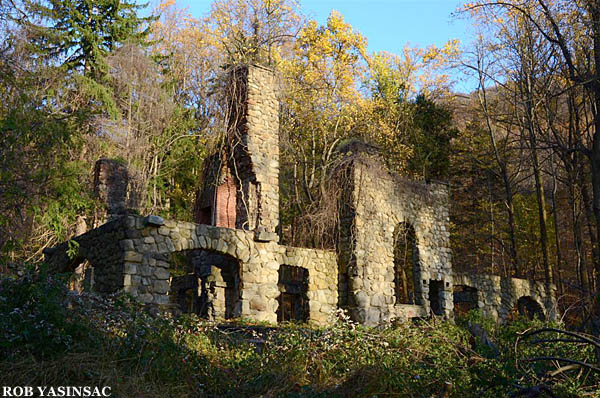 My friends and I have been cleaning up the Northgate estate ruins by removing years of overgrowth and brambles. Some aspects of the former condition may have been quite photogenic, but now visitors can easily wander in and around the ruin of the mansion, built in 1913 for Sigmund Stern, a New York City diamond merchant. We even cleared off the west patio so you can imagine guests seated on either side as you take your vows under what used to be a great arched stained-glass window.
ECCLESIASTICAL SITES:
A blog about weddings should have some churches, right? The Hudson Valley has more than its share of abandoned religious spaces. Here are a few.
Shookville Methodist Chapel, Red Hook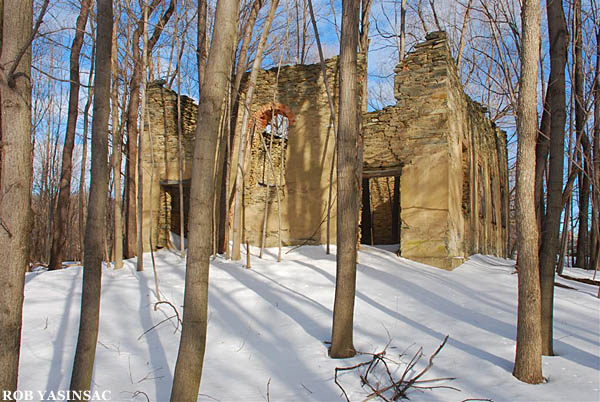 The "roofless and floorless plastered brick walls" of this church, cited by Wint Aldrich in the Foreword to Hudson Valley Ruins, could be an amazing setting for a couple looking for an unusual wedding. If I lived nearby I would organize some cleanup efforts to remove the new-growth trees that obscure the view of this gem of a ruin.
Convent of St. Mary, Chapel, Peekskill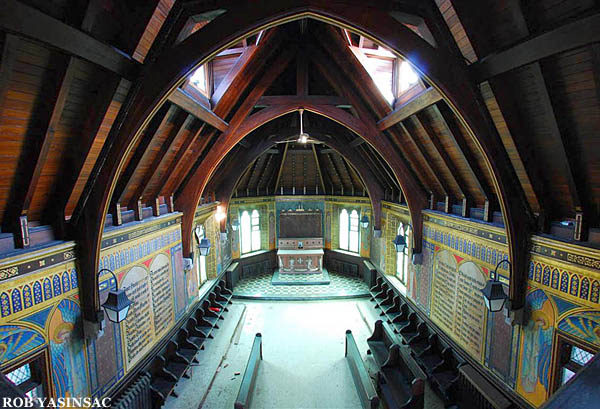 There is an actual church on the grounds of the Convent of St. Mary, but I prefer the small chapel and its richly decorated walls, painted in bright blue and gold. The rest of the convent building was gutted by its present owner, a developer, who has stalled reuse plans since there isn't a market for so many thousands of new housing units anymore. I bet the owner could make some money renting this out for small events.
Immaculate Conception Church, Irvington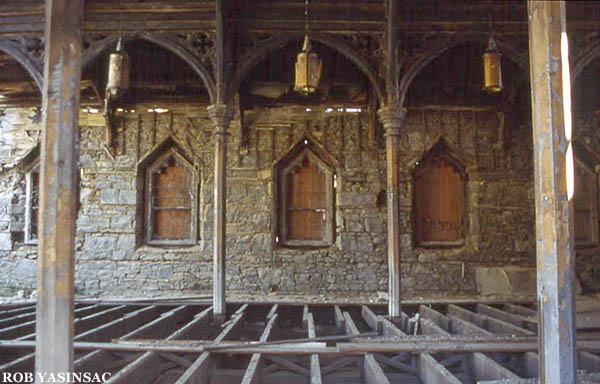 This ruin isn't around anymore but I am posting it here as a tribute. It was built in 1853 for the Presbyterian Church, and 20 years later it was taken over by the Catholic congregation. It was burned about 1972 and left standing as a ruin, kind of like a medieval European church ruin, in the middle of town, for a quarter-century. It was torn down in 1996 because, the pastor said, "kids were getting in there." Well, maybe they thought it was a cool place, and it's too bad the adults "in charge" didn't have the imagination to preserve and reuse such a beautiful space. The old Immaculate Conception Church would be Number One on my Wedding Ruins list, if it was still standing.
Thanks again for reading, and remember, this was just for your entertainment only, and not an endorsement that these locations are open to site-use proposals!